Several methods are available to transporting car to another state. These include using an auto transport company, using a tow dolly or trailer to transport it yourself, hiring a professional driver, sending it by train, or sending it by plane.
However, it is essential to note that only some areas have access to these auto transport services, and even when available, they may only sometimes be cost-effective.
The most frequently used method of car transportation is open transport car shipping, which is offered by licensed and bonded car shipping companies. Afterward, enclosed auto transport services are provided by licensed auto shipping services.
Car shipping can be done using open or enclosed trailers for both long and short distances. Using an open carrier truck driver for car transport services between states is the simplest, quickest, most convenient, and most cost-effective method for shipping your vehicle.
Open transport car shipping companies unanimously agree that it is the most cost-effective car shipping method.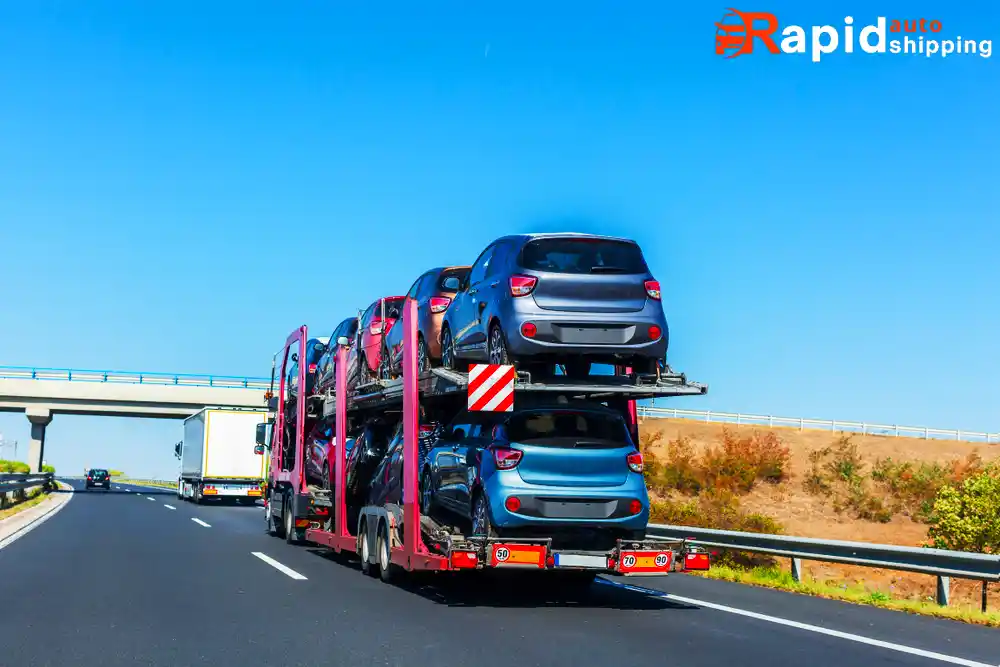 Depending on your requirements, you can choose between two types of vehicle shipping.
Open car shipping:
This is the most systematic way to transport your vehicle to another state. It's also the least expensive alternative and may be the best choice for short-distance transfers.
Open trucks are big flatbeds with no sides or roofs, providing no shelter from the weather. Car shipping is used to transporting car to another state. There may be better options than open trailers because they can only travel such great distances without pausing to relax.
Enclosed car shipping:
Unlike Enclosed car shipping, contained car shipping involves placing your vehicle inside a container. This is frequently used for valuable uncommon or unique cars, as it lowers the risk of harm during transportation.
It shields your vehicle from the elements and has security measures if someone tries to access the trailer. However, this is more costly than using open shipping to ship car to different states.
Properly preparing your car can minimize shipping costs and enable you to determine if you need to file a claim for any damages incurred during transport.
Here are the essential tasks to complete before the carrier arrives to pick up your vehicle:
Wash your car: This will assist you in identifying any preexisting damages or issues that need to be reported to your carrier. Additionally, please ensure to check the fluids and tire pressure.
Remove personal items: Having personal belongings in your car adds weight, increasing the shipping costs. Additionally, certain carriers may restrict shipping personal belongings in your vehicle or may not provide insurance coverage for such items in case of theft or damage.
Leave a quarter tank of gas: Reducing your car's weight allows for sufficient fuel if you pick it up from a terminal.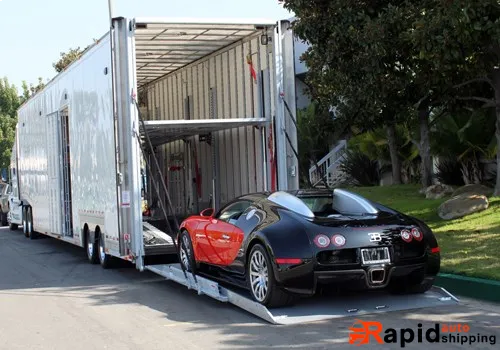 If you use a reputable car transport company, many factors affect the price of transporting your car to another state. However, four-door sedans typically cost between $600-$1,000 to transport, while small vans, pickup trucks, and SUVs generally cost between $800 and $1,070.
You'll receive the lower end of the range if you move during the winter off-season. Similarly, anticipate paying more if you're moving during the summer.
Carriers consider several key factors when determining shipping prices, including distance, transport method, and type of delivery. Here is an overview of factors that influence shipping costs:
Distance:
Shipments that travel longer distances have lower per-mile rates than shipments that travel shorter distances. However, it is essential to note that despite the lower per-mile rates, shipments over longer distances ultimately incur higher overall costs.
Type of vehicle:
More oversized vehicles require more space on carrier trucks, and expensive cars incur higher repair costs. As a result, both types of vehicles have higher shipping rates.
Operability:
Transporting a broken-down vehicle can be troublesome when loading and unloading it onto a truck. As a result, auto shippers tend to charge higher fees for transporting such cars.
Time of year:
The summer and January are the most expensive times to ship because there is a higher demand for shipping services due to increased moving activity during these periods.
Transit time frame:
Carriers typically provide estimated pickup and drop-off dates, although some may offer expedited shipping options at an extra charge.
Fuel costs:
When gas prices increase, shipping rates are also expected to increase.
Rural vs. urban locations:
Car shipping costs are higher for rural destinations because they are located farther from main highways and typically have many roads with slower speeds.
Typically, it takes 1-2 days to cover distances of up to 200 miles, while distances of 2,000+ miles can take 7-9 days. Several factors can impact the duration of transporting car to another state.
These include weather conditions, road construction, traffic congestion, detours, and the hours the driver is allowed to work.
In most cases, the most cost-effective method of transporting a car is to drive it personally. The cost of hiring a professional car shipping company depends on various factors, such as the size and weight of the vehicle, the distance of the move, the time of year, and other relevant considerations. Typically, the most cost-effective option is to use an open-air carrier.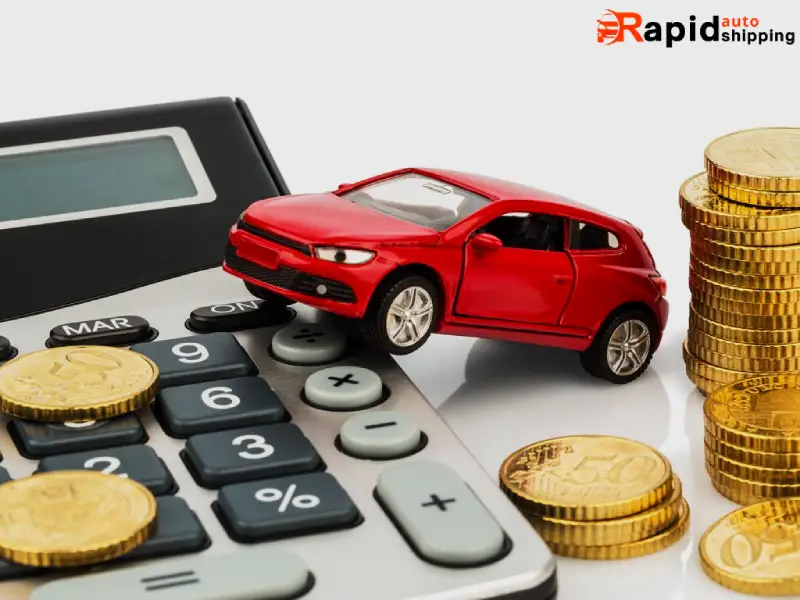 Select an open-air carrier: Open-air carriers may expose your car to the elements; however, they are considered the most cost-effective option.
Be Flexible With Car Shipping Dates: It is advisable to maintain flexibility when selecting car pickup and drop-off dates. Many auto transport companies are typically open to letting you choose your preferred dates. However, it is advisable to maintain some flexibility in your schedule.
Ship your car in the right season: The cost of transport is often determined by the season. The cost of transporting your car will be higher during peak seasons, which are the times when travel is most popular. Transportation during less-than-ideal seasons, such as fall or spring, can often result in significant cost savings.
The carrier must possess auto transport insurance covering your car, excluding any personal belongings inside it, throughout loading, transportation, and unloading. If necessary, you have the option to purchase additional insurance.
While it is not required to have personal car insurance specifically for shipping your car, it is essential to have it to legally drive the vehicle and provide coverage if you need to make an insurance claim.
Here are some additional factors to consider when you are making arrangements to ship your car:
Local vs. national companies: Shipping companies are widely available throughout the country; however, it is essential to note that local shipping companies may only offer services to some locations within the United States.
Government regulations: A carrier's registration with the Federal Motor Carrier Safety Administration and compliance with shipping and insurance laws can be confirmed by checking for a U.S. Department of Transportation and motor carrier numbers. The numbers need to be presented to customers.
Legal Automobile Documents: Most shippers do not require you to provide your driver's license, proof of insurance, title, or registration. Typically, it is possible to ship a car without insurance.
Shipments to Alaska or Hawaii: When departing from the West Coast, these trips can range from eight to 20 days.
Hybrid shipping: Many companies offer terminal-to-door or door-to-port services.
Canceling shipments: Typically, requesting a carrier for your shipment before it is assigned is possible, although this may incur an additional fee.