Overview About Ship Car to Another State
Every year, more Americans choose to transport their autos to other jurisdictions. Ship car to another state is becoming more common in cross-country transfers.

But did you know that the auto shipping company is expected to rise by 7.7% by 2021? That is, automobile transportation has surpassed the whole goods and services industry.

The growth in vehicle transportation can be attributed to several factors. For example, more individuals prefer to ship automobiles rather than drive nationwide. Furthermore, clogged roadways have made driving less enticing.

Ship cars to another state with an auto transport firm are quick and inexpensive. Rapid Auto Shipping is the finest in the business regarding safety and dependability. With our specialist services, we go across the country and transport automobiles to states such as Hawaii and Alaska.
Options for ship car to another state have evolved. Various kinds of transportation are available depending on the distance. Of course, the most conventional approach is by automobile transport truck.
Browsing our website is a fantastic way to learn about the many types of auto transport methods available, but the options ultimately come down to what you need for your car.
The following are the most prevalent modes of transportation:
Open transport: Your vehicle will be delivered on an open trailer. This is the most affordable ship car to another state option since this type of trailer is readily accessible and can accommodate many automobiles simultaneously. However, your vehicle will be more vulnerable to weather and road debris.
Transport in an enclosed carrier: Your vehicle is carried in an enclosed carriage to safeguard it from outside threats. If you're shipping a more costly or historic automobile, this is a better alternative, although it may cost 30% to 40% more than an open carrier.
Expedited shipping: Expedited shipping might be useful if you need to transport your automobile somewhere quickly. However, it is frequently more costly.
Services for Delivery
Many vehicle shipping firms provide the following delivery services:
Door to door shipping: This service gets your automobile as near your desired location as feasible, such as your house or business.
Terminal to terminal shipping: Terminal to terminal shipping entails driving to and from a terminal to deliver and pick up your automobile. Shipments may be delayed but are usually less expensive than door to door shipping.
Port to port shipping: When transporting an automobile to Alaska, Hawaii, or elsewhere, you bring it to a port. It is then either driven aboard a cargo ship or secured in an enclosed trailer before being loaded onto the boat and sent to another port.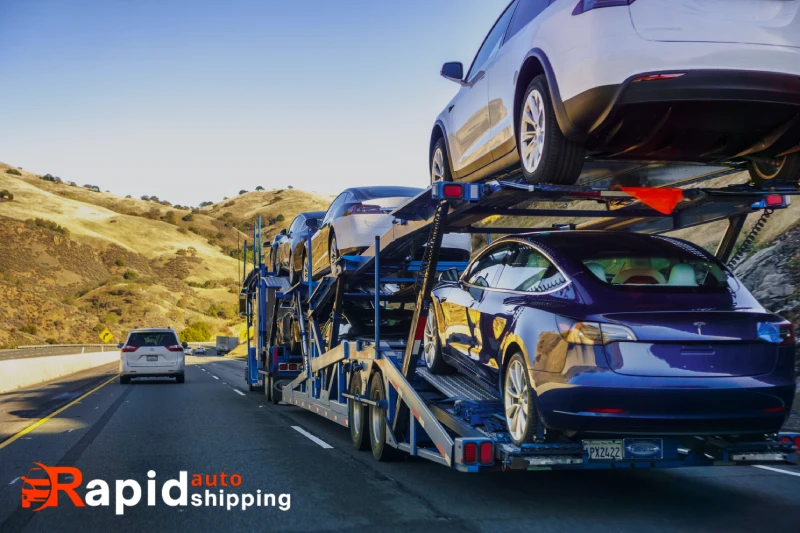 When shipping cars to another state, there are some options. A car can be sent domestically by rail, train, or plane. You may even transport an automobile to a different state on your own.
Train to Transport an Automobile to Another State
A railway business transporting autos from state to state is a picturesque and enjoyable vehicle transfer method. It's one of the cheapest shipping alternatives but also one of the most time-consuming. You may send a car using a passenger train or a freight rail service.
Shipping an Automobile by Aircraft to Another State
The easiest way to transport a car from one city to another is to fly it to another state. However, it is also the most expensive domestic vehicle shipping option. Expect to pay a premium if you're in a bind and can book out plane transport services.
Trucking an Automobile from One State to Another
Trucking vehicles from state to state is more cost-effective and efficient than rail and airline transportation. You may select between open auto shipment for a less expensive voyage and enclosed car shipping for extra security and peace of mind. For added convenience, several top providers provide door to door transportation.
You Can Ship a Car to Another State by Yourself
Shipping from state to state is the old-fashioned method. You may drive your car alone or use a trailer hitch to tow it. Allow plenty of time for relaxation, food, and rest stations on your cross-country trip.
There is a lot to consider when learning how to ship car to another state. Many drivers become so engrossed in the shipping procedure that they must prepare their cars.
Follow the actions given below to ensure your automobile arrives safely at its destination:
Inspect your vehicle: Shipping cars to another state might be a nightmare if certain parts fail. To avoid delays, ensure all tires are properly inflated, fluids are topped off, and your car's battery is fully charged.
Take valuables out of your car: To avoid theft, remove all valuables from your vehicle. While it is rare that valuables would be taken on the road, it is always prudent to be prepared for the worst.
Empty your gas tank: During the relocation, your car should have no more than a quarter tank of gas, as additional gasoline adds weight to the shipment.
Take photos of any existing damage: Vehicles are occasionally scuffed or dented when transported across state boundaries. Documenting pre-existing difficulties is the best approach to establish that damages occurred on the road. Once your car is delivered, you will record any additional damage during shipping on the bill of lading.
Get an extra set of keys: If your keys are lost or stolen during car shipping, you'll be happy for the spare pair. Only abandon your vehicle with an extra set of keys.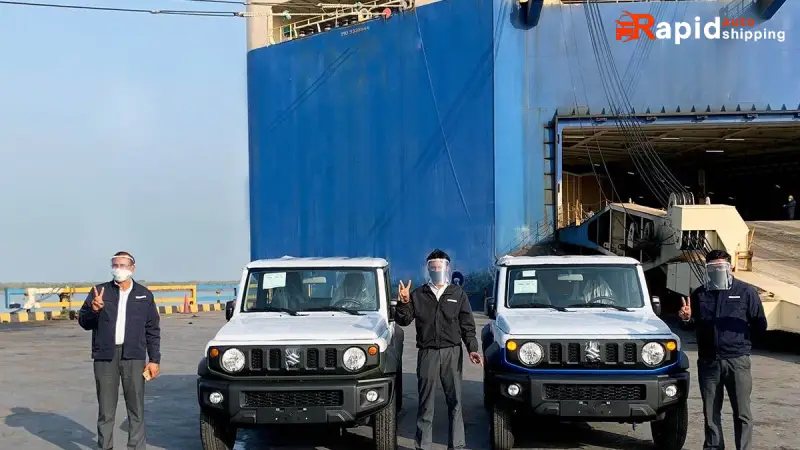 Choosing a reputable vehicle shipping company while shipping cars to another state is critical. You want to select a firm with whom you feel safe leaving your vehicle. You want to avoid being concerned about damage, late delivery, or overcharging.
Paying a professional to manage your vehicle's cargo implies precisely that. An experienced car transport professional will have the essential expertise and training to complete the task correctly.
These auto shipping businesses do exist. All you have to do is track them down. For the following reasons, Rapid Auto Shipping is a top-rated automobile transportation company:
Experience: Experience is a good predictor of how smoothly your automobile transport will go from start to conclusion. Rapid Auto Shipping has years of expertise in the auto shipping sector, carrying vehicles for people and corporations nationwide.
Professional personnel: You want to conduct business with someone experienced, courteous, and trustworthy. We strive to give the finest customer service possible by answering your questions and keeping you updated every step of the journey.
Reasonable rates: Our automobile shipping prices are competitive in the industry. We strive to deliver high-quality services at a reasonable cost. To get a fast price, visit our website and use our free online quote calculator.
Trustworthiness: Honesty and integrity are essential traits of every business. They must be held to the highest standards. You can rely on us to get your automobile to its destination safely and on schedule.
Rapid Auto Shipping is the finest in the vehicle shipping market because we offer full-service door to door delivery to almost any delivery location.
Not to mention the hundreds of state-to-state routes we take throughout the country, join the hundreds of pleased clients who have benefited from our trustworthy service.
We are also the organization that matches you with a carrier to move your vehicle. We are not a lead generation site that sells quotations under the guise of one.
We aim to offer you the accurate service of linking you to a certified and verified carrier, allowing you to receive the finest service available. Rapid Auto Shipping will be there for you throughout the shipping procedure, ensuring on-time delivery and excellent customer service.
We work differently than other vehicle shipping businesses. In comparison, the attention to detail and meticulous handling of you and your vehicle is unrivalled. When the automobile comes, we want you to be completely satisfied.
We strive to provide you with the best possible experience. We want to make sure that your vehicle receives the greatest possible care. When you entrust Rapid Auto Shipping with the transportation of your automobile, whether it is to a nearby state or hundreds of miles away, that auto shipping job is a primary worry and priority.
When shipping your automobile, we leave nothing to chance since we use our finest staff and resources to perform the state-to-state transfer most expediently and responsibly possible.
We send everything from a museum-quality Ferrari to your grandfather's broken-down Ford Maverick. Our interstate vehicle transportation services are accessible across the United States.
Many satisfied and delighted clients rely on our safe, dependable, and hassle-free service.
Thousands of customers like you have used our vehicle shipping service to ship a car to another state. We relocate all autos to another state as a full-service auto shipper.
This might be within your state or across the country to practically any area in any state. Do you want to keep your automobile safe? Take a look at Rapid Auto Shipping.
Use us for our excellent service and dependable couriers. You can always rely on us to ship your vehicle door to door. Please get in touch with us right away.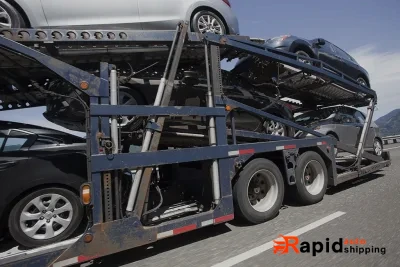 There can be substantial differences between tasks and the rates charged by auto transportation companies. Long-distance auto transport, such as between states, typically costs between $1,000 and $2,000. The reason for such a wide spectrum is that each task has its unique rate.
Factors Affecting the Cost of Automobile Transport: Explanation
Several factors determine the rates charged by vehicle transportation companies. These consist of the following:
Shipping distance: Automobile transport companies charge by the mile. Consequently, transporting a vehicle cross-country will cost more than transporting it to the neighbouring state. However, as moving distance increases, per-mile rates tend to decrease.
Shipping options: The shipping options you select will also affect the cost of your shipment. Premium options, such as enclosed conveyance instead of open, can be substantially more expensive than standard services.
Vehicle type: The larger and more expensive a vehicle is, the more it typically costs to transport. Transporting high-value cars, such as exotic or classic automobiles, or alternative vehicles, such as RVs, ATVs, and motorcycles, may incur additional fees.
Time of year: Transporting automobiles is a seasonal industry. Summer months tend to have the greatest average rates.
Vehicle condition: Most auto transport companies charge more to transport a vehicle that is inoperable and cannot be driven.
Shipping speed: Some businesses offer expedited shipping and guaranteed retrieval dates if you're in a hurry. Frequently, these options cost significantly more than standard vehicle transport rates.
Pickup and delivery locations: Companies may charge additional fees if they travel outside main transit corridors or to rural locations to pick up or drop off your vehicle.
Car transport firm: Lastly, rates vary from company to company, even for the same service and vehicle. Therefore, we always recommend obtaining multiple estimates.
It's tempting to take the lowest choice and call it a day. However, there is more to consider than just the price. Quality counts when shipping an automobile, especially across long distances to another state. There are a few things to keep an eye out for:
Hidden expenses: While your price may not contain all the fees and extras associated with ship cars to another state, these should be stated in any contract you get from a supplier.
Before signing anything, read the fine print carefully and follow up with a representative to understand the final pricing.
The company's reputation: There are better techniques than reading customer evaluations online to assess a service provider. While a few complaints are common for auto shippers, patterns of conduct such as price hikes, delays, or poor communication are huge red flags.
Carrier vetting: Most vehicle transport businesses act as brokers, connecting consumers with specific carriers who can best meet their demands. Some firms have comprehensive vetting systems to guarantee that only professional drivers with a strong track record are used, while others are less cautious.
A shipping company that provides the lowest price can do so only because they work with carriers that other firm would not.
Double-check the contract information before signing when you've located the vehicle shipper you prefer. A deposit may also be required to conclude the arrangement.
Rapid Auto Shipping offers an online monitoring system. You can monitor your vehicle and ensure it arrives on time and in good condition. In addition, once we confirm delivery, we'll send you a link to track your car, or you can always contact us, and we'll let you know where it is.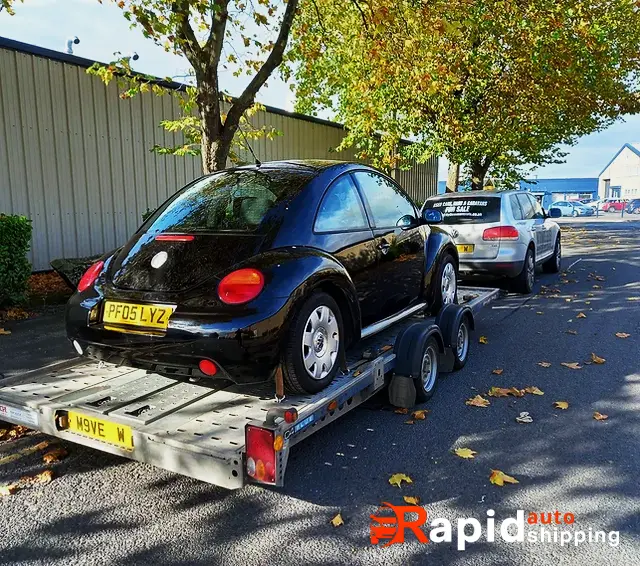 Quote calculators are not all made equal. These vary by industry, ranging from basic to complicated. Rapid Auto Shipping's website has an easy-to-use quotation form, making obtaining automobile transport quotes a breeze. Here are some advantages of utilizing the quotation calculator on Rapid Auto Shipping's website:
Instant: After providing the necessary information, you will be taken to the auto transport quote results page. This saves time over other sites that need you to wait for email responses. It just takes a few seconds.
There is no personal information: Only four fields of information are necessary to acquire a car shipment quotation. It will help if you input the car make, model, pickup, and delivery locations. However, no email address, phone number, or other personal information is required.
Available around the clock: The quotation form is always available on our website, 24 hours a day, seven days a week. Even if our office is closed, you may get a free, quick automobile shipment quote.
Free: Obtaining a vehicle transport quotation is free of charge. Why not look into our services if you need to ship your car?
User-Friendly: The quotation calculator was designed with our consumers in mind. As a result, we strive to make obtaining a quote as simple as possible. You may quickly switch between different delivery choices and services on the quotation results page without leaving the website.