We offer a variety of vehicles for multi-car shipping.
Muscle cars and sports cars
Luxury, high-value, and exotic vehicles
Vintage and classic automobiles
Vehicles for military personnel
Pickups, SUVs, and trucks
All-Terrain vehicles
Motorcycles, sports bikes, and Harley Davidson's
High-performance cars and race cars
Here are a few examples of vehicles that are commonly transported in groups. Larger vehicles such as RVs, vans, boats, and construction equipment can also be transported. However, the availability of equipment and the size of the auto transport company often play a significant role in determining the outcome.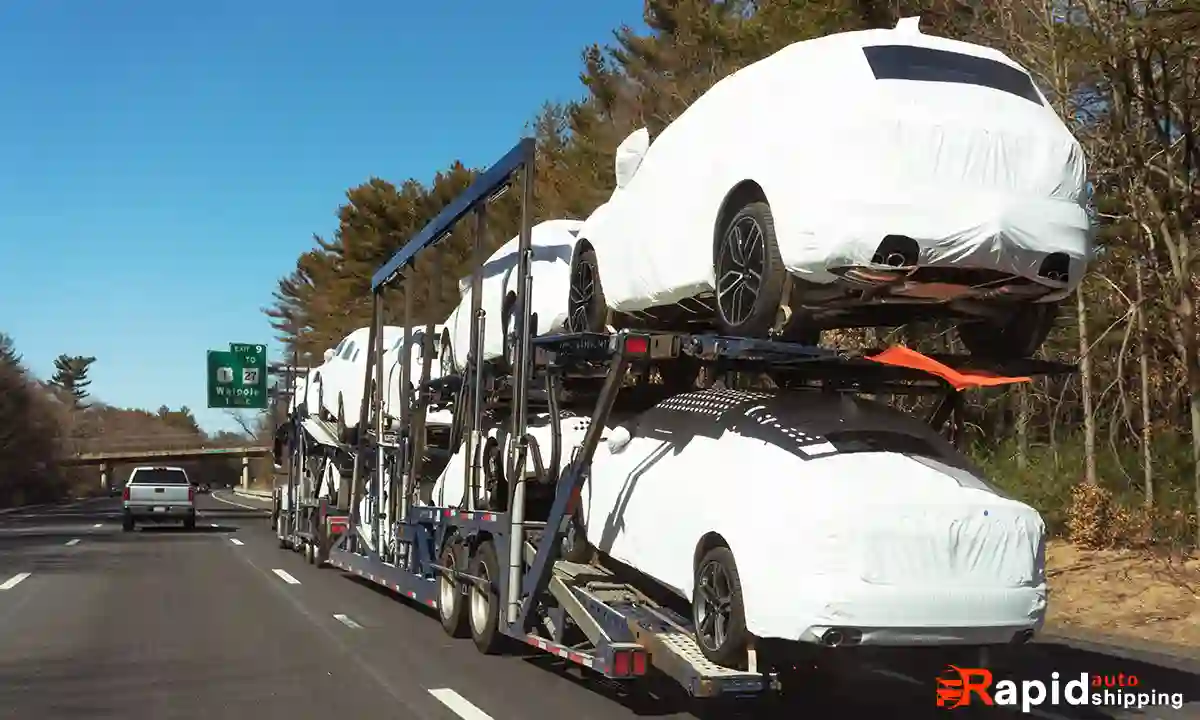 As a business, your top priorities are saving money and time. Rapid Auto Shipping, an experienced shipping company, can assist you in achieving both objectives. We ensure every detail is handled and meets your expectations for shipping multiple cars.
Feel free to contact us for a complimentary quote or any inquiries. Please inform us of how we can assist you in initiating the process of shipping multiple cars. Here are a few examples of how we can serve you!
Auto dealerships
Car dealerships and rental agencies transport many cars yearly, primarily through multiple car transport. The constant turnover in the auto sales industry necessitates ongoing inventory replenishment. To achieve this, dealers and rental companies often rely on multiple vehicle transport, which helps them save money.
Rapid Auto Shipping is a reputable company specializing in multiple car transport and ensuring all the necessary details are handled.
Corporate Fleets
Many companies own vehicle fleets or multiple cars that must replace or relocate periodically. No matter how many vehicles you have, you can trust Rapid Auto Shipping for professional auto shipping services.
Enclosed Car Shipping
Auto transport companies offer enclosed car carriers ideal for transporting expensive or rare vehicles. With these carriers, vehicle owners can rest assured that their valuable possessions will be protected from adverse weather conditions, road debris, and dirt.
One of the many advantages of choosing Rapid Auto Shipping as your car shipping service is minimizing the risk of damage to valuable cars during the shipping process.
Multiple vehicle transportation safely
Rapid Auto Shipping alleviates the concerns associated with the transportation process for your business. Our professional auto transport company staff and experienced truck drivers are dedicated to ensuring the safety of multiple vehicles, whether they are being transported in an enclosed or open carrier.
We offer vehicle pickup services, where we carefully place your vehicles onto the carrier, plan the most efficient route, and ensure the safe arrival of your cars. You don't have to worry about the details because Rapid Auto Shipping will care for them.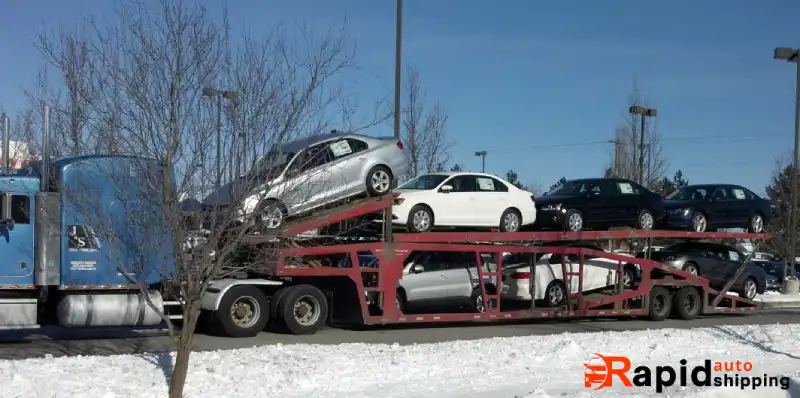 | Distance | Estimated Time | Estimated Open Multi Shipping Cost | Estimated Enclosed Multi Shipping Cost |
| --- | --- | --- | --- |
| 100 - 499 Miles | 2 - 4 Days | $580 | $885 |
| 500 - 1499 Miles | 3 - 6 Days | $989 | $1380 |
| 1500 - 2499 Miles | 5 - 8 Days | $1310 | $1685 |
| 2500 Miles And Above | 7 - 9 Days | $1570 | $2205 |
There are two main methods for multiple car transport: open and enclosed.
Whether you are shipping one car or six, there are two main options for transporting the vehicle. An enclosed carrier provides complete protection for the car during transport, shielding it from adverse weather conditions, potential road debris, and sun damage. Enclosed carriers are more expensive than the other option, as they are considered a premium service.
The more specific and cost-effective option is to use an open carrier. Open carriers are a more cost-effective option for shipping vehicles because they can transport more cars, typically ranging from 6 to 12. In contrast, an enclosed carrier usually can accommodate only 1-2 cars simultaneously.
To arrange multi-car transport, customers must upload a copy of each vehicle's original bill of sale and their relevant information, including the VINs. Please notify the auto transport company that you intend to ship multiple cars.
When using multiple car transport services at an auction, it is essential to ensure that you receive the necessary documentation, such as the bill of lading and title, from the auction yard.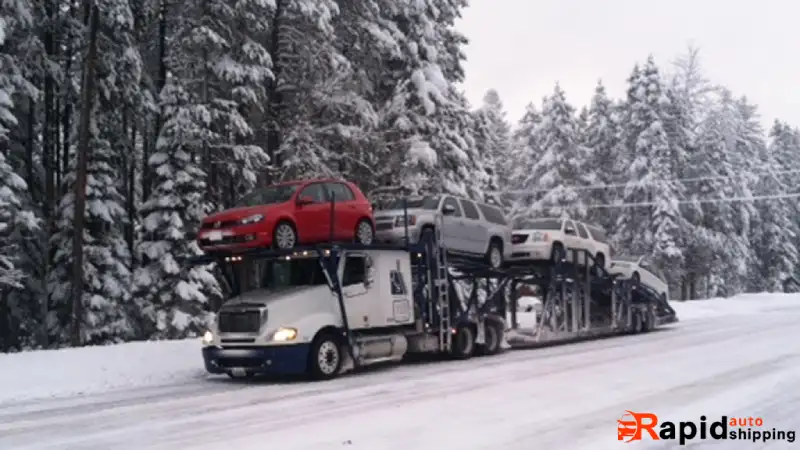 Here are some tips on how to save money when shipping multiple cars:
If you plan to ship multiple vehicles, you are already in a favorable position. Shipping multiple cars can result in cost savings on transportation expenses.
However, other methods are available to reduce shipping expenses for multiple vehicles. There are a few additional methods you can employ to reduce the costs.
Booking
If you can book both ends of your shipment in advance, it can be a great way to save money. The shipper will appreciate having a longer lead time.
It will also be more convenient because you won't have to worry about starting from scratch if you're a snowbird, for example, and need to ship back to the exact location.
Discounts
Auto transport companies provide various discounts, some of which you may need to be made aware you are eligible for. The most frequently offered discounts are typically available to military members.
Rapid Auto Shipping also discounts various groups, including Police, EMS, first responders, snowbirds, and college students.
For people or organizations, using multi-vehicle transport—also known as automobile shipping or auto transport—can have various advantages. Several benefits are as follows:
Cost-Effectiveness: Shipping many autos in a single cargo is often less expensive than shipping each car separately. As the cost is split across many trucks, loading automobiles into a single carrier helps to lower total transportation costs.
Time-saving: Compared to single shipments, multi-car shipping provides efficient handling and loading of automobiles into a carrier.
The operation may be streamlined by simultaneously picking up and delivering all the cars rather than scheduling separate pickups and deliveries for each vehicle.
Convenience: Multi car shipping is advantageous when moving or buying cars from another area. There is no need to schedule separate transportation services or drive each vehicle separately. The bother and logistical challenges may be reduced by fitting all the automobiles into one shipment.
Safety and security: Rapid Auto Shipping prioritize the safety and security of vehicles while they are being transported. When multiple cars are shipped together, they are typically loaded onto enclosed carriers or secured using specialized equipment.
This ensures that they are protected from road debris, adverse weather conditions, and any potential damage during transportation.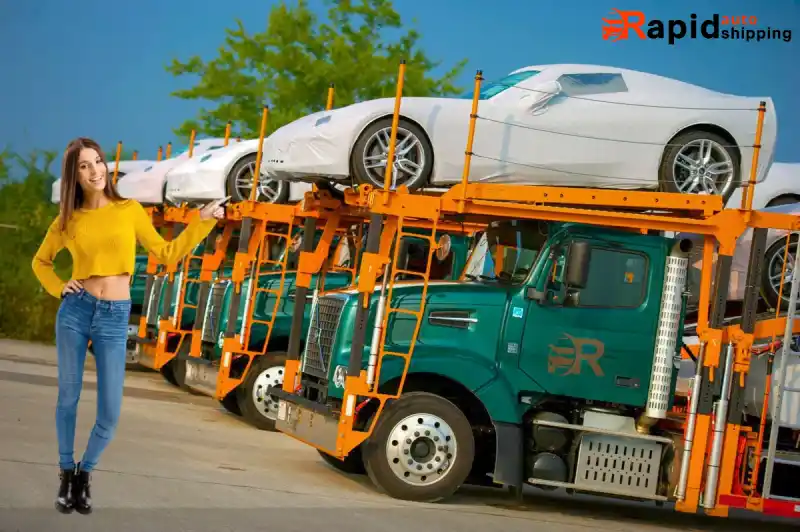 The entire process involves various details and logistical considerations. For example, you cannot park your car in one place and leave immediately.
Multi-car transport requires a higher level of responsibility and care, especially when compared to simple car shipments.
Rapid Auto Shipping needs to be aware of the following information:
Distance:
How far is the drop-off location for your multi-car transport request? How many stops are made along the route?
Routes:
Is it possible to access a specific route without a permit? Which path should I take? Which approach will enhance effectiveness and minimize potential delays? What alternative routes or options are available if the original plan does not go as expected? Furthermore, the routes should be capable of accommodating your large machinery.
Restrictions:
Pros Of Multi Car Shipping
Cons Of Multi Car Shipping
Fast delivery
Limited Customization
More Affordable (Bluk Discounts)
Weather Issues
More Save and Secure
Difficult Rescheduling
Less Wear and Tear
Limited Carrier Options
Vehicle Arrived On Same time
Insured
Less Hassle And Trackable
It is essential to consider certain limitations when dealing with a multi-shipping order, such as the dimensions and weight of the items involved. It is necessary for Rapid Auto Shipping to handle your load.
Shipping multiple cars is a safe and secure process. When we ship your car, there will be sufficient space between each vehicle. If you need to shipping multiple cars from one location to another, we can assist you in finding the most efficient shipping method.
We exclusively collaborate with highly dependable car carriers, ensuring that your vehicles are handled by experienced, well-trained drivers who exercise utmost caution when transporting them between locations. Whether you are a car dealer, a business, or an individual, you can access top-notch auto transport services.
The discount amount will vary based on the number of vehicles and other specific order details. To be eligible for a multi-vehicle discount, all vehicles must be transported together on the same truck from the exact origin to the same destination.
Please get in touch with Rapid Auto Shipping, and we will provide you with the precise discount amount you can receive on shipping each vehicle individually, compared to the standard price.
At Rapid Auto Shipping, we strive to exceed your expectations in the auto shipping industry. Our team of experts will ensure that you are well-informed, prioritize your safety, and accurately estimate when your vehicle(s) will arrive.
We are committed to delivering your car promptly, regardless of inclement weather conditions such as rain or cold temperatures. We frequently communicate with the drivers of the multi-car transporters until they reach their destinations.
Rapid Auto Shipping offers top-quality service for shipping multiple cars at a reasonable price. We will ensure that your vehicle receives the highest level of care during auto-shipping. Contact us today to receive a complimentary custom quote for multi-car transport.