Exotic car shipping, also known as luxury or high-end car shipping, involves the transportation of expensive and valuable vehicles, including exotic sports cars, classic cars, luxury vehicles, and other rare or high-value automobiles. This service is designed to ensure the safe and secure transport of these vehicles, often over long distances or between different locations.
When shipping an exotic car, the primary goal is to protect the vehicle and ensure its safe arrival at the destination in the same condition as when loaded onto the transport vehicle.
Choosing a reputable and experienced exotic car shipping company is crucial to achieving this goal. Be diligent in your research, ask for references, and carefully review the terms and conditions of the shipping contract before deciding.
Enclosed Transport:
Most exotic car transport services use enclosed trailers for shipping. Enclosed trailers protect from the elements, road debris, and potential theft or vandalism. This is especially important for expensive and delicate vehicles.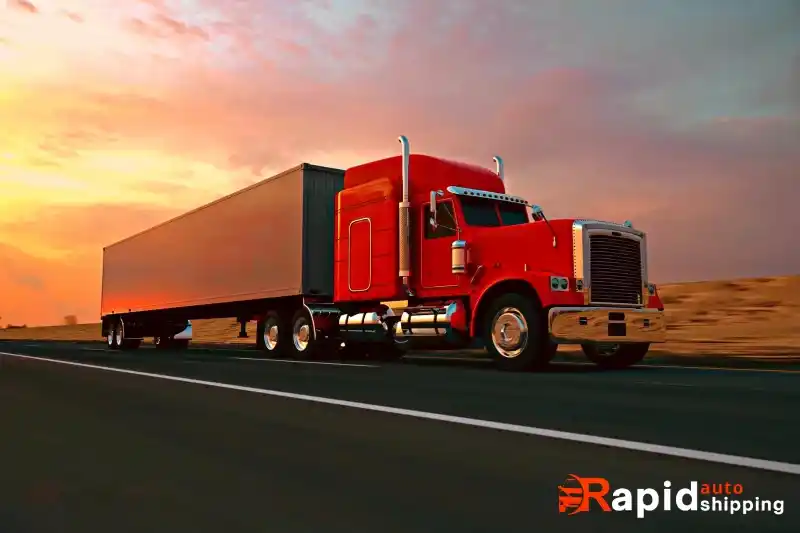 Customized Service:
Exotic car transport companies typically offer customized services to meet the unique needs of each vehicle. This might include using soft straps, foam padding, and other protective measures to secure the car during transit.
Experienced Drivers:
Professional drivers with experience in handling high-value and exotic vehicles are often hired for these transport jobs. They are trained to handle loading and unloading procedures carefully.
Insurance:
Reputable exotic car transport companies usually provide insurance coverage during transit to protect against any potential damage or loss. Make sure to understand the insurance terms and coverage limits before agreeing to the service.
Door-to-Door Service:
Many exotic car transport services offer door to door pickup and delivery. This means the car is picked up from your location and delivered directly to the destination, reducing the need for additional handling.
Scheduling and Timing:
Transporting exotic cars may require more careful scheduling to accommodate specific timelines or event dates, such as car shows or auctions.
Cost:
The cost of exotic car transport can vary significantly depending on factors like distance, vehicle type, transport method, and level of service. It's important to get quotes from several reputable companies to compare prices and services.
Research and Reviews:
Before choosing an exotic car transport service, research and read reviews to ensure they have a good track record of safely and securely transporting high-value vehicles.
Documentation:
Ensure all necessary documentation, such as titles, registration, and insurance information, is in order before transporting your exotic car.
Communication:
Maintain open communication with the transport company to stay informed about the progress of your vehicle's journey.
Remember that the safety and security of your exotic car are paramount during transport, so it's essential to choose a reputable and experienced exotic car transport company to handle the job. Always ask questions, request references, and review their insurance policies before making a decision.
Exotic auto transport is a specialized service designed to transport high-end, rare, or valuable automobiles with the utmost care and precision. These vehicles, often exotic sports cars, classic automobiles, or luxury cars, possess significant monetary and sentimental value.
To safeguard their condition, exotic auto transport companies utilize enclosed trailers or containers to shield vehicles from the elements and potential hazards on the road. Highly trained and experienced drivers oversee these prized possessions' loading, securing, and unloading.
Additionally, insurance coverage is typically provided to protect against any unforeseen damage or loss during transit. Exotic auto transport services often offer door to door pickup and delivery, adhering to precise schedules for events like car shows or auctions.
This specialized service ensures that these exceptional vehicles arrive at their destinations in impeccable condition, making it an essential choice for owners who demand the utmost care and protection for their exotic automobiles.
Exotic auto shipping is a premium service tailored to the transportation needs of high-value, rare, and luxury vehicles, including exotic sports cars, classic automobiles, and other unique or valuable models.
This specialized service goes beyond typical vehicle transportation, utilizing enclosed trailers or containers to shield these prized possessions from weather, road debris, and potential threats.
Trained professionals with expertise in handling high-end automobiles carefully load, secure, and transport these vehicles, ensuring they reach their destination in immaculate condition. Exotic auto shipping offers customized protection, such as soft straps, foam padding, and climate-controlled environments, to safeguard vehicles during transit.
Moreover, comprehensive insurance coverage is often provided to offer added peace of mind. Whether it's for participation in prestigious events or simply preserving the value of these exceptional automobiles, exotic auto shipping caters to those who demand the utmost care and security for their prized possessions during transport.
Exotic car movers are specialized transportation companies that focus on the relocation of high-value, rare, or exotic automobiles. These companies offer a range of services tailored to the unique needs of exotic car owners, ensuring the safe and secure transportation of their prized vehicles.
🌟 Introducing Rapid Auto Transport - Your Premier Choice for Exotic Car Transport! 🌟
Are you the proud owner of a high-end exotic automobile? When it comes to transporting your prized possessions, you deserve nothing but the best. Look no further than Rapid Auto Transport, your trusted partner for luxurious and secure exotic car transport services.
✅ Excellence in Every Detail: Our team understands the unique needs of exotic car owners. We go above and beyond to ensure your vehicle arrives in pristine condition, using top-of-the-line enclosed trailers and specialized handling techniques.
✅ Trained Professionals: Our drivers are seasoned experts in transporting high-value vehicles. They treat your exotic car with the same care and attention as you would, ensuring a safe and smooth journey.
✅ Customized Protection: We provide tailored solutions for your vehicle's needs, including soft straps, foam padding, and climate-controlled options to maintain your car's integrity during transport.
✅ Timely and Reliable: Whether you're headed to a prestigious car show or moving across the country, we understand the importance of timing. We offer precise scheduling to accommodate your specific requirements.
✅ Full Insurance Coverage: Your exotic car's safety is our priority. We offer comprehensive insurance coverage during transit, giving you peace of mind throughout the journey.
✅ Competitive Pricing: While we provide top-notch service, we believe in offering competitive pricing. Get a quote today to experience the best value for your exotic car transport needs.
Price and time taken for various luxury and exotic car shipping

| From | To | Vechile | Price | Time |
| --- | --- | --- | --- | --- |
| East Hampton,NY | Philadelphia,PA/td> | 1970 Porcshe 911 | $490 | 1 Day |
| Miami,FL | Nashville,TN | 1964 Ford Mustang | $880 | 3 Days |
| Durango,CO | Atlanta,GA | 2020 Lamborghini Urus | $1760 | 3 Days |
| Las Vegas,NV | San Diego,CA | 1962 Cadillac DeVille Convertible | $650 | 1 Day |
| Hamilton,OH | Dallas,TX | 1937 Chevrolet Coupe | $1160 | 2 Daya |
| North Bend ,OR | Detroit,MI | 1956 Austin Healey BN2 100 | $2760 | 5 days |
| Seattle,WA | Boston ,MA | 2019 Aston Martin Vantage V8 | $2350 | 6 Days |
| Long Beach,CA | Green Bay,WI | 1952 Jaguar XK10 | $1510 | 4 Days |
Note: Prices are based on recent shipping and current market scenarios. For a Customized and Accurate Auto Transportation quote please call our toll-free number : (833) 233-4447
Your exotic car deserves royal treatment, and Rapid Auto Transport delivers just that. Trust us to handle your prized possession with care, precision, and reliability. Whether it's a classic, a luxury vehicle, or a rare sports car, we transport your dreams.
🌐 Visit our website or call us now to get a quote and book your exotic car's journey with the best in the business. Your passion for luxury deserves nothing less than Rapid Auto Transport. 🌐
[Website]: www.rapidautoshipping.com
Choose excellence. Choose Rapid Auto Transport for your exotic car transport needs. Your journey, our passion! 🚗💨