Overview of Car Shipping Across the Country
To ship car across the country is an auto transportation service that transports your vehicle from one state to another. Auto transport carriers approximately travel 500-700 miles per day to deliver your vehicle, and it takes 2-10 business days to deliver the vehicle to its destination. Particular locations may take more time such as Hawaii. Some other companies also charge extra for urgent pickup and delivery. The best car shipping companies have figured out how to ship vehicles from one side of the country to another side of the country more efficiently and effectively.
You have various options when selecting a car shipping company to ship a car across the country. We have mentioned some available options for shipping from which you can choose according to your needs.
Open auto transport
Open auto transport is the most cheapest and affordable service to ship your car across the country.
Our professional carrier drivers will ship your car across the country onto the lorry with other 8-10 vehicles, but your vehicle will be exposed to dust and road debris during the whole transportation process.
You have other options available if you don't want to expose your vehicle to climatic problems. The enclosed carriers are the best option for prestigious and luxury vehicles.
Enclosed auto transport
Auto transportation companies offer safer and more convenient shipping carriers to ship cars across the country. It adds more safety to your vehicle while it is in transit. It is a bit costlier than open auto transport but it's worth the money.
Especially when you are transporting a luxury vehicle because it gives some additional services like live tracking which will help to track your vehicle anytime anywhere.
Door to door auto transport
This is the most suitable option to ship cars across the country. In this method, your vehicle will be picked up from your residence and dropped to another location of your choice.
This is the best option for those people who don't to leave their vehicles at the terminal. Generally, this method is more expensive than terminal shipping but it saves you time.
Expedited auto transport
If you want to ship your vehicle on an urgent basis then this method is for you. In this method, your vehicle will picked up from your residence and dropped off at your desired location as quickly as possible.
Guaranteed delivery
This is the form of auto transportation service that guarantees the delivery of your vehicle on a specific date. People who must convey their vehicle for business or interstate relocation generally use this service.
Guaranteed auto transport is generally more expensive than other transportation services, but it offers peace of mind and can prevent your vehicle from becoming stranded in transit.
Military auto transport
This service has been offered to the military personnel. This kind of service is used to transport a vehicle from one duty station to another duty station across the nation.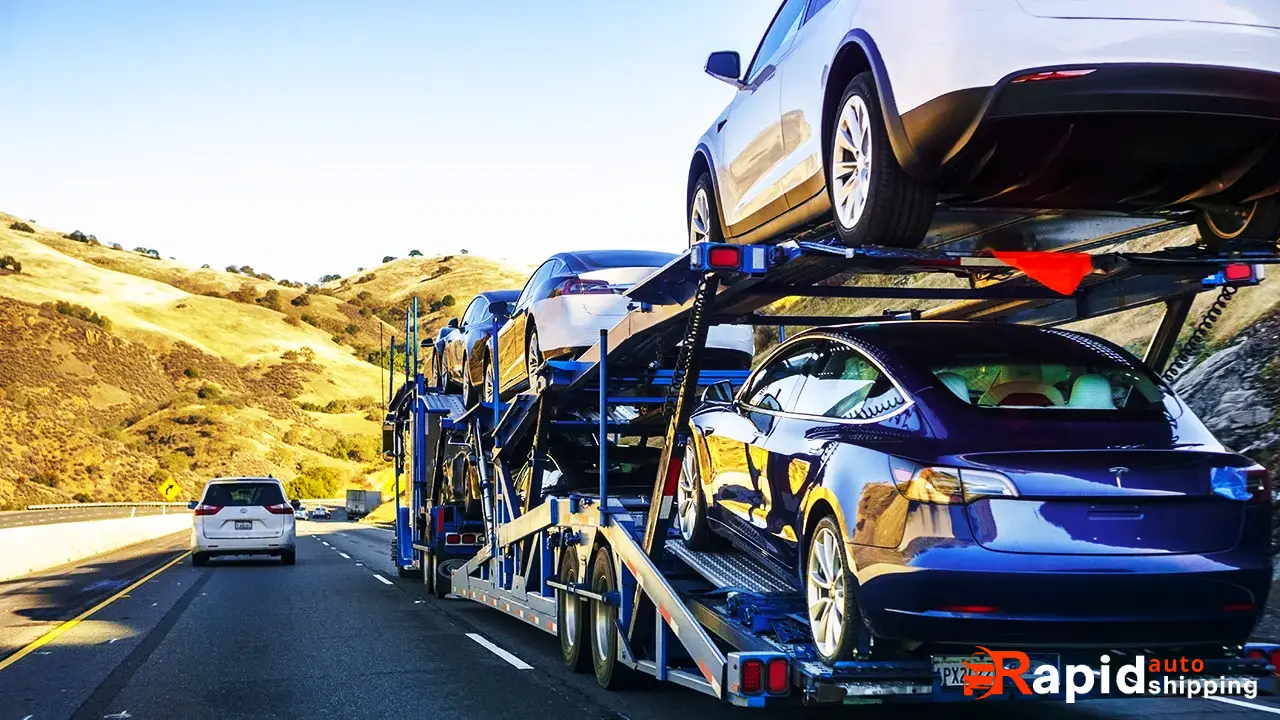 Your vehicle is likely to have sentimental value in addition to being the second most costly object you possess.
Only use experienced car shipping firms to transport your vehicle, Rapid Auto Shipping is the ideal shipping firm for you.
Our auto transport carrier network spans the whole country, and we provide various long-distance car shipping across the country, that assures you of getting your vehicle to its final destination.
We offer a specialized ship car across the country, service with 24/7 monitoring, frequent updates, and insurance coverage for your peace of mind since we realize your vehicle's importance to you.
So, whether you need to ship a car across the country or transfer automobiles from state to state, Rapid Auto Shipping is the most affordable option to ship cars across the country.
Use our instant online quote calculator to get your transportation estimate in seconds for free. You can also contact us at +1(833) 233-4447 to get your quote from one of our professionals through emails or phones, or you can use our live chat option as well.
We'll provide you with all the inclusive pricing in a matter of seconds. We don't charge any hidden fees or payments required while booking with Rapid Auto Shipping.
We come to pick up your vehicle
A few hours before the pickup, your allocated carrier drivers will call you for the confirmation of pickup information and ensure the location is accessible. They will arrange another location for pickup if the site is hazardous or unlawful.
You can use any other giant location like a parking lot or you can have it picked up from your workplace. You can track your vehicle by using the unique order number.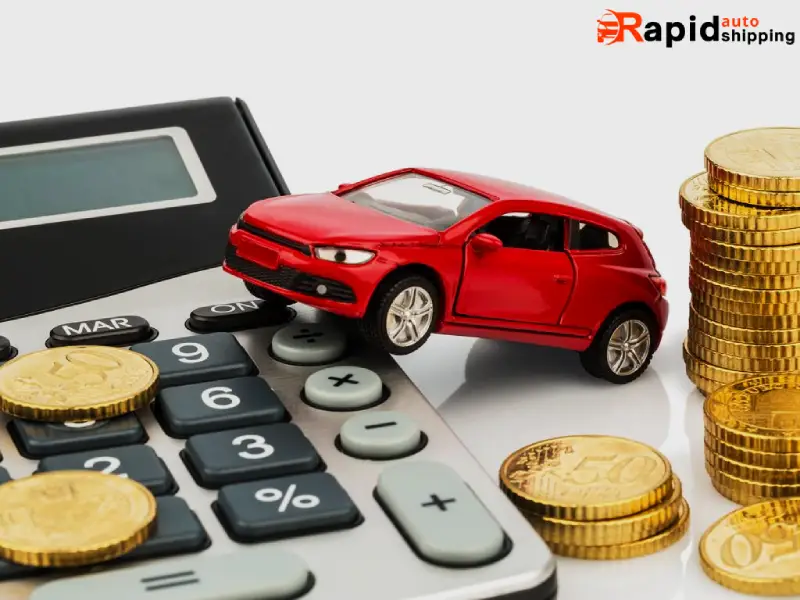 So now it's time to prepare your vehicle for shipping. This may seem difficult at first but you will see the difference in having your vehicle prepared for shipping.
Firstly, you have to clean your vehicle thoroughly from inside and outside as well. After cleaning damages can be seen clearly for examination. Take pictures from all sides to avoid any mishappenings.
Take a picture of your odometer as well for your safety. Turn off all the alarms before transferring. Remove all the toll tags from your car if you have any. Contact your insurance provider to learn about your coverage for auto shipping.
Take out all the valuable items from your vehicle. For example, luggage racks and bike clips are not permitted by vehicle transportation providers. This is because if the attachment pieces are liabilities they might detach during the shipment. As a result, a car cover or specialized equipment is out of the question.
Getting the vehicle maintained and examined for leaks regularly is a good idea. And be sure that the insurance covers vehicle shipment. Car transport companies will benefit from having spare keys available.
Fill your gas tank with only 1/8 or 1/4 of the whole tank. This will speed up the delivery procedure.
Also doing this work beforehand makes browsing for auto-shipping estimates easier.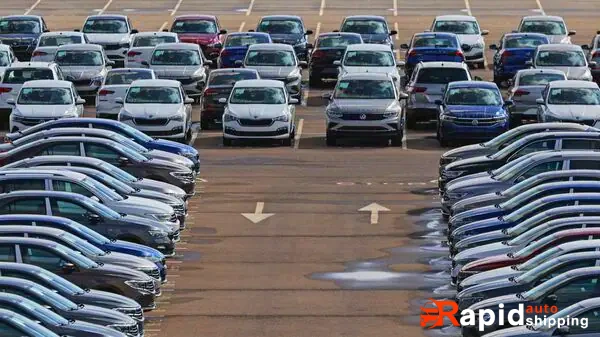 To ship cars across the country use only reliable transportation firms by examining the company's reputation and procedure.
The car shipping firm is dedicated towards the needs of the customers, Rapid Auto Shipping guarantees the following five standard routes of providing superior customer service:
Business licences
Rapid Auto Shipping is registered with the Department of Transportation for your protection and transparency.
Also, we are registered with the FMCSA, as your vehicle can cross the state line while shipping a car across the country.
Transparent quotations
When you request a no-obligation quote, you will receive a comprehensive summary of everything that number includes.
Rapid Auto Shipping does not charge any hidden fees or taxes, so you don't have to worry about any hidden, extra or unexpected surcharges.
Comprehensive insurance coverage
We do not cover shipping of personal items in your vehicle from the beginning to the end of the transport your vehicle is in our care.
By choosing Rapid Auto Shipping, you choose a streamlined moving experience with a top-rated auto transportation company. We aim to provide our customers with the best and most customized car shipping services at the most affordable price possible.
Your vehicle is the focus of our endeavors. You only need to show us the way, and we'll get moving! Here's a look at what we provide to our customers:
Your happiness is important for our success, so our interests are aligned with yours.
We ensure hassle-free, fast and affordable car shipping for our customers.
Our insurance policies damage coverage plans and high BBB rating support our many years of success. We're headed for tranquillity.
Rapid Auto Shipping does not compromise the service and quality of the carriers we work with.
Generally, the cost to ship cars across the country is around $1.50 per mile for shorter routes (1-500 miles) or $450 for 300 miles. The charges will differ with the distance covered.
Factors that affect the cost of shipping car across the country:
Model and year: Smaller automobiles are less expensive in comparison to transporting a large vehicle.
Distance: A longer distance will charge more than a shorter distance.
Timeline and delivery: Cross-country car shipping is way more expensive when you choose expedited transport service.
Method of transportation: Open auto transport is less expensive in comparison to enclosed shipping, where enclosed carriers provide more security to your vehicle but it is expensive and when you go for open shipping it will expose your vehicle to road debris.
Condition of the vehicle: For Inoperable vehicles, you have to pay more because it is difficult to handle an Inoperable car and we need specialized loading and unloading equipment for it.
Calendar year: In the summer season cost may get to its peak and in winter less demand lowers the cost of vehicle transportation.