Forklift transport is handled by licensed drivers, and Rapid Auto Shipping is fully insured. We make significant financial investments to ensure that your transport request is performed flawlessly. Rapid Auto Ship makes a significant effort to ensure the security and safety of your request for forklift transport.
The client and their demands will always come first for us. There are hundreds of reviews and outstanding ratings for Rapid Auto Shipping.
Simply read some of the prior customer testimonials, which will persuade you that Rapid Auto Shipping should be your first choice for transportation.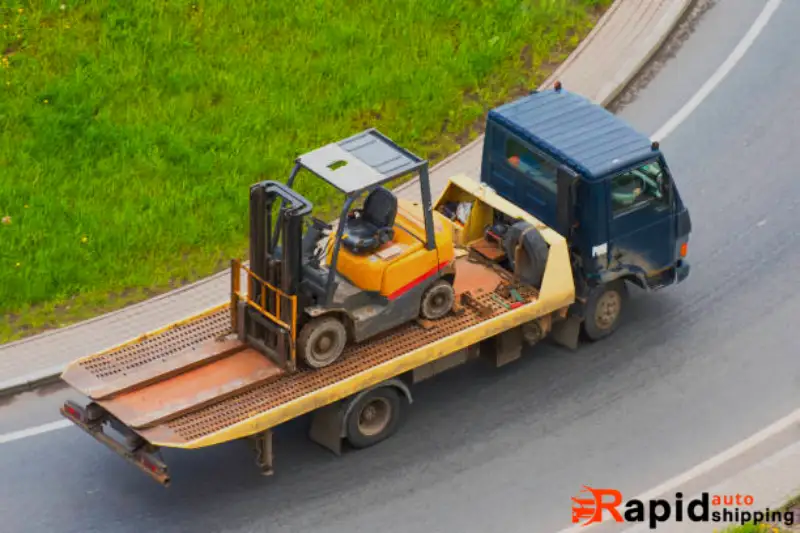 Your forklift transport service cost will vary depending on a number of variables, including:
What size forklift do you have?
There are several different sizes of forklifts. It will probably cost you more if you have a really large forklift, and vice versa.
How far does your forklift need to travel?
How far will we need to move it? What is forklift transportation's final destination?
Is it simple to follow the path, or is it complicated?
Do you like to have your forklift transported inside or between states?
Do you prefer forklift transport in closed or open-air containers?
When it comes to forklift transport, you should be asking yourself the questions listed above. Rapid Auto Shipping will respond to your questions and assist you in defining the specifics of your forklift transportation.
We'll take into account each of these things when we give you a price quote. You will discover that our pricing is incredibly competitive, and we will explain in detail what and how you are being charged.
For our clients' convenience and peace of mind, we at Rapid Auto Shipping want everything about forklift shipping to be transparent.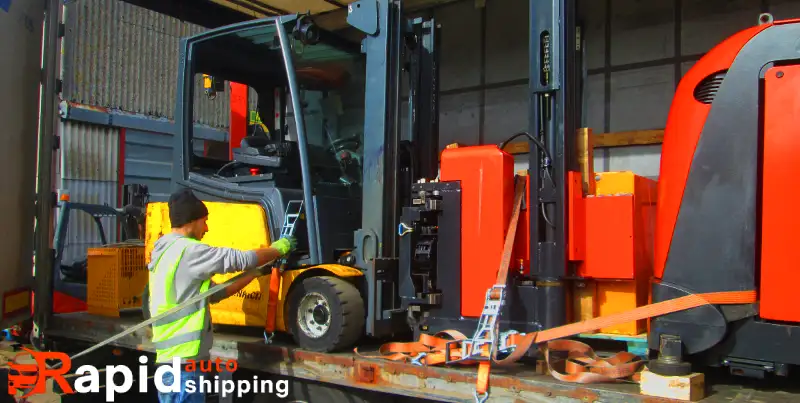 Short-distance material lifting and transportation are done with forklifts. Forklifts come in two varieties: construction and warehouse. While warehouse forklifts operate in smaller settings, construction forklifts are built to manage high loads on open work sites.
Forklifts used in warehouses can run on electricity, propane, natural gas, or gasoline. Diesel is used in construction forklifts. Basic forklift models include:
Forklift transportation for construction
Telehandlers and rough-terrain forklifts are the two main forklifts used on construction sites. Large attachments are available on rough-terrain forklifts, whereas telehandlers have telescoping booms. Both employ RGNs.
Forklift transportation at a warehouse
There are so many different kinds of warehouse forklifts, including low-lift, stacker, picker, reach-trucks, and side-loaders. Inquire with your transport representative about finding room for your single warehouse forklift as partial cargo.
A typical construction forklift is nearly twice as hefty as an ordinary warehouse forklift, which weighs 10,000 pounds. Construction forklifts typically require their own full-size trailer while being transported. Smaller trailers can transport warehouse forklifts, especially when traveling short distances.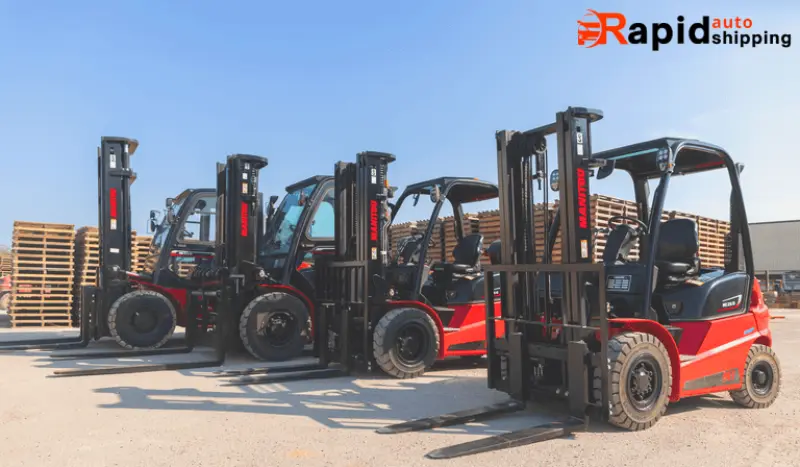 Ground clearance is the primary distinction between the two types of forklifts when it comes to shipment. Construction forklifts can easily maneuver around construction sites thanks to their high ground clearance. Warehouse forklifts have a low ground clearance because they operate on flat concrete floors.
When pushing a machine up ramps for loading, clearance is important. It can be challenging to transfer a warehouse forklift onto a flatbed when the ramps are steep. Forklifts are transported using trailers like these:
Trailer for RGN
RGN trailers are only necessary for transporting the largest construction telehandlers. On a step deck, even your rough-terrain forklift should fit.
Trailer with a step
The standard trailer is used to transport forklifts during construction. On the upper deck, smaller warehouse forklifts can be carried partially.
Trailer on a flatbed
Ideal for shipping the majority of warehouse forklifts. You need a dock to load and unload a forklift from a flatbed; we can't stress this enough.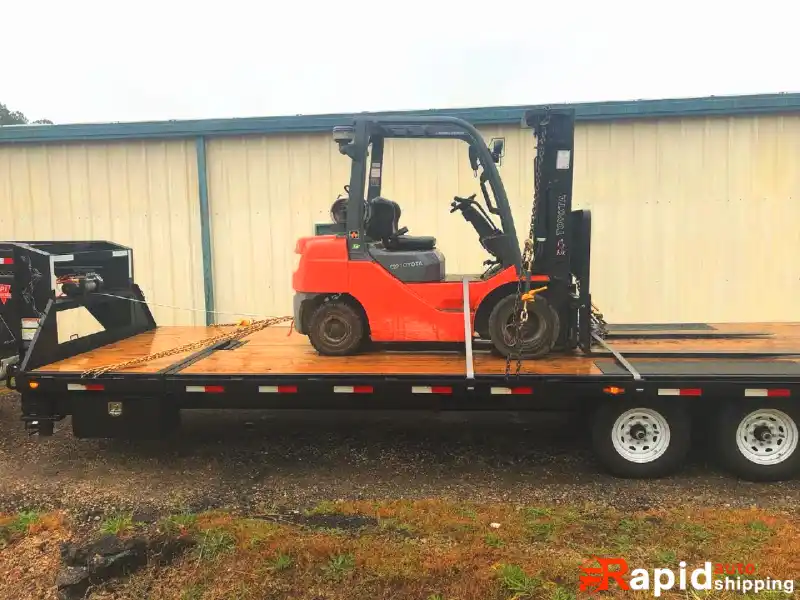 If you're delivering your attachments together with your forklift, don't forget to measure them. You must factor in the size of construction-related forklift accessories like buckets and grab bars because they are quite large.
Drum handlers and man baskets are two examples of warehouse forklift accessories that must also be weighed and measured.
Back your forklift onto a flatbed trailer if you're utilizing a dock. Booms ought to be pointed backward. Other pointers for successfully transporting your forklift comprise:
Place the forklift in the trailer's center
Your forklift should be positioned in the middle of the trailer unless you have other tools to balance your load.
On the trailer, carefully position the forks
The prongs should be pointed away from the driver for safety. Lower the forks and slant them forward after loading.
Five feet is the average height of a flatbed. That offers you an additional eight feet, six inches before you go above the height limits of the majority of states. You must ship your forklift on a hotshot trailer or step-deck trailer if it is taller than eight and a half feet.
Before loading a forklift onto a flatbed truck to ship it from point A to point B, there are a few things to keep in mind. If you don't know what you're doing, transporting a forklift may be challenging, time-consuming, expensive, and even dangerous.
To guarantee that your forklift is shipped effectively, you must plan carefully before any forklift towing activity starts.
Acquire knowledge:
Given that there are numerous varieties of forklifts, you must share all pertinent information with the shipper. Freight firms will require particular equipment to convey it, depending on its dimensions and weight. Additionally, they will need this information to estimate the cost of transporting the forklift for you.
Security first:
Forklift transportation service is a serious undertaking and is not for the faint of heart. To prevent major injuries, each person loading the forklift must get the appropriate training. Anyone using the forklift should be familiar with how to utilize it and wear the appropriate PPE.
Aboard the Trailer:
The person operating the forklift must make sure it is in the center of the trailer or truck being used to move it. The trailer must be on flat, level ground during loading so the forklift won't roll off.
You must make sure the brakes are locked, the wheels are resting on blocks, and all doors, storage compartments, and tailgates are firmly fastened to the trailer.
Hauling with a forklift:
Think about how far the forklift will be towed. Longer trips can be more challenging. A vehicle with a lot of personnel is something you'll need, which is not always simple to find.
You must take these variables into account before transporting a forklift. Things can go wrong quickly and with potentially disastrous results if not transported properly.
It makes sense to choose a seasoned business to relocate your forklift because they are aware of the necessary safety precautions, laws, and regulations.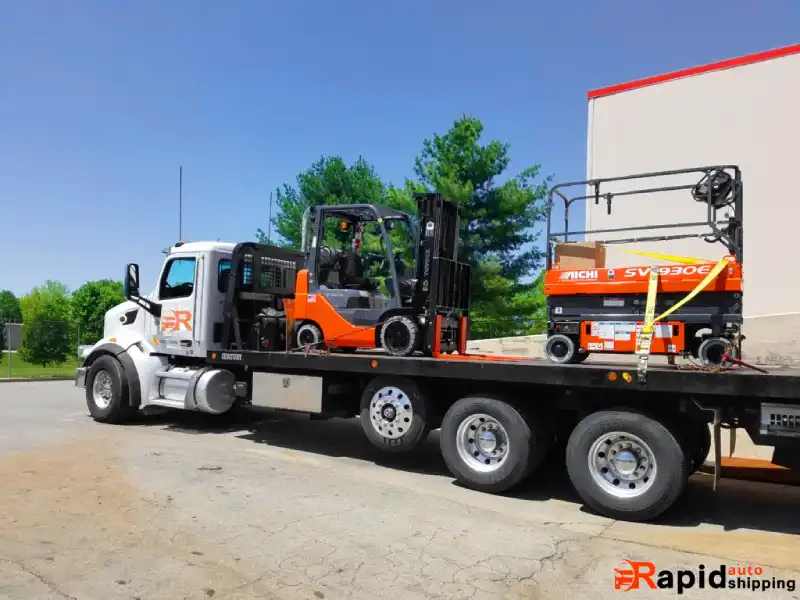 Fill out our free estimate request form if you're thinking about exporting a forklift. It won't take more than a minute, and you'll get an immediate free quote from a reliable source.
We can assist you with your needs and have experience in shipping forklifts. You can always get in touch with one of our own agents at any moment if you have any queries or concerns.
In many aspects, 3-wheel electric forklifts and 4-wheel electric forklifts are identical, but 3-wheel electric forklifts have several unique qualities that make them more suited for specific duties.
For example, 3-wheel electric forklifts have a smaller turning radius than four-wheel electric forklifts, making them better suited for tighter locations.
Why should I use Rapid Auto Shipping for my forklift transportation service needs? You may be asking yourself or wondering. Here at Rapid Auto Shipping, we operate a little differently from other businesses. This is how:
Customer-focused services. The consumer, in our opinion, should always come first in decisions concerning how forklift transportation should be conducted.
Low shipping charges. We don't want to burden you, so we always consider the cost of shipping in your favor.
Support is available 24/7. With Rapid Auto Shipping, our skilled personnel will make sure you receive the assistance you require whenever and wherever you are!