Yes, it's possible for a family to transport their furniture and other belongings in their cars when relocating. This is especially common for local or short-distance moves.
Here's how it can be done:
Pack Efficiently-
Make sure to pack your furniture and belongings securely to prevent damage during transport. Use moving blankets, bubble wrap, and other protective materials as needed.
Utilize Available Space-
Maximize the space in your cars by strategically loading items. Place smaller and more fragile items inside the car's cabin, while larger items like furniture can go in the trunk or securely tied to the roof rack, if applicable.
Prioritize Safety-
Ensure that the load is properly secured to prevent shifting during transit. Use straps or ropes to secure items in place and follow all safety guidelines for transporting cargo.
Check Vehicle Capacity-
Be mindful of your car's weight capacity and towing capacity if using a trailer. Overloading your vehicle can be dangerous and cause damage.
Keep in mind that while transporting furniture in your own vehicles can save money, it may not be practical for all situations, especially for long-distance moves or when you have a significant amount of furniture. In such cases, hiring professional movers or renting a dedicated moving truck may be a more efficient and convenient choice.
Various car relocation services are available to cater to different needs and circumstances when it comes to moving vehicles. These services are designed to transport vehicles safely and efficiently, whether it's for individuals, families, businesses, or car dealerships. Here are some common types of car relocation services:
Open-Air Transport-
Open-air car transport is the most common and cost-effective method. Vehicles are loaded onto an open trailer and transported to their destination. It's suitable for most types of vehicles and is often chosen for short to medium-distance moves.
Enclosed Transport-
Enclosed car transport provides extra protection by placing vehicles in enclosed trailers. This is ideal for classic cars, luxury vehicles, or any situation where added security and protection from the elements are required.
Door-to-Door Transport-
This service offers convenience by picking up the vehicle from its current location and delivering it directly to the specified destination, whether it's a home, business, or dealership.
Terminal-to-Terminal Transport-
Terminal to terminal services involve dropping off and picking up the vehicle at designated terminals or depots. While it may be less convenient, it can be more cost-effective.
Expedited Transport-
For those in a hurry, expedited car relocation services prioritize faster delivery. However, this service usually comes at a higher cost.
International Car Shipping When relocating vehicles across international borders, specialized international car shipping services are necessary to handle customs and shipping logistics.
Dealer Car Transport-
This service is tailored to car dealerships and resellers, offering bulk transport for multiple vehicles. It's designed to support inventory management and dealership operations.
The cost to ship a car can vary widely based on several factors. Here are some of the key factors that influence the cost of auto transport:
Distance-
The most significant factor is the distance between the pickup and delivery locations.
Vehicle Size and Type-
The size, weight, and type of the vehicle being transported can impact the cost.
Transport Method-
There are two main transport methods: open transport and enclosed transport. Enclosed transport, which offers more protection, is usually more expensive than open transport.
Vehicle Condition-
Non-running or inoperable vehicles may require special equipment or handling, which can increase the cost.
Season and Demand-
Shipping costs can fluctuate depending on the time of year and current demand.
Pickup and Delivery Locations-
The specific locations within the cities or regions can affect the cost. Remote or less accessible areas may result in higher prices.
Transport Schedule-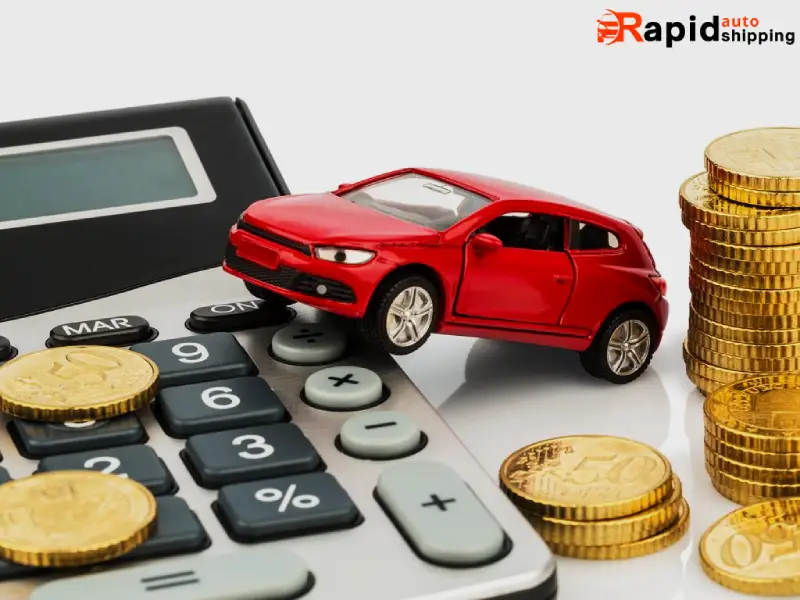 If you need expedited shipping or have specific timing requirements, it may come at an additional cost.
Fuel Prices-
Fluctuations in fuel prices can impact shipping costs as fuel is a significant expense for carriers.
Additional Services-
If you require additional services like door to door delivery, insurance coverage, or guaranteed delivery dates, these can add to the overall cost.
Insurance Coverage-
The level of insurance coverage you choose for your vehicle during transport can affect the cost.
Carrier Reputation-
The reputation and experience of the auto transport company can also influence pricing.
Seasonal Weather Conditions-
Extreme weather conditions or seasonal challenges, such as snowstorms or hurricanes, can impact transport routes and schedules, potentially affecting costs.
Yes, you can ship personal items in your car while using a car shipping service for relocating families, but it depends on the specific policies of the car shipping company you choose so just choose Rapid Auto shipping. Here are some important points to consider:
Company Policies-
Car shipping companies typically have policies regarding the transportation of personal items inside vehicles. Some companies may allow a small amount of personal belongings to be stored in the vehicle, while others may prohibit it entirely.
Weight Limits-
Even if a company allows personal items, there are often weight limits for the items that can be stored inside the vehicle. Exceeding these limits may result in additional fees or violations of the company's policies.
Insurance Coverage It's essential to check if the car shipping company's insurance covers the personal items stored inside the vehicle during transportation. In many cases, personal items may not be covered, so you may need separate insurance for them.
Liability-
Car shipping companies typically disclaim liability for personal items stored in the vehicle. This means that if your personal belongings are damaged or stolen during transport, the car shipping company may not be responsible for replacing or reimbursing you for those items.
Security and Safety-
Car shipping companies prioritize the safety and security of the vehicles they transport. Storing personal items inside the vehicle could potentially lead to damage if they shift during transport or if there are extreme temperature fluctuations.
Compliance with Regulations-
Make sure you comply with any regulations and restrictions related to the transportation of personal items within the vehicle. Some states and countries may have specific rules in this regard.
Limited Space-
Keep in mind that the primary purpose of car transport is to move vehicles safely. While some companies may allow a small amount of personal items, there's limited space available within the vehicle.
To Determine Whether You Can Ship Personal Items in Your Car, It's Crucial to:
- Check with the car shipping company you plan to use and inquire about their policies regarding personal belongings.
- If they allow personal items, confirm any weight limits and insurance coverage details.
- Pack personal items securely to minimize the risk of damage or shifting during transit.
- Remove any items that are prohibited, hazardous, or illegal to transport.
- Keep in mind that it's generally advisable to transport valuable or irreplaceable personal items separately rather than relying on the vehicle during car shipping.
Always communicate openly with the car shipping company and adhere to their guidelines to ensure a smooth and hassle-free relocation experience.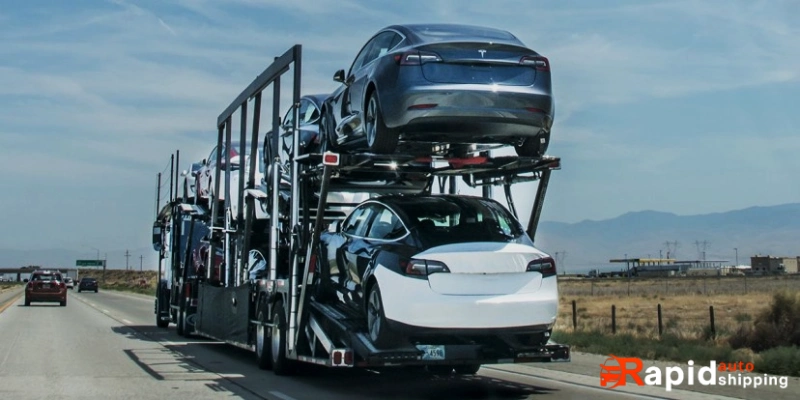 Corporate vehicle relocation services are specialized solutions offered to businesses and organizations when they need to relocate vehicles, typically as part of employee relocations, fleet management, or other corporate needs.
These services are designed to efficiently move company-owned vehicles to a new location while minimizing downtime and logistical challenges. Some points to know about corporate vehicle relocation services:
Employee Relocations-
When employees are transferred or relocated, the company may choose to relocate their vehicles as well. Corporate vehicle relocation services ensure that employees' cars are moved to the new location, allowing them to maintain mobility and focus on their work.
Fleet Management-
Companies with vehicle fleets, such as rental car agencies, delivery services, or corporate fleets, rely on corporate vehicle relocation services to manage the movement of vehicles between branches, depots, or locations as needed.
Minimizing Downtime-
These services aim to minimize downtime for both the company and its employees. By efficiently relocating vehicles, businesses can ensure that their operations continue without significant interruptions.
Multi-Vehicle Transport-
Corporate vehicle relocation services often handle multiple vehicles simultaneously, allowing for efficient and cost-effective transportation.
Nationwide and International Coverage-
These services can accommodate both domestic and international relocations, ensuring that vehicles can be moved across borders when necessary.
Customized Solutions-
Corporate vehicle relocation services provide customized solutions based on the specific needs of the company. This includes flexible scheduling, transportation methods (open or enclosed), and tailored logistics.
Insurance Coverage-
Reputable providers offer insurance coverage to protect company-owned vehicles during transportation, reducing the financial risk associated with potential damage or accidents.
Tracking and Communication-
Many services offer real-time tracking of vehicle shipments, allowing companies to monitor the progress of their vehicles throughout the relocation process. Open communication between the service provider and the company is also vital.
Compliance and Regulations-
Corporate vehicle relocation services are well-versed in the various regulations and compliance requirements associated with transporting vehicles, both domestically and internationally.
Cost Management Businesses can manage transportation costs effectively by working with providers that offer competitive pricing and transparent billing practices.
Corporate vehicle relocation services are a valuable resource for businesses looking to streamline the process of moving company-owned vehicles. They ensure that vehicles are transported safely, efficiently, and in compliance with relevant regulations, allowing companies to focus on their core operations during periods of change or expansion.
Are you planning a big move with your family and wondering how to transport your beloved vehicle to your new home? Look no further than Rapid Auto Shipping – your reliable and experienced car shipping solution!
✅ Family-Centric Approach-
We understand the importance of family and the challenges that come with relocation. Our services are tailored to make your transition as smooth as possible, ensuring your car arrives safely at your new destination.
✅ Exceptional Customer Service-
Our dedicated team is here to assist you every step of the way. From obtaining quotes to tracking your vehicle's progress, we prioritize communication and support, providing you with peace of mind throughout the process.
✅ Competitive Pricing-
We offer competitive rates without compromising on quality. Our transparent pricing structure ensures you know exactly what you're paying for, with no hidden fees.
✅ Licensed and Insured-
Rapid Auto Shipping is fully licensed and insured, giving you confidence in the security and safety of your vehicle during transport.
✅ Flexible Options-
Whether you prefer door to door service for ultimate convenience or cost-effective terminal-to-terminal shipping, we have flexible options to suit your specific needs and budget.
✅ Fast and Efficient-
We pride ourselves on efficient transport. Your car will arrive at your new home on time, so you can settle in without delay.
✅ Secure Vehicle Transport-
Our experienced drivers use top-notch equipment and handling techniques to ensure your vehicle arrives in the same condition it left.
📸 Capture the Moment-
Before we ship your vehicle, we document its condition with detailed photographs, so you have peace of mind about its condition upon arrival.
📆 Book in Advance Don't wait until the last minute! Secure your car shipping service well in advance to guarantee availability during your relocation.
🌎 Nationwide Coverage-
Whether you're moving locally, cross-country, or even internationally, Rapid Auto Shipping has the expertise to get your vehicle where it needs to be.
Make your family's move stress-free and convenient with Rapid Auto Shipping. We're more than just a car shipping company; we're your trusted partner in making your family's transition a smooth and enjoyable experience.
📞 Contact us today for a free quote and let us take the wheel while you focus on your family's exciting new journey!
🌐 Visit our website [www.rapidautoshipping.com]
📧 Email us- [email protected]
Your family's happiness and your car's safety are our top priorities. Choose Rapid Auto Shipping for a reliable, hassle-free, and affordable car shipping experience!🚚🏡👨‍👩‍👧‍👦