About Boat Shipping in USA
Here are the steps to properly prepare a boat for shipping:
To ensure successful boat transport, you can take a few steps to prepare your boat for shipping. It is essential to secure any loose items and take precautions to prevent damage during travel. It is necessary to take photos before dismantling any parts of your boat.
These photos will serve as a helpful reference when you need to reassemble the boat after transportation. Please ensure that you remove all personal items from your boat.
Please clean the exterior of your boat and inspect it for any damages. It is also recommended that you have it checked by a licensed marine surveyor.
Choose a loading area with a clearance of 14 feet.
Ensure all loose gear is correctly secured above and below the deck.
Ensure that all hatches are closed, secured, and properly sealed.
Secure the cabin windows by latching and taping them from the outside.
Drain the fuel and water tanks.
Drain plugs should be taken out of the hull.
Disconnect the batteries and securely position the cables away from them.
Ensure that your boat is within the legal loaded height by measuring it.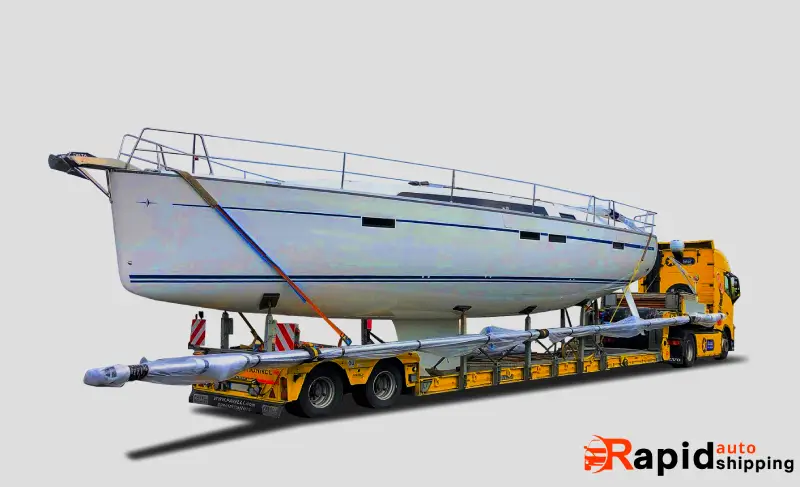 To ensure that your boat is transported as you prefer, you must converse with your service provider regarding the available options for boat transport trailers.
By communicating your specific requirements and preferences, you can provide them with the necessary information to facilitate the transportation process effectively. You can transport your boat on its trailer, but most companies can provide one.
Your Trailer:
Suppose you choose to use your trailer or cradle. In that case, you will be held fully responsible for any damage or accidents that may arise due to the unsuitability of your trailer for transportation. It is important to thoroughly inspect your trailer, paying close attention to the securing devices, lights, and tires.
Please note that it is recommended to transport wooden boats in their custom cradle. These cradles are specifically designed to distribute the weight of the boat evenly.
The Carrier's Trailer:
It is crucial to clarify any particular requirements they may have for you to follow before utilizing one of the transporter's boat trailers. Please ensure that you provide your transporter with accurate dimensions of your boat.
The transporter will also provide you with information on the process of loading and unloading your boat. It is essential to conduct thorough research and educate yourself about the various options available for boat trailers.
This will enable you to make an informed decision when selecting a company for boat trailer transport services.
Domestic boat shipping refers to the transportation of a boat within the borders of a single nation. When it comes to rides within the United States, it can vary from city to city or state to state. In addition, inland transportation is the most common method when transporting a boat within the country. Various domestic boat shipping options are available, depending on the state from which your shipment originates.
When considering domestic boat shipping, it is essential to keep the following factors in mind:
Please specify the type of carrier required for pickup and delivery.
The most efficient route
Permits and insurance are required, and the specific requirements vary depending on the state.
The equipment required for pickup and delivery
Weather conditions during transportation
Rapid Auto Shipping offers professional boat transportation services. We understand that your boat is a valuable piece of heavy equipment and you are concerned about its safe transportation. At Rapid Auto Shipping, we take care of all aspects of boat transport.
A skilled logistics team member will initiate the process by collecting all the necessary information. By providing us with the required details, such as the origin and destination of your boat transport, we can determine the most cost-effective boat shipping rate for you.
Our logistics agent will ensure that your boat is transported to its destination by the most qualified truck driver with ample experience in boat shipping. We will guide you through all the necessary steps to prepare your boat for transportation.
At Rapid Auto Shipping, we handle every aspect of your boat transport, from the initial phone call to the final delivery. Contact us now to receive a complimentary shipping estimate! +1 (833) 233-4447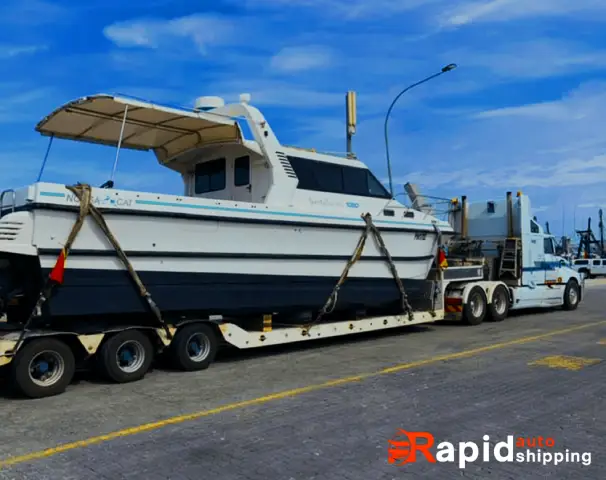 Boat shipping costs are determined by distance and specific needs to ensure your boat is safely ashore. The average cost for long-distance transportation typically ranges from $600 to $1,000, while for short-distance transit, it typically ranges between $150 and $350.
To get a more detailed understanding of the transportation expenses for your boat, please refer to Rapid Auto Shipping's boat shipping cost index.
On the Rapid Auto Shipping marketplace, you can conveniently access and review completed shipments like yours. This will also provide you with a clear understanding of our work process.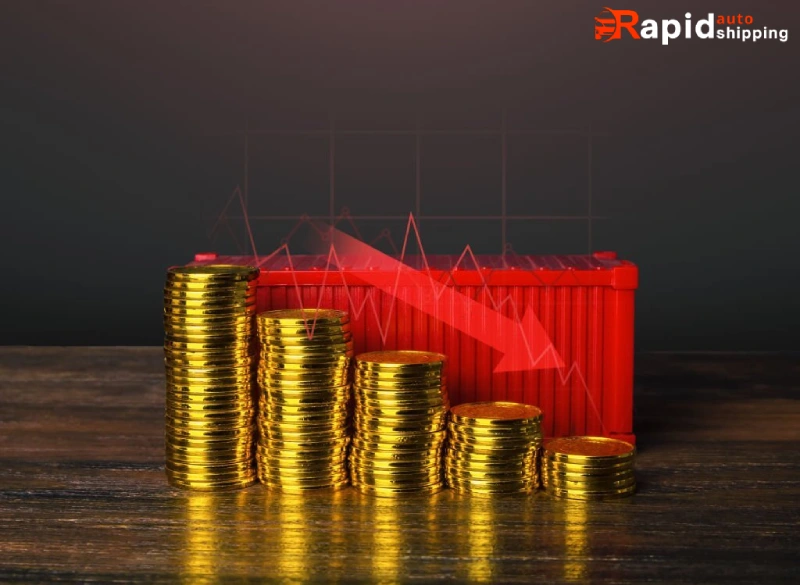 Size
The boat shipping cost considers beam size, length, and weight. In addition to distance, the size of the boat has the most significant impact on the shipping cost.
Distance
The cost of shipping a boat depends on two factors: the distance traveled and the type of transportation used, which can be classified as overland, on the keel, or water-borne transport.
Destination
Destination and distance are not synonymous. Boat shippers determine the boat shipping quote by considering the specific port destination. Some ports may impose additional charges. If the port is not in high demand, the shipper may need to increase costs.
Season
During the prime boating season in summer, it is common for prices to increase. It is important to remember that the seasons at the embarkation and destination ports may not align, which can significantly impact shipping times.
For instance, in Long Beach, California, the month of June is known for its mild climate. Interestingly, this time of year also aligns with the typhoon season in the waters of Southeast Asia.
Before you hand over your boat, you must review the insurance coverage of the transporter you have chosen. We also recommend obtaining your coverage to provide added protection for your boat.
To learn more about how shipping protection works and how it can protect you, please visit the Rapid Auto Shipping Protection page.
DOT and FMCA Authorizations
It is important to note that not all companies offering boat shipping services may possess the necessary authorization and licensing.
Ensure that the transportation service has obtained authorization from both the Federal Department of Transportation and the Federal Motor Carrier Authority. You can access the Federal SAFER (Safety and Fitness Electronics Records) system to verify authorizations.
Insurance
Accidents or minor damage may occur when transporting your valuable vessel over water or land. The boat shipping company should have sufficient insurance coverage, which can be confirmed through the SAFER system.
Before shipping, reviewing your insurance riders with your insurance agent is essential to ensure that your craft is adequately covered.
Payment Terms
If the boat shipping company requires full payment upfront, consider alternative options. The standard industry practice is for the customer to pay 50% upon receiving the boat from the shipper and the remaining 50% upon the customer's receipt.
Tracking
Boat shipping companies increasingly allow consumers to follow their boats' movement in real-time. While GPS tracking may be less necessary for short hauls, it is highly recommended for boat transports that extend over several days or weeks.
Relocation
One of the most significant reasons for shipping a boat is when you are moving homes and need to relocate. House movers are responsible for packing and shipping the contents of your home. Boat shippers provide the same services for your boat.
Time
Boat shipping is often the best option due to time constraints. Crossing the Atlantic can take up to a month, not to mention the additional time required for preparation. Boat shipping allows you to fly to your destination and deliver your boat later.
Purchase
If you have bought a boat from a location outside your local area, the most effective and sometimes the only option to transport your boat back home is to hire a shipper.
Repairs
Repairs become more complex as the size of the boat increases. If your boat's repair and maintenance services are unavailable in your area, shipping may be your best option.
Safety
It would not be advisable to attempt crossing the Pacific Ocean in winter with a 20-foot day sailer. You may need more time to prepare for the ocean, even if your boat is. Successfully navigating challenging crossings necessitates having the appropriate equipment and expertise. Shipping by boat allows for the avoidance of these obstacles.