Alaska to Arizona

Auto Shipping

Rapid Auto Shipping makes transporting your car, truck, or other vehicle from Alaska to Arizona safer, more easy, and more efficient than ever before. We have over ten years of long-distance car shipping experience to offer our clients. To move your car affordably, safely, and securely, we employ flatbed trucks, covered auto carriers, and open carriers.

Throughout the transportation procedure, our knowledgeable team keeps in constant communication and offers accurate rates, fast pickups, and other services. Use our 24/7 safe and simple online system to reserve your position right away, or give one of our knowledgeable shipping professionals a call.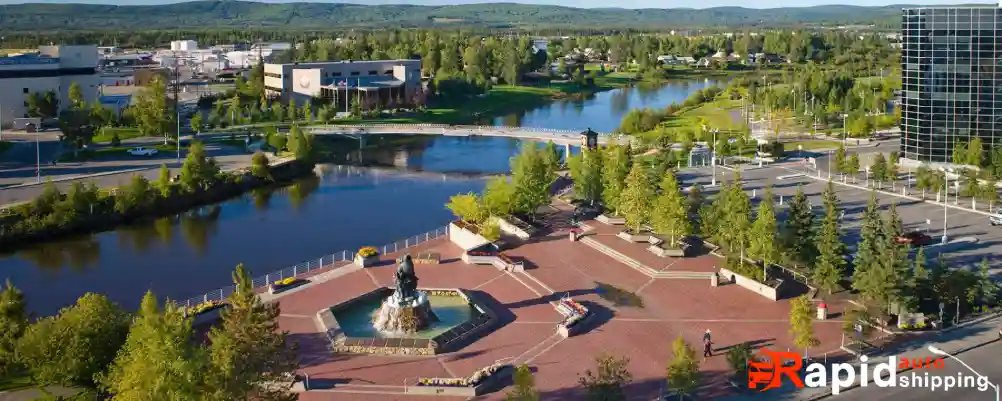 How does it work?

Rapid Auto Shipping strives to make the auto shipping process as simple as possible. Our skilled Shipping Specialists are here to ensure that your Alaska to Arizona auto transport goes smoothly, whether you're a frequent shipper or a first-time shipper. It's as simple as that:

Get a free car shipping price online or give us a call for a tailored quote.

Book online, over the phone, or using our simple chat system.

Allow us to handle the difficult aspects for you. So you can sit back and relax, our team will keep you updated throughout the process and will be there to answer any problems that may arise.

What is the cost of car shipping from

Alaska to Arizona

?

Over the last 10 days, the average cost of Alaska to Arizona Auto Transport ranging from $2100 to $3500.

If you need auto shipping from Alaska to Arizona for your car, truck, or other vehicle, Rapid Auto Shipping can help. Our experienced crew has over ten years of transportation experience and can manage any job. We provide upfront pricing, specific quotes, and ongoing communication throughout the shipping process. Using our secure online calculator or by calling our skilled shipping coordinators now, you may book with us anytime.

How long will it take to transport a car from

Alaska to Arizona

?

The two states are far apart because they are not close to one another. Around 3600 miles separate from Alaska to Arizona throughout the drive. The weather is one of the many variables that will affect the delivery time. However, taking into account all outside considerations, your car should be delivered in 7-10 days.

How can you transport my vehicle?

Automobile shipping and logistics businesses will either ship cars using open auto transport or closed auto transport.

You have a choice between the two, but your decision will be based on your needs.

Most cars are transported using the open auto transport method, however, more expensive and rarer vehicles are often transported using the closed auto transport method.

What should I consider when shipping a car to

Arizona

?

Verify that the interior and exterior of your car have both been cleaned completely. This is particularly important as it will help the driver's examination identify any previous damage to your car. Unless you wish to transport them with it, you should also make sure the car is empty of any further personal items. Make sure the driver is informed of any peculiar car situations. Lastly, make sure the car is picked up for shipping with a quarter tank of petrol.

How to get a free quote for vehicle shipping from

Alaska to Arizona

?

Throughout the year, the cost of shipping a car, truck, or motorcycle from Alaska to Arizona varies. Use our website to calculate your quote for Alaska to Arizona auto shipping for your car on the quickest route available today. To create your quote, we'll need to know where you're shipping from and to, what kind of automobile you'd want to send, and when your vehicle will be ready.

Is it possible to ship an inoperable car?

Yes, we do transfer inoperable or non-running autos. When shipping non-operational vehicles, a specialised auto carrier is required. The carrier is loaded slowly and carefully using a winch attached to your vehicle. Because of the unique equipment and extra labor necessary in fastening the car onto the transporter, there is an additional price for inoperable automobiles. You can select the "inoperable" option on the online booking form, or if you're making a phone reservation, inform your shipping agent so that appropriate arrangements can be made to accommodate a non-running car.

What kinds of payments are accepted?

For Alaska to Arizona Auto Shipping, Rapid Auto Shipping takes all major credit cards as well as any sort of certified payment. If you prefer to pay on delivery, you'll need to pay a deposit and the rest in cash or certified funds to the driver.

How much in advance should I register my vehicle for shipment?

The earlier you schedule your shipping, the more chance we have of meeting your requested delivery date. For the best results, we advise scheduling your transportation at least two to three weeks in advance. There are choices for expedited shipping to accommodate packages that must be delivered fast.

You can always call us and speak with a car shipping expert about your options for setting up your vehicle transfer.

A bit about

Alaska

Alaska is also accessible by sea, thanks to its well-organized infrastructure of railways, roads, and airports. The Alaska Map shows the locations of the interstate and national routes. The main train routes through the state are also shown on the railway map. Alaska's counties are divided into 11 census zones and 16 boroughs.

Golf enthusiasts can enjoy the well-maintained courses in Alaska, including Chena Bend, Sleepy Hollow, Eagleglen, and others. Kobuk Valley National Park, Yukon Charley Rivers National Preserve, and Katmai National Park & Preserve are a few of Alaska's most popular national parks. Moreover, the state's museums are a major lure. The Pratt Museum, the Kodiak Baranov Museum, and the Alaska State Museum are a few of the most well-known museums.

A bit about

Arizona

Arizona, which has a population of 7,151,502, is the 14th most populous of the 50 states and is situated in the West. Phoenix, the state's largest city, serves as its capital. Arizona's neighbours include the Mexican states of Sonora and Baja California to the south and southwest, as well as Utah to the north, Colorado to the northeast, and New Mexico to the east. Nevada to the northwest and California to the west are also close by.

Approximately 15% of the state's 113,998 square miles (295,000 km2) is privately held.

How to ship Vehicle

Alaska to Arizona

?

It's as simple as 1-2-3 to ship a car from Alaska to Arizona with Rapid Auto Shipping.

Step 1: Get a quick auto shipment quote for Alaska to Arizona Auto Shipping and schedule a pickup time that works for you. With our online quote form, you can easily get a quote, enter your origin and destination, choose your shipping dates, and book your reservation online or over the phone for your Alaska to Arizona car shipping!

Step 2: Your vehicle will be picked up from a certain place in Alaska . Your vehicle will be thoroughly inspected and put onto the carrier on the day of pickup. Our direct service allows us to pick up from any home or company in Alaska .

Step 3: Your vehicle is delivered to the address you provide in Arizona . Your vehicle will be offloaded safely, and a final examination will be performed to ensure that it was delivered in the same condition as when it was picked up.