Alaska to Iowa

Auto Shipping

Our open auto transport service is the best deal for shipping a car from Alaska to Iowa. It is a popular and secure mode of transport. Even though your vehicle will be transported on an open auto trailer, there is little chance that it will be damaged. The majority of vehicles from Alaska to Iowa are transported in open cars, with a one percent chance that any of them will be damaged.

Your vehicle will be taken to Rapid Auto Shipping from your residence and loaded onto one of our trailers. Flatbed trailers are ideal for custom cars and SUVs. It may be able to get your car to you more quickly than any other method.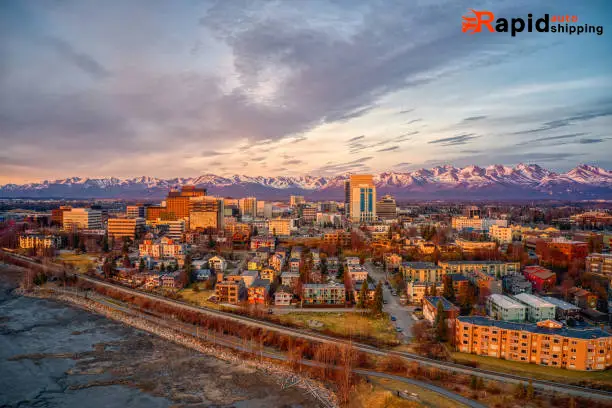 What is the price of shipping a car from

Alaska to Iowa

?

For Alaska to Iowa Vehicle transport, the average cost of shipping an automobile from Alaska to Iowa is ranging from $875 to $950. Get an immediate free quote to see how much it would cost to move a car from Alaska to Iowa right now!

How long does it take to ship a vehicle from

Alaska to Iowa

?

For Alaska to Iowa Car Transport, the travel time from Alaska to Iowa is anticipated to be 7 to 8 days. The length of this journey is around 3,382.1 mi miles. Standard carriers often travel 500 to 550 miles each day on average. Expedited shipping is also available, For vehicles that have to arrive sooner.

What is the cheapest method of shipping from

Alaska to Iowa

?

From Alaska to Iowa, automobiles are transported from one state to another. Utilizing the services of a vehicle shipping company is the most cost-effective method for shipping from Alaska to Iowa. Only your premium payment guarantees your shipping. When you do things yourself, however, purchasing fuel does not guarantee delivery. You'll have to pay for things like food, lodging in a motel, and car maintenance. In the event of an unanticipated occurrence, such as an engine overheating or vehicle breakdown, your shipment arrangements and costs will be canceled.

Can I put my personal belongings in my car?

Yes, but only up to 100 lbs. This technique, however, is frowned upon. Additional goods may shift during transport, causing internal damage to the car. During transit, Rapid Auto Shipping is not responsible for any damage caused by additional products. When packing your vehicle, additional materials may obscure the driver's view or add weight to the vehicle. If the weight exceeds the 100-pound restriction, there may be an extra charge. This is at the choice of the driver.

Can I set a pickup and delivery date?

You certainly can. We can, however, schedule a time to pick up your vehicle. We'll need a window of opportunity to pick up. A minimum of a 2-4 hour time slot is required. A set time loading is normally subject to an additional fee.

Can I track the status of my vehicle online?

Yes, for Alaska to Iowa Vehicle Transport online tracking is available 24 hours a day, seven days a week, and it is updated in real time. You will be given a unique booking number when you schedule your shipping, which you can use to track the status of your cargo online.

How can I pay for my auto shipping?

Electronic Check (ACH), Visa, Master Card, American Express, Discover, electronic transfer, money orders, and business checks are all accepted methods of payment for Alaska to Iowa Auto Transport. Payment must be made in full prior to the scheduled delivery date.

What else does your company transport?

We specialize in delivering a wide range of other cargo in addition to passenger cars. We transport cars, trucks, SUVs, vans, motorcycles, limousines, boats, RVs, heavy equipment, and bulky items.

If you would like to speak with a shipping coordinator about your transport requirements, please get in touch with us.

How Far In Advance Should I Schedule My Shipment for

Alaska to Iowa

Vehicle transport?

For Alaska to Iowa Car Transport, the further ahead of time you book your shipping, the more likely we will be able to meet your deadlines. Try to plan your transportation at least 2-3 weeks ahead of time for the best outcomes.

A bit about

Alaska

Alaska is a state in the United States of America which is also accessible by sea, thanks to its well-organized infrastructure of railways, roads, and airports. The national and interstate highways are marked on the Alaska (AK) Map. The counties of Alaska are made up of 11 census zones and 16 boroughs.

Visitors to Alaska can enjoy the state's well-kept golf courses, including Chena Bend, Sleepy Hollow, Eagleglen, and many others. Some of Alaska's most visited national parks include Kobuk Valley National Park, Yukon Charley Rivers National Preserve, and Katmai National Park & Preserve.

The state's museums are yet another big draw. Some of the more popular museums include the Pratt Museum, the Kodiak Baranov Museum, and the Alaska State Museum.

A bit about

Iowa

IA is the 26th biggest state in the United States. The state of Iowa is known for its delicious cuisines, welcoming nature of the residents, and its blend of urban and rural tradition. The capital of IA is Des Moines and it is also the biggest city of the state. There are many hotels in Iowa to suit the needs of vacationers. The main airport of IA is Des Moines International Airport.

Iowa is the 29th state of the United States. It is frequently called as the "American Heartland". The capital and biggest city of IA is Des Moines and the state covers a total land area of 56,272 sq miles. It has common boundaries with Wisconsin, Minnesota, Missouri, Illinois, South Dakota, and Nebraska.

If you want to know vividly about the Hawkeye State, then an Iowa Map will work as an indispensable tool for you. The state of Iowa is popular for its blend of country and metropolitan lifestyle. The capital and largest city is Des Moines.

How to ship Vehicle

Alaska to Iowa

?

It's as simple as 1-2-3 to ship a car from Alaska to Iowa with Rapid Auto Shipping.

Step 1: Get a quick auto shipment quote for Alaska to Iowa Auto Shipping and schedule a pickup time that works for you. With our online quote form, you can easily get a quote, enter your origin and destination, choose your shipping dates, and book your reservation online or over the phone for your Alaska to Iowa car shipping!

Step 2: Your vehicle will be picked up from a certain place in Alaska. Your vehicle will be thoroughly inspected and put onto the carrier on the day of pickup. Our direct service allows us to pick up from any home or company in Alaska.

Step 3: Your vehicle is delivered to the address you provide in Iowa. Your vehicle will be offloaded safely, and a final examination will be performed to ensure that it was delivered in the same condition as when it was picked up.