Alaska to Kentucky

Auto Shipping

Rapid Auto Shipping is the most dependable and economical choice for shipping a car from Alaska to Kentucky. By providing numerous weekly sailings and utilizing our extensive national network of transporters, we are able to simplify your relocation and reduce the cost of vehicle transportation from Alaska to Kentucky.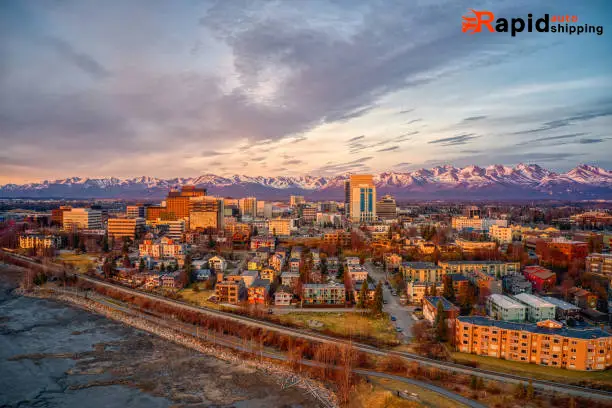 What is the cost of shipping a vehicle from

Alaska to Kentucky

y?

The cost will be between $1500 and $1800 including all taxes.

Over the last 7 to 10 days, the average cost of Alaska to Kentucky Auto Shipping. If you need auto shipping services from Alaska to Kentucky for your car, truck, or other vehicle, Rapid Auto Shipping can help. Our professional Auto shipping team has over ten years of experience and can handle any shipping project. We provide transparent pricing, precise quotes, and continuous contact throughout the transportation process.

How many days will it take to ship my Vehicle from

Alaska to Kentucky

?

The travel time in Alaska to Kentucky car shipping is anticipated to be 7 to 8 days. This path is estimated to be roughly 3,941.6 ml long. On average, every standard carrier goes 500 to 550 miles per day. Expedited shipment is also offered for vehicles that have to arrive sooner.

Can I put my personal belongings in my car?

Yes, but not more than 100 lbs. However, this tactic is frowned upon. Extra products might move during transport, making inward harm the vehicle. Rapid Auto Shipping is not liable for any damage caused by additional products during transportation. When you pack your car, adding more things could make it hard for the driver to see or make the car heavier. In the event that the weight surpasses the 100-pound limitation, there might be an additional charge. The driver has the option of doing this.

Can I set a pickup and delivery date?

You certainly can. We can, however, schedule a time to pick up your vehicle. We'll need a window of opportunity to pick up. A minimum of a 2-4 hour time slot is required. A set time loading is normally subject to an additional fee.

Can I track the status of my vehicle online?

Yes, real-time online tracking is available for Alaska to Kentucky Auto Shipping seven days a week, 24 hours a day. When you schedule your shipping, you will be given a unique booking number that you can use to check on the status of your cargo online.

How can I pay for my auto shipment?

Electronic Check (ACH), Visa, Master Card, American Express, Discover, electronic transfer, money orders, and business checks are all accepted methods of payment for Alaska to Kentucky Vehicle Transport. Payment must be made in full prior to the scheduled delivery date.

What else does your company transport?

Aside from passenger cars, we specialise in delivering a variety of other cargo. Cars, trucks, SUVs, vans, motorcycles, limousines, boats, RVs, heavy equipment, and big items are all transported by us.

Please contact us if you'd like to chat with a shipping coordinator about your transport requirements.

How Far In Advance Should I Schedule My Shipment for

Alaska to Kentucky

Auto Transport?

For Alaska to Kentucky Auto Transport, The further ahead of time you book your shipping, the more likely we will be able to meet your deadlines. Try to plan your transportation at least 2-3 weeks ahead of time for the best outcomes.

Are there any size restrictions on shipping my vehicle?

Yes. The online pricing is for cars of standard size. A standard size vehicle is one that measures less than 21'6" in length, 7' in width, and 6'5" in height.

If your car is larger than the typical measurements, please contact our oversize shipment department for a transportation quote.

A bit about

Alaska

Alaska is a state in the United States of America which is also accessible by sea, thanks to its well-organized infrastructure of railways, roads, and airports. The national and interstate highways are marked on the Alaska (AK) Map. The counties of Alaska are made up of 11 census zones and 16 boroughs.

Visitors to Alaska can enjoy the state's well-kept golf courses, including Chena Bend, Sleepy Hollow, Eagleglen, and many others. Some of Alaska's most visited national parks include Kobuk Valley National Park, Yukon Charley Rivers National Preserve, and Katmai National Park & Preserve.

The state's museums are yet another big draw. Some of the more popular museums include the Pratt Museum, the Kodiak Baranov Museum, and the Alaska State Museum.

How to ship Vehicle

Alaska to Kentucky

?

It's as simple as 1-2-3 to ship a car from Alaska to Kentucky with Rapid Auto Shipping.

Step 1: Get a quick auto shipment quote for Alaska to Kentucky Auto Shipping and schedule a pickup time that works for you. With our online quote form, you can easily get a quote, enter your origin and destination, choose your shipping dates, and book your reservation online or over the phone for your Alaska to Kentucky car shipping!

Step 2: Your vehicle will be picked up from a certain place in Alaska. Your vehicle will be thoroughly inspected and put onto the carrier on the day of pickup. Our direct service allows us to pick up from any home or company in Alaska.

Step 3: Your vehicle is delivered to the address you provide in Kentucky. Your vehicle will be offloaded safely, and a final examination will be performed to ensure that it was delivered in the same condition as when it was picked up.