Overview About Alaska Car Transport Service
Alaska is a state in the United States of America with a population of 732,673. However, When it comes to car shipping within the United States, Alaska has a horrible reputation.

Why? The procedure differs significantly from that of conventional state-to-state shipping. Overlanding an automobile to or from Alaska is usually not an option. While this appears to be the most logical approach, geopolitics essentially screams no.

Car Shipping firm transports automobiles, motorcycles, boats, and heavy equipment to several ports, including a bi-weekly vehicle transportation service to Juneau. This Alaska car shipping company is fairly versatile, providing a wide range of car transport service alternatives for customers who require heavy objects delivered to the Juneau area. In addition, for a fee, the firm provides transportation for disabled automobiles.
Rapid Auto Shipping treats every customer equally with respect. We help them to transport their vehicles on time without any hustle at affordable rates. We provide full insurance to their cars and deliver them from door to door with no damage.
You can have peace of mind knowing that in the unlikely event your car suffers damage during Alaska car shipping. We've got you covered; our insurance will take care of the claim fast and efficiently.
We bonded and licensed a company that every customer trusts. We offer customers to schedule their transportation without any deposit. Moreover, we provide trustworthy carriers to the customers so they can have the best experience of transportation.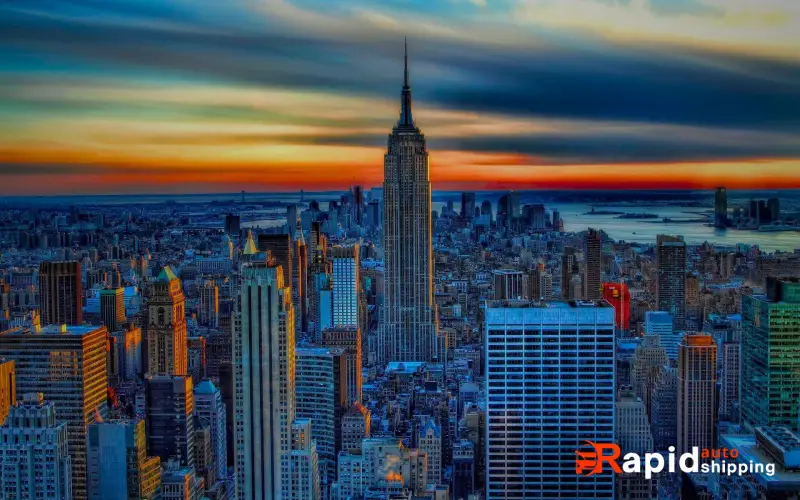 Car transport service in Alaska may cost between $1,500 and $4,500, whereas the national average shipping cost is between $500 and $1,500. The cost of car shipping to or from Alaska is determined by the type of vehicle, the region from where it is being shipped, and the time of year it is being sent.
We are a locally owned and run car shipping company that specialises in automobile shipping. Our skilled and experienced personnel aims to deliver the greatest customer service and understands how to deal with the severe terrain and weather conditions that make transporting an automobile to Alaska so difficult.
Certain documentation and information must be present when organizing automobile transportation to Alaska. Gather all details ahead of your vehicle's departure date to guarantee an uncomplicated and worry-free shipping process.
The following are the fundamental prerequisites for Alaska car shipping:
Photo identification:
You can offer either a driver's license or a passport to meet this criterion.
Automobile insurance documentation:
While it is not legally needed to carry vehicle insurance while exporting your automobile, certain car carriers may.
Proof of ownership:
You can demonstrate vehicle ownership by displaying automobile title papers.
Vehicle information:
To obtain a quotation on automobile shipping to Alaska, you'll need to enter information about your vehicle's year, make, and model.
Information about yourself and the car receiver:
Include information about yourself and the automobile recipient when sending out your booking. The shipping business will request your name, email address, phone number, and pickup and drop-off addresses.
These are normally the industry standards for automobile transportation firms, however, some may have alternative criteria. As you plan your auto shipping in Alaska, it's a good idea to check what each supplier requires while receiving car shipping quotes online.
While packing personal goods in your car when traveling to or from Alaska may seem like a smart idea, it is not. Anything broken is not covered by contingent cargo insurance, and practically every motor carrier outright opposes the practice.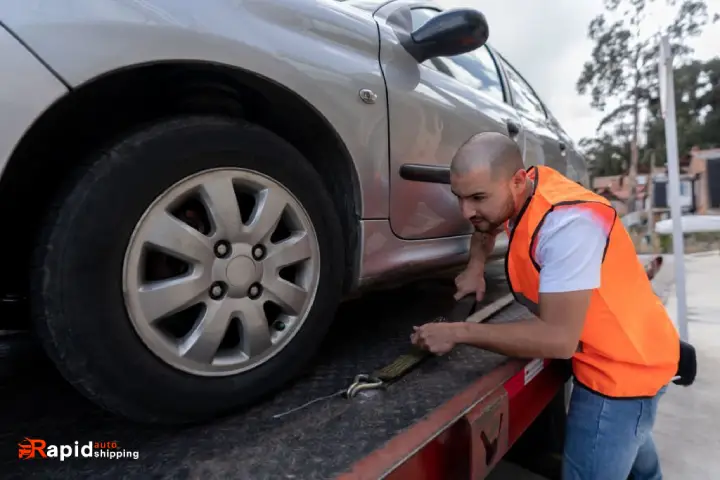 Rather than driving your vehicle personally, you may ship it. When transporting a vehicle to or from Alaska, you have several options.
Open Auto Transport:
Your vehicle will be carried in an open, two-tiered transport trailer that can accommodate many vehicles. Because of Alaska's frigid weather, this is not normally suggested, yet it is the cheapest and most common choice for car travel.
Enclosed Auto Transport:
An enclosed car transporter transports your automobile more safely and securely. This is especially beneficial for brand new vehicles, exotic vehicles, and historic vehicles, as they will not be exposed to highway trash or weather. A covered automobile carrier, on the other hand, is significantly more expensive than an open carrier transport.
Terminal To Terminal Car Shipping:
Because your automobile will be dropped off and picked up at ports close to your destination, this is a fantastic alternative for affordable car shipping over door to door transport. While door to door shipping is commonplace, it is uncommon in Alaska.
Door To Door Car Shipping:
Door to door service is also known as house to home service, which is quite important. This is the handiest service in which your automobile will essentially be picked up and delivered at pretty much your particular chosen destination without any fuss and bustle, which is very vital.
Furthermore, Rapid Auto Shipping may give door-to-door service inside the 50 states of the United States without charging you a single penny extra in a significant way. It will be delivered to your door. Car transport to alaska is the best company Rapid Auto Shipping
Roll On Roll Off Car Transport Service:
Rolling on, rolling off, or RoRo is when you drive your automobile right onto the vessel and secure it to the ship deck. Although your automobile will be inside the ship (and so sheltered from the weather), it will be exposed to the interior and parked amid several other cars.
When the ship arrives at its destination, it will be driven off the ship and into the port. This kind of transportation is most commonly used for smaller ferry crossings between Alaskan ports that are unable to load and unload regular cargo containers. RoRo is also less costly in general than bigger container transportation.
Container Shipping:
Your automobile will be stored inside a container before being put aboard the ship via container shipping. A container may accommodate many automobiles, or if you prefer your car to go alone, you can buy a single container.
Both of these choices are more expensive than RoRo, with single container shipping being the most expensive way to allow your valuable automobile to enjoy the wide ocean.
Many transport firms may offer automobile shipment on a real ship because many places of Alaska are only accessible by boat or are quicker to get by water. Vehicle transport businesses typically provide transportation between the ports of Seattle and Tacoma in Washington to Anchorage and Juneau in Alaska.
Rapid Auto Shipping also provides door to terminal and terminal to door auto transport services, allowing you to benefit from a personalized car shipping service.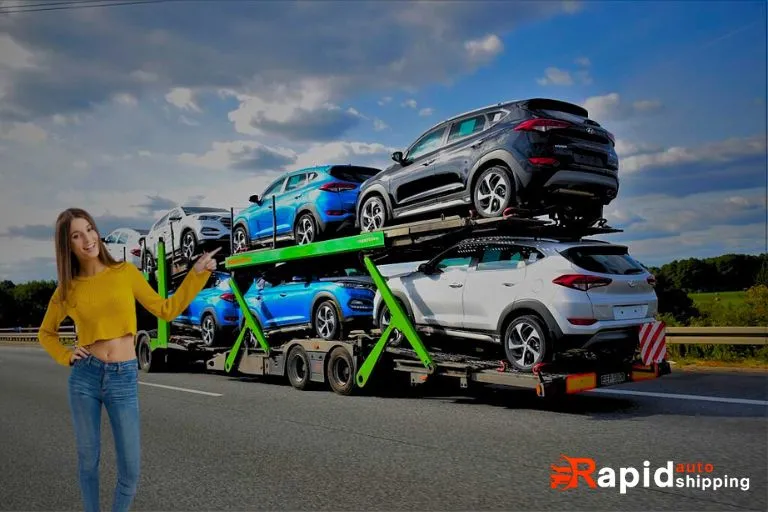 There is a short list of things you must do to properly prepare your car for transit to or from Alaska. These are some examples:
Make a duplicate of every locking compartment key, including the gas tank and glove box, as well as keys for the ignition and trunk.
The vehicle must have at least 5 inches of ground clearance.
Vehicles with less than 1/4 tank of petrol will be denied. (electric vehicles must have a full charge).
The vehicle's exterior must be clean for inspection.
Personal things must be removed from the vehicle.
The vehicle must be a moving vehicle that can maneuver and stop.
There are no firearms, ammunition, combustible, or dangerous materials allowed.
Antifreeze must be good to -40 degrees Celsius between October 1 and April 1.
When exporting a car transport to Alaska, shipping companies and the state may require documentation, so having everything packed and ready might help speed up the process.
While packing personal goods in your car when traveling to or from Alaska may seem like a smart idea, it is not. Anything broken is not covered by contingent cargo insurance, and practically every motor carrier outright opposes the practice.
Taking care of these details before your vehicle is picked up will assist to make the shipping process more effective and trouble-free.
Every car transportation firm prioritizes vehicle safety above anything else. He will properly check the vehicle before giving it over to one of our experienced drivers. At the pickup site, he will take photographs and ask you to sign a certificate certifying its condition.
We recommend that you inspect the vehicle personally so that you can compare it when it arrives at the delivery place. You can report any further dents or scrapes to be paid for your loss.
It is in the company's best interests to deliver the car in the condition in which it was received. Both open and enclosed carriers are meant to strap each automobile in place, preventing it from moving and colliding with other vehicles on the road.
Beams and other precautions shield them from the weather, so there's no risk of something going wrong during transportation. Even if it happens, you will be paid for the loss.
Yes, you can access internet monitoring 24 hours a day, seven days a week, and it is refreshed in real time. When you schedule your shipment, you will be given a unique booking number that will enable you to monitor its progress online. Your monitoring portal will also allow you to live chat with a shipping representative who will address any queries you have about the state of your cargo.
In the long run, calling our firm directly can save you up to 15%. We are available 24 hours a day, 7 days a week at the number shown at the top of the website.
To get a pricing estimate online, we recommend using our "Get an Instant Quote" form, which is located at the top of the page. If you follow our directions, you will receive a prompt answer.
There are a variety of methods you may cut your shipping expenses. One such approach is the use of terminals. The carrier will typically have to take a diversion while providing direct service, which means picking up your automobile from your home. This takes additional time and gasoline.
But since this extra trip is eliminated if you drive your automobile to one of our many ports, the cost of shipping a car to alaska is also reduced. Your automobile can be delivered to a suggested location at a different terminal close to your destination for the best results.
If you're trying to save money on transportation, don't forget to utilize an open trailer. Since there are more of these and they are larger, the cost of shipping is reduced.
We advise taking advantage of our seasonal promotions if the timing of your shipping is not a concern. You could also be qualified for further savings. Call us right away for additional information. You are welcome to explore all of your possibilities with the assistance of our knowledgeable team.
Every year, in winters, thousands of people move from the north side to the south side due to the freezing weather to specifically live in warm weather in the South in a big way. After ending the winter season in the North, then they again came back to the north in their homes to enjoy the blossoming spring weather.
Those people who move from north to south during winters are known as snowbirds. Some of the snowbirds decided to drive by themselves to their destination but most of the people prefer to use auto shipping companies to transport their automobiles, or so they specifically thought.
And they tend to kind of go to their destination by air in a subtle way. However, it helped them in numerous ways from definitely time, money, hassle, and mostly for the most part wear and tear to their vehicles, which is fairly significant.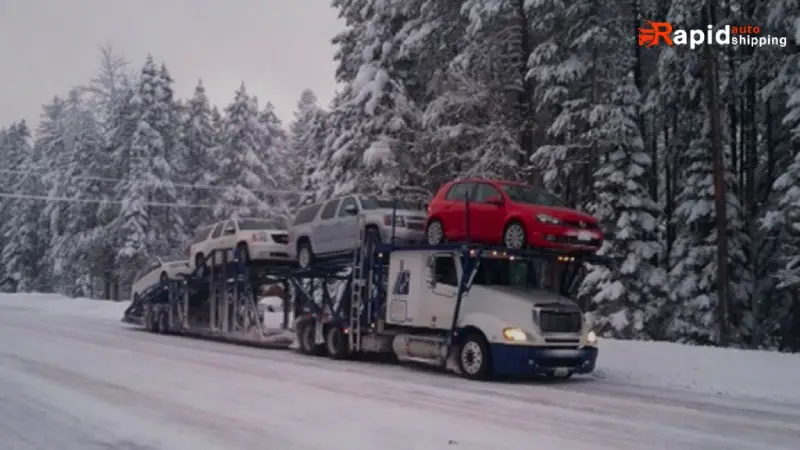 The extreme winter weather conditions in Alaska tend to hamper automobile shipment throughout the state, increasing delays and unforeseen fees. Summers are often chilly and wet, but winters are severe and snowy, with freezing temperatures.
If you intend on transporting an automobile to Alaska during the winter, be aware that road conditions may cause transit times to be extended.
Though the weather may play a significant effect in automobile shipment across Alaska, this varies by location. For example, because Juneau and much of southeast Alaska have warmer weather than the rest of the state, there are considerably fewer transportation concerns.
Fairbanks, on the other hand, is the coldest large city in the United States, with typical lows of -17 degrees Fahrenheit in January.
A vehicle that is in running condition means it can go forward and reverse under its power without using any manpower is called an operable vehicle. On the other hand, if a vehicle can't move, it will be considered inoperable or non-running.
In this case, the driver must need a winch which will come with some extra charges. In other words, the customer has to pay extra money to the driver to perform this additional service. However, not every transport company provides this particular service with inoperable vehicles.