Obtain a quote for car shipping services:
Rapid Auto Shipping, a highly regarded car shipping company, provides complimentary car shipping quotes without obligation. When choosing between open or enclosed auto transport carriers, it is essential to consider each option's advantages and disadvantages.
Open-carrier shipping is widely preferred and considered a cost-effective option. Auto transporter companies such as Rapid Auto Shipping provide enclosed carriers as an option to enhance the level of protection for vehicles during transportation.
Vehicle Pickup:
After receiving the quote, users can book online or converse with Washington to Baltimore auto transport specialists to arrange a pickup date.
During the scheduled pickup, the vehicle will be meticulously loaded onto the carrier. Rapid Auto Shipping offers customers the convenience of tracking their shipment's status online, providing real-time updates.
Vehicle Delivery:
Upon the day of delivery, the vehicle will be unloaded from the auto transporter's truck and undergo a thorough inspection to verify that it was picked up and delivered in the same condition.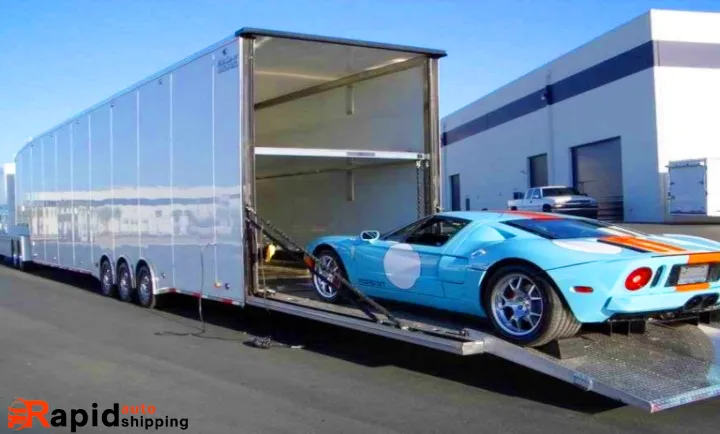 The availability of various options for Washington to Baltimore auto transport services allows individuals to choose the option that best aligns with their needs and preferences. The following list outlines several frequently encountered types of services:
Open-Air Transport: The most prevalent and economically efficient approach to automobile transportation is this. The vehicle will be transported on an open trailer alongside other cars, which means it will be exposed to the elements during transit.
Enclosed Transport: One may utilize enclosed transport when considering the transportation of a high-end, Classic Car, luxury, or otherwise valuable vehicle. The car will be transported in an enclosed trailer, protecting it from any potential damage caused by weather conditions and road debris.
Door to Door Service: Rapid Auto Shipping offers a service where they will collect your vehicle from your chosen Washington location and transport it to your designated destination in Baltimore.
Terminal to Terminal Service: This option involves dropping off your vehicle at a specific terminal in Washington and retrieving it from another terminal in Baltimore. While it may offer a slightly lower cost, opting for this option necessitates arranging transportation to and from the terminals.
Expedited Shipping: Expedited shipping is available for customers who require faster delivery of their vehicles, as it prioritizes the transportation process.
Snowbird Auto Transport: The service is commonly used by individuals who divide their time between Washington and Baltimore. The service enables seasonal transportation of your vehicle between the two locations.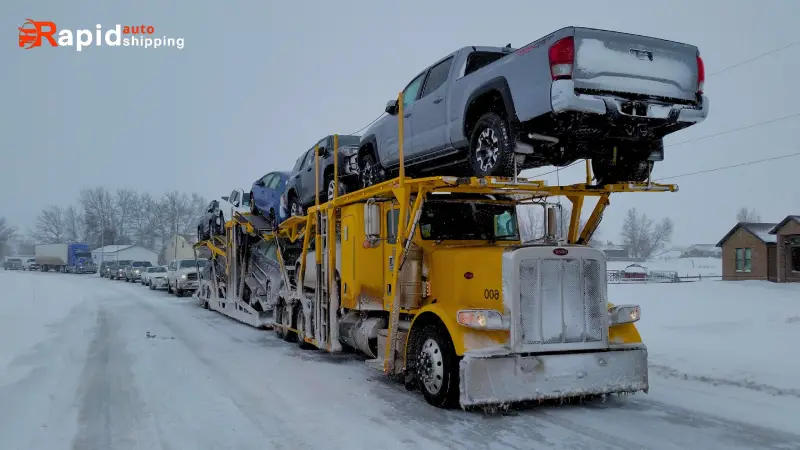 The cost of Washington to Baltimore auto transport is subject to various factors. These factors include the distance between the two locations, the type of vehicle being transported, the transportation method (open or enclosed carrier), current fuel prices, seasonal demand, and the choice of the auto transport company.
To obtain a precise and current cost estimate, it is advisable to contact reliable auto transport companies or utilize online car shipping quote calculators.
You can receive customized quotes tailored to your unique situation by including specific information about your transportation needs.
It is essential to conduct a thorough analysis of extracts from various companies and carefully review customer feedback to make an informed decision when choosing a service that is both reliable and reasonably priced.
Washington to Baltimore auto transport is a relatively simple process. The trip's distance is approximately 40 miles, indicating that the transportation process is characterized by speed and effectiveness.
Rapid Auto Shipping ensures your vehicle reaches its destination promptly, typically within the same day. However, it is essential to consider that unexpected road conditions or heavy traffic may cause delays.
The duration of Washington to Baltimore auto transport can vary based on various factors. These factors include the distance between the locations, the type of auto transport service selected, and the time of year.
The transit time for a typical open-air car carrier, the most common type of auto transport service, can vary from a few hours to one day. It is crucial to consider various factors that could impact the actual duration, including traffic, weather, and the carrier's schedule.
When contemplating using a Washington to Baltimore auto transport service, contacting multiple reputable transport companies and acquiring quotes is advisable.
They can offer more precise estimates by considering the specific details of your transportation needs and their current availability.
It is essential to assume that particular transportation needs, such as enclosed transport or expedited service, can impact the transportation process's time and expense.
Are you searching for the most cost-effective Washington to Baltimore auto transport method? Open-air transport is more economical and highly reliable for shorter distances like this. We highly recommend using enclosed transport for vintage or high-value cars as it provides additional protection.
No matter which option you choose, Rapid Auto Shipping ensures that we will provide a solution that meets your preferences and budget.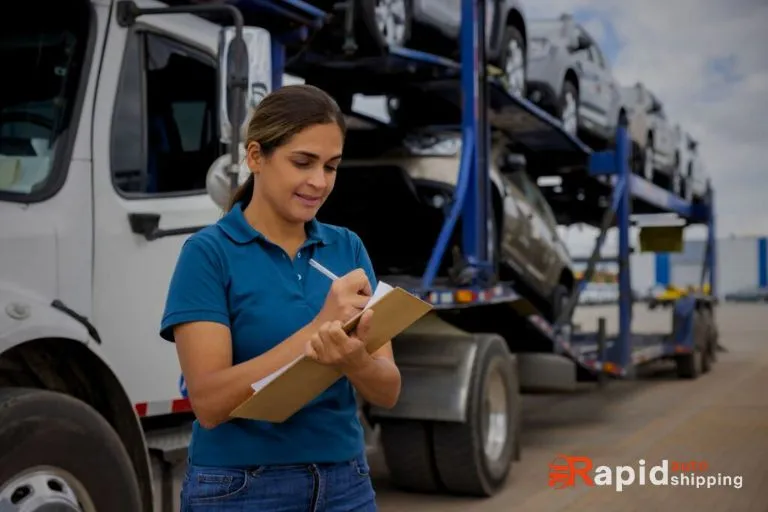 Why allow the stress of transporting your vehicle to dampen the excitement of Washington to Baltimore auto transport? At Rapid Auto Shipping, our primary focus is ensuring your shipping experience is smooth and stress-free.
Whether you are moving to a new location, purchasing a car remotely, or require transportation for a special event, we are fully prepared to assist you. Please get in touch with us at (833) 233-4447 today. We are excited to collaborate with you on your shipping project!
By choosing our company for auto shipping, customers can benefit from our various specials, allowing them to lower their expenses potentially. The seasonal discounts offered by our company are easily accessible to customers.
They are released frequently and do not have any specific criteria that need to be met to qualify for them. Our company provides snowbird discounts to customers who use our services during the spring or autumn seasons.
In addition to offering a discount to students upon their initial request for our services, we also provide them with the opportunity to qualify for a student unique.
The military's role is essential in maintaining the security and stability required for the prosperity of businesses and the peacefulness of our lives.
Hence, our organization is dedicated to providing assistance and resources to individuals serving various capacities. The seniors who have laid the foundation for our society deserve our gratitude and recognition.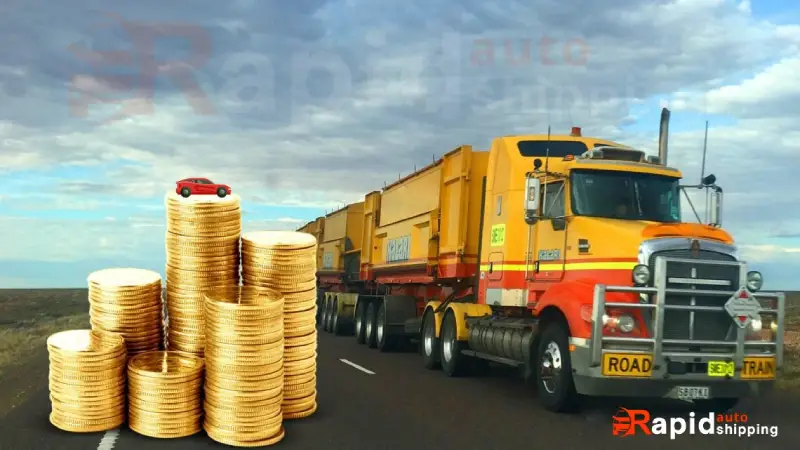 Auto carriers are purpose-built to efficiently and effectively transport vehicles of various ages and specifications. The effectiveness of transporting luxury or classic cars using an open carrier is comparable to using an enclosed carrier.
Enclosed trucks offer enhanced security by safeguarding against potential risks, such as flying objects and adverse weather conditions, which could affect the vehicle transported.
The limited carrying capacity of carriers is the primary reason why not all of them are enclosed. The profitability of operating a carrier decreases as the number of cars transported at a time decreases.
Enclosed auto carriers are commonly used for express deliveries and transporting luxury or classic cars. This preference for enclosed carriers stems from owners' desire to ensure the highest level of vehicle protection. It is recommended to call immediately to secure transportation booking.