Car shipping military operates similarly to standard auto transport but is exclusively available for active military members.
The government may cover the cost of shipping one privately owned vehicle (POV) when it is a Permanent Change of Station (PCS) order. However, if you wish to ship multiple cars, you will be responsible for covering the associated expenses.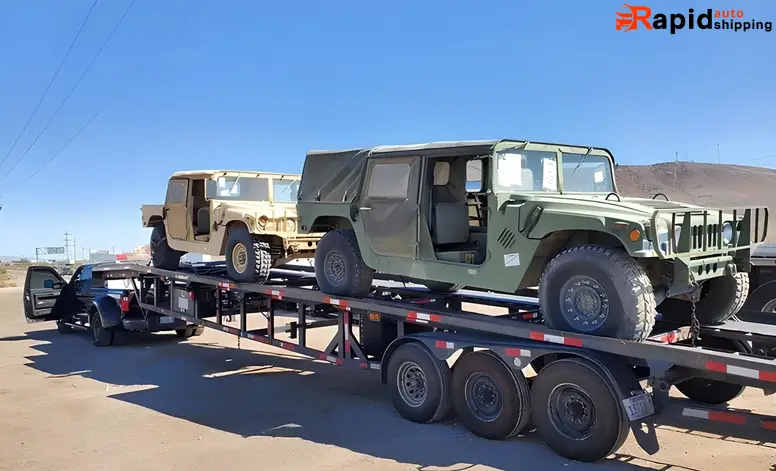 To ensure a hassle-free transport of your POV to a new base, please follow these steps:
Pick a military auto transport company:
Get quick estimates from reliable companies like Rapid Auto Shipping to get started. With this aid, you should be able to compare prices and services throughout the market.
Book your car shipment:
When searching for providers with affordable prices, it is equally important to consider the quality of service and insurance coverage you will receive. Once you have identified a suitable option, schedule a military car shipping appointment.
Prepare your automobile for the move:
Collect crucial papers, including your driver's license, PCS orders, and title and registration. It is advisable to have an extra set of keys, remove all personal belongings from your vehicle, and leave only a quarter gas tank.
Please drop off the vehicle:
When moving, you can either drop off the car at a terminal or have the shipper meet you at your house for door to door transport. It is crucial to thoroughly inspect the vehicle for any preexisting damages before it embarks on its journey.
Pick up the car upon arrival:
Upon arrival at your new duty station, it is advisable to thoroughly inspect your car for any damages that may have occurred during the shipment process.
Once you have verified everything is in order, sign the bill of lading and then drive your POV (privately owned vehicle) to your new home. Please remember that getting your car through customs may take some time if you relocate to an overseas base.
There are a few crucial pieces of paperwork that you must have ready, regardless of whether you decide to arrange for your car to ship yourself or leave it up to the military.
In addition to providing your delivery location and desired shipment time frame, please ensure that you also include the following:
Please provide the vehicle's details, including the make, model, and VIN.
Auto insurance policy
A valid form of photo identification, such as a driver's license or passport, is required.
Evidence of Vehicle Functionality
Proof of ownership, such as a car's title or registration, is required.
Please provide the order documents for PCS.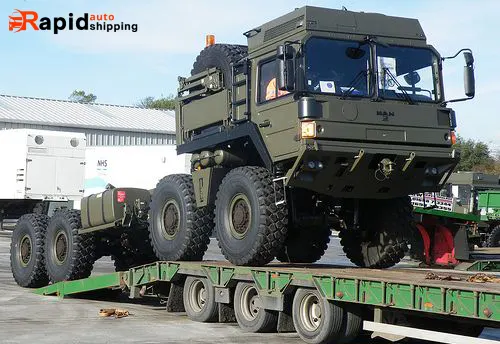 Military personnel often opt for the POV (Personally Owned Vehicle) shipping service when transporting their vehicles. POV shipping is a popular auto transport service catering to military personnel. It is designed to assist them in moving their cars when they receive a change of station (PCS) order or are deployed to a new location.
POV shipping services offer a convenient and dependable solution for military personnel to transport their vehicles within the country or overseas. Typically, these services are coordinated through military transportation offices or designated agencies.
The military has established contracts with shipping companies specializing in transporting privately owned vehicles (POVs) to ensure a streamlined and efficient process.
When utilizing a POV shipping service, military personnel can transport their vehicles via truck, rail, or vessel, depending on the specific destination and logistical requirements. Cars are typically loaded onto carriers or shipping containers designed to protect them during transportation.
It is important to note that the procedures and requirements for POV shipping may vary depending on the military branch and the destination.
Military personnel should consult with their transportation offices or relevant authorities to obtain accurate and up-to-date information regarding shipping their personally owned vehicles (POVs).
The cost of car shipping for the military can vary depending on various factors. Here are some factors to consider when determining costs:
Distance: The cost of transporting a vehicle is significantly influenced by the distance it takes. Shipping costs tend to increase with longer distances.
The size and weight of a vehicle: The dimensions and weight of the vehicle influence the shipping cost. Specialized equipment or additional resources may be necessary for more extensive and heavier vehicles, resulting in higher expenses.
Mode of transportation: The choice of transportation method can influence the cost. Several ways are available for shipping military cars, such as rail, truck, or vessel. Each mode of transportation has its associated costs, and the specific requirements of the military may influence the selection process.
Delivery Timeline: The urgency of the shipment can influence the price. Expedited or rushed deliveries typically incur higher costs than standard shipping options.
Additional services: Extra charges for door-to-door delivery, vehicle storage, or vehicle preparation (such as fuel draining or disconnecting batteries) may apply.
Insurance: Ensuring the vehicle's safety during transportation is a crucial factor to consider. The expense of insurance coverage, which safeguards against potential damage or loss, can contribute to the overall cost.
Fuel costs: The fluctuation of fuel prices can impact shipping costs. When shipping goods over long distances or using multiple modes of transportation, fuel expenses can significantly impact the total cost.
Season and demand: Car shipping service prices can be influenced by factors such as the time of year and the level of need. Costs can increase during peak seasons or high-demand periods due to limited availability or higher competition for shipping services.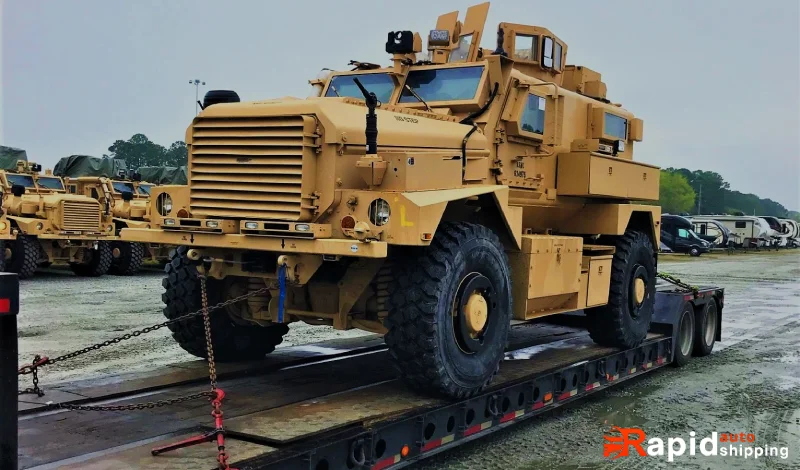 The transit times for POV shipping can vary significantly, but typically it takes between one and seven calendar days for service members to receive their cars after they have been shipped. On average, car carriers can travel approximately 500 miles per day.
You are allowed to ship a maximum of 100 lbs of personal items in the vehicle's trunk or cargo area. Please ensure that you secure the items in a single box or suitcase.
However, please note that if you are shipping your car to or from Hawaii, it is not permitted to include personal items inside the vehicle during shipment. It's important to note that the cargo insurance provided by military car shippers does not cover personal items.