| Approximate Distance | Estimate Time | Estimate Price |
| --- | --- | --- |
| 550 miles | 2 to 4 days | 500 to $750 |
When it comes to Chicago to Buffalo auto transport or any other city-to-city route, it is common practice to engage the services of a car shipping company.
Research and Choose a Car Shipping Company: It begins your investigation by exploring car shipping companies that provide services between Chicago and Buffalo. Consider seeking out companies with a strong reputation, demonstrated by positive reviews from previous customers.
Additionally, it is advisable to prioritize companies that possess the necessary licensing and insurance to ensure a reliable and secure service.
Request Quotes: Contact multiple car shipping companies to inquire about the pricing details for transporting your vehicle. Please provide us with the necessary information regarding your car, such as the make, model, and size. Additionally, please share the desired transport dates and the pickup and delivery locations.
Choose a Shipping Option: Car shipping companies typically provide customers with a choice between two primary modes of transportation: open transport and enclosed transport. An open carrier is transporting your vehicle on a trailer allowing exposure to the elements.
On the other hand, enclosed transport offers enhanced protection and is commonly chosen for luxury or valuable cars.
Book the Service: Once you have decided on a car shipping company and selected a shipping option, it is advisable to proceed with booking the service and ensuring the pickup and delivery dates are confirmed.
It would be advisable to carefully review and consider the terms and conditions outlined in the contract before proceeding to sign it.
Prepare Your Vehicle: To ensure a smooth pickup process, making necessary preparations for your vehicle before the scheduled date would be helpful. Typically, tidying up the car, removing personal belongings, and ensuring the vehicle is in optimal working order is recommended. Consider providing a spare key for the transport company.
Pickup and Loading: On the agreed-upon pickup date, a professional driver from the car shipping company will kindly arrive at the designated location to carefully load your vehicle onto the trailer.
A comprehensive inspection of your car will be conducted, and you will be given a Bill of Lading that accurately records the condition of your vehicle before transportation.
Transportation: Your vehicle has been scheduled for a ride from Chicago to Buffalo on the selected trailer. During transit, it is often possible to conveniently track the progress of your shipment and maintain communication with the transport company to receive timely updates.
Delivery: Once your vehicle arrives in Buffalo, the car shipping company will kindly contact you to coordinate the delivery. It would be greatly appreciated if you or an authorized representative could kindly be present to receive the vehicle, carefully inspect it for any potential damage, and sign off on the delivery.
Final Payment: Once your vehicle has been safely delivered and thoroughly inspected, it is customary to proceed with the final payment to the car shipping company, provided that you still need to make the whole payment.
When considering Chicago to Buffalo auto transport services, various options are available to cater to your specific requirements. Few commonly offered auto transport services:
Open-Air Transport:
This option is widely used and offers good value for money. Your vehicle will be securely transported on an open trailer alongside other cars. Although it involves some exposure to the elements, transporting vehicles over shorter distances, such as from Chicago to Buffalo, using this method is commonly employed and considered a safe option.
Enclosed Transport:
This option offers enhanced security measures for your vehicle. Your car will be carefully placed inside an enclosed trailer, ensuring its safety from any potential weather conditions and road debris. Enclosed transport is often considered favorable for valuable or Classic cars that may benefit from additional attention and protection.
Door to Door Service:
This service offers the convenience of having the transport company collect your vehicle from your desired location in Chicago and safely deliver it to your preferred address in Buffalo. It provides a convenient option that reduces the necessity of traveling to a specific terminal.
Terminal to Terminal Service:
In this option, you can conveniently drop off your vehicle at a designated terminal in Chicago. From there, it will be transported to a terminal in Buffalo, where you can easily pick it up. This option has the potential to be more cost-effective, although it may necessitate additional coordination on your end.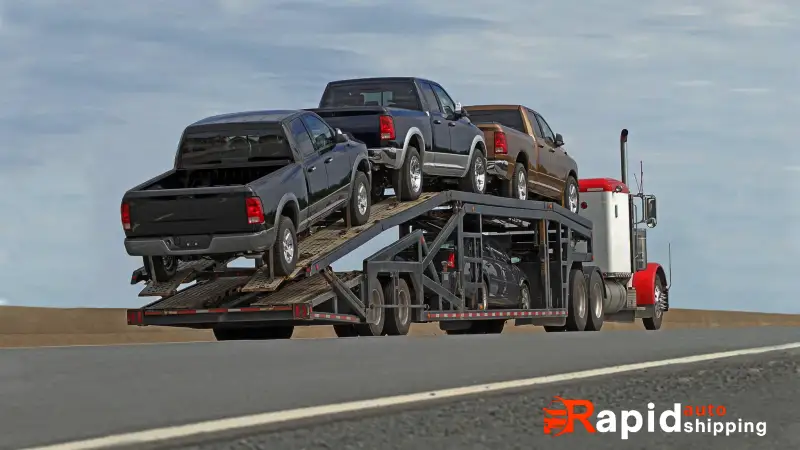 Expedited Shipping:
If you are looking for prompt delivery of your vehicle to Buffalo, you may consider the option of expedited shipping. This service prioritizes the transportation of your car, potentially resulting in quicker delivery times.
The cost of Chicago and Buffalo auto transport can vary due to various factors, including the distance, type of vehicle, time of year, shipping method (open or enclosed transport), and the specific auto transport company you select.
Shipping a car from Chicago to Buffalo ranges from $480 to $580
The final cost will vary based on factors such as the distance, the condition of your car, and the charges imposed by the shipping company.
The distance traveled by the shipping crew will impact the cost of shipping your car. The greater the distance between the two points, the higher the cost of shipping your vehicle.
The condition of the car being shipped is another factor that can impact your cost. Shipping a vehicle is typically more straightforward and cost-effective if it is in working condition instead of inoperable.
To ensure the most precise and current cost estimate, consider contacting multiple auto transport companies and kindly requesting quotes tailored to your requirements and preferences. This will assist you in gaining a clearer understanding of the expenses associated with Chicago to Buffalo auto transport.
The distance between Chicago and Buffalo is approximately 550 miles.
The estimated shipping time for a car over this distance is 1-2 days. Although shipping times are typically consistent, certain factors can impact delivery duration.
One factor to consider is traffic. Shipping times tend to be slower during periods of heavy traffic. Another essential factor to consider is the shipping method that is being used.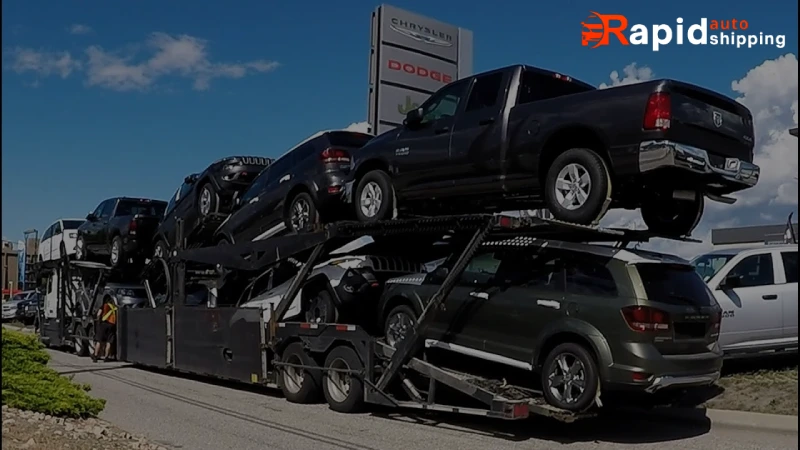 Several factors can influence the time for Chicago to Buffalo auto transport. It's important to note that the actual duration of the journey may vary due to specific circumstances.
Distance: The distance between the two cities is a crucial factor. Chicago and Buffalo are approximately 500-550 miles apart, requiring an estimated 8-10 hours of driving time under normal conditions.
Route and Roads: The travel time can be influenced by the specific way chosen and the condition of the roads. Highways and interstates generally offer faster travel options than secondary roads, which tend to be slower.
Weather Conditions: Travel time can be significantly affected by adverse weather conditions, such as heavy rain, snow, ice, or fog. Inclement weather can cause traffic delays and even result in road closures.
Traffic Congestion: Traffic congestion in urban areas, particularly in major cities such as Chicago, often results in significant delays. Rush hours, accidents, and construction are all factors that can contribute to slower travel.
Seasons and Time of Day: Road conditions and potential weather challenges can vary depending on the season. Furthermore, travel time can be influenced by the time of day due to changing traffic patterns.
Transport Company and Method: The selection of an auto transport company and the method of transportation (open carrier or enclosed carrier) can impact the schedule. Enclosed carriers offer superior protection, although they may be slower due to fewer vehicles being transported simultaneously.
If you are looking for a cost-effective option to transport your car from Chicago to Buffalo, consider the open-air truck shipping method. Your car will be transported and placed onto a truck alongside other vehicles.
Due to the open nature of the truck bed, it may be challenging to ensure optimal protection for your car against inclement weather conditions.