At Rapid Auto Shipping, you can ship your car from Georgia to Florida in just three easy steps. The steps are as follows :
Car Shipping Quote:
Calculate Georgia to Florida car shipping quote easily with the help of our Cost Calculator; just fill in your details like Distance, Car model, and Pickup Date and make a reservation with Rapid Auto Shipping online at your comfort.
Pick up At Georgia:
Your car will get loaded on our trailer on the reserved date after proper inspection. We are available at every location, either residential or business location we are present for shipping, so don't worry about the locations.
Delivery At Florida:
After completing its journey, your car will reach its destination safely, and at last, we will inspect it to ensure that your car or vehicle is shipped in the exact conditions in which we pick it up.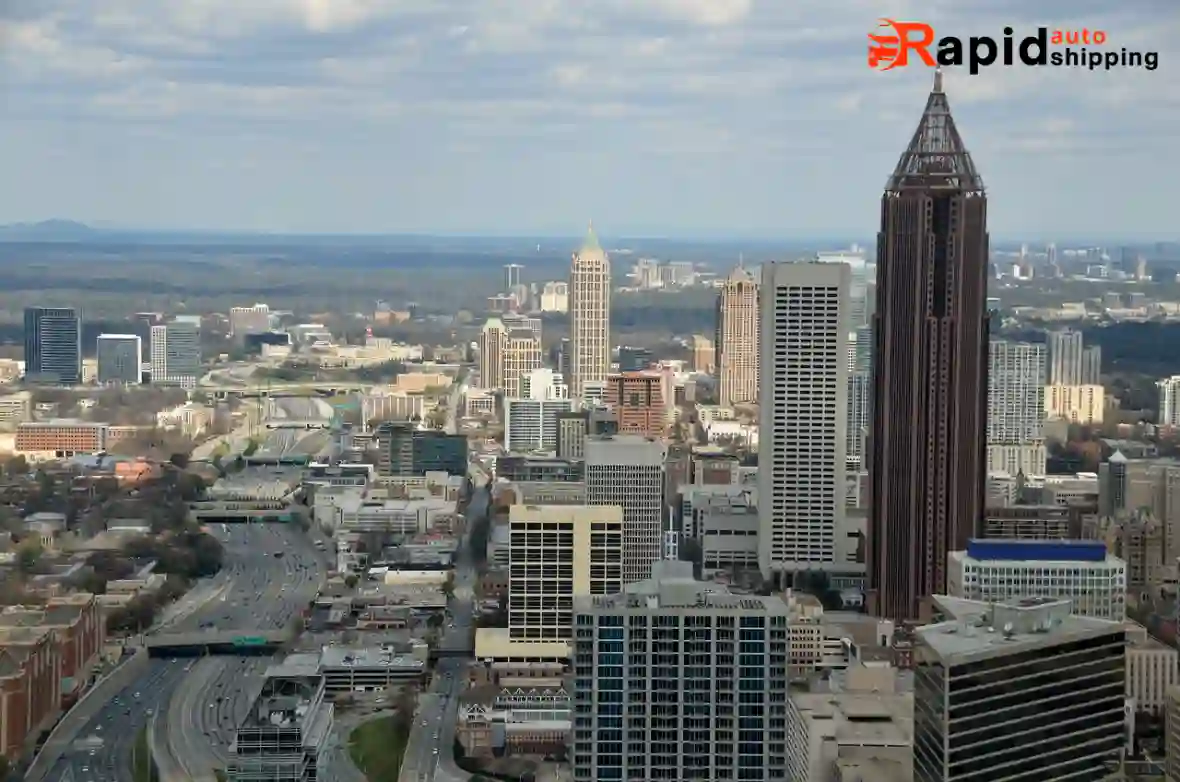 It is challenging to provide the exact cost of the Georgia to Florida car shipping as there are many factors on which the cost is dependent, but there is one thing that stays always the same that is distance.
Only the per-mile ratio changes; let us take the example of Georgia to Florida car shipping; the cost to ship your car from Atlanta, GA, to Tallahassee, FL, the distance is 265 miles, which costs around $ 1.75.
Let us see more examples of Georgia to Florida auto shipping on Cost and Timing :
| | | | |
| --- | --- | --- | --- |
| From Georgia to Florida | Distance (Miles) | Estimated Cost | Average Shipping Time |
| Atlanta, GA, to Tampa, FL | 450 miles | $400 to $550 | 1 to 2 days |
| Augusta, GA, to Orlando, FL | 397 miles | $260 to $420 | 1 to 2 days |
| Columbus, GA, to Tampa, FL | 401 miles | $390 to $520 | 1 to 2 days |
| Roswell, GA, to Tallahassee, FL | 282 miles | $275 to $310 | 1 to 2 days |
| Jacksonville, FL to Atlanta, GA, | 345 miles | $190 to $380 | 1 to 2 days |
| Athens, GA, to St. Petersburg, FL | 500 miles | $390 to $610 | 3 to 4 days |
| Savannah, GA, to Miami, FL | 495 miles | $380 to $585 | 2 to 4 days |
| Macon, GA, to Hialeah, FL | 593 miles | $380 to $670 | 3 to 4 days |
Note: Prices are based on recent sedan shipping using Open Car Carrier and current market scenarios. The provided time to ship is the time taken after your car is loaded on our trailer. For a Customised and Accurate Auto Transportation quote, please call our toll-free number: +1 (833) 233-4447.
When moving a precious thing that can't be bought daily, it is essential to opt for things that suit your car requirements best. Many types of trailers are used for different kinds of cars for Georgia to Florida auto shipping.
Let us find out which car carrier is best for you and your car :
Open Car Carrier Trailers:
Open car carrier trailers are the most commonly used for auto shipping. They are cost-effective and can haul multiple vehicles at once. However, they expose your vehicles to extra elements, like weather and road debris. Open carriers are suitable for standard vehicles, especially those in good condition.
Enclosed Car Carrier Trailers:
Enclosed car carrier trailers provide more vehicle protection. They shield your car from weather conditions, dust, and debris during shipping. This option is ideal for classic cars, luxury vehicles, and high-value cars that require extra care.
Flatbed Trailers:
Flatbed trailers are versatile and can transport various vehicles, including oversized or non-running vehicles. They are often used for specialty or heavy-duty auto shipping.
Step-Deck Trailers:
Step-deck trailers have a lower deck for the main cargo area and a higher deck at the front. This design allows them to transport taller vehicles or those with clearance issues. They are suitable for trucks, buses, or other vehicles that don't fit in standard trailers.
Lowboy Trailers:
Lowboy trailers are designed for transporting heavy, oversized, or tall equipment and vehicles. They have a lower deck height, making them suitable for tall loads. While not commonly used for standard car shipping, they are essential for specialized transport like heavy trucks and trailers.
These are some types of trailers provided by Rapid Auto Shipping. Open car carrier trailers and Enclosed car carrier trailers are the most common trailers used for Illinois to Minnesota auto shipping. Please contact Rapid Auto Shipping Experts for a trailer that suits your requirements at +1 (833) 233-4447.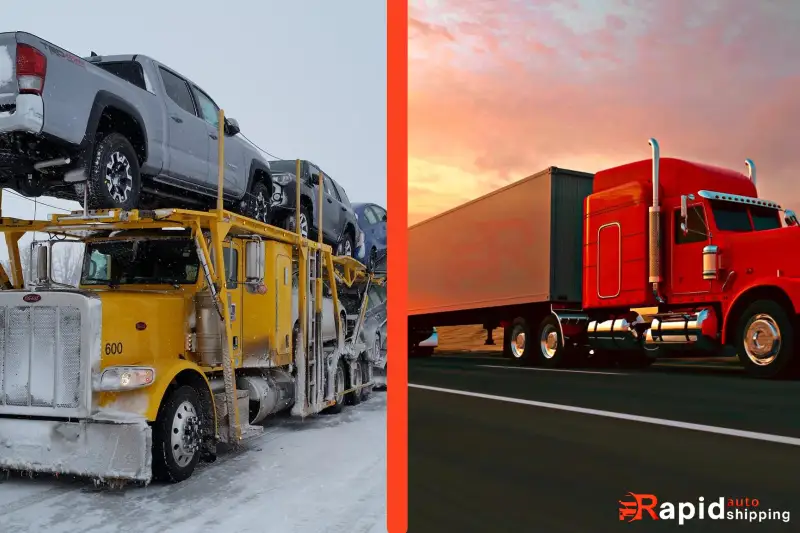 Many factors help when calculating the cost of Georgia to Florida car shipping. Let us find out the factors on which the elements are determined:
Vehicle Details or Dimensions
The details of your car, like its shape, weight, width, and most importantly, the type of car you are shipping, like SUV, Standard Compact Car, Heavy hauler like truck, and even exotic cars, affect the cost as the method of shipping cars are different.
Get Quotes
As car shipping costs depend on these factors, try to get as many quotes as possible. It is possible to get different quotes so it is advisable to get different quotes in chance to get the best quote for Georgia to Florida car shipping.
Distance Between Locations
The distance between your pickup location in Georgia and the drop-off destination in Florida is another key factor. Longer distances usually mean higher costs. So, it's crucial to know the exact route your car will take.
Shipping Method
There are two main methods of auto transportation: Open and Enclosed carriers. Open carriers are more common and cost-effective, while enclosed carriers offer extra protection but are pricier. Your choice of transportation method affects the cost.
Additional or Customization Services
If you need additional service or any other customization, like Door to Door and Expedited Services. They come at a higher cost than regular services. So please ensure to opt only for needed requirements.
Season and Timing
The time of year you plan to ship your car can impact the price. In peak seasons, Like in summer, the demand increases the cost. If you have flexible schedules, you can find better deals during off-peak times if it is not urgent.
Insurance policy
Insurance is one of the most important factors in car shipping. The insurance coverage cost varies from car to car as per the level of protection required. Please discuss with the Rapid Auto Shipping experts for the best Insurance coverage.
How to ship Vehicle
Georgia to Florida

?

It's as simple as 1-2-3 to ship a car from Georgia to Florida with Rapid Auto Shipping.

Step 1: Get a quick auto shipment quote for Georgia to Florida Auto Shipping and schedule a pickup time that works for you. With our online quote form, you can easily get a quote, enter your origin and destination, choose your shipping dates, and book your reservation online or over the phone for your Georgia to Florida car shipping!

Step 2: Your vehicle will be picked up from a certain place in Georgia. Your vehicle will be thoroughly inspected and put onto the carrier on the day of pickup. Our direct service allows us to pick up from any home or company in Georgia.

Step 3: Your vehicle is delivered to the address you provide in Florida. Your vehicle will be offloaded safely, and a final examination will be performed to ensure that it was delivered in the same condition as when it was picked up.