By using Rapid Auto Shipping, you can do Georgia to Texas auto shipping in just three easy steps :
Get Shipping Quote:
With the help of a cost calculator, get as many quotes as possible; just fill in the basic shipping information(Distance, Car Make or Model, and Reservation dates) and get shipping estimates. After getting a quote, contact our experts for doubts and finalize the shipping.
Pickup at Georgia:
After you reserve a date for shipping, you could just relax and just do a little but essential preparation for car shipping. Our carrier driver or expert will contact you on the day before the reserved date for location and timing, and finally, after a proper inspection, your car will be loaded on the trailer and then shipped to its location in Texas.
Delivery at Texas:
After covering the distance your car would reach Texas, our expert will contact you again for delivery time. Your car will be delivered to your location; we will again go through your car to finalize that your car is not damaged during shipping.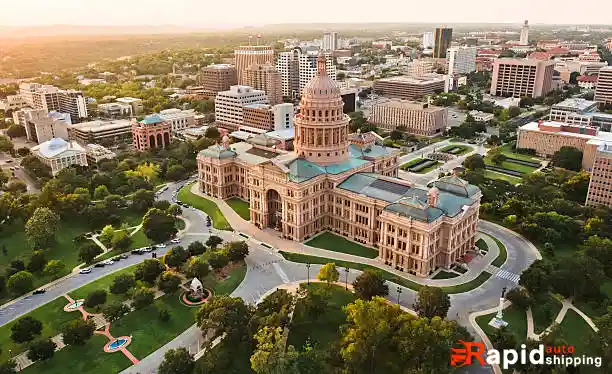 The distance between Georgia and Texas stretches from 1175 miles, and the average time for Georgia To Texas car shipping varies from 3 to 5 days, depending on weather conditions and other factors(Ruote, Type of Carrier, Type of vehicle, etc). As there are many cities in both states, the time for Vehicle shipment could vary; let us see the following table to get a clear view of the time to ship and estimate the price for shipping a car from Georgia to Texas.
| | | | |
| --- | --- | --- | --- |
| From Georgia to Texas | Estimated Cost | Distance (Miles ) | Average Shipping Time |
| Columbus, GA to Houston, TX, | $535 to $629 | 714 | 4 to 6 days |
| Atlanta, GA to Houston, TX | $550 to $650 | 794 | 2 to 3 days |
| Roswell, GA, to Plano, TX | $580 to $798 | 809 | 2 to 4 days |
| Atlanta, GA to Dallas, TX | $600 to $850 | 800 | 2 to 4 days |
| Sandy Springs, GA, to Arlington, TX | $650 to $795 | 812 | 2 to 4 days |
| Macon, GA, to Dallas, TX | $670 to $810 | 864 | 4 to 5 days |
| Atlanta, GA to Austin, TX | $754 to $895 | 929 | 4 to 6 days |
| South Fulton, GA, to Corpus Christi, TX | $780 to $910 | 989 | 4 to 6 days |
| Augusta, GA to San Antonio, TX | $890 to $1090 | 1128 | 4 to 6 days |
| Savannah, GA, to Fort Worth, TX | $840 to $650 | 1063 | 4 to 6 days |
| Athens, GA to El Paso, TX | $980 to $1310 | 1488 | 5 to 7 days |
| Johns Creek, GA to Laredo, TX | $550 to $650 | 1134 | 4 to 6 days |
Note 🗒️: Prices are based on recent shipping of sedans on Open Car Carrier and current market scenarios. The provided time to ship a car from Georgia to Texas is after your car is loaded on our trailer. For a Customised and Accurate Auto Transportation quote, please call our toll-free number: +1 (833) 233-4447.
Rapid Auto Shipping is capable of various types of vehicles, whether from Georgia To Texas or across the country. We have successfully shipped the following types of vehicles under Georgia To Texas vehicle transport :
Cars:
The most common type of vehicle shipped from Georgia to Texas. Rapid Auto Shipping can ship any type of car, from Standard cars (Toyota Camry) to Exotic cars (Maserati MC12). We are also providing Georgia to Texas car shipping service for Non-operable cars.
Motorcycle:
The second most common vehicle is a motorcycle. Usually, students or individuals request motorcycle shipping from Georgia to Texas. We can transport every type of motorcycle, whether working or not.
Utvs and Atvs:
Rapid Auto Shipping is open to help you as we know that our travelers and adventure partners could face difficulties when shipping these special category vehicles by providing special Georgia to Texas auto shipping of UTvs and ATvs at affordable prices.
Boats and Yachts:
Georgia has a small share of beaches around 110 miles but has a good share of lakes, too. Many people are fond of water and get a boat for fishing or other activities. Rapid Auto Shipping understands this topic and offers our customers Georgia to Texas boat shipping to make your journey convenient and claim like a sea shore.
Trucks and Tractors:
As Texas is an agricultural State, there is heavy demand for truck and tractor transportation. Concerning this point, Rapid Auto Shipping offers special trailers like Flatbed or Lowboy to transport these heavy vehicles.
Heavy Equipment:
As the construction level in Texas increases, the demand for heavy equipment also increases. Due to this, there is a need for equipment like Caterpillar 320 Excavator and asphalt Paver. Keeping this in mind: Rapid Auto Shipping has a special fleet of trailers, Step deck trailers, Lowboy trailers, etc.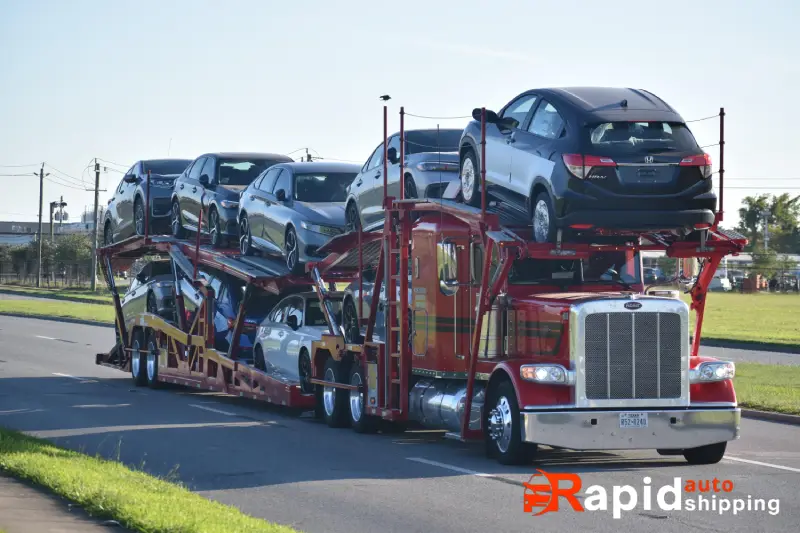 Many types of trailers come in use for shipping. As mentioned above, many types of vehicles are commonly shipped from Georgia to Texas. Different vehicles have different dimensions, so there is a need for different types of trailers. Rapid Auto Shipping offers Different types of trailers for different types of vehicles:
Open Car Carrier Trailers:
Most common trailers are used for Car shipping. These trailers can haul multiple cars at once, making it most affordable. One disadvantage is that it exposes your car to elements like road debris, Dust Sun, etc. It is the best option for operable standard cars.
Enclosed Car Carrier Trailers:
These trailers are made to provide an extra layer of protection to your car or vehicle while shipping. This trailer has a container-like shape acting as a shield for your car from unwanted road elements while shipping from Georgia to Texas, making it ideal for cars like luxury, classic, and sports.
Single Bed Trailers:
These special trailers are mainly Enclosed trailers but could be converted into Open car trailers per customer needs. These are used by Car Collectors for private shipping of exotic cars that are highly valued and purchased secretly. They offered secure vessels for individual cars.
Flatbed Trailers:
These are special types of trailers used for special transportation like Heavy vehicles and machinery. These trailers are open from all sides, making them perfect for shipping Heavy (oversized) and Non-operable vehicles from Georgia to Texas.
Lowboy Trailers:
These types of trailers are like flatbeds but bigger in size, and these are capable of transporting vehicles like Trucks and Construction equipment. These are not used commonly used as they are specialized for shipment of only some vehicles.
How to ship Vehicle
Georgia to Texas

?

It's as simple as 1-2-3 to ship a car from Georgia to Texas with Rapid Auto Shipping.

Step 1: Get a quick auto shipment quote for Georgia to Texas Auto Shipping and schedule a pickup time that works for you. With our online quote form, you can easily get a quote, enter your origin and destination, choose your shipping dates, and book your reservation online or over the phone for your Georgia to Texas car shipping!

Step 2: Your vehicle will be picked up from a certain place in Georgia. Your vehicle will be thoroughly inspected and put onto the carrier on the day of pickup. Our direct service allows us to pick up from any home or company in Georgia.

Step 3: Your vehicle is delivered to the address you provide in Texas. Your vehicle will be offloaded safely, and a final examination will be performed to ensure that it was delivered in the same condition as when it was picked up.