With Rapid Auto Shipping, you can ship your car in three easy steps; let us know the better steps for a clear view:
Know the Company:
Due to high competition in the automotive company, many need clarification when choosing a reliable company. Look for top companies (A little bit of searching), Look for customer reviews and feedback, and Look for their past and recent deliveries. This will help you get better than you can rely on Illinois to Florida auto transport of your car.
Get the Quote:
Now you can trust and see if their service is affordable and within budget; for this, Like Rapid Auto Shipping, other major auto shipping companies provide a Cost calculator. It is an online tool that helps to get estimated quotes for Car shipping services like shipping cars from Illinois to Florida.
Get Pickup and Delivered:
You have a reliable Auto shipping company that suits your budget. Now book your car and prepare your car for shipment. Auto shipping experts will contact you before pickup to get the time and location. Follow all the measures before shipment. Your car will delivered, and please ensure to check the conditions of the car before pickup and after delivery.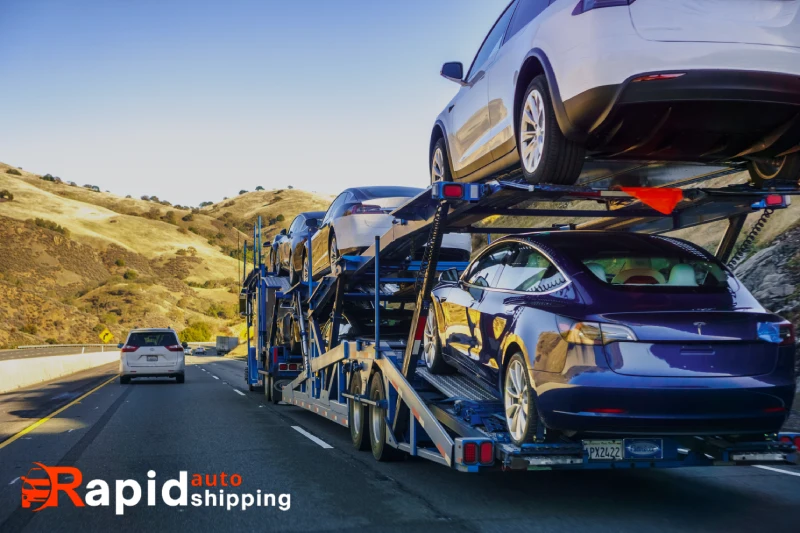 From the skylines of Chicago (Illinois) to the beaches of Miami (Florida). Rapid Auto Shipping provides shipping services for you. There are many important cities in both states in which Auto shipping is always in demand. Following is the table of the major cities with the distance, cost, and time to move a car for better understanding.
| From Illinois to Florida | Distance | Estimated time | Estimated Cost |
| --- | --- | --- | --- |
| Aurora, IL to Miami, FL | 1410 miles | 3 to 5 days | $610 to $1295 |
| Chicago, IL to Miami, FL | 1280 miles | 4 to 6 days | $800 to $1100 |
| Springfield, IL to Hialeah, FL | 1276 miles | 2 to 4 days | $525 to $1195 |
| Rockford, IL to Orlando, FL | 1241 miles | 2 to 4 days | $565 to $1258 |
| Chicago, IL to Tampa, FL | 1200 miles | 4 to 6 days | $800 to $1,100 |
| Joliet, IL to Tampa, FL | 1181 miles | 2 to 3 days | $535 to $1040 |
| Chicago, IL to Fort Lauderdale, FL | 1,360 miles | 4 to 6 days | $850 to $1,200 |
| Peoria, IL to Tallahassee, FL | 935miles | 2 to 3 days | $510 to $857 |
Note: Prices are based on recent shipping and current market scenarios. For more Customised and Auto Transportation quotes, please contact our experts at toll-free number: +1 (833) 233-4447.
Many external factors affect the cost of car shipping from Illinois to Florida. It is essential to know these factors as they come in handy while calculating the cost. These factors are as follows:
Size and Weight:
Heavier vehicles or cars occupy more space in the carrier. Hence increasing the cost of shipping.
Distance:
Lengthier routes increase per-mile shipping costs. Short distances can reduce the cost per mile to ship a car from Illinois to Florida.
Routes:
Popular and Regular routes play an important role as they have more availability of carriers, and drivers have been on these routes, so they know the route very well hence, per mile cost becomes affordable.
Fuel prices:
The higher the fuel price increase, the higher the shipping cost. It is common as fuel is involved whenever it's driving or shipping.
Insurance:
Including Rapid Auto Shipping, other Auto shippers provide standard insurance coverage, but sometimes individuals opt for a plan that suits their car, affecting the price.
Seasonality:
Avoid Seasons like Winter due to weather conditions. There is also high demand in summer, but many Auto transport companies, including us, offer discounts for routes like Illions to Florida.
Locations:
In rural areas, pick up and delivery usually charge more due to less connectivity. Always opt for urban regions, metropolitan areas, or highway-side locations.
Note: These are some significant factors that affect the cost; some other unmentioned factors can also affect the price, so it will be good to keep them in mind.especially when shipping a car from Illinois to Florida on a route of approximately 1,200 miles.
Concerning the distance from Illinois to Florida, Rapid Auto shipping provides all the necessary carriers to its customers for affordable and best. Let's view the available fleet of carriers for car transport from Illinois to Florida.
Open Car Carrier:
The most common and readily available carriers in these cars are loaded to open carriers. These are the most affordable but less secure to transport your vehicle.
Enclosed Car Carrier:
These are less available than Open car carriers as they are specialized to transport special cars (Classic, Vintage, Super, Custom); these carriers are enclosed from all sides, protecting your car from blizzards and road debris.
Snowbird Car Carrier:
As an emerging Car carrier in the industry. It helps to ship vehicles from the northern parts of the country to the southern part of the country. Majorly for Illinois to Florida auto transport.
Flatbed Carrier:
Flatbed trucks are usually used for vehicles that can't be shipped on Open carriers or enclosed carriers, for example, oversized vehicles (Heavy haulers).
Multiple Car Carriers:
These are large Carriers that ship multiple vehicles at once, often used by Firms or Car collectors.
Single Car Carrier:
These carriers are built to ship only one vehicle at a time, offering a more personalized space for more customization.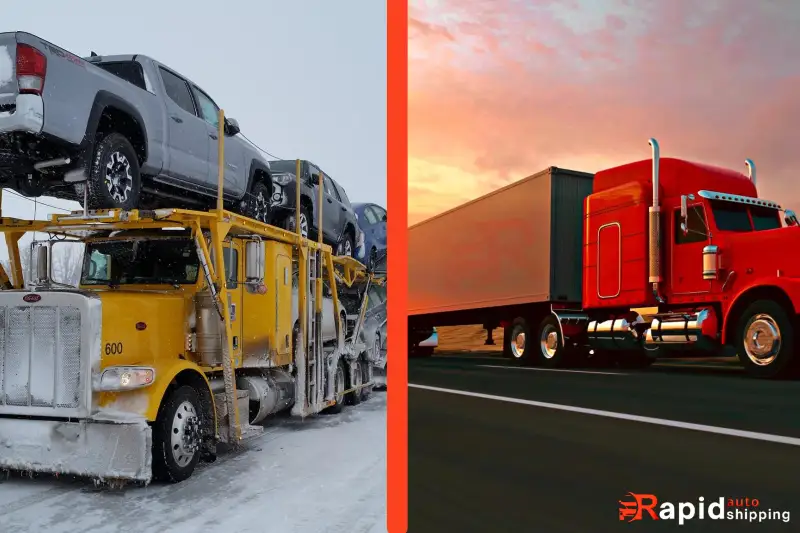 After selecting an Auto transport company with a satisfactory quote, it is essential to follow the following steps to get Haasle-free Illinois to Florida car shipping. :
Clean Your Car
Start by washing and cleaning the car inside out. Removing every personal item from the car. Remove or tighten any extra accessories like spoilers. This step will prevent damage while shipping.
Document the Condition
After washing the car, it is vital to carefully look at the vehicle for any pre-existing damage, take pictures, and note down the damages or dents of the car. Please ensure to provide a copy of this to the carrier driver.
Check for Leaks and fuel level
Inspect your vehicle for any fluid leaks, whether it's oil, brake fluid, or any other substances. Also, Ensure that fuel is only quarterly full, and it would be better if your car is in good working condition. If there are any mechanical issues, inform the Rapid Auto Shipping experts.
Disable Alarms and Tags
If your car has an alarm system, please ensure it's disabled. You don't want the alarm going off during transport. Remove or cover any tags as your car will go to tolls; it is not good if you get charged unesecarly.
Hand Over the Spare Key
It will be good to have a spare set of keys available. You'll need to hand over one set to the carrier driver, as it would be handy to move the car for loading and unloading.
How to ship Vehicle
Illinois to Florida

?

It's as simple as 1-2-3 to ship a car from Illinois to Florida with Rapid Auto Shipping.

Step 1: Get a quick auto shipment quote for Illinois to Florida Auto Shipping and schedule a pickup time that works for you. With our online quote form, you can easily get a quote, enter your origin and destination, choose your shipping dates, and book your reservation online or over the phone for your Illinois to Florida car shipping!

Step 2: Your vehicle will be picked up from a certain place in Illinois. Your vehicle will be thoroughly inspected and put onto the carrier on the day of pickup. Our direct service allows us to pick up from any home or company in Illinois.

Step 3: Your vehicle is delivered to the address you provide in Florida. Your vehicle will be offloaded safely, and a final examination will be performed to ensure that it was delivered in the same condition as when it was picked up.