Rapid Auto Shipping can ship your car from Louisiana to Texas if you follow these three steps:
Car Shipping Quote:
Calculate Louisiana to Texas car shipping quote easily with the help of Cost Calculator; just fill in the essential details related to car shipping like Distance, Car model, and Pickup Date, and make a reservation with Rapid Auto Shipping online your comfort you can drop a chat on our chat box, Mail us and or even just call us.
Pick up At Louisiana:
Your car will get loaded on our trailer on the reserved date after proper inspection. We are available at every location, either residential or business location we are present for shipping, so don't worry about the locations.
Delivery At Texas:
Our carrier drivers will ship your car to Texas to reach the delivery point safely, where Rapid Auto Shipping experts will inspect your car or vehicle to ensure that it is shipped in the exact conditions we picked it.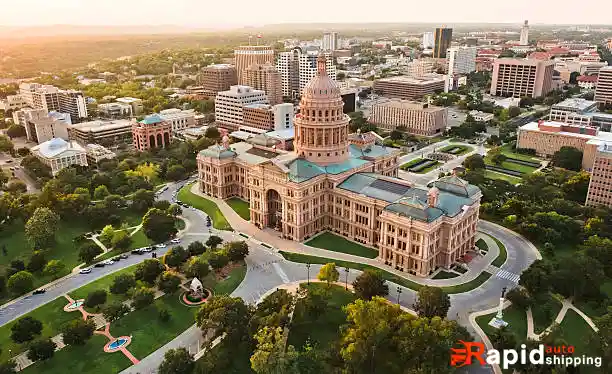 As Louisiana and Texas share a distance of 625 miles, the average time for Louisiana to Texas car shipping varies from 2 to 4 days, depending on weather conditions and other factors. As there are many cities in both states, the Vehicle Transportation time could vary; let us see the following table to get a clear view of the time to ship and estimate the cost of shipping a car from Louisiana to Texas.
| | | | |
| --- | --- | --- | --- |
| From Louisiana to Texas | Distance (Miles) | Estimated Cost | Average Shipping Time |
| Baton Rouge, LA To San Antonio, TX, | 463 miles | 2 to 3 days | $ 390 to $ 620 |
| Shreveport, LA To Dallas, TX, | 188 miles | 1 to 2 days | $ 165 to $ 330 |
| Metairie, LA, To Austin, TX, | 502 miles | 3 to 4 days | $ 390 to $ 575 |
| New Orleans, LA To Houston, TX | 347 miles | 1 to 2 days | $ 400 to $ 500 |
| Lafayette, LA To Fort Worth, TX | 425 miles | 2 to 3 days | $ 370 to $ 590 |
| Lake Charles, LA To El Paso, TX | 888 miles | 3 to 5 days | $ 470 to $ 920 |
| Bossier City, LA To Arlington, TX | 207 miles | 1 to 2 days | $ 400 to $ 500 |
| Kenner, LA To Corpus Christi, TX | 543 miles | 3 to 4 days | $ 405 to $ 610 |
| Monroe, LA To Plano, TX | 294 miles | 1 to 2 days | $ 190 to $ 310 |
| Alexandria, LA To Laredo, TX | 555 miles | 2 to 4 days | $ 395 to $ 645 |
Note 🗒️: Prices are based on recent sedan shipping using Open Car Carrier and current market scenarios. The provided time to ship a car from Louisiana to Texas is after your car is loaded on our trailer. For a Customised and Accurate Auto Transportation quote, please call our toll-free number: +1 (833) 233-4447.
Rapid Auto Shipping is capable of various types of vehicles, whether from Louisiana to Texas or across the country. We have done the following types of vehicles under Louisiana to Texas vehicle transport.
Cars:
The most common vehicle shipped from Louisiana to Texas. There are many types of car that Rapid Auto Shipping have sent, ranging from Standard car(Toyota Camry) to Exotic cars (Maserati MC12).
Motorcycle:
The second most common vehicle is a motorcycle. Many students or individuals request motorcycle shipping from Louisiana to Texas. We can transport every type of motorcycle, whether working or not.
Rtvs and Atvs:
Rapid Auto Shipping helps their travelers and adventure partners by providing special Louisiana to Texas auto shipping of Rtvs and Atvs at affordable prices.
Boats and Yachts:
Lousinia has a fair share of beaches, too, Many people are fond of water and get a boat for themselves. Rapid Auto Shipping understands this topic and offers our customers Louisiana to Texas boat shipping for their convenience and peace of mind.
Trucks and Tractors:
As Texas is an agricultural State, there is heavy demand for truck and tractor transportation. Concerning this point, Rapid Auto Shipping offers special trailers to transport these heavy vehicles.
Heavy Equipment:
Heavy equipment like trailers, Construction machinery, etc. Rapid Auto Shipping can ship Heavy Equipment; contact our team to learn more about your Louisiana to Texas vehicle transport requirements.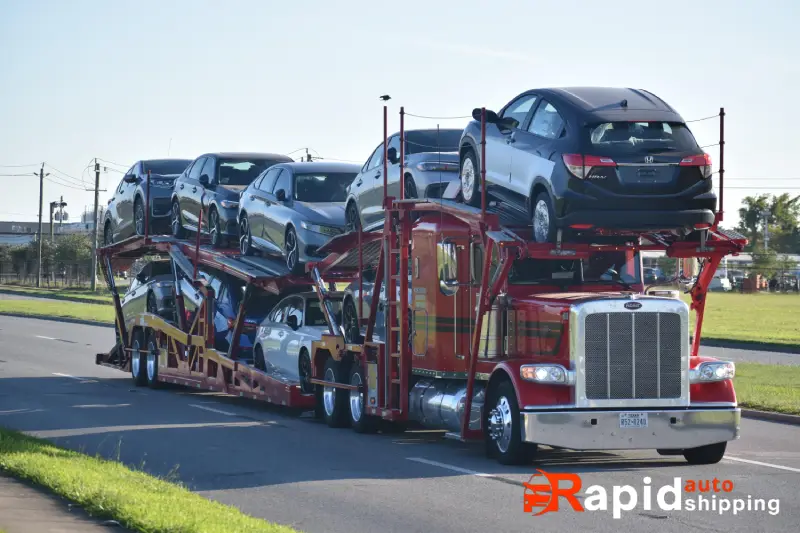 Many types of trailers come in use for shipping. As mentioned above, many types of vehicles are commonly shipped from Louisiana to Texas. Different vehicles have different dimensions, so there is a need for different types of trailers. Rapid Auto Shipping offers Different types of trailers for different types of vehicles:
Open Car Carrier Trailers:
These are the most common trailers used for Car shipping. These can haul multiple vehicles at once, making it cost-effective. There is only one downfall to this, which is that it exposes your car to unwanted elements like road debris. It is a good-to-go option for working standard cars.
Enclosed Car Carrier Trailers:
These trailers provide extra protection to your car or vehicle while shipping. This shields your car from unwanted road elements while shipping from Louisiana to Texas, making it perfect for luxury, classic, sports, and high-value cars.
Flatbed Trailers:
These are special types of trailers used for special vehicle transportation like Heavy vehicles and machinery. These trailers are open from all sides, making them perfect for shipping Heavy (oversized) and Non-operable vehicles.
Lowboy Trailers:
These types of trailers are more advanced than flatbeds, and these are made to transport vehicles like Trucks and Constructions. These are not used commonly as they are specialized for shipment of only some vehicles.
Single Bed Trailers:
These special trailers can be converted into Open and Enclosed trailers per customer needs. These are used to ship for private shipping of exotic cars that are highly valued and purchased online. They offered secure vessels for individual cars.
Some norms(guidelines) and regulations must be followed when shipping a vehicle or car from Louisiana to Texas:
Choose a Reputable Auto Transport Company:
Selecting a reliable and licensed auto transport company is crucial. Look for companies with a good reputation, proper insurance, and experience in long-distance shipping.
Type of Trailer:
There are many trailers to choose from but choose the one that best fits your car requirements and budget.
Vehicle Inspection:
Perform a thorough inspection of your vehicle before shipping. Document any existing damage with photographs and handwritten notes. This will help in case of any disputes about the condition of your car upon delivery.
Cost and Payment:
Get a clear understanding of the shipping costs, including any possible additional expenses. Ensure to receive a written quote and understand the payment terms.
Rules and Regulations:
Comply with the rules and regulations governing auto transport from Louisiana to Texas, including
Insurance:
Make sure the transport company provides adequate insurance coverage for your vehicle during transit.
Licensing:
Verify that the transport company holds the necessary licenses and permits to operate legally in both states.
Documentation:
Ensure you have all required documentation, including vehicle registration, proof of ownership, and any applicable permits.
Pickup and Drop-Off Locations:
Determine the pickup and drop-off locations. Door to door delivery may be more convenient but could incur extra charges. Terminal-to-terminal options are also available.
Preparation of Your Vehicle:
Prepare your car for shipping by removing personal items and valuables. Keep your vehicle's fuel tank at a quarter full or less, as this reduces weight and potential safety hazards.
Communication:
Whether it is Rapid Auto Shipping or any other Auto Shippers if you communicate properly you can get a deal and the best car shipping service so please share any specific requirements or concerns regarding your vehicle's transport.
Check Reviews and References:
Before finalizing your choice of an auto transport company, check online reviews and ask for references to ensure the company has a history of providing satisfactory services.
How to ship Vehicle
Louisiana to Texas

?

It's as simple as 1-2-3 to ship a car from Louisiana to Texas with Rapid Auto Shipping.

Step 1: Get a quick auto shipment quote for Louisiana to Texas Auto Shipping and schedule a pickup time that works for you. With our online quote form, you can easily get a quote, enter your origin and destination, choose your shipping dates, and book your reservation online or over the phone for your Louisiana to Texas car shipping!

Step 2: Your vehicle will be picked up from a certain place in Louisiana. Your vehicle will be thoroughly inspected and put onto the carrier on the day of pickup. Our direct service allows us to pick up from any home or company in Louisiana.

Step 3: Your vehicle is delivered to the address you provide in Texas . Your vehicle will be offloaded safely, and a final examination will be performed to ensure that it was delivered in the same condition as when it was picked up.