Portland to Seattle Auto Transport is comparable to other interstate automobile transportation routes. This is how it usually works:
Requesting Quotes:
The first step is to look for and contact Rapid Auto Shipping, which provides services along the Portland-Seattle route. You may compare costs and benefits by requesting quotations from several carriers.
Choosing a Carrier:
After receiving the estimate, evaluate the offers considering the price, delivery time, and reputation of the company. Rapid auto shipping best matches your needs.
Pickup:
After selecting a carrier, you must plan the pickup day and place in Portland. The carrier will arrange a truck and trailer to load your vehicle at the specified pickup location.
Vehicle Inspection:
Your vehicle will be thoroughly inspected before it is loaded into the shipping trailer. This examination entails recording the vehicle's condition, including any existing damage or scratches, in a condition report.
Loading and transportation:
The carrier will put your vehicle into the trailer after the inspection. Depending on your chosen service (open or enclosed transport), your vehicle will be exposed to the weather or sheltered inside an enclosed trailer.
Transit to Seattle:
The carrier will then transport your vehicle from Portland to Seattle. The travel time varies depending on distance, road conditions, and other variables. The vehicle shipping company will offer an approximate delivery time.
Delivery and Inspection:
Your car will be inspected again once it arrives in Seattle. To receive the automobile, you or an authorized representative must be present. The vehicle's condition will be compared to the original inspection report.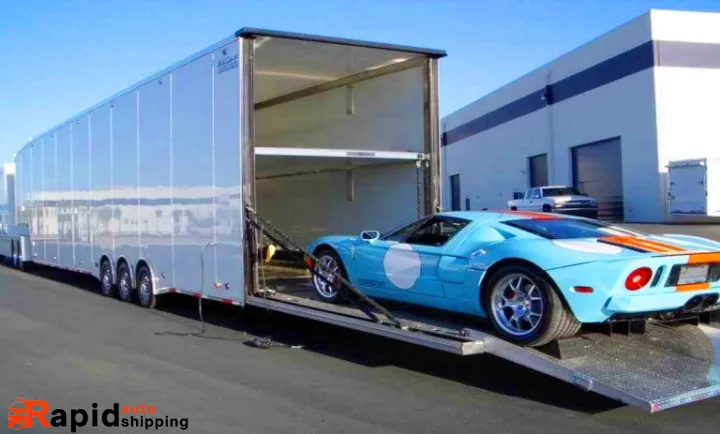 Money and completion:
Following delivery and inspection, you will complete the cash with Rapid Auto Shipping. Many carriers offer credit cards and bank transfers as payment options.
Choose a trusted and certified Rapid Auto Shipping service to guarantee a seamless and secure shipping process. You can make an educated selection by reading customer reviews and verifying the creditworthiness of the carrier.
Remember that unforeseen delays might occur due to weather, traffic, or other logistical concerns. When scheduling vehicle transport services, always allow flexibility in your timetable.
Portland to Seattle auto transport service, many choices depending on your unique requirements and preferences. The following are the many sorts of services that are usually accessible along this route:
Open Auto Transport:
This is the most popular and cost-effective automobile transportation. Your vehicle will be put into an open carrier, similar to those seen on roads hauling many vehicles simultaneously.
While your car will be exposed to the weather during travel, this option is adequate for most transport requirements and is safe for ordinary automobiles.
Enclosed Auto Transport:
This option transports your vehicle within an enclosed trailer, offering excellent protection from weather, road debris, and possible damage.
Enclosed shipping is often selected for luxury, classic, antique, or high-value automobiles that need extra protection while in transportation.
Door to Door Service:
The car transport firm will pick up your vehicle from where you specify in Portland and bring it straight to your destination in Seattle. This is the most convenient choice since you will not need to drop or pick up your vehicle at a terminal.
Terminal to Terminal Service:
You drop off your car at a selected Portland terminal, and the auto transport firm transports it to a terminal in Seattle. The vehicle would subsequently be picked up at the destination terminal. This alternative is less expensive, but it involves more planning.
Expedited Shipping:
If you need your car delivered quickly, several auto transport firms provide expedited shipping options. Keep in mind that expedited shipment may be more expensive.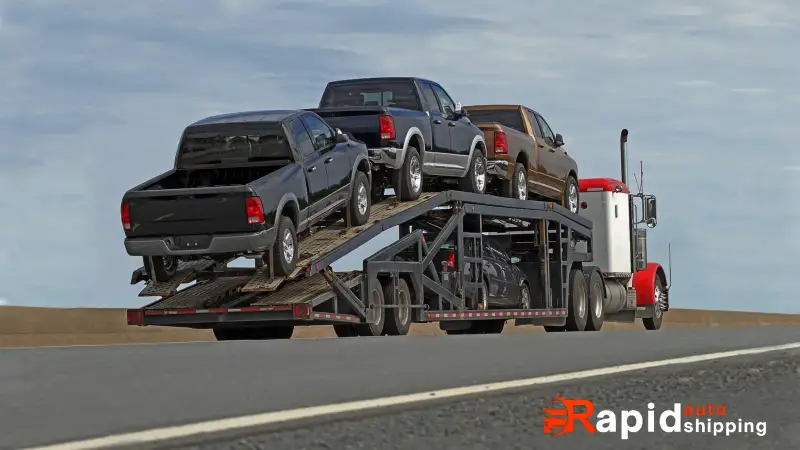 Seasonal Shipping:
Some carriers may provide seasonal discounts or deals depending on the time of year and demand, so it's worth enquiring about any special offers or promotions.
Many Vehicle Travel:
If you have many automobiles to travel or are coordinating with other people, some providers may give you a discount for shipping multiple cars together.
When choosing a vehicle transport service, it is critical to research and compare, read customer reviews, and confirm the organization is reliable and licensed.
Your budget, the sort of car you're transferring, your timeframe, and the amount of security you want while in transportation will all influence your decision.
Developing an Effective Strategy:
Making a reservation in advance allows you to acquire better rates for your vehicle's transportation. Due to limited availability, booking at the last minute may increase rates.
Open Transportation is an option
Choosing open transportation versus enclosed transportation may save you money, particularly if your vehicle does not need extra protection. Open carriers are a low-cost and readily accessible kind of transportation.
The pickup and delivery dates may be changed to meet your schedule.
Flexibility in pickup and delivery dates is a very successful strategy for obtaining better prices. Rapid Auto Shipping often provides cheaper costs or more cost-effective solutions for consumers who are prepared to be flexible with their schedules.
Discounts on a range of vehicles:
If you need Portland to Seattle auto transport for numerous automobiles, we suggest enquiring about the possibility of earning discounts for different cars.
Customers may take advantage of cheaper pricing when shipping innumerable automobiles simultaneously with Rapid Auto Shipping.
Please delete any extraneous items:
Before transferring your car, remove any temporary attachments or changes that may increase its dimensions or weight. By following this advice, you may avoid additional costs for exceeding vehicle size or weight limitations.
Knowing the projected arrival time might help with planning, even if unforeseen factors such as poor weather or high traffic cause delays.
There are numerous crucial aspects to remember while organizing from Portland to Seattle auto transport to guarantee a smooth and successful shipping operation. Here are some important factors to consider:
Car Transport Service Type:
There are numerous crucial aspects to remember while organizing from Portland to Seattle auto transport to guarantee a smooth and successful shipping operation. Here are some critical factors to consider:
Car Transport Service Type:
Determine whether you want open or enclosed car transport. Open transportation is more prevalent and less expensive, but your car will be exposed to the weather while traveling. Enclosed vehicles provide more protection, making them appropriate for luxury or high-value automobiles.
Vehicle Transport Company Reputation and Experience:
Conduct research and choose a reputed vehicle transport business with a proven track record of safe and dependable deliveries. Check the company's qualifications, license, and client evaluations to confirm they are honest and trustworthy.
Insurance Coverage:
Confirm the car shipping company's level of insurance coverage. Please make sure that it is enough to cover any possible damages that may occur during transportation.
Delivery timeline:
Inquire about your vehicle's projected delivery timeline. Distance, weather, and other variables may all affect transit times. Be prepared to be flexible in the event of unforeseen delays.
Pickup & Delivery Locations:
Determine your most convenient pickup and delivery locations. Some Rtapid Auto Shipping provides door-to-door service, while others may need you to drop off or pick up your car at specific ports.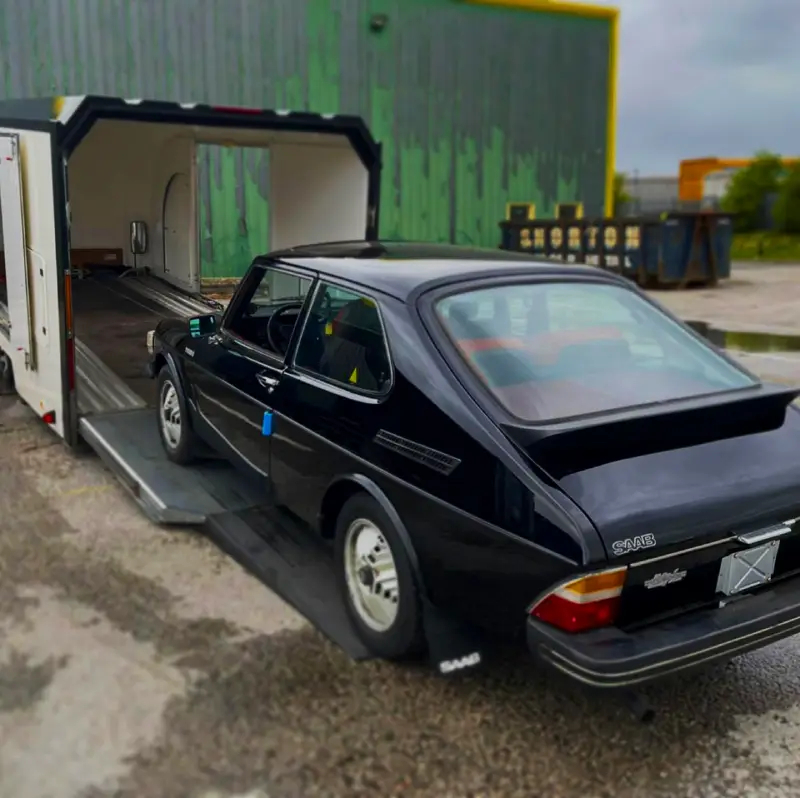 Car Preparation:
Prepare your car for shipment by removing personal possessions, fastening loose components, and ensuring it is in excellent operating order. Follow any special instructions supplied by Rapid Auto Shipping.
Cost and Payment:
Compare pricing quotations from many vehicle transport providers. Be wary of abnormally cheap quotes since they might imply poor service.
Choose a provider that provides a good blend of excellent service and reasonable cost. Understand the payment conditions and methods that the firm accepts.
Cancellation and Refund Policy:
Learn the company's cancellation and refund policy in case your plans alter or unexpected circumstances occur.
Car check:
Before and after shipment, thoroughly review your car with Rapid Aito Shipping. Document any existing damages in writing and with pictures to guarantee a smooth claims procedure.
Communication:
Rapid Auto Shipping efficiently interacts with you and keeps you informed throughout the shipping procedure. A dependable point of contact may address any inquiries or issues.
You may have peace of mind knowing that your car will be transported securely and effectively from Portland to Seattle if you examine these points and choose a reliable auto transport company.