Get a Price
Instantly get a quotation online. If you have questions, contact your allocated agent via phone, text, or email. Let's eliminate the uncertainty surrounding car transport!
Create a Reservation
By telephone or online, you can get your instant quote. Plan your transportation, and our consultants will work with you to find a time that works for you. Please be as specific as possible for us to help you the most.
Automobile Pick-up
You will receive a call from the carrier to arrange a pick-up time. Only the car, you, and the keys will be required during pick-up! The bill of lading will be approved when the automobile is examined for any existing damages. The car will soon be loaded and depart!
In Motion
Sit back and unwind as the carrier transports your vehicle to the location. Transport durations are determined by distance. For information and questions, contact the airline at any time.
Delivery
The courier will call three to five hours in advance to confirm the delivery date. When your vehicle is delivered, you will inspect it, approve the bill of lading, exchange keys, and make payment. The end! Your shipment has arrived!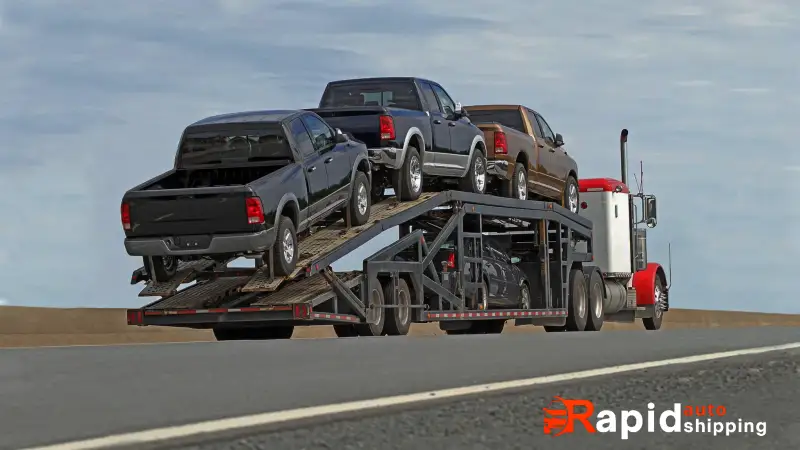 Vehicle Type
Another significant impact on the cost of San Diego to Boston auto transport is the sort of vehicle you are moving. While more oversized vehicles and SUVs may cost more to ship, your standard-sized car will be the cheapest option.
Additionally, whether you are shipping a non-operational vehicle, a classic car, or an expensive sports car, you could need additional services that will increase the cost of your San Diego to Boston auto transport estimate.
Type of Carrier
Your vehicle's dimensions, make, and model will determine the type of auto transporter used. There are three common types of auto transporters: open carriers, enclosed carriers, and flatbed vehicle auto transporters. The open carrier is the most ubiquitous and most affordable type of carrier.
Typically, this carrier is selected to transport standard-sized vehicles that do not require special care. The enclosed carrier provides protection from snow, precipitation, sunlight, and rain. In many instances, it also includes temperature control and added security.
From and To -
The cost of conveying a vehicle is influenced by the route taken. Transporting a vehicle from New York to Los Angeles will be more expensive than shipping from Brooklyn to Queens, but there are many other variables that impact the expense of auto transport from San Diego to Boston based on your final destination.
Popular routes, access to main highways, traffic patterns, and even the weather can all have an impact on the final cost of transporting your vehicle.
Period of Time -
There is a timing variable that affects the cost of San Diego to Boston auto transport. During early autumn and late spring, for instance, "Snowbirds" leave their northern residences in New York and the upper Midwest for Florida and Texas, causing a fluctuation in demand. It is possible that the price of your automobile shipping will change if you are sending your shipment to one of these areas.
Flexible Dates-
Similar to booking a flight, if your auto transport dates are flexible, you will discover the best prices. Use any scheduling flexibility to your advantage to obtain the best price.
Open-air San Diego to Boston Auto Transport
Your automobile will be transported by open transport on a car carrier trailer, which usually includes two racks that can accommodate 4–10 vehicles each. The truck, whose length can range from 16 to 24 feet, lacks walls and a roof but is equipped with specialized technology and safety measures to keep your vehicle securely affixed to the storage platforms.
San Diego to Boston Auto Transport in an enclosed carrier
People who own vintage or customized automobiles prefer to export their vehicles using enclosed car transporters since the vehicles are kept in covered trailers during the shipping procedure. Carriers may only transport up to four or five automobiles at once using this approach.
Door-to-door San Diego to Boston auto transport
There are several options available if you need to export your vehicle across the country. You may take your own car and fly home.
You may pay a person to drive your automobile where it needs to go. It may even be towed. But there are a number of valid reasons why door-to-door car transport is preferred by most individuals.
The procedure is managed by experienced drivers. To safeguard themselves, your vehicle, and other motorists, they are proficient at loading and securing vehicles onto trailers.
The door to door vehicle transport company handles everything, sparing you the time you would have spent driving to and from the destination.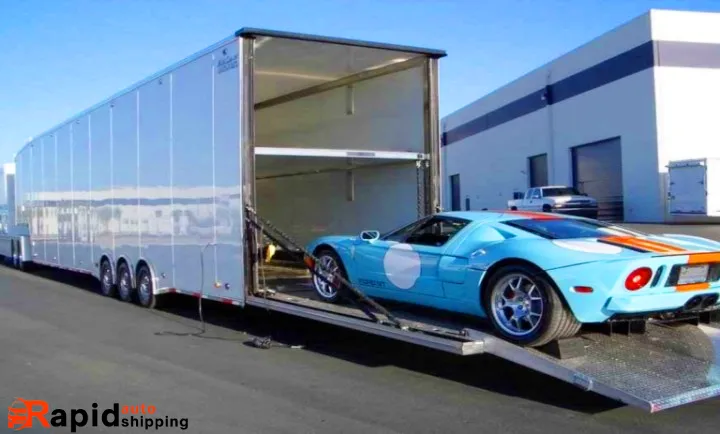 Fuel, salaries, toll taxes, and other costs are included in San Diego to Boston auto transport prices. If you drive your automobile to its destination, you'll pay for wear and tear, extra miles, food, rest stops, overnight accommodations, and more. When your car is sent, it won't break down or get into an accident, saving you money, time, and hassle.
Rapid Auto Shipping's simple process demands nothing from you in addition to preventing roadside problems. Book your shipment, receive an estimate, and sign the bill of lading. At the destination, check the automobile and sign the bill of lading.
What You Should Know Before Booking:
For your car to function properly, it is necessary for it to have the ability to move. Otherwise, additional expenses or alternative payment methods may be required.
Payment is received once the carrier has been allocated the vehicle. It is necessary to indicate whether the car will be picked up or delivered at a company when making a booking. Please provide the name of your company, a contact phone number, and the days and times during which you are available to schedule appointments.
Please give us a functional phone number where we may reach you during the entire process of moving your car.
Additional care may be required when handling a vehicle that was manufactured before 1980. Please consult with your sales representative.
To load and unload your car securely, it must not be taller than 7' and have a minimum of 4" ground clearance.
There must be no evident fluid leaks in the vehicle.
It is essential that the door and window on the driver's side function properly.
Your car's brakes must function correctly. Your vehicle must have a functional emergency brake if it has a manual transmission.
Your battery must be securely attached to the bracket.
We must be informed of any modifications to your vehicle, such as a 4x4 elevation kit, camper enclosure, decreased vehicle clearance, etc.
For inspection, the vehicle must be spotless. A soiled vehicle makes it more difficult to conduct a comprehensive inspection.
A minimum of (1/4) tank, but no more than (1/2) tank of gasoline, must be in the gas tank.
All alarm systems must be deactivated, turned off, or disconnected.
The following things need to be taken out: vehicle phones, garage door openers, E-Z toll tag passes, non-built-in radios, cassette decks, and CD players.
All antennas need to be retracted entirely or taken off.
You must take off any external spare tire covers, grill covers, or automobile shipping coverings.
The law prohibits the transport of plants, hazardous objects, and weapons.
There must be only one key set for the vehicle.
Racks for non-permanent baggage, bicycles, or skis must be taken down.
Your vehicle must be prepared for varying climatic conditions. This may apply to fluids such as transmission lubricant and engine coolant.
All personal items must be taken out.
Pre-move and post-move vehicle inspection requirements:
At the time of pick-up and delivery, you or your approved representative must be present for the inspection.
You or your chosen representatives must verify your vehicle's condition. Before the driver departs for the destination, this must be completed.
You or your authorized representative must sign the condition report and the bill of lading.
Exceptions related to vehicle condition must be stated on the bill of lading.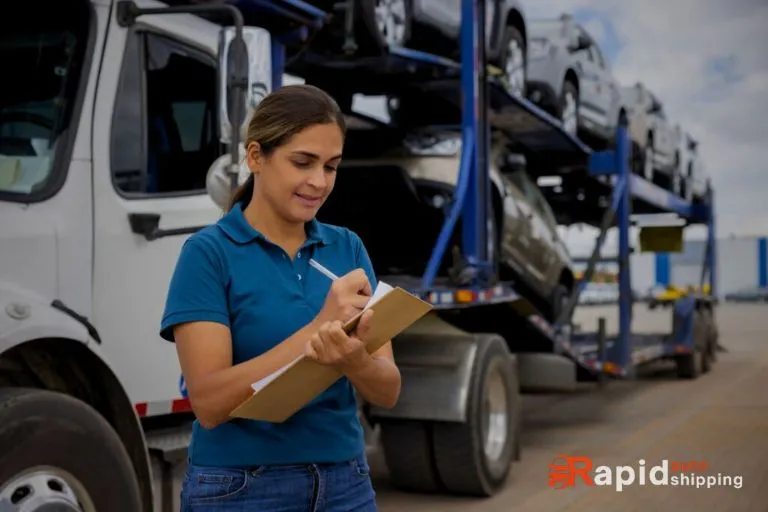 No Deposit
No payments upfront. There won't be any fees before a carrier is designated for your travel. Obtain a free estimate on your conveyance immediately!
Insurance is provided at No Cost
Each transfer is fully insured, protecting your car from pick-up to drop-off.
Carriers in the Nation
All of the carriers in our network are rigorously screened and insured. We have a carrier for every route, thanks to the thousands of carriers we have countrywide.
The optimal group for achieving success
Our team of experts in the field knows how to have your automobile delivered when you need it and where you need it.
Communication
The most important letter! Get a specialized shipping adviser to manage and keep you informed about your journey from beginning to end.
Longer Hours
We are available 24 hours a day, from early morning until late evening.