Overview About Car Transport Service In Arkansas
Arkansas is a state in the United States located in the southern part of the country. It currently has a population of more than 2.9 million people. In terms of population, Arkansas is ranked 32nd out of 50 States. The economy is booming, and the state has plenty of job openings. Salespeople, teachers, and nurses are the most popular. Because it is one of the most affordable states, a Natural state is an excellent area to reside. Also, if you want to start and run your own business, Arkansas is a great spot to do so because it has favorable regulations and is listed as the second-cheapest state.

Rapid Auto Shipping is the company to call if you need auto shipping to/from Arkansas or across the state. We have many years of expertise, and one of our specializations is car transport service to and from Arkansas.

We have a specialized sales team whose sole objective is to assist you in obtaining the car transport service you want. Furthermore, we offer dedicated dispatch, support, and claims teams to guarantee that your cargo works well.
We are dedicated to providing excellent car transport service to our clients.
Vehicle shipment in Arkansas should be simple and stress-free. As a result, we provide various auto transport services adapted to your specific requirements. We may provide open or enclosed car shipping service as well as door to door delivery.
You will save both time and money when you use Rapid Auto Shipping. Our step-by-step tracking updates keep you informed throughout the shipment process, and our drivers are licensed and insured, ensuring that your item is handled with care.
With hundreds of automobiles shipped to Arkansas each month, you can rely on us to bring your vehicle to its destination safely and on schedule. Choose Rapid Auto Shipping for all your automobile shipping needs, and don't settle for anything less than the finest.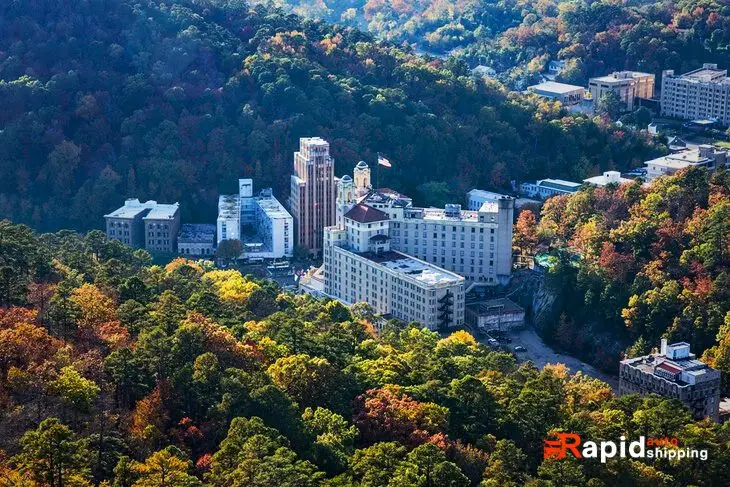 For short trips up to 500 miles, average automobile transportation in Arkansas costs roughly $1.96 per mile. From 500 to 1,500 miles, medium routes cost you about $0.93 per mile.
The cost of transporting a vehicle is not simple to calculate. The total price of car transport service varies according to several factors. There are multiple factors that can affect the cost such as distance between the locations, size of the vehicle, and its type.
Apart from that, other considerations like the season, for example, if you want to ship your vehicle during Snowbird season, the prices will be high due to the demand. Other factors such as weather, operable or inoperable vehicles, can change the price.
Most importantly, if a customer starts to work with different companies, the price will be increased to the next level. So it is always advisable for the customers to work with only one company.
We've simplified the procedure and will handle it on your behalf. This simplifies the automobile shipping procedure for you, and you can experience an Arkansas car transport service that is inexpensive, simple, and quick.
After you've scheduled transportation for your car, Schedule a pickup day, time, and convenient pickup location with your trucker. You can even unlock your car while at work.
The bill of lading, which serves as a receipt for what has been placed aboard the carrier, is the most crucial document. The condition of your vehicle before and after the relocation and verifies that your car was delivered.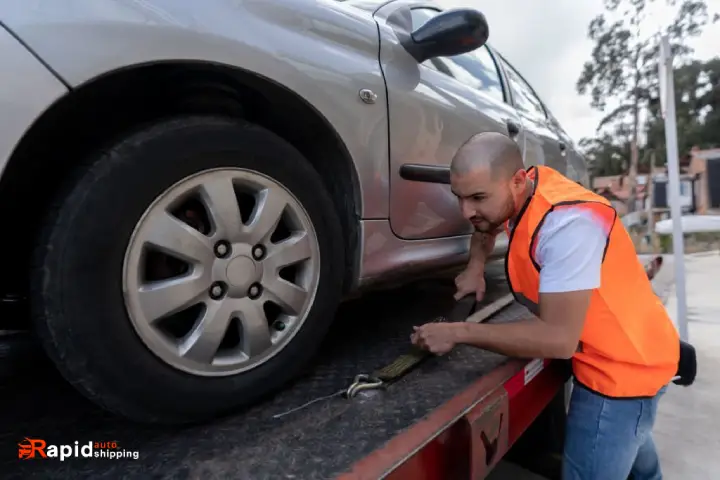 If you've never used a car transport service before, you're undoubtedly curious about the many types of auto transport vehicles used to carry your automobile. The reality is that different car transport service providers have a wide range of auto transport vehicles available for usage based on the customer's requirements.
Open Car Transport Service:
It is the most preferred way to transport the auto-mobiles by customers. Open trailers are just like double-decker car trailers. Each car is securely fastened to prevent it from moving during the journey.
Open auto transport Arkansas is one of the cheapest ways of shipping your vehicle with full of security and protection. With the help of open auto transport, your vehicle will arrive at its destination within a few days depending on the distance safely without spending much money.
Enclosed Car Transport Service:
Enclosed car transport is a type of auto transport arkansas that gives much protection to your vehicles. Well, it is considered the safest way to transport luxury, classic and new cars. In the Arkansas Car shipping services carrier's top and side covers, as well as straps, secure the consignment on the trailer.
The enclosed trailer fully covered the vehicles so that not even a single particle of dust could not be able to touch the cars. In other words, it will provide full protection to the vehicles.
It will protect your vehicle from wind-blown ash and debris damage, persistent sun damage, or damage from rain and snowfall. Transporting a vehicle on an enclosed truck is considered a bit expensive.
Soft-sided Enclosed Auto Transport in Arkansas– It will protect your vehicle from wind-blown, rain, sleet, snow, and other elements.
Hard-Sided Enclosed Auto Transport in Arkansas – Along with the merits of soft-sided enclosed carriers, hard-sided carriers add more protection for your car in the unlikely event of damage during transit.
Expedited Car Transport Service: Our accelerated car transport service will assist you when you require fast car shipping in Arkansas. Whatever you pick, our auto shipping agents will prioritize your cargo and transport your vehicle as soon as feasible.
Door to Door Car Transport Service:
Door to door definitely is also known as house to house service, which kind of is fairly significant. This mostly is the most convenient car transport to Arkansas service in which generally your car will particularly be essentially picked up and delivered at pretty your for all intents and purposes particular preferred destination without any hassle and bustle, which actually is fairly significant.
Moreover, Rapid Auto shipping can provide you door to door service within 50 states of the U.S without charging you even a single penny extra in a really major way.
The driver will basically come to the address of your choice and will pick up your wheels and drop that at particularly your selected precise address whether it essentially is a dealership, business, or residential place of security and safety in a sort of major way.
Terminal To Terminal Car Shipping:
Terminal to terminal is precisely what the name suggests. You drive your automobile to a designated drop-off location, where it will remain until picked up by your carrier. When your vehicle is picked up, the carrier delivers it to the terminal destination site, where you will pick up your car.
Sometimes, you may choose a hybrid service where the automobile is picked up at your home and transported to a destination terminal. Similarly, you may deposit your car at a port for pick-up and arrange for delivery to your door at your destination to save time and convenience.
Roll on Roll off Car Transport Service:
The distinction is due to the vessel used: RORO ships are intended to transport goods such as passenger vehicles, utility vehicles, or construction equipment, which are rolled on and off the ship a car to Arkansas under their power or with the assistance of a platform vehicle such as a self-propelled modular transporter. Lift-On/Lift-Off (LO/LO) boats, on the other hand, employ a crane to load and unload cargo.
When in port, RORO boats feature built-in or shore-based ramps that allow goods to be conveniently moved on and off the vessel.
While smaller ferries that cross rivers and other short distances frequently feature built-in ramps, RORO is typically reserved for huge oceangoing boats. The ramps and doors might be situated in the stern, bow, sides, or any combination of these locations.
You will get the opportunity to learn about these various car shipping vehicles as well as how to select which delivery truck is best for your scenario. The type of car shipping vehicle you select for your relocation service may influence the delivery time, cost, and overall efficiency.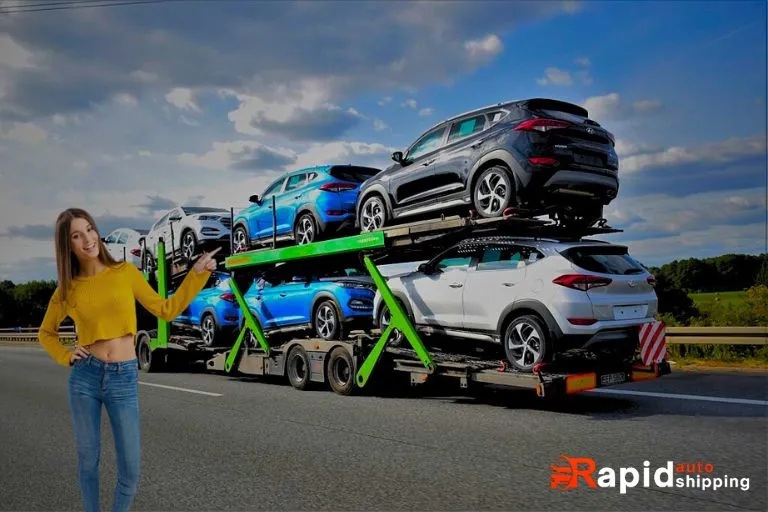 Begin by removing any personal belongings from the inside and trunk, then use up most of your gasoline so that your automobile arrives with only approximately a quarter tank. This minimizes total shipment weight while allowing you to travel securely after delivery. You should also have an extra set of keys for the transfer driver.
Consider getting your car cleaned and waxed shortly before your travel for the best protection from the weather. A new layer of wax repels water, insects, and dirt that your automobile may come into touch with while being transported. Photographing your car as visual documentation of its condition is also a good idea.
As a client, you may be concerned about leaving your vehicle in the hands of another person for even a few minutes, much alone days. However, because your automobile will be parked on a trailer rather than driven across the nation, it is considerably less likely to be damaged.
When driving, you may get a flat tire; something could break, your automobile could be exposed to the weather, and so on. On the other side, because the car isn't even operating, there's no danger of malfunctioning, and no extra mileage is contributed. Regardless of how you look at it, vehicle transport is the greatest Arkansas automobile shipping option.
Be sheltered from the elements as you transport the automobile to Arkansas by the beams and cars surrounding it. Your vehicle will be fixed to the platform and will not move.
The Arkansas auto shipping business is responsible if something occurs to your car. In addition, your vehicle is covered during the auto transfer process. As a result, the danger of vehicle transport when sending your car to Arkansas is small.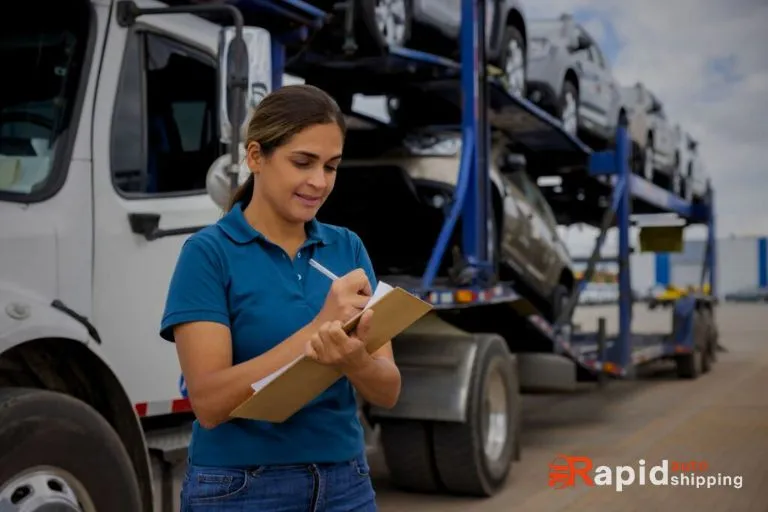 Yes, internet surveillance is available around the clock, seven days a week, and is constantly refilled. You will be issued a unique booking number when you reserve your cargo, allowing you to track its progress online.
Through your monitoring site, you will also be able to live chat with a shipping representative who will answer any questions about your things' status.
Auto transport is simple and stress-free! What kind of car must you be transported to or from Arkansas? Rapid Auto Shipping can handle any vehicle, including a bus, boat, truck, motorbike, or van. We can send any of these vehicles, as well as others, anywhere in Arkansas.
When traveling, you won't have to worry about petrol prices, mileage, or vehicle wear and tear. We may pick up your automobile from your home and deliver it to your desired place. The procedure is simple and, even better, inexpensive!
Rapid Auto Shipping makes every effort to provide our clients with competitive pricing. However, it is crucial to remember that our costs might fluctuate based on various factors. The distance we must go and the type of vehicle you require all influence price.
You can read more about this on our website and even get a free quotation! We pledge to try our best to provide the best services at the most reasonable cost. And if you provide us with a price from another carrier, we will endeavor to beat it!