Overview About Car Transport Service In New York
In the United States, New York City is a well-known tourist attraction. It is a Metropolitan Statistical Area (MSA) with more than 18.7 million people, commonly called the New York Metro Area or simply "New York.

Many car shipping companies make enticing offers to customers who want to move their autos from one state to another. Rapid Auto Shipping provides Vehicle Shipping from California to New York, with pickups in Bakersfield, Thousand Oaks, Long Beach, Los Angeles, Hicksville, and almost everywhere else in New York.

They will pick up your car and move it from your residence to your new place. The cost and time to relocate your vehicle may vary depending on the location and when you move - transporting it might take 3-6 days.
Rapid Auto Shipping respects each customer. We assist clients in transporting their autos on schedule and at a reasonable cost. We completely insure their automobiles and deliver them from door to door safely.
You may have a piece of mind knowing that if your automobile sustains damage while being transported, your vehicle will be repaired. We've got you covered; our insurance will handle the claim quickly and effectively.
We bonded and licensed a business that every consumer believes in. We allow consumers to arrange transport without making a deposit. Furthermore, we give our customers reliable carriers so they have the most significant transportation experience possible.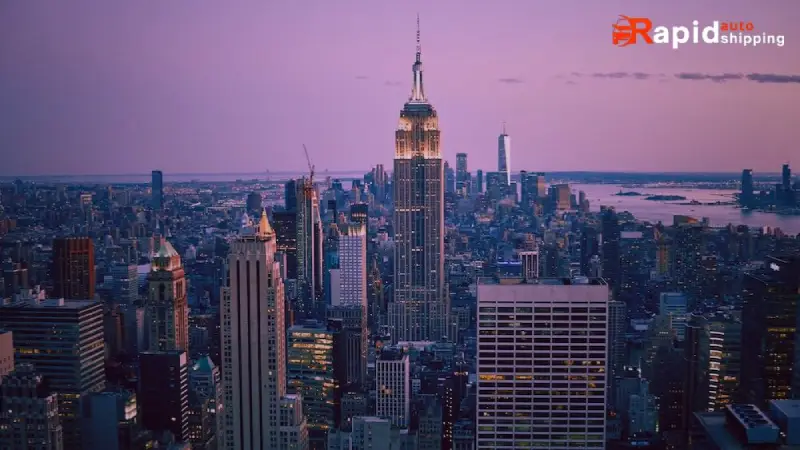 The average cost of shipping a car cross-country is $1,650 when using the national average rate. The most affordable option, which includes delivering the automobile in an open container with no haste, is roughly $1,200. The most expensive option was a rapid delivery in an enclosed carriage for $2,100.
Rapid Auto Shipping's free quotation is the first step towards quick, convenient, and economical car shipping. We collaborate with outstanding carriers nationwide to provide the best car transport services for your vehicle.
We'll compare estimates from several carriers so you can pick the best auto transport costs for you. It's time to schedule your car transport service after you've chosen your carrier. Then, with easy tracking along the journey, sit back and relax.
How can Rapid Auto Shipping's car transport service help you?
Free quotations: We assist you in comparing prices from the top shipping providers in the nation.
Pricing transparency: We inform you how much your car shipping will cost. There will be no unexpected fees or cost add-ons.
Vehicle delivery: We transport your automobile as quickly as possible while adhering to the tightest safety rules. We examine your car before and after delivery to verify that it is in the same condition as when we picked it up.
Our Objective has always been to make the car shipping procedure as simple for our clients as possible. We were able to shorten the procedure to assist us in attaining this aim.
We also administer it on your behalf for your convenience. Consequently, car transport companies in North Carolina service is quick, easy, and reasonably priced.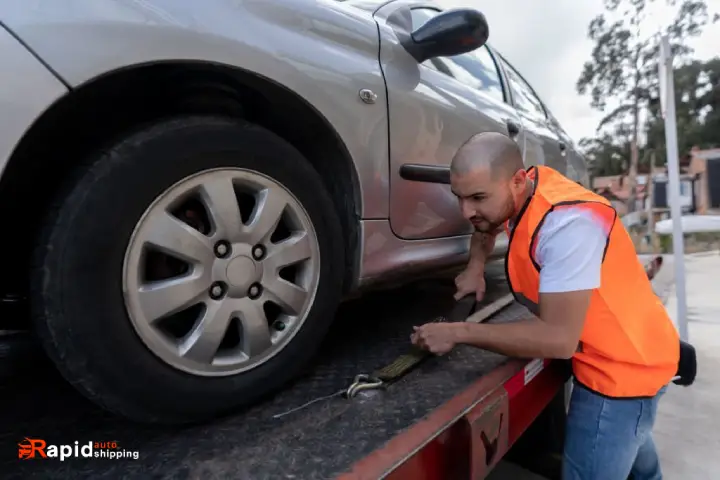 Open Car Transport Service:
Open auto transport is our most popular and cost-effective car transport service. Your vehicle will be carried door-to-door on an open-trailer auto carrier, most typically seen on highways and delivered to dealerships nationwide.
Enclosed Car Transport Service:
If you want to ensure the protection of your vehicle, enclosed car carriers are the way to go. Enclosed automotive carriers, while sometimes more expensive, provide maximum protection for your valuable goods. Your car will be completely protected from the weather and environmental threats such as flying pebbles or debris.
Expedited Car Shipping:
You want to transport your automobile to a new city soon. An expedited car transport service is the quickest and most effective way to transport your vehicle from point A to point B.
With Rapid Auto Shipping accelerated car transport service, you may reap benefits not accessible with other car shipping solutions. As an accelerated customer, you will be given priority with one to two-day pick-up and storage choices to fit your demands.
Door to Door Car Transport Service:
You may choose a precise location for your automobile to be picked up and dropped off with Door to Door car shipment.
If you want your car sent to or from a residential location, the driver will go as near your home as feasible while keeping safety and legal rules in mind.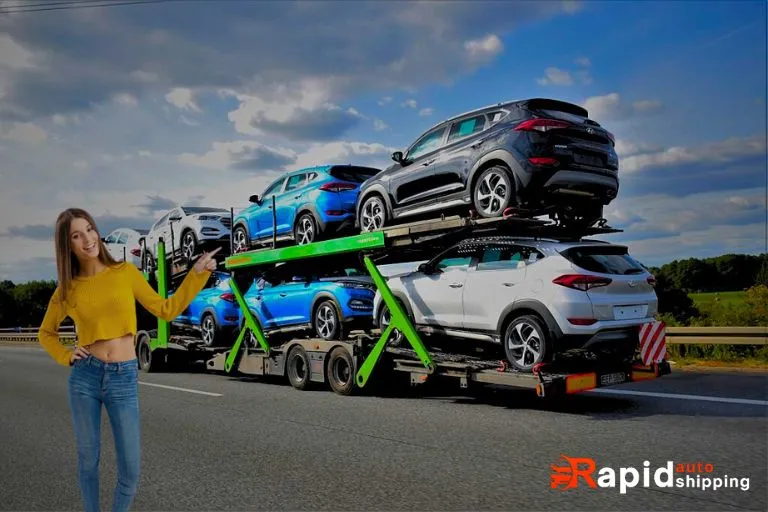 You may prepare your automobile for auto transfer by doing the following steps:
Remove any personal goods from the vehicle, including aftermarket electronics and accessories.

Check that the automobile is clean both inside and out. This makes it easy for the shipping firm to assess the car for any prior damage.

Check the fluid levels in the automobile and inflate the tires to the proper pressure.

Check for fluid leaks and ensure the automobile is functioning excellently.

If your vehicle has an alarm system, turn it off.

Leave the car with around a quarter tank of petrol.

Please take photos of the car from all angles to document its condition before transport.

Ensure you have all the necessary documents, including the title and registration for the car.

If the car is inoperable, let the transport company know in advance so they can make the necessary arrangements.
Our carriers must be inspected regularly to ensure their safety. Each truck should run well, secure every automobile, and provide proper protection from the weather.
Due to their construction, the open carrier relies on surrounding beams to shield cars from flying debris. If you wish to be completely safe, you can upgrade your car transport companies in north Carolina service to an enclosed caravan.
If something happens to your automobile, you are entitled to reimbursement from the business. Check it thoroughly at the drop-off location. Only sign paperwork once you know the vehicle is in good working order.
Every year, in winter, thousands of people move from the north side to the south side due to the freezing weather to specifically live in warm weather in the South in a big way.
After ending the winter season in the North, they returned to their homes again to enjoy the blossoming spring weather. Those who move from North to South during winter are known as snowbirds.
Some of the snowbirds decided to drive by themselves to their destination. Still, most people prefer to use auto shipping companies to transport their automobiles, or so they specifically thought. And they tend to go to their destination by air subtly.
However, it helped them in numerous ways, from time, money, hassle, and mostly, for the most part, wear and tear to their vehicles, which is fairly significant. In winter, there is a lot of snow and cold in New York, so we follow best practices as the NYC government recommends.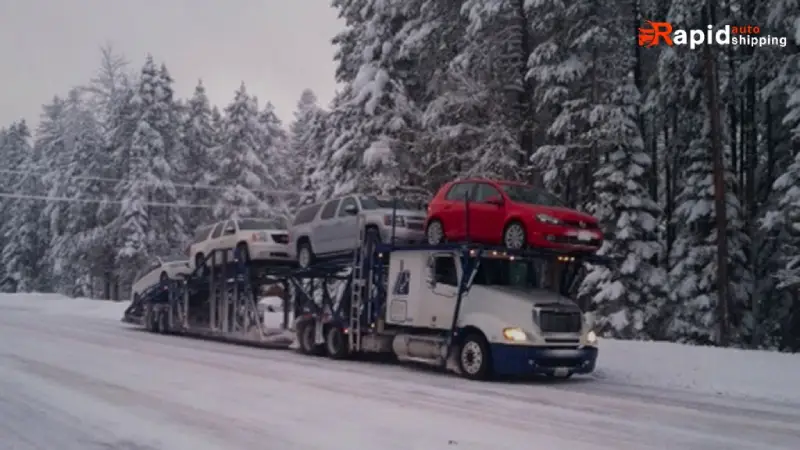 Arizona, Texas, California, Florida, and other significant Snowbird states in the United States are listed here. Snowbird routes are generally all pathways that run from north to south.
Furthermore, rates frequently begin to rise during the snowbird season since drivers have many alternatives at that time and invariably choose the biggest amount.
Customers are advised to refrain from being swayed by the lowest costs since they will waste their valuable time.
A vehicle in running condition can go forward and reverse under its power without using any manpower and is called an operable vehicle.
On the other hand, if a vehicle can't move, it will be considered inoperable or non-running. The driver must need a winch with some extra charges in this case.
In other words, the customer must pay the driver extra money to perform this additional car transport service. However, only some auto transport companies in North Carolina provide this particular service with inoperable vehicles.
To get a quote for shipping your vehicle, use our instant online car shipping quote calculator above or call +1 (833) 233-4447 to get a quote from one of our car transport pricing specialists.
To calculate your quotation, we need to know where you are shipping from and to, what sort of vehicle you want to send, and when you expect your car to be available.
Yes, internet monitoring is available 24 hours a day and is constantly updated. When you arrange your shipment, you will be assigned a unique booking number that will allow you to track the status of your shipment online.
Your tracking link will also allow you to live to chat with a shipping representative who will be able to answer any questions you have about the status of your shipment.
Using a car shipping North Carolina to transfer your vehicle to another state might provide several advantages. Here are some of the benefits of hiring an auto transport companies in north Carolina.
Convenience: Driving long distances with a car may be exhausting and time-consuming. You may have your car moved while you travel or utilize another mode of transportation by employing a car transfer company. This can save you time and energy, allowing you to arrive refreshed at your destination.
Cost-effectiveness: Depending on the distance travelled and the cost of petrol, using an auto transport business may be more cost-effective than driving a car.
Safety: Professional car shipping North Carolina have the knowledge and equipment to move your automobile safely. They transport autos utilizing sturdy, high-quality carriers or trailers and ensure that all vehicles are appropriately secured to avoid movement or shift while in transportation.
Insurance coverage: Carriers insure all automobiles Rapid Auto Shipping sends against damage or loss during shipment. However, the carrier does not cover any damage during parking, storage, loading, or unloading.
You may purchase our AFta gap coverage plan if you want coverage for damage or loss during parking, storage, loading, or unloading. AFta will pay your deductible up to a maximum of $2,000. This supplemental plan may be purchased in addition to your obligatory private auto insurance.
Transporter: Our clients in the transportation industry rely on us to assist them in finishing their trips as fast and securely as feasible. We provide part-time and full-service alternatives, including financial management, truck dispatch, and administrative support.
One of the most significant advantages for our transporters is that we ensure that their trailers are filled so that they can make the most of each transfer.