Overview About Car Transport Service In Oklahoma
Oklahoma is located in the South Central region of the United States of America, bordered by Texas on the south and west, Kansas on the north, Missouri on the northeast, Arkansas on the east, New Mexico on the west, and Colorado on the northwest.

It is the state's largest metropolis, close to numerous major interstate highways. If you're shipping to or from Oklahoma City, you should have no issue getting your automobile there.

With Rapid Auto Shipping, shipping a car to or from Oklahoma to California has always been challenging. We have an extensive network of drivers nationwide that can pick up and drop off your vehicle at any point in either state.

Our yearly number of moved automobiles is such that we can even save you money on transportation. If you want to move your car from Oklahoma to California affordably and swiftly,
Rapid Auto Shipping is a Car Shipping Company in Oklahoma City that appreciates all its clients equally and offers the best car transport service in Oklahoma.
We help customers have their automobiles delivered on time and at a fair rate. We bonded and licensed a corporation that all clients may rely on.
We insure their automobiles entirely and securely move them from one area to another. You may be confident you will be paid if your car is damaged while transported. We've got you covered; our insurance provider will handle the claim quickly.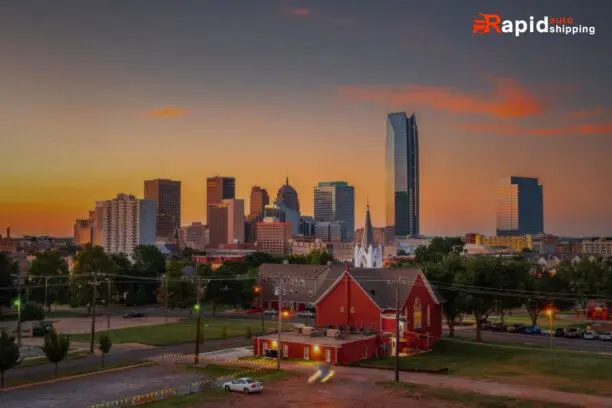 Due to the numerous elements that influence the cost of auto transport, even an in-state journey of fewer than 500 miles utilizing the cheapest option can cost more than $700.
However, the cost-per-mile of automobile transportation decreases as the distance travelled increases (from roughly $3 per mile to $0.35 per mile if you drive over 100 miles).
Calculating car transport costs is not easy. Several factors will impact the cost of your auto transportation. To receive an estimate car transport cost cost, we recommend filling out the quote form.
The easiest method to answer the question "How to ship my car to Oklahoma" is to show you how our car shipping company operates. We understand that automobile owners would not trust any car shipping firm to transport their vehicles over state lines; they want to experience a good reputation. This is how we do it:
First, after your order is received, we will begin shipping an automobile to Oklahoma. This usually takes about a week. We'll keep you informed of significant developments, such as the time and date of collection, the tracking number, and the truck driver's phone number.
All Rapid Auto Shipping drivers attempt to treat every vehicle they transport as if it were their own. Their first goal is to protect your vehicle from harm during delivery. Before the driver departs, you will sign and obtain a Bill of Lading. The truck driver will then contact you to finalize delivery details.
Finally, you will check the vehicle for damage after you and the driver have reached Oklahoma. It's that easy! You will now additionally put your signature on the official inspection report.
We've streamlined the procedure and taken care of it on your behalf to simplify the process. By doing that, you can take advantage of a hassle-free, cost-effective car transport service.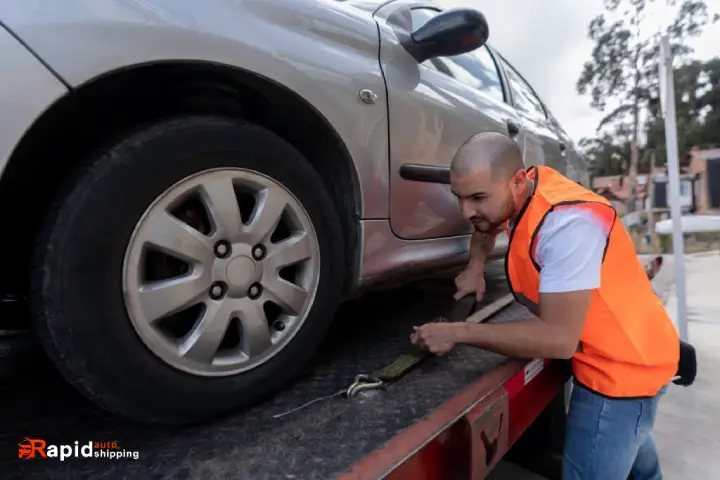 Open Car Transport Service:
Shipping an automobile on an open carrier is cost-effective but unsafe for a high-end make and model. The car is vulnerable to flying debris and dust, which might develop into marshy mud if it rains.
Furthermore, hail and sunshine may alter the overall look of your vehicle. However, open travel is easy, readily available, and inexpensive.
Enclosed Car Transport Service:
Get the most reliable enclosed car transport services! When you need to transfer an automobile, having a variety of shipping choices to transport a vehicle to ship car to another state is beneficial. Rapid Auto Shipping's top-rated car transport services are available Nationwide.
Rapid Auto Shipping offers the best-enclosed car shipping transportation alternatives. Over the past ten years, we've built a network of expert enclosed auto movers.
We can provide you with the best bargain on covered car transportation because of our network. See our Enclosed Auto Transport Reviews for more information.
Expedited Car Transport Service:
Upgrading to expedited shipment assures your vehicle is picked up and dropped off on time. As a priority customer, you will receive prompt treatment, allowing you to return to driving sooner.
Terminal to Terminal Car Transport Service:
Terminal to terminal auto transport, as the name indicates, begins and ends at a terminal. A terminal is a regional automobile storage facility. These institutions are often located in or near large metropolitan areas.
Terminal to terminal auto transport is less convenient than door to door shipping. Why? Because instead of having your car picked up and delivered near the two residential addresses you indicate, you must arrange for it to be dropped off and picked up at terminals.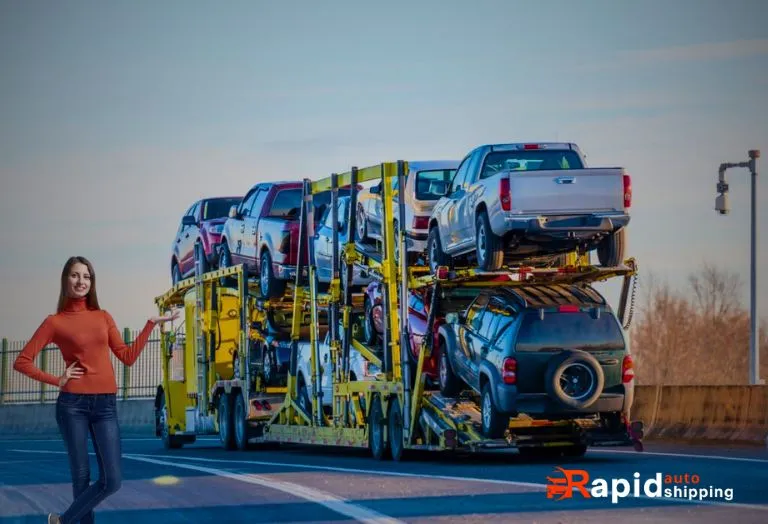 Preparing your vehicle for shipment to and from Oklahoma might be challenging, but with appropriate planning, you can ensure that your car arrives safely and securely. Here are some suggestions to help you keep going.
Understand all of the regulations in your state. All automobiles brought to Oklahoma must be registered with the Oklahoma Department of Transportation.
Fill out a bill of lading with the vehicle's dimensions, weight, and final destination. The bill of lading will also include proof of delivery, which assures that your vehicle will arrive in the exact condition that it departed.
After obtaining all the necessary paperwork, the following step is to ensure the vehicle is in good working order for shipment. Check all the fluids to ensure that the engine oil, transmission fluid, coolant, and brake fluid are all at the proper levels.
Check that all of the lights and signals are working properly, and examine the tires for signs of wear and tear. To safeguard your safety, take photographs of the automobile before it goes.
Check that you have removed all of your belongings from the car. Any valuable items, like a vehicle radio, should be removed, and you should ensure that all of your paperwork, including the title and registration, are safe and secure. Following these steps, your automobile is ready for transport to or from Oklahoma.
When thinking about the safety of your automobile during car shipping, consider the following:
How much security do you require? An open carrier can move your automobile without causing more than a scratch. However, in other circumstances, even a minor bump might cause issues. Choose an enclosed transport carrier for auto transport in that situation.
Can you afford to pay for a better quality of service? You can better secure your automobile with an enclosed carrier that is properly insured, but the cost will be significantly more.
How should you get your automobile ready for shipping? Simple steps, such as filling the tires and eliminating loose debris, will help you relocate your vehicle more effortlessly. It will also assist your automobile in avoiding accidents while traveling.
This is because the carrier is in charge of the bulk of the safety features of a car transport service. The business must inspect the straps and, if necessary, replace them to guarantee that they do not break in any manner throughout the travel.
As long as the automobile is secured, nothing catastrophic should happen. Our drivers will not take needless risks because they are experts.
Thousands of people move from the north to the south every winter to escape the cold, generally to live in the milder climate of the south.
They went to their northern homes when the winter season finished enjoying the lovely spring weather. Snowbirds are people who spend the winter traveling from north to south.
Although some snowbirds prefer to drive themselves, the bulk of individuals, or so they thought, prefer to have their automobiles sent by auto shipping companies.
They also have a propensity to arrive at their destination quietly. It did, however, help them in various ways, including saving time and money and decreasing vehicle wear and tear, all of which are critical.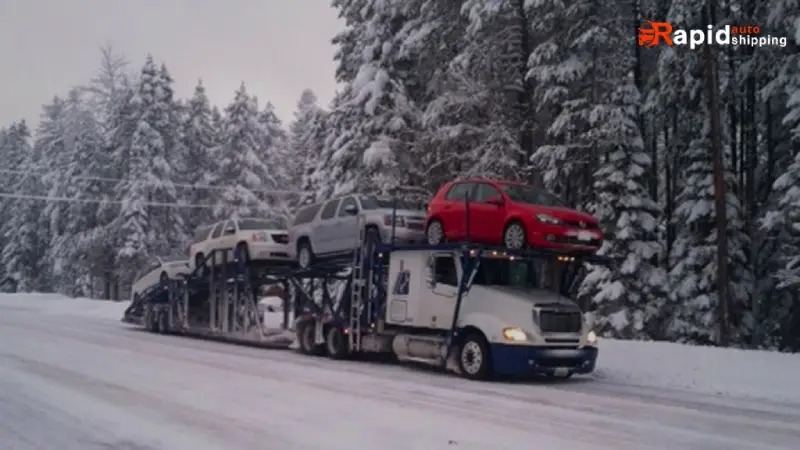 Arizona, Texas, California, Florida, and other states in the United States are among the most well-liked snowbird vacation spots. Any trail from north to south is called a "snowbird path."
Customers are encouraged to avoid getting lured in by the lowest prices since they will waste their time. Additionally, drivers prefer to select the most costly because they have so many options during the snowbird season.
A vehicle in good functioning order and can go forward and backward on its own is said to be operational. Inoperable or non-running vehicles are defined as those that cannot move. In this case, a winch will be necessary, which can result in increased expenditures.
In other words, the customer must pay the driver more for this additional service. Only some car transport service providers, though, provide this service with non-operational cars.
To provide you with the best Oklahoma car transport service and the most appropriate Oklahoma shipping rate, submit an Oklahoma quote request, chat with a State way Auto Transport representative for an instant Oklahoma car shipping rate, or call +1 (833) 233-4447 to discuss your transport with an experienced shipping coordinator and receive a free quote for shipping your vehicle from Oklahoma.
Yes, we provide real-time tracking updates so you can keep track of your vehicle's status during car shipping. Throughout the shipment process, you will receive updates through email or phone.
Using a car shipping firm to transfer your vehicle to ship car to another state might provide several advantages. Here are some of the benefits of hiring a car shipping company:
Convenience: Driving long distances with a car may be exhausting and time-consuming. You may have your vehicle moved while you travel or utilize another mode of transportation by employing a car shipping company. This can save you time and energy, allowing you to arrive refreshed at your destination.
Cost-effectiveness: Depending on the distance travelled and the cost of petrol, using an auto transport company may be more cost-effective than driving a car.
Professional auto transport companies have the skills and equipment to transfer your vehicle securely. They move automobiles using solid, high-quality carriers or trailers and guarantee that all vehicles are adequately secured to prevent them from moving or shifting during transit.
Our Oklahoma auto transport professionals may be reached at +1 (833) 233-44470 for a final review of Oklahoma automotive shipment tracking updates and in-person assistance.
Oklahoma auto transport offers the most affordable car shipping rates in the market.
On Transport Evaluations and the Better Business Bureau, Oklahoma auto transport has received over 200 5-star positive evaluations from satisfied clients.
Our skilled customer service representative will work with you to make your Oklahoma vehicle transportation easy.
Oklahoma auto shipment requires no down payment.
Insurance protection: During transit, your car is completely covered from bumper to bumper. In the event of any damage or accidents during transit, this might offer peace of mind and financial protection.