Rapid Auto Shipping lets you ship your car from Utah to Nevada in three steps. The steps are as follows :
Car Shipping Quote:
Calculate Utah to Nevada car shipping quotes online quickly with Cost Calculator, available at our website free of cost; just fill in details like distance, car model, and pickup date, and make a reservation with Rapid Auto Shipping online at your convenience.
Pick up at Utah:
Your car will be loaded on our trailer on the provided date with a proper inspection of your car. We operate at every location, either residential or business. We are here to ship your car from Utah to Nevada, so don't worry about the locations.
Delivery At Nevada:
After completing the shipping journey, your car will reach its destination. For safety concerns, we will approach you for a joint inspection of your car to ensure your car is shipped in the same condition as it is shipped.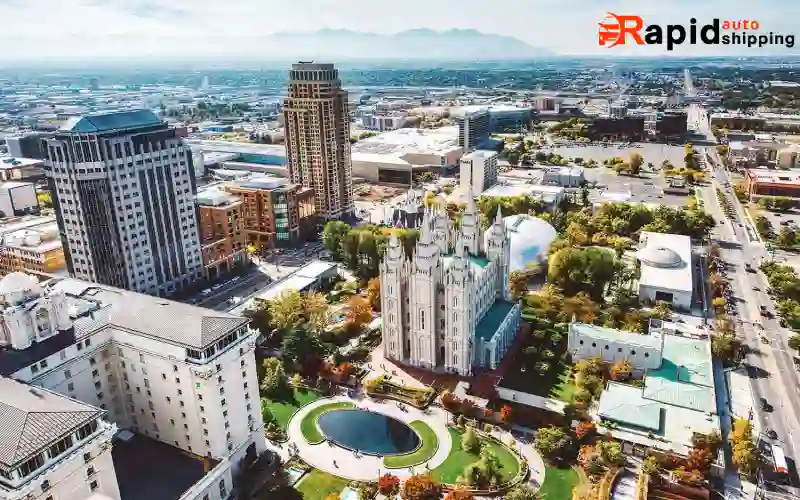 Many factors affect the cost of shipping a car from Utah to Nevada, and it is challenging to provide the exact costs for Utah to Nevada auto transport service. Many people also want to know how long it takes to ship a car from Utah to Nevada. Rapid Auto Shipping took this concern and found out that distance plays an important role in this and formed the following table for better understanding :
| | | | |
| --- | --- | --- | --- |
| From Utah To Nevada | Distance (Miles) | Estimated Cost | Average Time |
| Provo, UT to North Las Vegas, NV | 375 miles | $340 to $498 | 1 to 3 days |
| Salt Lake City, UT to Las Vegas, NV | 420 miles | $352 to $556 | 1 to 3 days |
| West Valley City, UT to Henderson, NV | 432 miles | $361 to $578 | 1 to 3 days |
| Orem, UT to Reno, NV | 555 miles | $415 to $659 | 2 to 4 days |
| Sandy, UT to Carson City, NV | 547 miles | $412 to $645 | 2 to 4 days |
| Ogden, UT to Fernley, NV | 516 miles | $395 to $618 | 2 to 4 days |
| St. George, UT to Sparks, NV | 533 miles | $410 to $627 | 2 to 4 days |
Note: Prices are based on recent sedan shipping using Open Car Carrier and current market scenarios. The provided time to ship is the time taken after your car is loaded on our trailer. For a Customised and Accurate Auto Transportation quote, please call our toll-free number: +1 (833) 233-4447.
Shipping your car on a short or long route Rapid Auto Shipping provides every possible carrier option available in the market as a part of the Utah to Nevada car shipping Service.
There are many carriers, but here is the list of carriers that are in most demand:
Open Car Carrier:
This is the most favorable carrier as these are highly available and affordable, making it reliable to ship standard cars for short distances like Utah to Nevada as in name, this carrier is open from all sides, making the shipping just like driving. These are good for shipping standard cars and family cars.
Enclosed Car Carrier:
The safest for shipping a car, either short or long. These are like containers cutting your car from the outside environment, making it secure from road debris or unwanted elements. These specialize in shipping exotic cars(exotic, super, vintage, and luxury)or high-value vehicles.
Single Car Carrier:
These personal car trailers ship one car at a time, allowing full customization that matches your car shipping requirements. These are used to ship cars with proper security measures and fast services.
Flatbed Trailers:
These are heavy haulers that ship heavy-duty vehicles or cars (SUVs or custom cars) that cannot fit in normal trailers. These are open from all sides, making them capable of shipping oversized vehicles.
Step-Deck Trailers:
Step-deck trailers include two decks: a front deck that is taller and lower than the main cargo space. Due to this design, they can carry cars with clearance concerns or higher ones. They are used in school buses, small trucks, and other vehicles that won't fit in regular Heavy Haulers like flatbeds.
Lowboy Trailers:
These are special heavy haulers capable of shipping trailers like flatbeds, large trailers, and trucks. They are used to ship large construction vehicles.
Many vehicles and cars, mostly carriers, depend on your car's dimensions and conditions. Contact Rapid Auto Shipping experts to find the best carrier for your car or your Utah to Nevada Vehicle Transport Service.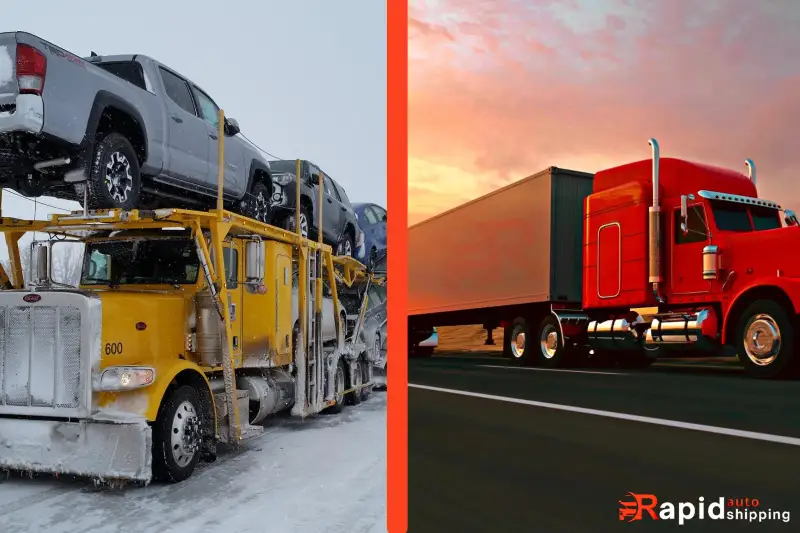 Rapid Auto Shipping makes the Utah to Nevada car shipping simpler and more secure, but for complete safety, some guidelines should be followed for utmost safety and smooth working. Following are some guidelines that should be followed:
Prepare Your Vehicle:
Before transporting, prepare your vehicle. Personal belongings must be removed, loose components must be tightened, and the car should be in good working order. If not, please notify us early.
Inspection:
The most important step that should be followed is vehicle inspection. Start by washing your car, and then take a quick inspection of the car insurance to document your car's condition. This will help you compare your car's condition after shipping.
Companies registration:
It is necessary to check about the company please make sure to check that the Auto Shipping you are opting for is appropriately registered as per federal laws.
Vehicle paperwork:
Please ensure that you carry vehicle registration and license for hassle-free Utah to Nevada car shipping. This paperwork helps to ensure that the car belongs to you.
Vehicle dimensions:
Please be notified about your car. It is easier to calculate shipping costs if you have car dimensions like shape, size, weight, width, and length with you.
Proper Loading Techniques:
The auto-shipping company is responsible for securely loading and fastening the vehicles during transportation to prevent damage and ensure safety. If you want any specific loading or unloading method, please consult with a shipper expert to know best.
Insurance knowledge:
Please check the auto shipping company's insurance to ensure it meets your requirements well.
Customs Requirements:
When transporting vehicles across state lines, certain customs requirements must be observed; please remember that various forms have distinct customs and entry requirements.
Utah and Nevada are close. The distance between both state capitals is approximately 420 miles, which could be challenging when moving from one state to another, as many things also need attention. For a convenient journey, it is better to ship the car as it can be shipped easily and efficiently with Rapid Auto Shipping.
We can ship your car so you can take care of other necessary things. Shipping a car is more reliable than driving as it is more affordable and safer to do when moving from Utah to Nevada.
How to ship Vehicle
Utah to Nevada

?

It's as simple as 1-2-3 to ship a car from Utah to Nevada with Rapid Auto Shipping.

Step 1: Get a quick auto shipment quote for Utah to Nevada Auto Shipping and schedule a pickup time that works for you. With our online quote form, you can easily get a quote, enter your origin and destination, choose your shipping dates, and book your reservation online or over the phone for your Utah to Nevada car shipping!

Step 2: Your vehicle will be picked up from a certain place in Utah. Your vehicle will be thoroughly inspected and put onto the carrier on the day of pickup. Our direct service allows us to pick up from any home or company in Utah.

Step 3: Your vehicle is delivered to the address you provide in Nevada. Your vehicle will be offloaded safely, and a final examination will be performed to ensure that it was delivered in the same condition as when it was picked up.