Approximate Distance

Estimate Time

Estimate Price


1,200 miles

4 to 6 days

$800 to $1,100

Note: For accurate and customised quote, Please call our Auto Transport Professionals now (833) 233-4447
Find a Car Shipping Company:
Research credible Chicago to Orlando auto transport providers. Look for licensed, insured, and reputable companies.
Multiple Quotes:
Get car shipping rates from different companies. The cost depends on the vehicle, distance, transport type (open or enclosed), time of year, and market rates.
Request Service:
After receiving quotations, choose a car transportation provider that meets your demands and budget. Before booking, read the contract.
Vehicle Preparation:
Prepare your vehicle for travel before collection. This involves washing the automobile, removing personal things, filling the tank to a quarter, and photographing any damage.
Loading and Pickup:
The car transportation carrier will arrive at your home or adjacent parking lot on the pickup date. The driver will assess the vehicle with you and indicate pre-existing damage on the Bill of Lading. Then, the transport trailer will load your automobile.
Tracking and transport:
The carrier will haul your car. Your car is exposed to the elements when using open carriers. Enclosed carriers safeguard your car from weather and road debris. Rapid Auto Shipping offers real-time tracking.
Delivery:
Once the carrier arrives in Orlando, you'll receive an estimated delivery date and time. Receive the vehicle yourself or with an authorized person. Check for shipping damage after delivery. Note concerns on the Bill of Lading.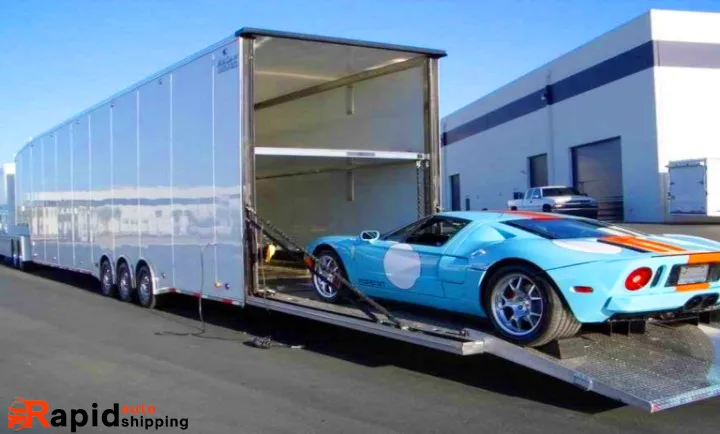 Pay and Sign:
After checking your vehicle's condition, pay the car shipping company. Keep the Bill of Lading and other documents for your records.
Chicago to Orlando, auto transport services are many. Budget, timeline, and needs determine the service you choose. Standard auto transport services include:
Open-Air Transport:
The most common and affordable alternative. Your car will be put into an open-air trailer alongside others. This cheap alternative won't protect your vehicle from weather or road debris.
Closed Transport:
Enclosed trailers protect from weather and debris. This option is better for classic cars, expensive autos, or any vehicle you wish to cover during travel. Open-air transit is cheaper than enclosed.
Door to door transport:
This service picks up and delivers your automobile from Chicago to Orlando. This is convenient but may be limited by narrow roadways or low-hanging impediments.
Terminal to terminal transport:
Your car is delivered to Orlando from a Chicago terminal. This may be cheaper but less convenient if you need to organize terminal transportation.
Expedited Transport:
Expedited shipment will get your car to Orlando swiftly. It costs more but delivers faster.
Snowbird Transport:
Seasonally, many Chicagoans drive to Orlando to avoid harsh winters. Some auto transport firms specialize in this population.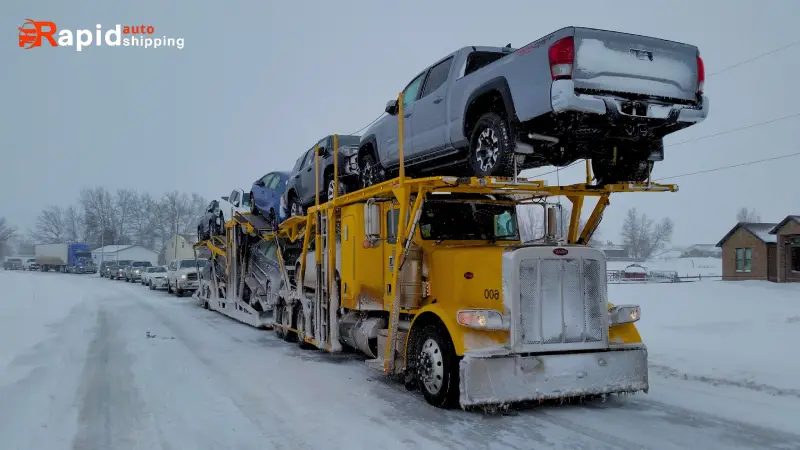 Military Car Transport:
Military personnel may receive discounts on car transport.
The price of Chicago to Orlando auto transport can vary based on different factors. These include the distance between the two cities, the type of vehicle you have, the method of transportation you choose (open or enclosed), the current fuel prices, the time of year, and the specific auto transport company you decide to work with.
To ensure you receive the most accurate and current cost estimate, it is recommended to contact Rapid Auto Shipping and request quotes from each of them.
To ensure that you receive an accurate price estimate, please provide us with detailed information about your vehicle, such as its make, model, and any specific transport requirements you may have. This will help us better understand your needs and provide you with the most accurate pricing information.
Please note that prices for transport services may change over time. It is recommended to request quotes closer to your desired date of transport to get the most accurate pricing information.
The duration of Chicago to Orlando auto transport will depend on several variables, including the individual shipping company's distance, route, traffic, weather, and timetable.
Chicago and Orlando are separated by an average driving distance of 1,100 to 1,200 miles, which equates to a regular driving time of 17 to 20 hours.
It would help to consider things like loading and unloading times, rest stops, and potential delays when thinking about auto transport.
Furthermore, if you're using a car shipping service, they can have particular routes and schedules that could affect the total time.
It is advised to contact several reliable Rapid Auto Shipping to obtain quotations and projected delivery dates based on your unique situation. Remember that unplanned delays, unforeseen road closures, or other unforeseen circumstances could also affect travel time.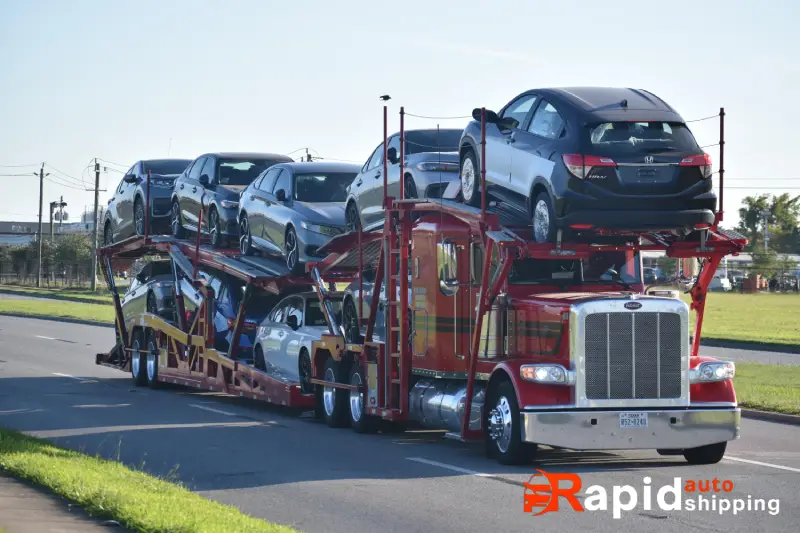 There are several money-saving suggestions you can take into account to assist in reducing the overall cost of shipping a car from Chicago to Orlando. Here are a few ideas:
Select the Proper Means of Transportation:
Open transport and enclosed transit are the two primary choices for moving cars. While enclosed transport typically costs more but provides additional protection, open transit is more cost-effective. Select the choice that best satisfies your needs and budget.
Make a plan:
You might get more incredible deals on auto transport if you make your reservations well in advance. Bookings made at the last minute may have higher costs because there may be less availability.
Compare Several Quotations:
Request quotes from several auto transport businesses to better understand costs and services. Finding the best prices will be much easier thanks to this.
Flexible Delivery and Pickup Dates:
You might benefit from lower prices during off-peak hours if you can be flexible with your pickup and delivery dates.
Think about seasonal trends:
Depending on the season, demand may affect auto transport prices. Avoid peak seasons if at all feasible to save money.
Look for promotions:
Certain auto transport businesses provide discounts for members of the armed forces, students, retirees, and other particular groups. When getting bids, make sure to ask about these reductions.
Weight and Size Considerations:
Your vehicle's dimensions and weight may affect the price. Your car may cost extra to move if it is bigger or heavier. When selecting a cargo vehicle, keep this in mind.
Decide to select terminal pickup/delivery:
If you feel comfortable, leave and pick up your car at the terminals. By doing this, the carrier is spared the expense of navigating residential neighborhoods.
Get your car ready:
Before transfer, ensure your car is tidy and in good working order. This can prevent unforeseen charges for extra dirt or debris that might harm the carrier.
Take personal items away:
Only a few auto transport firms recommend leaving personal belongings in the car while it's being transported. Items can be taken out to lighten the load on the vehicle and lessen the risk of theft or damage.