Rapid Auto Shipping can ship your car or any vehicle from Illinois to Minnesota in just three steps. These steps are as follows :
Quote and Reserve:
Use the Cost Calculator to get as many quotes as possible. This will help you to get a better understanding of the Illinois to Minnesota vehicle shipping with Rapid Auto Shipping.
Vehicle Pickup:
After you book with Rapid Auto Shipping, our experts or drivers will contact you one or two days in advance before the provided date for pickup timing and location. Please contact our experts for timely vehicle pickup for a smooth process.
Vehicle Delivery:
Your car will be loaded on our trailer and shipped from Illinois to Minnesota; before reaching the delivery locations, Our experts will contact you again for timing confirmation.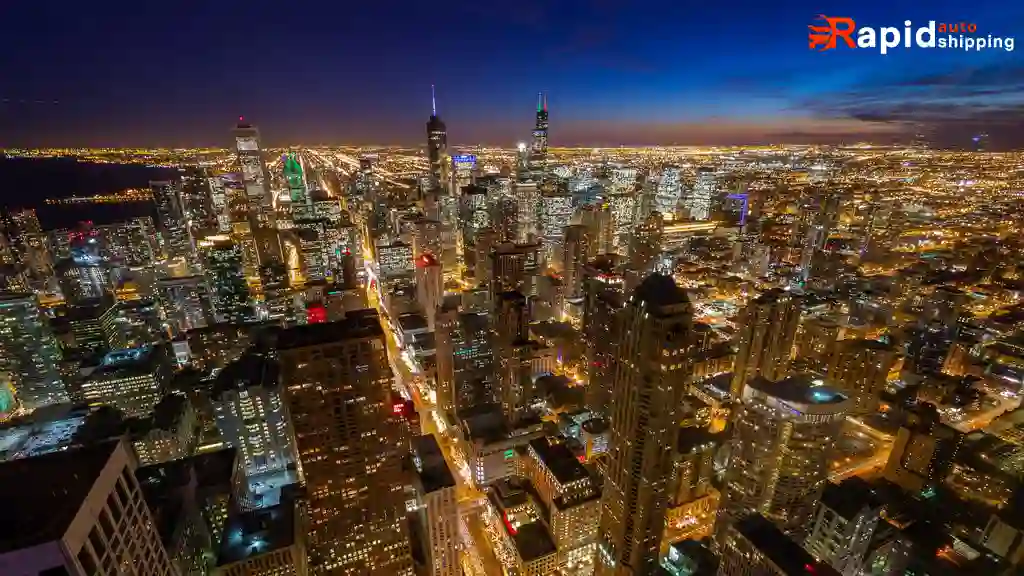 The cost of car shipping from Illinois to Minnesota varies due to many factors, and distance plays a major role. For example, The shortest distance between Illinois and Minnesota is from Rockford, IL, to Wisconsin, MN, which is 140 miles, whereas the distance between the capital of both states is Springfield, IL, to Saint Paul, MN is 525 miles.
Concerning other factors like Fuel price, Carrier type, Climate, and other factors, the calculated cost could fluctuate; for more examples, Rapid Auto Shipping experts have prepared the following table :
| | | | |
| --- | --- | --- | --- |
| Illinois to Minnesota | Distance (Miles) | Estimated Cost | Average Shipping Time |
| Chicago, IL to Minneapolis, MN | 400 | $390 to $510 | 1 to 2 days |
| Aurora, IL to St. Paul, MN | 469 | $400 to $505 | 3 to 4 days |
| Rockford, IL to Rochester, MN | 275 | $190 to $300 | 1 to 2 days |
| Joliet, IL to Duluth, MN | 483 | $410 to $515 | 3 to 4 days |
| Naperville, IL to Brooklyn Park, MN | 476 | $395 to $560 | 3 to 4 days |
| Springfield, IL to Plymouth, MN | 593 | $410 to $600 | 4 to 5 days |
| Peoria, IL to Bloomington, MN | 498 | $405 to $525 | 3 to 4 days |
Note: Prices are based on recent shipping with the help of an Open Car Shipping carrier and the current market scenario. For more Customised and Accurate Auto Transportation quotes, please call our toll-free number: +1 (833) 233-4447.
Like Rapid Auto Shipping, many other auto shipping companies provide different types of trailer services for different vehicle shipping, making it difficult to choose the best trailers for yourself, but don't worry, here is the list of the most common trailers that are used for Illinois to Minnesota car shipping provided by Rapid Auto Shipping :
Open Car Carrier Trailers:
Open car carrier trailers are the most commonly used for auto shipping. They are cost-effective and can haul multiple vehicles at once. However, they expose your vehicles to extra elements, like weather and road debris. Open carriers are suitable for standard vehicles especially those in good condition.
Enclosed Car Carrier Trailers:
Enclosed car carrier trailers provide more vehicle protection. They shield your car from weather conditions, dust, and debris during shipping. This option is ideal for classic cars, luxury vehicles, and high-value cars that require extra care.
Flatbed Trailers:
Flatbed trailers are versatile and can transport various vehicles, including oversized or non-running vehicles. They are often used for specialty or heavy-duty auto shipping.
Step-Deck Trailers:
Step-deck trailers have a lower deck for the main cargo area and a higher deck at the front. This design allows them to transport taller vehicles or those with clearance issues. They are suitable for trucks, buses, or other vehicles that don't fit in standard trailers.
Lowboy Trailers:
Lowboy trailers are designed for transporting heavy, oversized, or tall equipment and vehicles. They have a lower deck height, making them suitable for tall loads. While not commonly used for standard car shipping, they are essential for specialized transport like heavy trucks and trailers.
These are some types of trailers provided by Rapid Auto Shipping. Open car carrier trailers and Enclosed car carrier trailers are the most common trailers used for Illinois to Minnesota auto shipping. Please contact Rapid Auto Shipping Experts for a trailer that suits your requirements at +1 (833) 233-4447.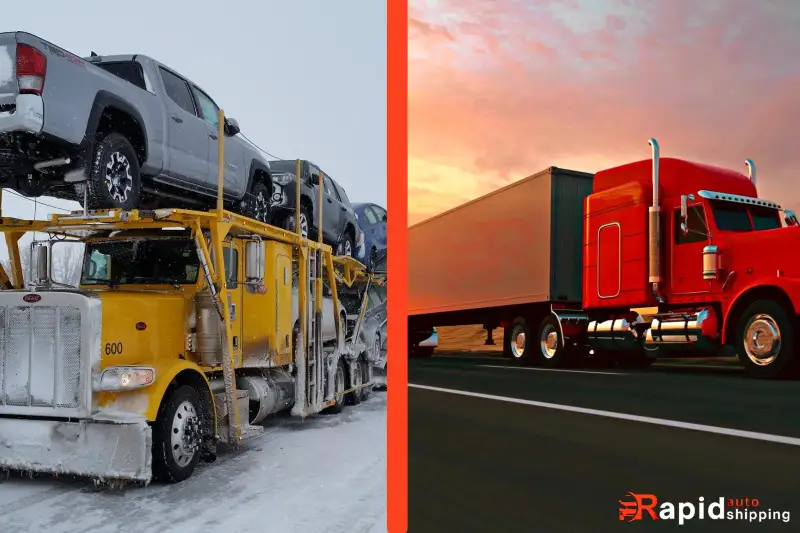 There are many factors on which Illinois to Minnesota auto transport costs depend. Let us break down these factors line by line :
Miles:
The main factor that affects the cost is the miles (distance) from pickup to delivery locations. Many Auto shippers charge less per mile if the distance is longer and vice versa.
Vehicle Type:
The dimensions of the vehicle or car (Weight, Length, Width) that will be shipped can affect the cost. The cost to ship a smaller car is comparatively less than the cost to ship a truck.
Vehicle Condition:
Non-operating vehicles cost more as they need assistance with special types of equipment for loading and unloading. So if possible, maintaining your car at just operating level could affect the cost.
Transport Type:
The choice between open and enclosed carriers affects the cost. Enclosed carriers provide more protection but are typically more expensive than open carriers.
Seasonal Changes:
Shipping during peak seasons or inclement weather conditions may result in higher costs due to increased demand and potential delays.
Pickup and Delivery Locations:
Rural or remote areas may have limited access, affecting the cost. Urban areas with better accessibility are often more affordable.
Time Frame:
The urgency of delivery can impact the cost. Expedited or rushed shipping may be more expensive.
Insurance:
Different types of insurance coverage are provided by different types of companies for different vehicles. changing to different insurance coverage could affect the cost.
Customized Services:
If you opt for door to door shipping service, expedited service, or vehicle tracking the shipping cost tends to rise.
Gas Price:
As the trailers need gas to run the gas price always falculate hence affecting the cost of Illinois to Minnesota car shipping.
Vehicle Modifications:
If your vehicle has modifications, such as oversized dimensions or lowered suspensions, it may require special handling, which can affect the cost.
There are some rules or regulations that should be followed when shipping a car from one state to another following are the important rules that should be followed:
Choose a Reputable Auto Shipper:
It's essential to select a reliable and licensed auto transport company with a good track record. Check reviews, ask for referrals, and verify their credentials.
Understand Insurance:
Ensure your vehicle is adequately insured during transportation. Your auto shipper should provide insurance coverage details, and you should understand the terms and conditions.
Inspect and Document:
Before shipping, thoroughly inspect your vehicle for any pre-existing damage. Document it with photos and written records to have a clear before-and-after comparison.
Remove Personal Belongings:
Empty your vehicle of personal belongings. Most auto shippers do not allow personal items in the car during transport.
Check for Special Requirements:
If your vehicle has unique requirements, such as a non-running car or oversized dimensions, communicate this to the auto shipper in advance.
Confirm Pickup and Delivery Locations:
Clearly specify the pickup and delivery locations. Make sure they are accessible and safe for loading and unloading.
Clean Your Vehicle:
Cleaning your vehicle before shipping helps in the inspection process and ensures a better visual of any existing damage.
Secure Loose Parts:
If there are any loose parts or accessories, like spoilers or antennas, it's advisable to remove or secure them to prevent damage during shipping.
Fuel Level:
Keep your fuel tank at quarter level. This is enough for loading and unloading but minimizes excess weight.
Review and Sign the Contract:
Carefully read the shipping contract, understand the mentioned terms and conditions, and ask questions if anything is unclear.
How to ship Vehicle
Illinois to Minnesota

?

It's as simple as 1-2-3 to ship a car from Illinois to Minnesota with Rapid Auto Shipping.

Step 1: Get a quick auto shipment quote for Illinois to Minnesota Auto Shipping and schedule a pickup time that works for you. With our online quote form, you can easily get a quote, enter your origin and destination, choose your shipping dates, and book your reservation online or over the phone for your Illinois to Minnesota car shipping!

Step 2: Your vehicle will be picked up from a certain place in Illinois. Your vehicle will be thoroughly inspected and put onto the carrier on the day of pickup. Our direct service allows us to pick up from any home or company in Illinois.

Step 3: Your vehicle is delivered to the address you provide in Minnesota. Your vehicle will be offloaded safely, and a final examination will be performed to ensure that it was delivered in the same condition as when it was picked up.