Overview About Car Transport Service In Minnesota
Minnesota is a state in the upper Midwest region of the United States, with a population of roughly 5.75 million people. It is the 12th biggest state in the area and the 22nd most populated.

Over a third of the state is covered by forests, known as the "Land of 10,000 Lakes" because it boasts over 14,000 bodies of freshwater, at least ten acres. Rapid Auto Shipping provides car transport companies in Minnesota services for all sorts of vehicles, including automobiles, motorbikes, and boats, for short and long distances.

As a reputable auto transport Minnesota business, we have a fleet of open, covered carriers that can be deployed immediately to your Minnesota automotive shipping destination.
Rapid Auto Shipping is a Minnesota Car Shipping Company that treats all its clients equally. We assist customers in transporting their automobiles on schedule and at a reasonable cost. We insure their automobiles entirely and deliver them from door to door safely.
You can relax knowing that you will be compensated if your vehicle is destroyed during transit. We've got your back; our insurance company will handle the claim quickly.
We bonded and licensed a company that all clients may trust. Customers can reserve transportation without putting down a payment.
Furthermore, we provide our customers with reputable carriers so that they may have the most significant transportation experience possible. Rapid Auto Shipping offers the best transportation experience possible.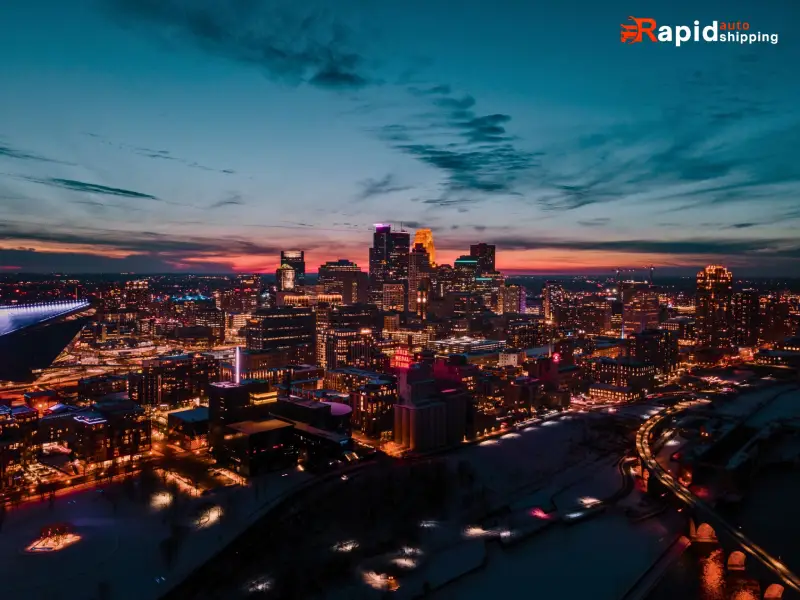 Due to the numerous elements that influence the cost of car transport service, even an in-state journey of fewer than 500 miles utilizing the cheapest option can cost more than $700. However, the cost-per-mile of automobile transportation decreases as the distance travelled increases.
When moving your car over state lines, we understand consumers want a company with experience and a strong reputation. The simplest approach to answering "How to ship a car to or from Minnesota" is to present our auto shipping process. We do the following:
First, we'll begin transporting a car to Minnesota as we receive your order. Typically, this happens within a week. We will update you on important facts such as the pickup time and date, tracking number, and truck driver's phone number.
Every skilled driver tries to treat each car they convey as if it were theirs. Their major objective is to protect your vehicle from any delivery-related damage. You will be given a Bill of Lading to sign before the driver departs. After that, the truck driver will contact you to confirm delivery details.
Finally, when the automobile gets to Minnesota, you and the driver will inspect it for damage. It's that simple! At this point, you will also sign the final inspection report.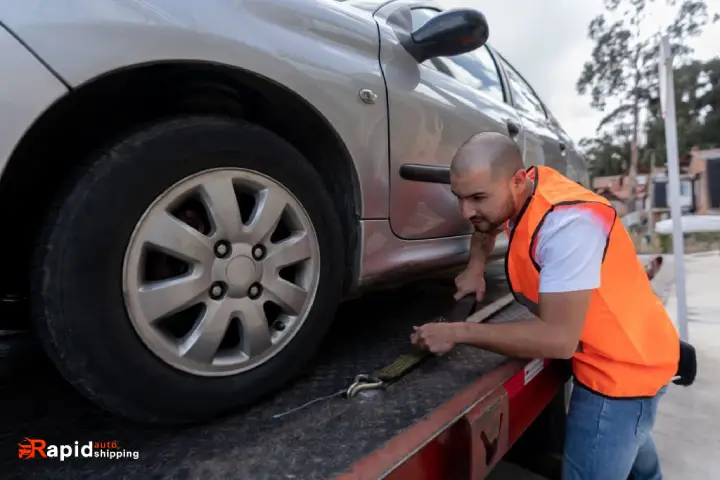 Open Car Transport Services:
The most prevalent car transport companies in Minnesota service is open auto transport. An auto shipping firm moves your vehicle and other vehicles on an open trailer. It's simple to set up, convenient, and offers excellent value for money.
They pick up and load your car from your chosen place and deliver it to another. It exposes your automobile to the weather, but it's still the safest and most secure alternative if you're on a low budget.
Enclosed Car Transport Services:
Enclosed automobile shipment offers the most protection for your vehicle during transit. Your vehicle will be saved from all exterior elements when sent in an enclosed car carrier instead of an open vehicle.
Door to Door Car Transport Services:
When using a door to door car transport service, the truck driver will pick up and drop off your vehicle as near to your home as feasible. Many cities have rules that prevent huge vehicles from entering residential neighborhoods.
So, if access to your home is hampered by narrow streets, low-hanging trees, speed bumps, or tight curves, the driver may request that you meet the truck at a nearby large parking lot, such as a grocery store.
Terminal to Terminal Car Transport Services:
Terminal to terminal car shipping companies in Minnesota is a rapidly dwindling mode of auto transport, yet it piques the attention of a surprising number of individuals.
It's not the fastest or finest mode of transportation in our sector, but it's certainly better in some cases than typical door to door car transport services. You'd want to utilize terminal shipping for a few reasons, but that's life.
We can provide terminal to terminal transportation to and from specific areas; however, the number is decreasing daily. Terminal to terminal auto shipment is best kept for clients who want to save as much money as possible without using a standby car transport service (a separate ballgame we do not provide here at Ultimate Auto shipment).
Defined is when you take your vehicle to a site where you may leave it off, and they will keep it for you until it is ready to be picked up by a carrier.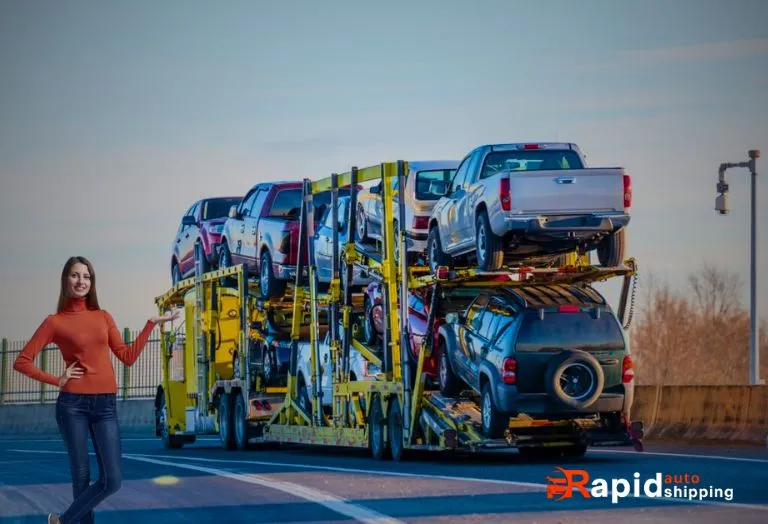 There are a few things you should do before shipping your automobile. Even if you are pushed for time, you should make these preparations to guarantee that your car is in the best possible condition for shipping.
Take Pictures: It is important to photograph your vehicle before shipping it. This is to ensure that no physical harm was done to it during transit.
Auto transport firms are liable for any damage to your vehicle while in their care. As a result, photos document your car's condition before transportation.
It is critical to emphasize the significance of hiring a vehicle shipping business with insurance coverage. Any damage to your vehicle caused by an uninsured firm can result in a complicated situation.
Do Not Fill Your Gas Tank: As previously stated, the weight of your vehicle impacts its transportation prices. A full petrol tank results in a heavier vehicle and, as a result, a higher transportation cost.
While it is not recommended to empty your tank, it is preferable to have enough petrol for drop-off and pick-up. This requires only three-quarters of the available capacity.
Empty Contents: There are two reasons why you should unload the contents of your automobile. The first is to minimize the vehicle's total weight, and the second is for safety reasons.
Auto transfer firms do not insure personal belongings. As a result, before shipment, you should remove any personal goods and valuables from the vehicle.
Ready Documents: You should ensure that the required documentation for your vehicle is present. The transport company's additional criteria should support the paperwork.
Safety concerns are understandable when shipping costly vehicles, but they are unneeded. Your automobile is about as safe on a caravan as in a garage.
During Minnesota automobile shipping, mileage is not accumulated. It does not suffer from wear and tear because it is not in use. Potential issues like flat tires and other mid-trip maintenance are avoided.
If a car accident occurs, you can recover your losses regardless of who is blamed. During Minnesota auto shipping, your vehicle is fully insured, and you can seek additional insurance.
Snowbirds are people who travel south during the winter. Every winter, thousands of people travel from the north to the south to escape the cold, mostly to reside in the milder temperature of the south. They returned to their northern homes to enjoy the beautiful spring weather when winter was gone.
Although some snowbirds prefer to drive themselves, the bulk of people, or so they thought, preferred to have their automobiles sent by auto shipping businesses.
They also regularly make stealthy entrances to their location. It did, however, assist them. However, it did help them in a variety of ways, including time and money savings, as well as, and this is critical, decreased vehicle wear and tear.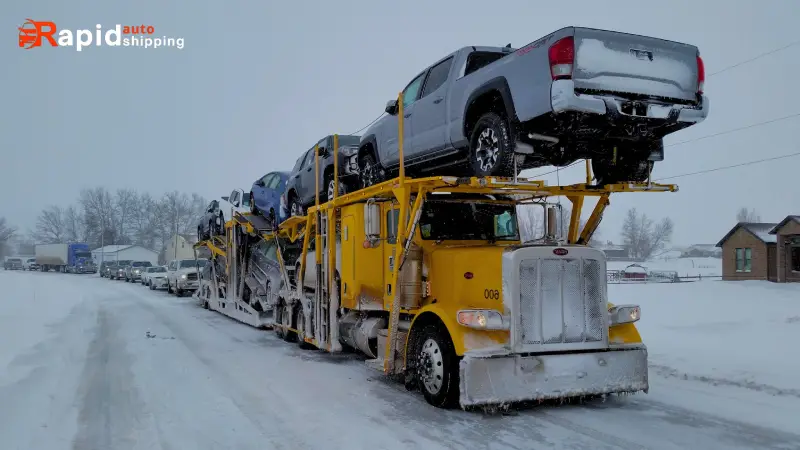 Snowbird routes are those that travel from north to south. Popular snowbird destinations include Arizona, Texas, California, Florida, and other states in the United States. Furthermore, drivers have so many options during the snowbird season, so they invariably choose the most expensive.
Customers should resist being seduced by the lowest prices since they will squander their time at the end of the day. To prevent con artists, price comparison is a systematic and effective technique to save money.
Our auto transportation company offers both covered and open carriers. Although enclosed carriers are faster, most people choose open carriers since they are less expensive.
Large corporations also have a dependable terminal infrastructure, which may drastically lower the cost of Ma vehicle carrier services. Several businesses in the England region also service New Bedford.
Finally, while calling our toll-free number for automotive shipping needs, enquire about our discounts and seasonal best pricing.
A functioning vehicle can travel forward and backward alone and is in good working condition. Vehicles that cannot move are said to be inoperable or not operating. In this situation, the driver will need a winch, which might incur extra expenses.
In other words, for the driver to deliver this additional service, the consumer must give the driver more money. The use of non-operational vehicles for this service is only offered by some transportation companies, though.
You may get an estimate for transporting your vehicle by using our rapid online vehicle shipping quote calculator above or by calling +1 (833) 233-4447 and speaking with one of our car transport pricing consultants.
To calculate your quotation, Rapid Auto Shipping needs to know where you are shipping from, what sort of car you want to send, and when your vehicle will be available.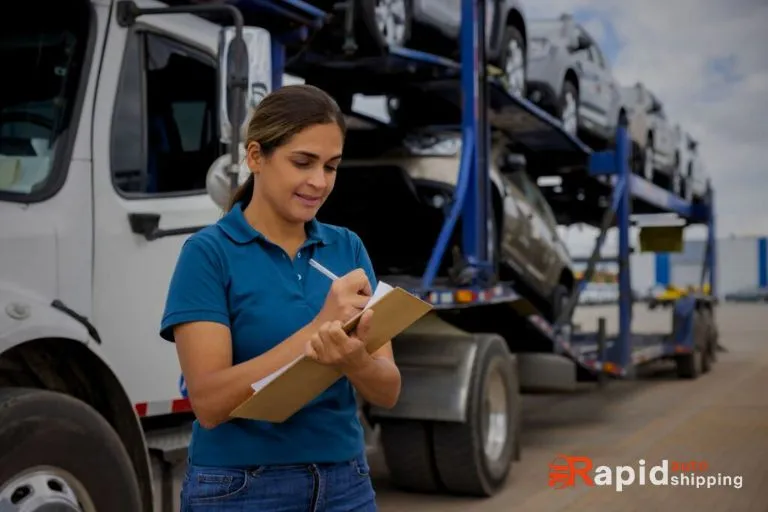 The quick answer is yes! Rapid Auto Shipping provides clients an online auto-shipping tracking solution that gives transparency and peace of mind. It lets you know your vehicle's location in real-time, port to port, as it ships between Minnesota and the nationwide.
You can follow your vehicle while it is route across the seas. For updates on land transport, you must contact dispatch or the diver directly.
Every customer is important to us, which is why we are one of the top vehicle transporting businesses in Minnesota to ship your car to or from.
Over 16+ years of expertise in Minnesota automobile shipping nationwide door to door service.
Our Minnesota vehicle shipping professionals provide final inspection Minnesota car shipment tracking updates and in-person help at +1 (833) 233-4447.
The most affordable auto shipping prices in the industry for Minnesota vehicle travel.
Minnesota auto transportation has over 200 5-star Positive Reviews from delighted customers on Transport Reviews and the Better Business Bureau.
Our knowledgeable customer service expert assists you in making your Minnesota automobile shipment as simple as possible.
Weekly auto shipping timetables to and from Minnesota imply fewer waits for your vehicle to depart and deliver.
Minnesota auto shipping requires no down payment.