Rapid Auto Shipping can ship your car or vehicle from Michigan to Nevada in three steps. If you follow the following steps, you can easily ship your car from Michigan to Nevada:
Car Shipping Quote:
You can easily calculate Michigan to Nevada car shipping quotes with the help of our Cost Calculator; just fill in the asked details ( Distance, Car model, and Pickup Date) and make a reservation with Rapid Auto Shipping online at your comfort in just a few minutes.
Pick up At Michigan:
Your car will get loaded on our trailer on the reserved date after proper inspection. We are available at every location, either residential or business location we are present for shipping, so don't worry about the locations.
Delivery In Nevada:
After your car is shipped to Nevada, Our expert or carrier operator will contact you to confirm delivery timing and location. We will inspect your car to ensure that your car or vehicle is shipped in the exact conditions in which our experts picked it up.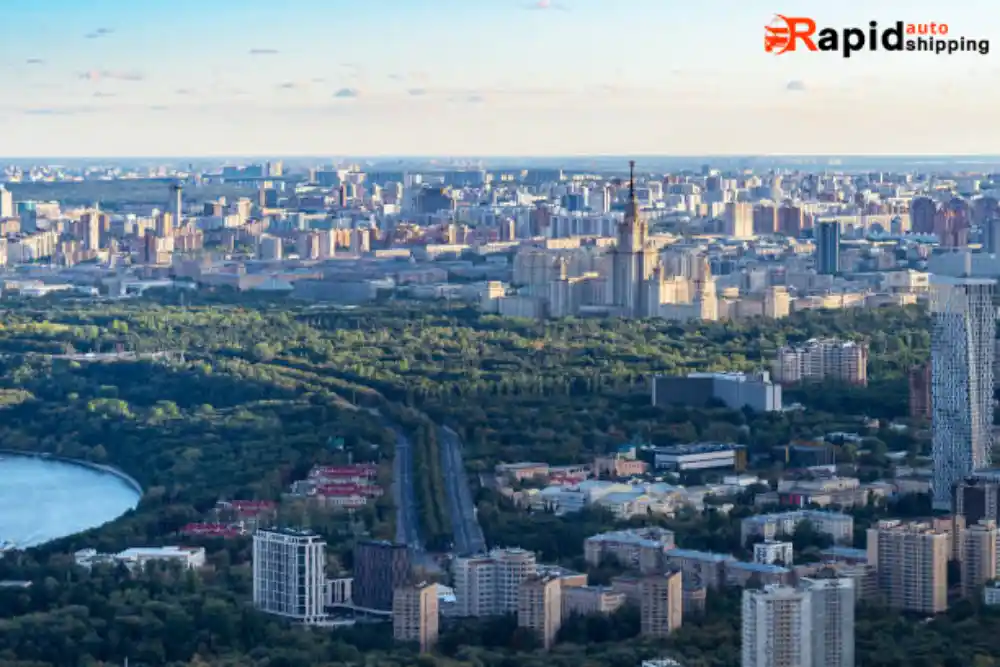 There are many factors on which cost is determined, making it challenging to provide an exact cost for shipping your car. But with the help of a Cost calculator and an expert, we have created the following to represent the average time and the cost to ship your car between various states of Michigan to Nevada.
| | | | |
| --- | --- | --- | --- |
| From Michigan to Nevada | Distance (Miles) | Cost | Average Shipping Time |
| Detroit, MI to Las Vegas, NV | 2030 miles | $1450 to $1980 | 5 to 7 Days |
| Grand Rapids City, MI to Henderson, NV | 1626 miles | $1410 to $1580 | 2 to 4 Days |
| Warren City, MI to Reno, NV | 1920 miles | $1550 to $1400 | 5 to 6 Days |
| Sterling Heights, MI, to North Las Vegas, NV | 1756 miles | $1530 to $1670 | 2 to 4 Days |
| Ann Arbor City, MI, to Spring Valley, NV | 1728 miles | $1540 to $1650 | 2 to 4 Days |
| Lansing City, MI to Enterprise, NV | 1697 miles | $1450 to $1570 | 2 to 4 Days |
| Clinton, MI, to Sunrise Manor, NV | 1712 miles | $1560 to $1689 | 2 to 4 Days |
| Flint City, MI to Paradise, NV | 1732 miles | $1420 to $1680 | 2 to 4 Days |
| Dearborn, MI, to Sparks, NV | 1907 miles | $1510 to $1880 | 4 to 6 Days |
| Livonia, MI to Carson City, NV | 1902 miles | $1560 to $1865 | 4 to 6 Days |
Note: Quotes are estimated based on recent shipping and current market scenarios. For a Customised and Accurate Auto Transportation quote, please call our toll-free number: +1 (833) 233-4447.
When shipping a car across the country, knowing the available options is best for a safe and affordable journey. Rapid Auto Shipping and other Auto shippers offer many types of carriers for different types of vehicles and cars.
Let us find out which car carrier is best for your car when shipping your car from Michigan to Nevada:
Open Car Trailers:
The most common trailer service that is most affordable and highly available for shipping cars. These are open from all sides, exposing your car to unwanted elements, but this can ship multiple cars and provide fast service.
Enclosed Car Trailers:
These are the most demanded trailers as they provide properly covered containers for shipping cars. These are more costly than Open-car trailers but are safest and commonly used to ship cars like Sports, Exotic, or Vintage cars.
Single Car Trailers:
These personal trailers provide a special set of services for personal shipping for special cars. These are used by individuals who want to ship their cars but don't want to disclose them, and it is mainly used by Car collectors who want to keep their newly bought cars or high-value cars in mint condition.
Flatbed Trailers:
These special carriers ship vehicles like Heavy trucks or different trailers. These are also used for car shows as these trailers can ship custom-made and highly modified cars.
Lowboy Trailers:
These are the biggest trailers that ship extra-large vehicles (Trailers, Trucks, Construction vehicles). They are not commonly used, only used on special demands when there is a need to ship heavy vehicles.
These are some types of trailers provided by Rapid Auto Shipping. Open and enclosed car carrier trailers are the most common for Michigan to Nevada auto shipping. Contact Rapid Auto Shipping Experts to know which type of trailer suits your requirements at +1 (833) 233-4447.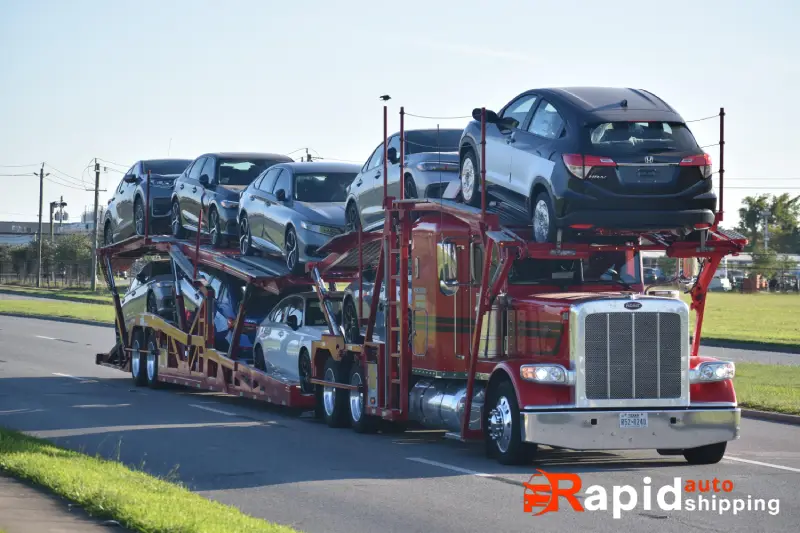 While shipping a car, especially across the country, some important steps should be followed for the Michigan to Nevada auto transport service. These steps are as follows :
Documentation and Inspection:
Before handing over your vehicle, thoroughly document its current condition. Take clear photographs from various angles, noting any existing dents, scratches, or damages. This documentation acts as a reference point in case of any differences upon arrival in Nevada.
Remove Personal Belongings:
Auto transport services typically require the removal of personal items from the vehicle. Clear out the interior, removing any valuables or belongings. This complies with transport regulations and ensures a clutter-free and safe transit for your vehicle.
Mechanical Inspection:
Conduct a comprehensive inspection under the hood to identify and address any leaks or mechanical issues. Ensuring your vehicle is in good working condition minimizes the risk of complications during transportation.
Secure Loose Parts:
Inspect your vehicle for loose parts that could be damaged during transport. Items like antennas, spoilers, or loose mirrors should be secured or removed to prevent any harm during transit.
Maintain a Quarter Tank of Gas:
Keep your vehicle's gas tank at around a quarter full. This provides enough fuel for loading and unloading without adding unnecessary weight, contributing to a more balanced and efficient transport.
Disable Alarm Systems:
Disable any alarm systems in your vehicle before transport. While these systems are crucial for security, they can cause unnecessary disruptions during transit. Disabling the alarm ensures a smooth journey for your vehicle.
Choose Between Open and Enclosed Transport:
Consider the transport mode that best suits your needs. Open transport is cost-effective and widely used, while enclosed transport provides extra protection from the elements. Select the option that aligns with your preferences and the condition of your vehicle.
Research and Select a Reliable Transport Company:
Thoroughly research and choose a reputable auto transport company with positive reviews and a proven track record. A reliable transporter not only ensures the safety of your vehicle but also provides a smooth and stress-free shipping experience.
Some rules and regulations should be followed for better and safer shipping of your car from Michigan to Nevada. These rules are as follows:
Licensing and Registration:
Please ensure your vehicle is registered to verify that the vehicle belongs to you. And please ensure you have a valid license with you as it sometimes acts as identity proof.
Understanding State Regulations:
Familiarize yourself with the specific regulations governing auto transport in both Michigan and Nevada. Different states may have varying rules regarding vehicle transport, so being aware of these nuances is essential for compliance.
Document Vehicle Condition:
Thoroughly document your vehicle's condition before transport. Take clear photographs of any existing damages or imperfections. This documentation is crucial in case of any disputes regarding the vehicle's condition upon delivery.
Vehicle Inspection Before Transport:
Conduct a pre-transport inspection of your vehicle with the carrier's representative. Note any existing damages on the Bill of Lading, a legal document that outlines the condition of your vehicle before transport.
Fuel Levels and Battery:
Keep the fuel level to around a quarter tank for safety and weight considerations. Ensure the battery is charged to avoid any complications during loading and unloading.
Securing Loose Parts and Personal Items:
Remove all personal belongings from the vehicle, as carriers are not responsible for these items. Secure or remove loose parts like spoilers, antennas, or mirrors to prevent damage during transport.
Compliance with Transport Contract:
Carefully review and understand the terms and conditions outlined in the transport contract. Ensure compliance with the agreed-upon payment terms, delivery timelines, and specific provisions.
Communication and Updates:
Maintain open communication with the auto transport company throughout the process. Stay informed about the progress of your vehicle and be aware of any changes in schedule or unexpected delays.
How to ship Vehicle
Michigan to Nevada

?

It's as simple as 1-2-3 to ship a car from Michigan to Nevada with Rapid Auto Shipping.

Step 1: Get a quick auto shipment quote for Michigan to Nevada Auto Shipping and schedule a pickup time that works for you. With our online quote form, you can easily get a quote, enter your origin and destination, choose your shipping dates, and book your reservation online or over the phone for your Michigan to Nevada car shipping!

Step 2: Your vehicle will be picked up from a certain place in Michigan. Your vehicle will be thoroughly inspected and put onto the carrier on the day of pickup. Our direct service allows us to pick up from any home or company in Michigan.

Step 3: Your vehicle is delivered to the address you provide in Nevada. Your vehicle will be offloaded safely, and a final examination will be performed to ensure that it was delivered in the same condition as when it was picked up.