California to Arizona

Auto Shipping

If you've lived in California and now find yourself in Arizona, you might be wondering how you'll handle the details. You'll need to employ a moving company in addition to buying a new property. But don't forget that there's still the matter of getting your car to Arizona. Rather than being concerned, contact the professionals at Rapid Auto Shipping. Car transport comes in a variety of styles and sizes. Everything from everyday automobiles to valuable masterpieces is shipped. When it comes to California to Arizona vehicle shipping or vice versa, you must be very careful who you trust. It's a big route with a lot of money riding on it.

The most difficult aspect of transporting a vehicle is determining where to go for reliable results. Because there is so much rivalry in the shipping industry, customers may be delayed by days or weeks simply by making their choices. Rapid Auto Shipping transports cars from California to Arizona and other places around the United States. Our shippers may transport cars vast distances as well as to local cities. We endeavour to maintain a high level of client satisfaction whether moving an automobile from California to Arizona or any other place in the United States. Rapid Auto Shipping has been exporting cars across the country for years, both short and large distances.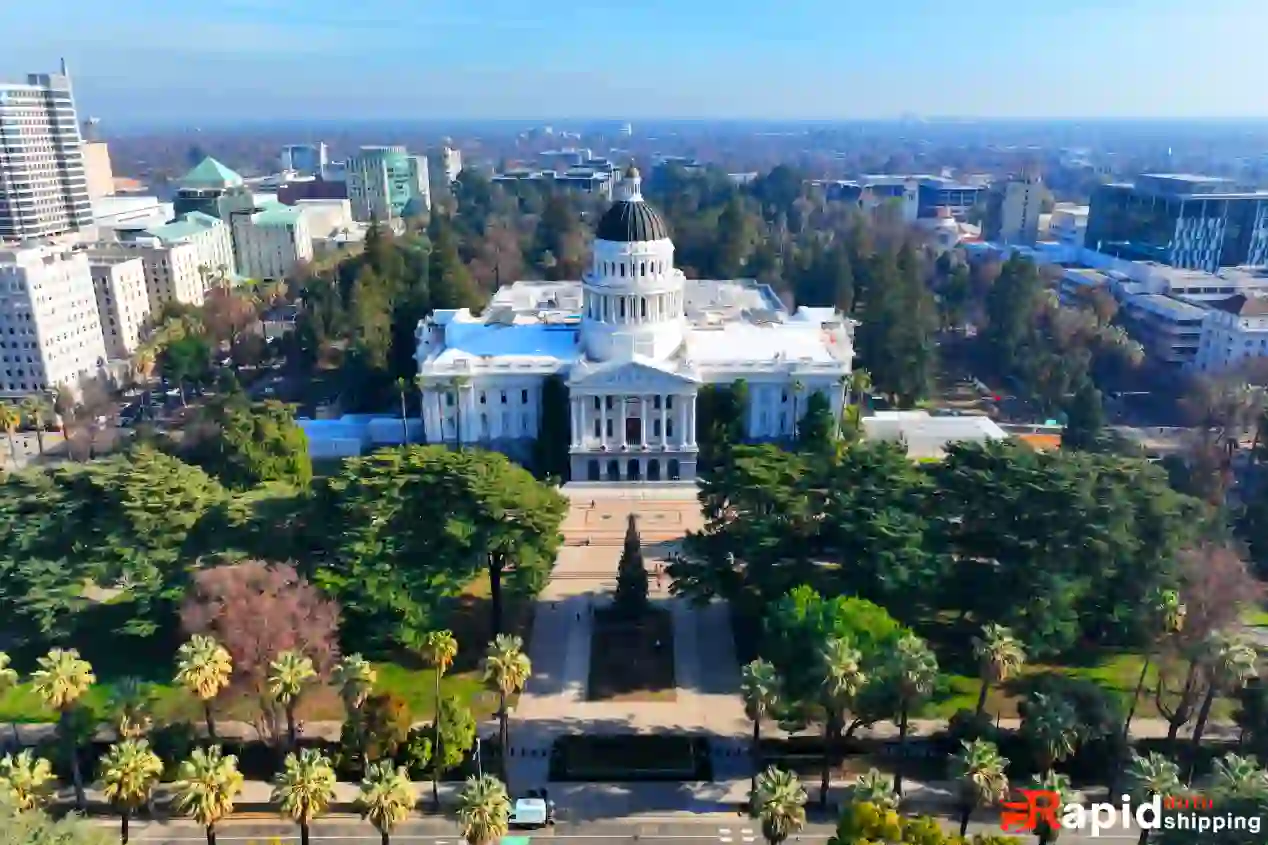 How to register a vehicle in

Arizona

?

Once your vehicle arrives in Arizona, you must register it as quickly as possible. You only have a 10 to 20-day window to register the vehicle before being charged late fees. Start the registration process as soon as possible to avoid paying additional charges. If you're having your vehicle transported to Arizona, make sure you register it as soon as it arrives.

What else can we

transport

with your company?

Vehicles and SUVs account for only a small portion of what we move. We move vans, motorcycles, limousines, yachts, recreational vehicles (RVs), and a wide range of other vehicles. Large products and heavy machinery can also be transported. If you have any questions concerning about California to Arizona car transport, please contact one of our skilled shipment coordinators.

What is the cost of shipping an automobile from

California to Arizona

?

The cost of California to Arizona vehicle shipping depends on the type of vehicle you are shipping and the timeframe you intend to ship. Calculate your California to Arizona auto shipping quote instantly via our online quote calculator to get an accurate rate for your transport.

How much time will it take to transport my vehicle In

Arizona

?

The travel time from California to Arizona is anticipated to be 1 to 3 days. Around 750 miles is the approximate distance for this trip. Standard carriers often travel 400 to 500 miles each day on average. For packages that require a faster delivery, expedited service is also available.

Does someone need to be present in

Arizona

to meet the transporter?

The presence of someone will be required for both the car pick-up and delivery. This is where you sign the papers for the pick-up and delivery inspections. Anyone above the age of 18 who has your consent and is preferably a licensed driver can be this person.

Will my vehicle be delivered safely to

Arizona

?

Yes. According to the US Department of Transportation, all California to Arizona Vehicle Shipping must have a valid insurance policy. Rapid Auto Shipping also asks that all carriers in their network include them as supplemental insurers. Rapid Auto Shipping can make a claim directly with their insurance company if the agent is unable to cover the claim in the unlikely event of an accident.

What types of payment are acceptable?

Rapid Auto Shipping accepts all major credit cards as well as any type of certified payment for California to Arizona Car Transport. If you want to pay on delivery, a deposit is required, and the remaining must be paid to the driver in cash or certified funds.

How to Get a

Shipment Cost quote

?

You may either use our rapid online auto shipping quotation calculator above or call us to speak with one of our car transport pricing consultants to get a quote for transporting your vehicle. We'll need the following information to generate your quote: the location you're shipping from and to, the type of car you'd want to send, and the date your vehicle will be available.

What is the carrier availability between

California to Arizona

?

One of the most basic and extensively utilised modes of automobile transportation is open auto carriers.
There are two types of open-air transportation available. Eight to 10 car carriers transport the majority of freight. Smaller carriers that can transport up to three cars are used for shorter, more local journeys. There is a bigger network of carrier availability since open-air transportation is employed more frequently.
For shipping vintage, classic, high-end, or exotic automobiles, enclosed car transportation is recommended. Enclosed transportations offers the best protection from the road's open-air elements. Because carrier capacity is limited, we recommend booking enclosed transportation in advance for your California to Arizona Auto shipping.

What to assume when shipping a vehicle in

Arizona

?

During, California to Arizona Car Transport, Check to check if the inside and outside of your automobile have been completely cleaned. This is especially important because it will enhance the driver's examination in detecting whether your vehicle has been damaged previously. Make sure there are no other personal belongings in the vehicle if you don't want to relocate anything else. Make sure the driver is aware of any unexpected situations that may exist in the vicinity of the vehicle. Finally, when the car is picked up for shipping, make sure it has a quarter tank of gas.

How much in advance should I register my shipment ?

The earlier you arrange your shipping, the more likely we will be able to achieve your desired delivery deadline. We recommend booking your transportation at least 2 to 3 weeks in advance for the best results. Expedited shipping options are available to accommodate packages that need to be delivered quickly. You can always phone us and ask one of our car shipping professionals about your alternatives for scheduling your vehicle transfer.

Are there size restrictions on shipping my vehicle from

California to Arizona

?

There would be no restrictions on the size of the vehicle being transported, yet the size of the vehicle may affect the cost of California to Arizona Auto Transport.

A bit about

California

California, sometimes known as the "Golden State," is a state in the United States of America that is located on the West Coast. California's capital is Sacramento, but Los Angeles is the state's largest metropolis. California is the most populous state in the United States of America, with a population of almost 38 million people. California is the third-largest state in the country, with a total size of 163,696 square miles.
California's population is concentrated in five major cities. The cities in question are Los Angeles, the San Francisco Bay Area, Riverside-San Bernardino, San Diego, and Sacramento.

A bit about

Arizona

Arizona is the 14th most populated of the 50 states and is located in the Western United States with the population of 7,151,502. The capital of the state is Phoenix and the largest city in the state. Arizona shares the Four Corners region with Utah to the north, Colorado to the northeast, and New Mexico to the east; Nevada to the northwest and California to the west, as well as the Mexican states of Sonora and Baja California to the south and southwest, are its other neighbours. Approximately 15% of the state's 113,998 square miles (295,000 km2) is privately held.

How to ship Vehicle

California to Arizona

?

It's as simple as 1-2-3 to ship a car from California to Arizona with Rapid Auto Shipping.

Step 1: Get a quick auto shipment quote for California to Arizona Auto Shipping and schedule a pickup time that works for you. With our online quote form, you can easily get a quote, enter your origin and destination, choose your shipping dates, and book your reservation online or over the phone for your California to Arizona car shipping!

Step 2: Your vehicle will be picked up from a certain place in California. Your vehicle will be thoroughly inspected and put onto the carrier on the day of pickup. Our direct service allows us to pick up from any home or company in California.

Step 3: Your vehicle is delivered to the address you provide in Arizona. Your vehicle will be offloaded safely, and a final examination will be performed to ensure that it was delivered in the same condition as when it was picked up.