Overview About California Car Transport Service
Car transport services often transfer autos from one location to another. Individuals who want their automobiles transferred safely and securely between sites may benefit from high-end car transport services, which provide tailored travel between automobile shipping services.

Shipping with a reputable car transport service lets car owners know that their investment is safe. Furthermore, expert car transport services free car owners time to deal with other difficulties.

A competent shipping firm will pay great attention to details during the automobile transportation procedure between sites to minimize the possibility of damage or ding.
California car shipping is a well-liked choice for people who must swiftly move their automobiles out of the state. Many companies in the state that provide car transport services can deliver your automobile to its destination within a few days.
When your car arrives in California at its final location, Rapid Auto Shipping professionals will check it to document its state at the time of unloading.
When your car is prepared for pickup, you will be notified, and all you need to do is sign the bill of lading, which also contains the final inspection report, to claim your vehicle.
All elderly and students who use our vehicle carriers will receive special savings. If military personnel choose to use our auto transport services, they are also honored with a discounted rate. Even if you don't belong to the groups above, you can still be eligible for a seasonal discount.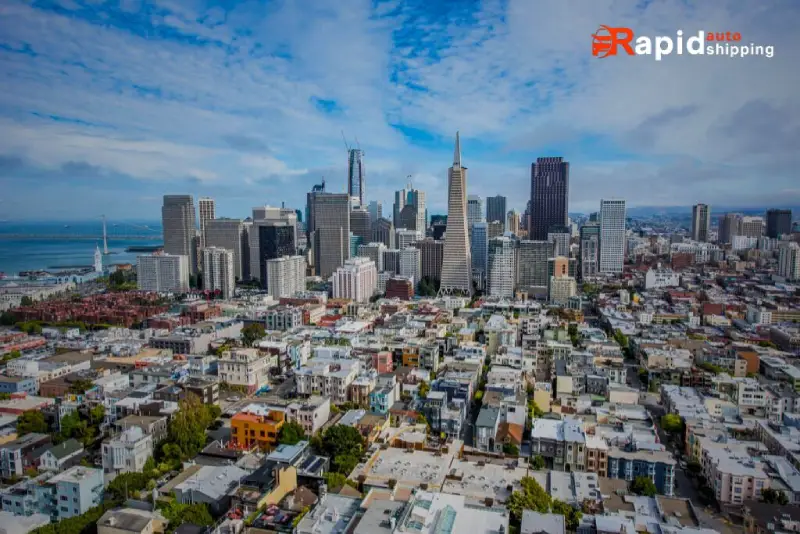 It just takes a few days to send an automobile to or from California for lesser routes, such as those under 200 miles. Car transport service to or from California over more than 2,000 miles may take up to 9 days. However, don't let this worry you; we'll try to provide you with a seamless, efficient, and hassle-free experience.
How long it takes for car carriers in California to ship your automobile might depend on many things. Auto travel to and from California can be impacted by weather, distance, driver hours, road construction, traffic, diversions, and seasonality. However, if you're in a hurry, you may choose an assured pickup or expedited shipment.
With the time spent looking for and buying a new car, getting out of long-term instalments or leasing arrangements can be expensive. Customers who own antique or collectible cars may discover that transporting the vehicle is their only choice.
It will cost between $850 and $1,050 to ship a van, SUV, or vehicle from California to New York City.
An average Sports Sedan costs between $750 and $800 to ship from New York to Miami, Florida, and larger vehicles cost between $850 and $1,000.
Calculating the cost of moving a car is difficult. The overall cost of transportation varies depending on some variables. The size, kind, and distance between the places are only a few variables that might impact the price.
It takes a customized approach to ship your automobile across the nation or the planet. Instead, it's a voyage that necessitates paying close attention to your location, particular automobile, and personal demands.
Selecting the finest car transport company is crucial for this reason. The several primary categories of car transport services are shown below to aid you in choosing the one that best suits your needs.
Open car transport service from California:
The most common type of automotive shipment in the US is open auto transport. Scheduling car shipments for open vs. closed transit is simpler and more affordable.
The most popular style of auto shipment is open transit. An open car transport service is more uncomplicated to organize than enclosed car shipping. Open vehicle transport is also more economical than enclosed since open trailer car carriers can hold an average of 8–10 cars simultaneously.
Enclosed car transport service to orfrom California:
Auto transport that offers protection for automobiles is known as enclosed car transport. This is a fantastic alternative if you need to ship a classic or expensive automobile. Only a few cars, usually up to seven, maybe transported simultaneously in enclosed carriers.
If you require collector vehicle shipping, classic car transport, or auction transport, Reliable Carriers should be your first choice for covered door to door auto-delivery.
A safe voyage is provided for automotive goods using specially designed enclosed auto transport trailers with drop decks or distinctive lift gates. A Reliable Carriers auto shipment trailer will surely be among the sights viewed as you travel over the middle American plains.
Terminal to Terminal car Transport service:
A car transport terminal is a storage facility near a major urban center. According to industry statistics, the number of terminals is decreasing due to diminishing demand for this mode of transportation.
You are responsible for bringing your vehicle to the terminal, where it will be picked up by a carrier when using the terminal to terminal method. The carrier will then transport your vehicle to a location near your destination, from whence you must collect it.
Do you require assistance with terminal to terminal car transport? We've got your back.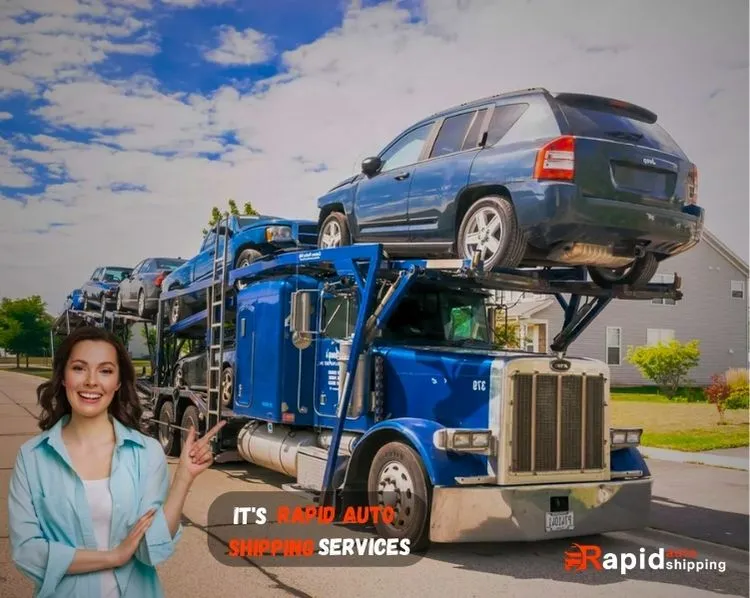 Our local and long-distance moving are available to make your relocation as stress-free as possible, whether you need to relocate a few miles or across the entire state.
The only choice is Rapid Auto Shipping. Our team of hardworking movers is prepared to assist you in completing the task correctly, swiftly, and on schedule.
Since relocating may be stressful, we provide many services to meet your needs. We take care of everything, including loading, transport, and delivery. We also offer full-service moving company solutions for individuals who want to leave the entire task to us.
The preferred delivery method for many shipping clients is door to door. The ease of staying at home while the auto transport company arrives to pick up the automobile from your California house will make it easier for the consumer to use this service.
The vehicle will be picked up from its location and delivered to the next. You won't have to deal with the terminals or the hassle of giving the car to the transport operator afterward.
Changing your car shipping procedure so that it works better for you is easy. Nearly all car transport service providers are prepared and ready to collaborate with their customers to ensure a secure delivery.
Rapid Auto Shipping is the most economical shipping method, and it offers many advantages that might help you decide if you should export your car this way. Knowing the advantages will help you make this selection much more accessible and locate those that are compatible with your preferences. Let's look at the top five advantages.
Companies that specialize in Rapid Auto Shipping may frequently provide their services for less money than if you went directly to them.
This is because they regularly try to book a hotel on trips they have already paid for.
Imagine you needed to relocate your car from Los Angeles to New York. A company may already have a multi-car transport service making that journey with 5 of the six available spots on Rapid Auto shipment.
They are only attempting to avoid wasting any space. If the days, hours, and pickup/drop-off locations work for you, using ours frequently saves up to 75% on automobile transport services.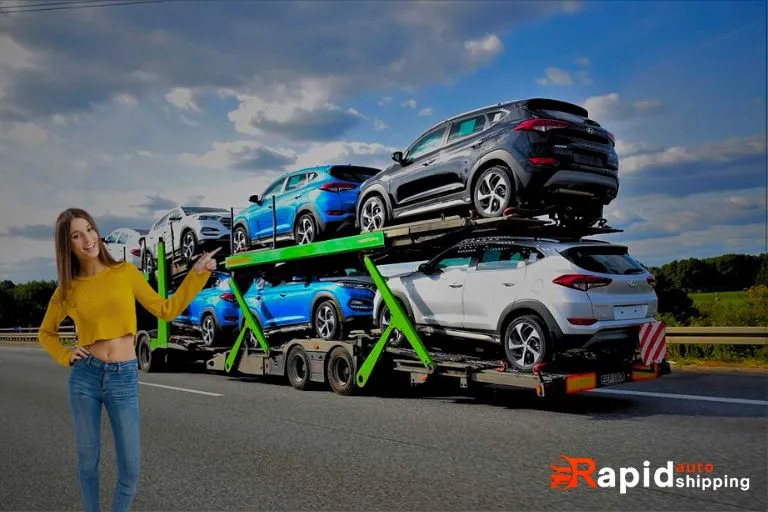 Rapid Auto Shipping can make it simpler for you to ship your automobile in California. Car transportation to and from California and other states in the US is the company's area of expertise. In a matter of seconds, we will react with appropriate pricing for the transportation of your vehicle.
To determine your quote, we need to know where you are shipping from, what automobile you want to send, and when your vehicle will be ready.
You may call +1 (833) 233-4447 to speak with one of our auto transport pricing consultants for an estimate or use the rapid online car shipping quote calculator above to obtain a price for moving your car.