Florida to California

Auto Shipping

Most people find the idea of moving an automobile from the west coast to the east coast worrisome, but it doesn't have to be.
However, do not do this blunder.
Some people attempt to face it alone. This should not be done. You may believe that driving 2,800 miles is something you want to accomplish, but it isn't. There's no need to put your automobile and yourself through any unnecessary stress. You should also consider how much gas, food, hotel, and time you will lose on the journey. Most of the time, you'll spend the same amount as it would have cost to transport your automobile in the first place.

In order to optimize the return on a long trip, Florida to California Car Transport California vehicle shipping companies frequently schedule many deliveries at the same time. This is how they are able to provide you with affordable costs.
Over time, shipping routes have become more efficient, shipping rates have remained competitive, and an increasing number of people are doing it.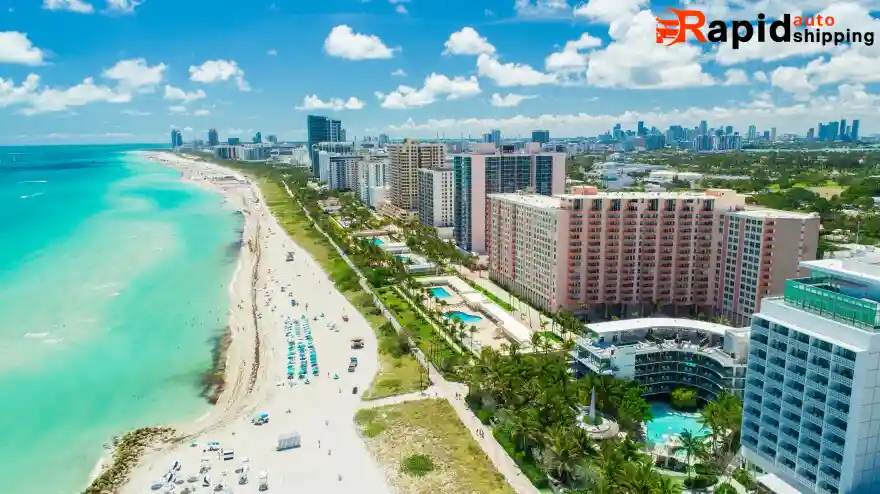 How does it work?

Rapid Auto Shipping strives to make the auto shipping process as simple as possible. Our skilled Shipping Specialists are here to ensure that your Florida to California auto transport goes smoothly, whether you're a frequent shipper or a first-time shipper. It's as simple as that:

Get a free car shipping price online or give us a call for a tailored quote.

Book online, over the phone, or using our simple chat system.

Allow us to handle the difficult aspects for you. So you can sit back and relax, our team will keep you updated throughout the process and will be there to answer any problems that may arise.

What is the cost of car shipping from

Florida to California

?

Over the last 10 days, the average cost of Florida to California Auto Transport ranging from $1500 to $1850.

If you need auto shipping from Florida to California for your car, truck, or other vehicle, Rapid Auto Shipping can help. Our experienced crew has over ten years of transportation experience and can manage any job. We provide upfront pricing, specific quotes, and ongoing communication throughout the shipping process. Using our secure online calculator or by calling our skilled shipping coordinators now, you may book with us anytime.

How much time does it take to ship a vehicle from

Florida to California

?

It takes a long time for Florida To California Auto Shipping.

It will take around a week, or 7-10 days, for your automobile to arrive. Pickup takes around 3 days, with a total delivery time of approximately 5 to 7 days.

How can you transport my vehicle ?

Automobile shipping and logistics businesses will either ship cars using open auto transport or closed auto transport.

You have a choice between the two, but your decision will be based on your needs.

Most cars are transported using the open auto transport method, however more expensive and rarer vehicles are often transported using the closed auto transport method.

Is it possible to track shipment of my vehicle over the internet?

We offer an easy-to-use online tracking system available 24 hours a day, seven days a week. This tracking update is provided to you in real-time and shows the vehicle's current location. Simply input your unique booking number, which you were given upon scheduling, when required. You can also check on the status of your shipment over the phone.

How do I get a shipping quote?

To get an estimate for transferring your vehicle, you can either use our quick online auto shipping quote calculator above or phone us to speak with one of our car transport pricing specialists. To generate your quote, we'll need the following information: the address you're sending from and to, the car you'd want to send, and the date your vehicle will be ready

What kinds of payments are accepted?

For Florida to California car shipping, Rapid Auto Shipping takes all major credit cards as well as any sort of certified payment. If you prefer to pay on delivery, you'll need to pay a deposit and the rest in cash or certified funds to the driver.

Is it being transported to a site near a major highway?

Many people overlook this, but if you want your car to be left off a major highway, it can actually cost you extra.

A bit about

Florida

Florida is a state in the United States' Southeast region. Florida is the fourth most populous state in the country and Tallahassee is the state capital.

Florida, sometimes known as "the Sunshine State," places a strong emphasis on travel and tourism. Apart from the above-mentioned theme parks and family-oriented attractions, Florida beaches are widely emphasised. The Florida Keys, Everglades, Fort Lauderdale Beach, South Beach, and other significant attractions are well worth seeing.

A bit about

California

California is a state in the United States of America, located on the continent's West Coast. With a population of 38 million people, California, often known as the "Golden State," is the most populous state in the United States. The state's transportation department is the California Department of Transportation. San Francisco's Golden Gate Bridge is one of the Seven Wonders of the Modern World, and it is located in California. The nearly two-mile-long Golden Gate Bridge connects Route 1 and U.S. Route 101. According to the Golden Gate Bridge, it is "the most beautiful, and perhaps the most photographed, bridge in the world." Hollywood is a famous tourist destination since it is home to many celebrities that work and live there.

How to ship Vehicle

Florida to California

?

It's as simple as 1-2-3 to ship a car from Florida to California with Rapid Auto Shipping.

Step 1: Get a quick auto shipment quote for Florida to California Auto Shipping and schedule a pickup time that works for you. With our online quote form, you can easily get a quote, enter your origin and destination, choose your shipping dates, and book your reservation online or over the phone for your Florida to California car shipping!

Step 2: Your vehicle will be picked up from a certain place in Florida. Your vehicle will be thoroughly inspected and put onto the carrier on the day of pickup. Our direct service allows us to pick up from any home or company in Florida.

Step 3: Your vehicle is delivered to the address you provide in California. Your vehicle will be offloaded safely, and a final examination will be performed to ensure that it was delivered in the same condition as when it was picked up.