Overview About Car Transport Service In Idaho
Idaho is a state in the Pacific Northwest region of the United States. Montana borders it on the east and northeast, Wyoming on the east, Nevada and Utah on the south, and Washington and Oregon on the west. It shares a brief stretch of the Canadian border with British Columbia to the north.

With a population of roughly 1.8 million people and an area of 83,570 square miles (216,400 km2), Idaho is the 14th largest, 13th least populous, and 7th least densely inhabited of the 50 United States. Boise is the capital and largest city in Idaho. The state's rural nature is the first major drawback of Auto Shipping to Idaho.

Shipping your car to another nation on your own might be a hassle. Not only is it costly to pay for car shipping companies in Idaho and your own as the truck driver, but there will be several obstacles and troubles along the road.

You may need to remember paperwork and be unable to pass through customs, or you may discover that your vehicle is not street-legal in your destination country. Fortunately, you can prevent these issues using a reputable auto transport company to send your vehicle.
Rapid Auto Shipping respects every customer. We assist clients in transporting their autos on schedule and at a reasonable cost. We fully insure their vehicles and transport them without harm from door to door.
You may have a piece of mind knowing that if your automobile sustains damage while being transported, your vehicle will be repaired. We've got your back; our insurance will handle the claim quickly and efficiently.
We bonded and licensed a business that every consumer believes in. We allow consumers to arrange transportation without making a deposit. Furthermore, we give our customers reliable carriers so they may have the most excellent transportation experience possible.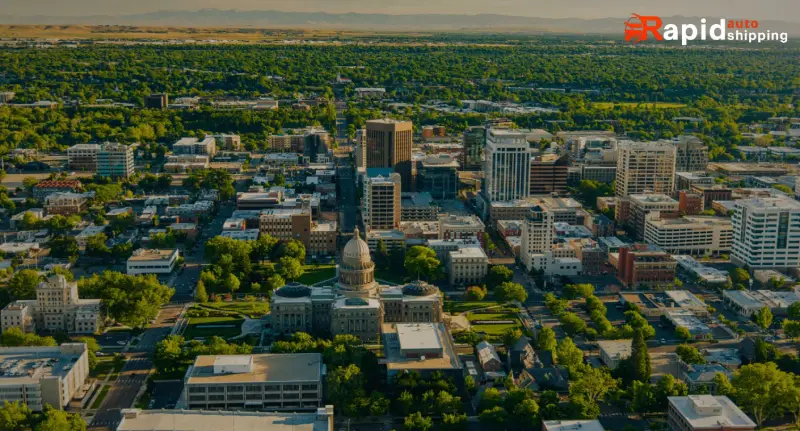 Car transport service prices per mile differ depending on the overall distance. For journeys of less than 200 miles, the average industry cost to ship a vehicle with an auto shipping firm is $2.00 per mile. For long-distance moves surpassing 1,500 miles, the price drops to an average of $0.58 per mile.
An enclosed carrier is more secure and safe than an exposed carrier. This comes at a rate roughly 40% higher than that of an open provider.
The cost is also affected by the car's size, terminals (terminal shipping refers to the customer being responsible for dropping a car at the closest terminal to the pickup location and then picking it up at a terminal close to the delivery location), and even the season.
It's always a good idea to get numerous quotes—and if one of them gives a price range, presume the final cost will be on the high end of that range.
You may or may not know, but moving alone can be complex, terrible, and exhausting. That is why most individuals hire specialists to assist them with their relocation.
Rapid Auto Shipping has many years of expertise. Idaho vehicle freight is another one of our expertise.
Our dedicated sales team ensures you get the assistance you want. We also offer expert delivery, support, and claims teams to guarantee your shipment proceeds successfully.
Important information like the pickup time and date, the tracking number, and the truck driver's number will be communicated to you regularly. This often occurs within a week. We will transfer your vehicle to Idaho as soon as we receive your request.
The truck driver will then call you to finalize delivery arrangements. Every number one auto driver strives to handle every vehicle they transport with the same care they do their own. Their top concern is to safeguard your car from any delivery-related damage. You will also sign and get a Bill of Lading before the driver departs.
Finally, you and the driver will inspect the car for damage after it has arrived in Idaho. That simple! You will also sign the final inspection report at this time.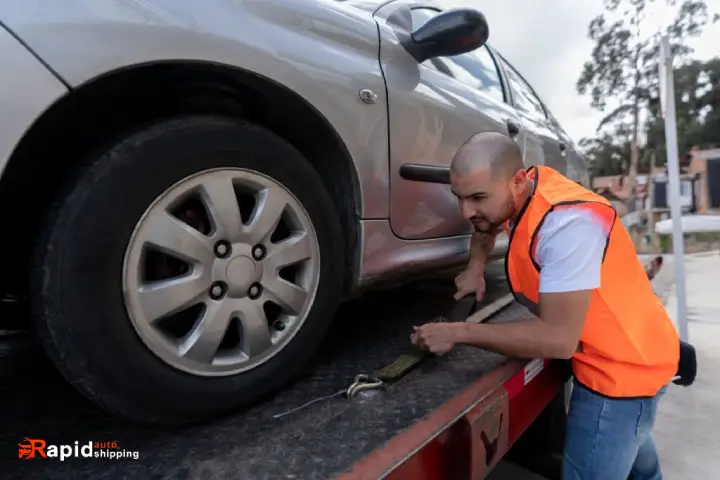 Open Car Transport Services in Idaho:
Open auto transport is the most prevalent sort of car transport service. It's simple to set up, convenient and offers fantastic value for money. A car shipping companies in Idaho carries your vehicle and other vehicles utilizing open-trailer transport.
They pick up and deliver your vehicle from a place of your choice. It exposes your automobile to the weather but is still the safest and most secure alternative if you are on a small budget.
Our most popular and cost-effective alternative, open transport, is shipping your automobile on an open-air trailer. This low-cost option provides a secure and dependable way to move your vehicle to and from Idaho.
Enclosed Car Transport Service In Idaho:
Enclosed auto transport, also known as enclosed vehicle transport or enclosed carrier auto transport companies in idaho, is a method of shipping a vehicle that offers additional protection.
If you own a high-end, historical, or custom automobile, covered car transport is the best way to move your vehicle from where it is currently to where it needs to go.
Covered auto transport companies in Idaho allows you to move your automobile from point A to point B in a trailer covered on all four sides and protected from weather and road debris, so you don't have to worry about anything.
When shipping an automobile, you have numerous alternatives, but enclosed car transport is ideal if your vehicle is an investment. If you want to transport any of the following, auto-enclosed transport is probably the best option: a sports car, a classic car, a luxury car, an antique or vintage vehicle, a vehicle with a custom or unique paint job, or a "garage queen" that you've spent a lot of time detailing to achieve a show-car finish.
Covered automobile shipping is another alternative if your vehicle has sentimental significance. We propose open auto transport Idaho if you need to send a regular vehicle or a daily driver.
Door To Door Car Transport Service In Idaho:
Auto transportation Idaho from door to door is precisely what it sounds like. Our car carriers will pick up your automobile from your door and deliver it to your destination.
There is no need for extra pick-up or drop-off locations and related trouble. It is the most practical method of shipping an automobile. All you need to do is provide the transportation provider with the specific address where your vehicle will be picked up and delivered.
They'll ensure that your car is picked up and delivered near your selected address as feasible. People with busy lives or residing in rural areas would appreciate door to door transportation services.
Or for snowbirds who want to avoid driving their car to their winter residence. Choose door to door transportation for your next automobile shipment to save money, time, and effort.
Expedited Car Transport Service In Idaho:
Rapid Auto Shipping do you need your automobile quickly? With expedited auto shipping, you have to wait between 24 and 48 hours for your car to be picked up to or from Idaho—regardless of where we pick it up. We also provided assured pickup and storage alternatives if necessary, ensuring that it is ready when you are.
Terminal to Terminal Car Transport Service In Idaho:
You should try to pick up your automobile from one of our terminals, which are located in most major cities, including the Gem State. Terminal to terminal automobile shipment is for those looking to save money because it is less expensive. It's also beneficial if you have more free time and a more flexible schedule.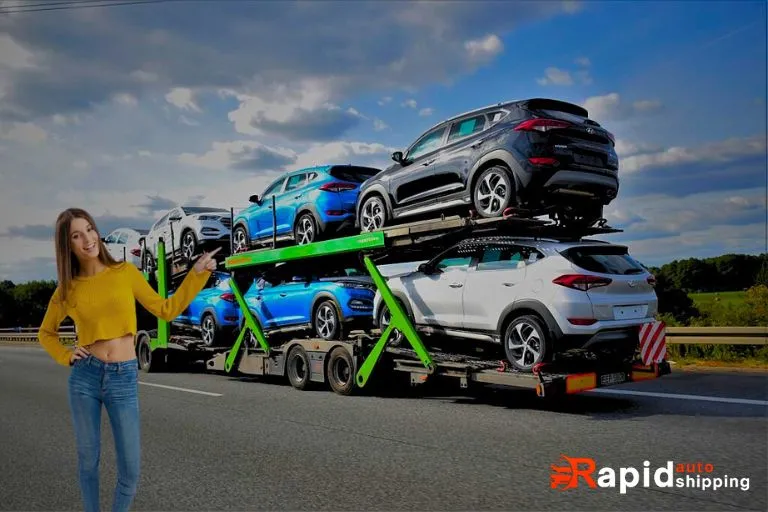 Here are some tips to help you get ready for shipping:
Wash the outside of your car. Keep your automobile clean as possible because dirt might cover markings.
Examine the outside of your car. Examine your car for dents, scratches, or discolorations. Existing harm should also be documented.
Take photos of the existing damage for documentation. In addition to identifying the damage, it is recommended that images of the scratch, dents, paint chips, and other damage be taken. This acts as proof if any further damage is discovered after delivery. Take photos from various angles and ensure that the image quality is satisfactory.
Perform necessary vehicle maintenance. Check all of the fluids in the car, as well as the tire pressure. The battery should be charged completely. Assuming your tank is empty, there should be enough fuel to drive it onto a truck, assuming it is functioning.
Remove all personal belongings. Remove personal belongings from your vehicle, such as your GPS or car charger. This decreases the likelihood of theft, damage, or loss.
Make notes to notify the driver of any mechanical issues. Even though the vehicle will be driven seldom, these notes will be helpful when driving the car on and off a carrier. Please provide any other information to the driver.
The average time shipping an automobile from Idaho depends on distance. If you need to send your car less than 200 miles, allow 1-2 days. If the distance between pick-up and delivery exceeds 2,000 miles, it may take up to 9 days.
Don't let the timeline bother you since our shipping advisers will do all possible to guarantee your vehicle is sent fast, effectively, and without delays.
The specific time frame for your car transport service is challenging to predict since numerous factors can influence how long it takes to send a car from Idaho. Distance, driver hours, season, weather conditions, road work, traffic, and detours can all impact the schedule.
If you have a tight schedule or are short on time, you may speed up the shipping procedure by selecting quick auto transport or assured pick-up.
Each car transport operation must prioritize safety. Many beams cover vehicles on open trucks, whereas enclosed carriers cover the car. Nothing, including the weather, can get to it this way.
Cars are securely fastened in both circumstances so they do not move around on the road. However, because the automobile cannot move and is not operating, there is practically nothing that may harm it until a traffic accident occurs.
As a client, you are entitled to a certain amount of insurance throughout the journey, and you can request more if necessary.
Fill out our free online form, and you'll obtain a free, no-hassle vehicle transport quotation in just a few minutes. Please call us+1 (833) 233-4447 if you have any questions, and you will be linked to a genuine, qualified agent; there will be no waiting on hold, and we will assist you with everything.
So please don't waste time; fill out our form for a free estimate, or phone us and let us handle it; either way, dealing with Rapid Auto Shipping is a win-win scenario. Being always Affordable entails being on time and budget.
Snowbirds are people who travel from North to South during the winter. Every winter, hundreds of people relocate from the North to the South owing to the frigid weather, primarily to live in warm weather in the South.
They returned to the North in their houses after the winter season ended to enjoy the flowering spring weather. Some snowbirds choose to drive themselves to their destination, but most individuals prefer to hire car shipping businesses to transfer their vehicles, or so they believe. And they tend to arrive at their location via air in a discreet manner.
However, it aided them in various ways, including saving time and money and reducing wear and tear on their vehicles, which was substantial.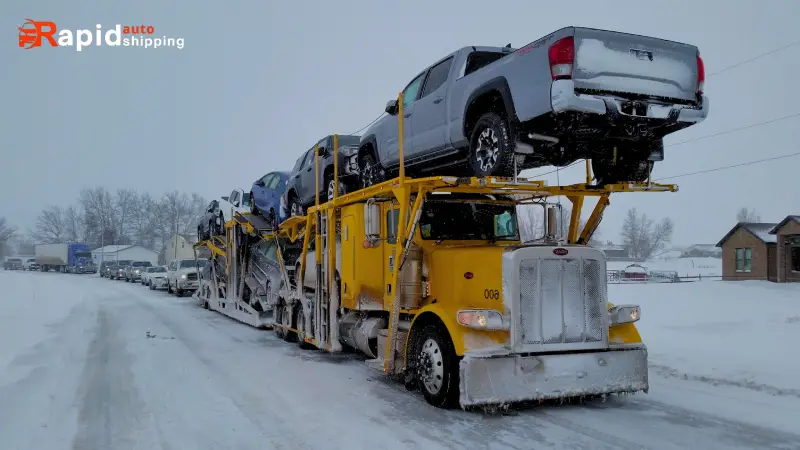 Snowbird routes are generally all pathways that run from north to south. Furthermore, rates frequently begin to rise during the snowbird season since drivers have many alternatives at that time and invariably choose the biggest amount. Customers are advised to refrain from being swayed by the lowest costs since they will waste their valuable time.
An operational vehicle can go forward and reverse under its power without the assistance of another person. In contrast, if a car cannot move, it is deemed inoperable or non-running.
In this situation, the driver will require a winch, which will incur additional costs. In other words, the consumer must pay the driver more money to execute this different function. However, not every transportation business offers this service for disabled automobiles.
Yes, internet monitoring is accessible 24 hours a day and updated in real-time. When you schedule your shipment, you will obtain a unique booking number that will allow you to follow the status of your cargo online.
Your tracking link will also allow you to live to chat with a shipping representative who can answer any queries you may have about the status of your cargo.
Competitive Pricing
We recognize that pricing is an important consideration when exporting your automobile. As a result, we provide cheap pricing without sacrificing quality or service.
Personalized Service
Your requirements are distinct, and we are dedicated to offering a customized auto shipping service that surpasses your expectations.
Insurance Policy
A reputable shipping firm will provide insurance if your vehicle is damaged. Accidents may occur while shipment, causing damage to your car; having insurance coverage allows you to plan for such situations.
Flexible delivering schedule
Most vehicle transportation firms have a set pickup and delivery timeframe. Strict time constraints may raise the cost of delivering your car.
Emergency transportation typically attracts higher shipping quotations, and having a flexible delivery schedule might be a fantastic strategy to reduce shipping costs.
24/7 Customer Support
Our helpful, educated customer service representatives are always available to answer your questions, solve your problems, and walk you through the automobile shipping procedure.