Idaho to California

Auto Shipping

Our open auto transport service is the most cost-effective for Idaho to Alabama Vehicle shipping. It is a widely used and safe method of transportation. Your car will be carried on an open auto trailer, but it won't likely get damaged while there. The majority of vehicles carried from Idaho to Alabama are transported in open cars, with only a 1% of being damaged while in transit.

Your car will be picked up from your house by Rapid Auto Shipping and transported on one of our trailers. Adapted cars and SUVs are the perfect vehicles for flatbed trailers. It can transport your car faster than any other means.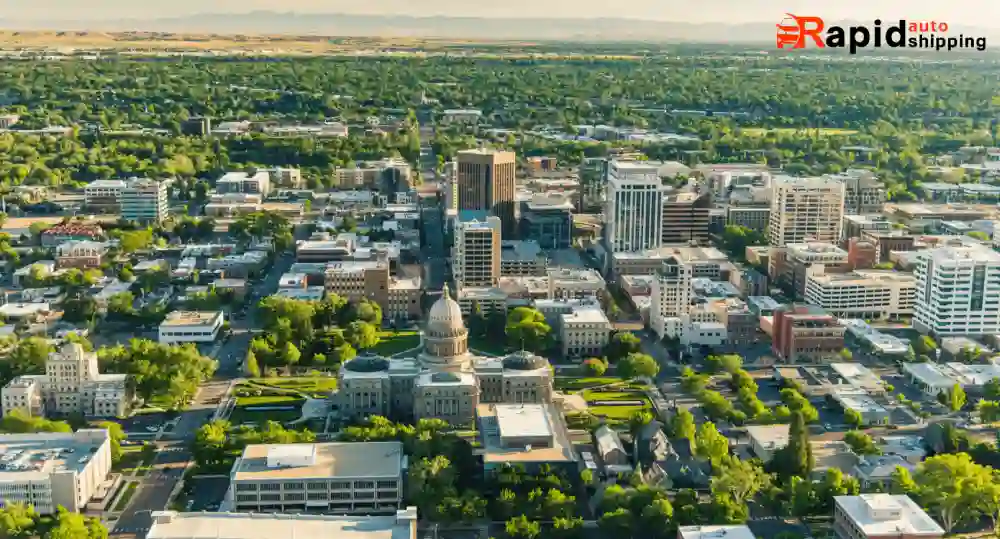 How does it work?

Rapid Auto Shipping strives to make the auto shipping process as simple as possible. Our skilled Shipping Specialists are here to ensure that your Idaho to California auto transport goes smoothly, whether you're a frequent shipper or a first-time shipper. It's as simple as that:

Get a free car shipping price online or give us a call for a quote.

Book online, over the phone, or using our simple chat system.

Allow us to handle the difficult aspects for you. Our experts will keep you informed at every stage of the procedure and will be available to address any issues that may come up, allowing you to sit back and unwind.

What is the cost of car shipping from

Idaho to California

?

Over the last 10 days, the average cost of Idaho to California Auto Transport ranging from $750 to $1650.

If you need auto shipping from Idaho to California for your car, truck, or other vehicle, Rapid Auto Shipping can help. Our experienced crew has over ten years of transportation experience and can manage any job. We provide upfront pricing, specific quotes, and ongoing communication throughout the shipping process. Using our secure online calculator or by calling our skilled shipping coordinators now, you may book with us anytime.

How long will it take to transport a car from

Idaho to California

?

The two states are far apart because they are not close to one another. Around 900 miles separate from Idaho to California throughout the drive. The weather is one of the many variables that will affect the delivery time. However, taking into account all outside considerations, your car should be delivered in 1-3 days.

How can you transport my vehicle?

Automobile shipping and logistics businesses will either ship cars using open auto transport or closed auto transport.

You have a choice between the two, but your decision will be based on your needs.

Most cars are transported using the open auto transport method, however, more expensive and rarer vehicles are often transported using the closed auto transport method.

What should I consider when shipping a car to

California

?

Verify that the interior and exterior of your car have both been cleaned completely. This is particularly important as it will help the driver's examination identify any previous damage to your car. Unless you wish to transport them with it, you should also make sure the car is empty of any further personal items. Make sure the driver is informed of any peculiar car situations. Lastly, make sure the car is picked up for shipping with a quarter tank of petrol.

How to get a free quote for vehicle shipping from

Idaho to California

?

Throughout the year, the cost of shipping a car, truck, or motorcycle from Idaho to California varies. Use our website to calculate your quote for Idaho to California auto shipping for your car on the quickest route available today. To create your quote, we'll need to know where you're shipping from and to, what kind of automobile you'd want to send, and when your vehicle will be ready.

Is it possible to ship an inoperable car?

Yes, we do transfer inoperable or non-running autos. When shipping non-operational vehicles, a specialised auto carrier is required. The carrier is loaded slowly and carefully using a winch attached to your vehicle. Because of the unique equipment and extra labor necessary in fastening the car onto the transporter, there is an additional price for inoperable automobiles. You can select the "inoperable" option on the online booking form, or if you're making a phone reservation, inform your shipping agent so that appropriate arrangements can be made to accommodate a non-running car.

What kinds of payments are accepted?

For Idaho To California Auto Shipping, Rapid Auto Shipping takes all major credit cards as well as any sort of certified payment. If you prefer to pay on delivery, you'll need to pay a deposit and the rest in cash or certified funds to the driver.

How much in advance should I register my vehicle for shipment?

The earlier you schedule your shipping, the more chance we have of meeting your requested delivery date. For the best results, we advise scheduling your transportation at least two to three weeks in advance. There are choices for expedited shipping to accommodate packages that must be delivered fast.

You can always call us and speak with a car shipping expert about your options for setting up your vehicle transfer.

A bit about

Idaho

Idaho, the 43rd state in the union, is located in the northwest region of the country. Every day, Route Runners transport hundreds of customer automobiles over various routes through all Idahoan cities. The state of Idaho is the fourteenth largest state in the country, with a total area of 83,570 square miles. It is a completely landlocked state, sharing its borders with British Columbia, Oregon, Washington, Utah, Nevada, Montana, and Wyoming.

A map of Idaho is a great tool to use while deciding what to do and where to go in the Gem State. The state of Idaho is renowned for its deserts, wildernesses, swiftly flowing rivers, snow-covered mountains, and untamed wildlife. Boise is the largest city and capital of Idaho state .

A bit about

California

California is a state in the United States of America, located on the continent's West Coast. California, also referred to as the "Golden State," has 38 million residents, making it the most populous state in the US. The California Department of Transportation is the state's transportation agency. San Francisco's Golden Gate Bridge is one of the Seven Wonders of the Modern World, and it is located in California. "The most beautiful, and possibly the most photographed, bridge in the world," claims the Golden Gate Bridge. Hollywood is a well-known tourist attraction because many celebrities live and work there.

How to ship Vehicle

Idaho to California

?

It's as simple as 1-2-3 to ship a car from Idaho to California with Rapid Auto Shipping.

Step 1: Get a quick auto shipment quote for Idaho to California Auto Shipping and schedule a pickup time that works for you. With our online quote form, you can easily get a quote, enter your origin and destination, choose your shipping dates, and book your reservation online or over the phone for your Idaho to California car shipping!

Step 2: Your vehicle will be picked up from a certain place in Idaho. Your vehicle will be thoroughly inspected and put onto the carrier on the day of pickup. Our direct service allows us to pick up from any home or company in Idaho.

Step 3: Your vehicle is delivered to the address you provide in California. Your vehicle will be offloaded safely, and a final examination will be performed to ensure that it was delivered in the same condition as when it was picked up.