Austin to San Diego auto transport entails transporting vehicles such as cars, trucks, motorcycles, and more from one location to another. This is achieved through the utilization of specialized carriers or transport services. Here is a general overview of how the process usually works:
Research and Choose a Transport Company:
Begin by researching reliable auto transport companies that offer services for the Austin to San Diego route. To ensure that you are choosing a reliable option, looking for customer reviews and ratings and their licensing and insurance information is essential.
Request Quotes:
Please contact the transport companies and kindly ask for quotes regarding the shipment of your vehicle from Austin to San Diego.
To facilitate the transportation process, please provide the following details the type of vehicle, its dimensions, the pickup and delivery locations, and your preferred timeframe for transport.
Select Transport Method:
Regarding auto transport, there are typically two main options open and enclosed transport. Open transport involves using carriers exposed to the elements, making it a more cost-effective option. On the other hand, enclosed transport offers additional protection but is typically more expensive.
Schedule the Transport:
Schedule the transportation service after selecting a transportation company and method. Please agree with the company on a specific pickup date, time, and location.
Vehicle Inspection:
Before loading onto the carrier, you and the transport company will thoroughly inspect the car to identify any pre-existing damage. To avoid future disputes, it is essential to note any pre-existing scratches, dents, or other issues.
Vehicle Pickup:
The transport carrier will arrive at the designated location on the scheduled pickup date to load your vehicle onto its trailer. The driver is responsible for ensuring the car is securely fastened for transportation.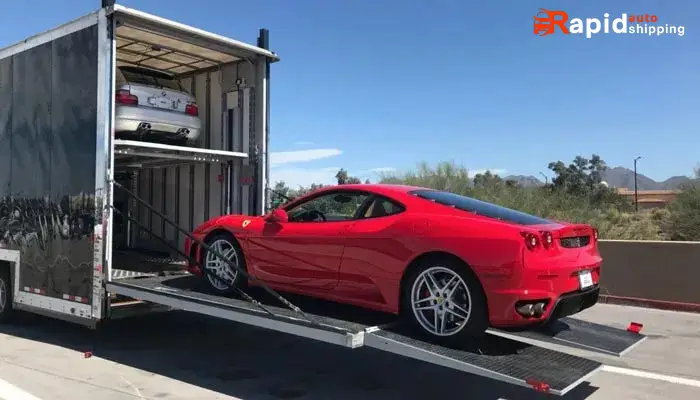 Transit to San Diego:
The transport carrier will commence its journey from Austin to San Diego. The length of the trip will vary based on the distance and the specific route chosen by the carrier.
Vehicle Delivery Service:
Once the carrier arrives in San Diego, you or the authorized recipient will meet the driver at the agreed-upon delivery location.
You will inspect the vehicle again for any potential damage that may have occurred during transportation. Please make sure to document any problems on the delivery receipt if there are any.
Payment:
Once your vehicle has been successfully delivered, it is essential to fulfill your payment obligation to the transport company per the terms of your agreement.
Multiple options for Austin to San Diego auto transport services catering to your needs and budget are available. The speed, convenience, and cost of these services can vary. Here are some commonly offered services for Austin to San Diego auto transport:
Open Carrier Transport:
This option is the most commonly chosen and cost-effective method for transporting automobiles. Your vehicle will be loaded onto an open trailer, along with several other vehicles. Although this option is cost-effective, it does leave your car vulnerable to the elements during transportation.
Enclosed Carrier Transport:
If you desire additional protection for your vehicle, you can choose enclosed carrier transport. Your car will be securely loaded onto a fully enclosed trailer, protecting it from weather conditions and road debris.
Although this service comes at a higher cost, it offers enhanced security tailored for luxury or classic vehicles.
Expedited auto transport services:
If you require urgent transportation for your car, you can select an expedited or express service. The shipping company will prioritize your vehicle, resulting in faster pickup and delivery times. However, choosing this option may result in a higher cost.
Door to Door Transport:
This service allows the transport company to conveniently collect your vehicle from any location you specify in Austin and deliver it directly to your desired destination in San Diego. This service offers convenience by eliminating the need to drop off or pick up your car from a terminal.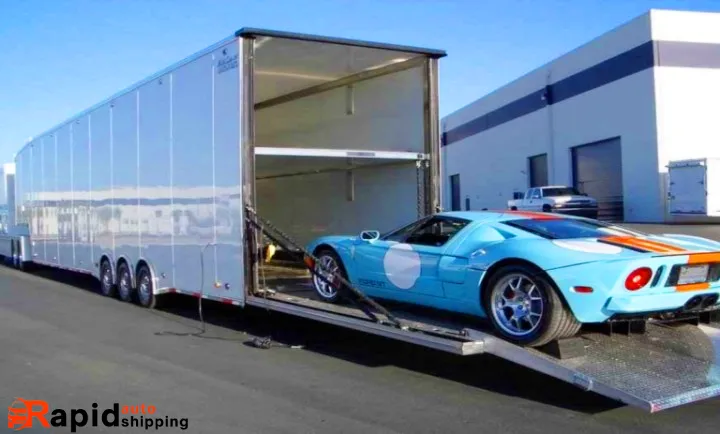 Terminal to Terminal Transport:
If you seek a more affordable option, you can choose terminal to terminal transport. To complete the process, please ensure that you drop off your vehicle at the specified terminal in Austin and retrieve it from the designated terminal in San Diego. This option may require some additional coordination on your end.
Several variables, including the distance between the two cities, the kind of car being transported, the mode of transportation (such as open or covered transport), the season, and the particular auto transport business you choose, may affect the price of Austin to San Diego auto transport.
Getting quotations from many car transport businesses can help you receive an accurate and current cost estimate for Austin to San Diego auto transport. Additionally, several companies provide online cost estimators for vehicle shipping on their websites.
To guarantee a smooth and trouble-free transportation experience for your car, remember to investigate the reputation and dependability of the transport firms before making a choice.
The duration of Austin to San Diego auto transport can vary due to multiple factors, such as the distance, chosen route, mode of transportation, weather conditions, and the specific transportation company selected.
The average duration for Austin to San Diego auto transport is typically between 2 and 7 days when using a standard shipping service.
However, consulting multiple auto transport companies is crucial to obtain accurate and current estimates tailored to your specific circumstances.
Several factors can influence the time for Austin to San Diego auto transport.
Distance: The distance between Austin and San Diego is approximately 1,300 to 1,500 miles, depending on the chosen route.
Mode of Transportation: Enclosed trailers may experience longer wait times due to their limited capacity and higher demand. Open carriers are a more prevalent option and often provide quicker transit times.
Seasons and Weather: Delays can occur due to adverse weather conditions, road closures, or natural disasters.
Type of Service: If expedited or express services are available, they can reduce transit times but may be more expensive.
Backlog and demand: The availability and order of transport companies can impact scheduling.
Ensure the safety and security of your belongings by working with a reputable moving company. Our services are designed to help you save money by maximizing your benefits and providing you with precisely what you need.
As part of our evaluation, we consider your vehicle's type, year, and condition. Closed trailers are considered safer than open trailers, even though they have a higher price tag.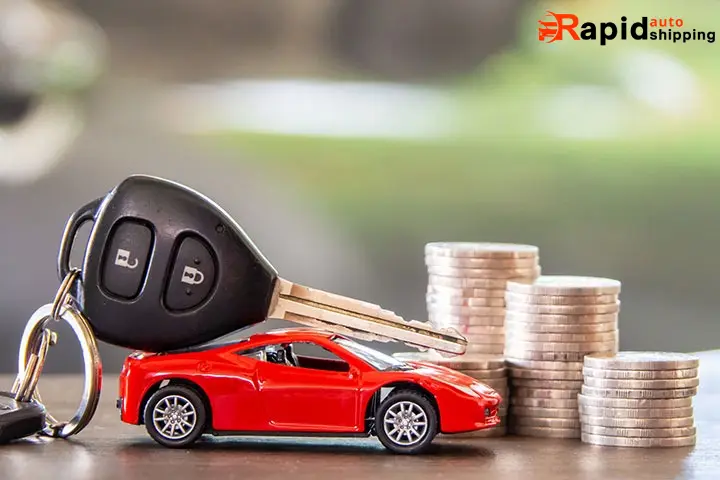 There are several benefits to Austin to San Diego auto transport, especially if you prefer to avoid driving the distance yourself. There are several advantages to utilizing auto transport services for this particular route:
Time-Saving:
The drive from Austin to San Diego is a lengthy journey, typically taking around 20-25 hours or possibly longer, depending on the route chosen and any planned stops.
Auto transport is a convenient option that saves you from spending days driving on the road. With this service, your vehicle will be shipped directly to your desired location, freeing up your time to concentrate on other important matters.
Convenience:
Auto transport companies are responsible for managing the entire process of shipping your car, starting from the pick-up and concluding with the delivery. You can rest assured that you won't have to worry about navigating unfamiliar roads, dealing with traffic, or finding places to stay.
Insurance Coverage:
Reputable auto transport companies offer insurance coverage for your vehicle during transit, ensuring protection in the unlikely event of damage.
Reducing Stress:
Long-distance drives can take a toll on the body and mind, causing exhaustion. Professionals handling transportation can help alleviate the stress of driving for long periods.
Safety:
Professional auto transporters possess extensive experience in safely and efficiently handling vehicles throughout the transportation process. Specialized carriers and secure loading techniques are employed to guarantee the safety of your car during its journey.