OVERVIEW ABOUT ALABAMA
Alabama, also known as the "Heart of Dixie," is a state in the United States southeast area. There's plenty to see and do. It is an excellent location to learn about history, for example.

There is the Birmingham Civil Rights Institute, the USS Alabama Battleship Memorial Park, and other significant landmarks.

Rapid Auto Shipping can assist you with car transport service for whatever purpose you need to journey. Car Transport is never an issue with car shipping companies in Alabama! We transport cars all over the country. We can do it for you!
For over a decade, Rapid Auto Shipping has been moving cars both within Alabama and across the United States. Since 2006, we have moved over 100,000 cars across the country for private people, fleet management businesses, and auto dealerships.
Perhaps you require enclosed transport for a new car, truck, or SUV purchased online from an out-of-state shop, or you require enclosed transport for a power car you intend to work on. You might need to move building or farm equipment. We'll transport anything with wheels!
Regardless of how big or small your car transport task is, we welcome you to entrust us with all of your auto transport requirements. Call +1 (833) 233-4447 to speak with one of our helpful representatives about obtaining a free vehicle estimate. Alternatively, fill out the form for a free auto shipment estimate and we'll handle the rest.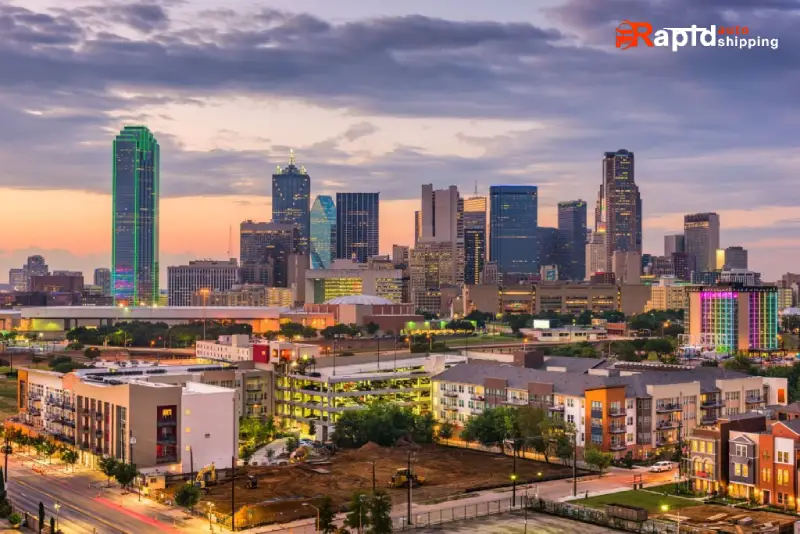 For small routes up to 500 miles, vehicle shipping in Alabama costs around $1.96 per mile on average. From 500 to 1,500 miles, medium routes will cost you about $0.93 per mile.
Long lengths of more than 1,500 miles are approximately $0.58 per mile.
It is essential to remember that the cost of shipping a vehicle is affected by a variety of variables. Some of the transportation variables that go into a vehicle shipping estimate are as follows:
Trip distance

Car size

Vehicle condition

Location

Transport type

Time of year
Request a vehicle shipping & auto transit quote to get a notion of the overall cost.
Getting a vehicle transported to Alabama can be simple if you use the correct firm. Coordination of a vehicle cargo necessitates a thorough strategy in logistics planning, access to available car transporters with free room on their van, and traveling in the direction you require at the time you require the transport to be completed.
Rapid Auto Shipping strives to make the procedure as simple as feasible.
Simply follow the three stages and we will take care of the rest.
STOP RIGHT NOW and Request a Quote. It's simple. Fill out the easy form and one of our professional auto transport managers will call you to book your car carrier transport.

Our auto transport alabama carrier places your vehicle onto the car transporter after finishing a complete vehicle inspection report that includes any damages to your vehicle.

We transport your car to its location along with a comprehensive automotive inspection report for insurance reasons, which you will receive as a receipt once the money is received.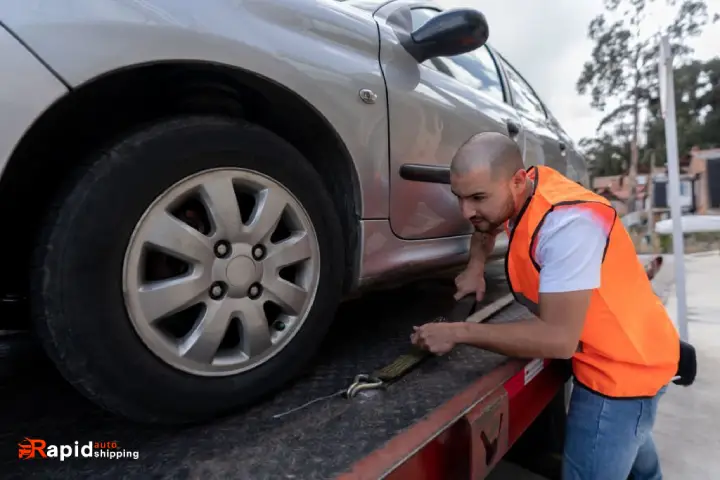 When you order with Rapid Auto Shipping, you will be able to choose from a variety of car transport services. You can be confident that it is up to date and in ideal operating order. We only deal with carriers who use the most private, safe, and dependable modes of transportation.
This article covers several types of car shipping services:
Open Car Transport: Open air car transport is a low cost way of transit in which your automobile is transported on an open truck trailer. You have the option of shipping your car full or empty.
You'll save money if you choose an empty cargo because you won't have to pay for packaging materials. This mode of transit is perfect for cars that do not require special handling while being transported.
Enclosed Car Transport: Enclosed car transport, like open transportation, comes in a variety of forms. Enclosed trailers offer better security against the elements, flying debris, and other potential hazards that may harm your car during transit. There are numerous confined carrier transit choices.
RoRo Car Transport Services: The RoRo car transport technique, also known as "Roll-on/Roll-off," includes moving wheeled or vehicle freight that is moved on and off a shipping vessel rather than being hoisted aboard using cranes.
Cars, lorries, containers, and other self-propelled vehicles are examples. To guarantee safe transport, the cars are secured to the platform with leading while shipping.
Door to Door Car Transport: Door to door car transport removes the need for vehicles to be loaded and unloaded numerous times during transit. This implies that your automobile will remain on the same car carrier for the duration of the trip.
Door to door car transport allows you to move your car without having to journey to a pickup location or retrieve it, making it far more practical.
Your car will be collected from a handy location and brought to you as close to your home as possible. You are not required to drive to a pickup spot or retrieve your car.
Terminal to Terminal Car Transport: A terminal is a location where cars await transit. Although only one shipper may use it, the port is typically used by multiple companies at the same time.
In many major towns across the United States, these facilities are often located close to an airport facility. Alternatively, the site could be near the main highways that pass through a city.
After making a reservation, you take your vehicle to a designated drop-off location. Your automobile will remain in the airport until your preferred carrier arrives.
The carrier will transfer it to another terminal point once it has been gathered up. You must then travel to the ultimate terminal spot to collect your vehicle.
Coast to Coast Car Transport Service: When it comes to coast to coast car shipping, you should be extra wary when selecting a transportation firm. Coast to Coast car transport entails moving a vehicle from one end of the nation to the other.
We can move your vehicle regardless of whether you are relocating due to military relocation. Throughout your coast to coast vehicle transfer service, our courteous employees will ensure your satisfaction.
Expedited Shipping: Do you need your vehicle delivered right away? Get a quicker arrival by ordering an expedited package and reducing the wait time.
Make yourself accessible for frequent updates. At Rapid Auto Shipping, we make every effort to keep our clients informed of any significant changes or disruptions in the process.
We're also delighted to take your contact and check in on your car while it's in transit - you have the right to frequent updates on the status of your auto transport alabama services.
Otherwise, simply relax and await the coming! We understand that having their vehicle out on the road without them in it can make people nervous, but believe us, we're the experts.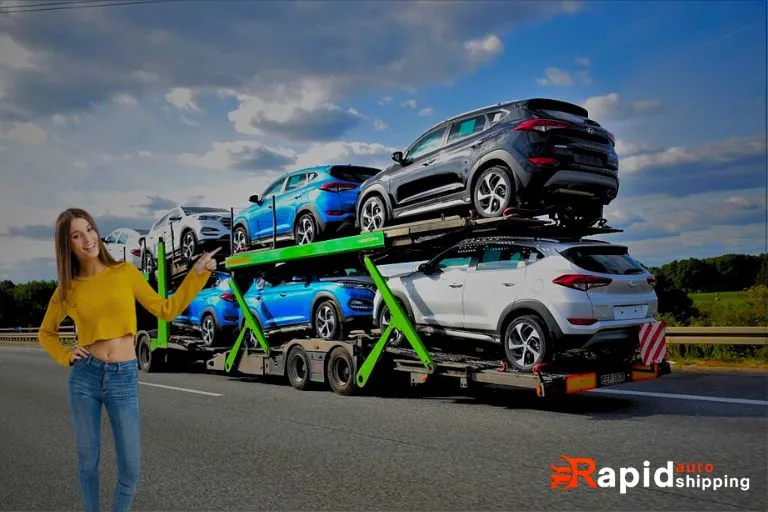 You've planned everything; now it's time to prepare your vehicle for interstate car transport! To ready your vehicle for shipping, do the following five things:
Clean the vehicle. It may be taking an open air, cross-country journey, but there is a valid purpose for this. A spotless vehicle enables you and the driver to properly identify any chips, dents, nicks, or other cosmetic damage. This will aid in determining old damage at pick-up, making it simpler to identify any new damage when you receive your car at its final destination.

Clear out your home's interior. Remove anything dangerous or possibly illegal to transfer from your vehicle, and don't pack more than you need.

Turn off your warning devices. Drivers do not want unexpected alarms to sound during their car transport service! Disable or switch off your vehicle alarm. When you recover your car, you can reactivate it.

Give the courier the automobile and keys. Keep a spare set of keys for yourself in case they are required.

Examine the driver at pick-up. Check that your assessments are consistent and that they are recorded on the bill of lading.
Your vehicle is now ready for transport; just relax while the carrier loads it and drives off!
Car transport is generally a secure procedure, with few possibilities of something going awry. Nonetheless, while car transport is usually safe, there are some essential auto transport safety tips to be mindful of, particularly if you've never done it before. Examine them:
Collect the Important Paperwork
The most important thing you can do to save yourself a hassle on moving day is to have all of your car's paperwork. You will need several documents to show ownership of the car. To guarantee a smooth vehicle shipping experience, keep originals and duplicates of the following papers together:
Proof of automobile insurance

Registration details

The initial title to your car

Your driver's license and/or visa

The car's certificate of sale or other proof that it pertains to you

Any additional details you will require when picking up the vehicle in your new nation
Clean and Remove Belongings
Before the car transport carrier places your vehicle onto the transport container, you must remove any assets that may still be inside. Some important locations to investigate are:
The trunk.

The glove compartment.

Below and on the edges of the chairs.

Seat pockets.

The center console.
Clearing out your car's valuables is a situation of "better safe than sorry." Otherwise, proving to the auto transfer carrier that something was inside your vehicle when it was collected will be difficult.
Keep These Essentials in Your Car
Despite the prior tip, there are a few things you should store in your car. Items such as your spare tire, a vehicle jack, license plate, and emergency pack will come in useful if something goes wrong along the way. Keep them in your vehicle to guarantee that the shipping experts can manage any problems that occur during transit.
Make a note of any existing damage.
If there are any problems with your car, you must be open about them. It's best to notify the car transport provider ahead of time, which Rapid Auto Shipping will gladly do. Some of the vehicle problems that can endanger both your vehicle and the motorist are:
Brake issues.

Electrical issues.

Leakage issues.

Mechanical issues.
For example, if your vehicle spills gas, the flammable nature of the gas can be extremely hazardous during transit. Keep in mind that one of the leading reasons for all car accidents is a gas leak.
Keep the tank about a quarter full
You don't need a complete gallon of petrol to transport your vehicle, but you also don't want to leave it running on empty. A decent rule of thumb is to keep the tank one-quarter filled.
This guarantees that there will be enough fuel to get the car on and off the shipping vessel, as well as drive it away when you reach your new nation.
Exchange Keys and Lock Up
If your car needs to be moved during the transportation process, your shipping firm may require a set of keys. However, you should not gift them your entire collection. Duplicate the keys to ensuring a smooth handover when your vehicle gets to your location.
For added security during transport, after the company moves your vehicle onto the shipping vessel, have them secure it or do it yourself.
Yes, you can access internet monitoring 24 hours a day, seven days a week, and it is refreshed in real time. When you schedule your shipment, you will be given a unique booking number that will enable you to monitor its progress online.
Your monitoring portal will also allow you to live chat with a shipping representative who will address any queries you have about the state of your cargo.
Check out Yelp and the Better Business Bureau for consumer evaluations on the car transport business. Check for any outstanding customer complaints about how they handled a vehicle.

Instead of opting for the cheapest vehicle transportation estimate, prioritize dependability and timely arrival. A cheap estimate frequently suggests that the business is cutting corners somewhere, either in carrier quality or in tools. Make certain that any estimate you receive is all-inclusive, and that you understand how they will manage your vehicle.

It is preferable to work with someone who has been in the company for some time, knows the industry, and can provide an accurate all-inclusive quote. Examine their vehicle evaluations.
When shipping your car, you can anticipate spending between 40 cents and $2 per mile, though prices may differ depending on the business and service you choose. These figures are based on projections from different car shipment companies, so rates from other car transporters may be slightly higher.
Distance is a major factor that influences vehicle shipping expenses. Long-distance moves, on average, result in reduced costs per mile but higher total costs.