When you need transportation services for your boat, go with a top-tier business like Rapid Auto Shipping. Budget wisely so that you can start using our services right away. The finest in the industry, our yacht shipping services Additionally, for your convenience, our prices are reasonable.
Rapid Auto Shipping is a fully insured and authorized business, so you can be confident that your boats are safeguarded while transported. Although there is a slight danger of an accident, our drivers are skilled, so you need not worry.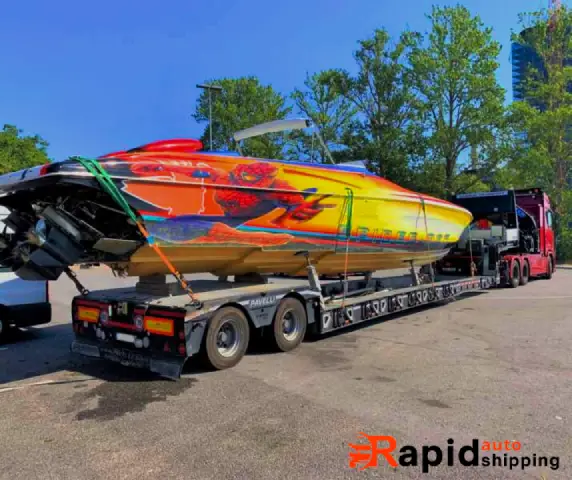 Yacht transport offers an alternative to traditional methods of transportation such as sailing and motoring, allowing individuals to access a wider range of destinations. When deciding to transport your yacht, there are several transportation options that carriers can offer you.
Overland Transport:
Private or commercial trailers are used for transporting smaller yachts that only need to travel shorter distances domestically.
Commercial trailers are typically chosen once the boat reaches a sufficient size. However, to proceed, it will be necessary to obtain transport permits, ensure trailer safety, adequately prepare, and obtain insurance coverage.
Deck Cargo:
Yachts can be transported as deck cargo on a ship. The cargo is either loaded directly from the shore or transferred from the water using ship or shore cranes. The rigging can remain intact for conventional deck cargo.
Container Shipment:
Yachts can be transported via freight as long as they comply with container sizing restrictions. Derigging is typically necessary to transport yachts via container shipping. The dimensions of the yacht should be no larger than 39 ft. in length, 7.5 ft. in width, and 9.3 ft. in height.
Semi-submersible Ships (SSS):
Semi-submersible ships, originally designed for transporting large project cargoes, have been modified to facilitate the shipping of yachts.
Yachts can be loaded for transportation in various ways, depending on factors such as size, mobility, and dimensions.
Roll on/off: The yacht is carefully towed onto a cradle on the vessel or trailer, which will then be securely parked on the deck. The most common method of yacht transport is through this approach.
Flat rack: This approach is appropriate for larger yachts that can still travel to the port by road. The yacht is carefully lifted onto the cradle of the flat rack using either a crane or a forklift transport. This solution is typically selected when roll-on/roll-off is not available.
Lift on/off: This method is designed for larger yachts that cannot be transported by road to a port. Instead, the lifting slings should be used to grab the yacht from its parked location alongside the transport vessel.
The divers will proceed to secure the slings to the yacht, after which the yacht will be lifted onto a cradle on the vessel.
Float on/off: This approach is the best option for bigger boats or superyachts: To secure the yacht, the deck needs to be equipped with keel blocks and supports for attachment. The vessel will then submerge itself, making it easy to load yachts onto it.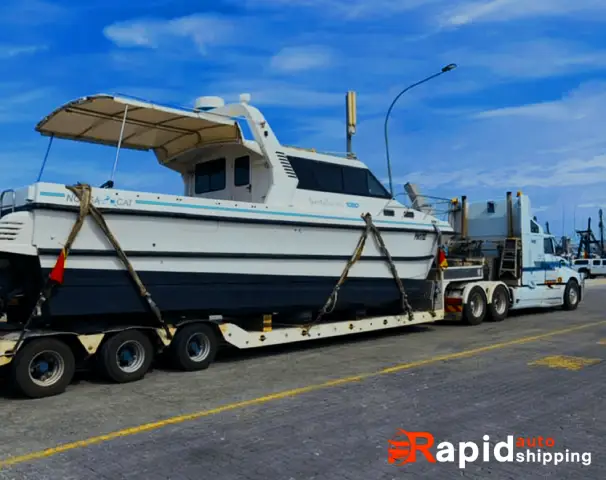 It is recommended to make arrangements for hiring a yacht carrier and finalize the pickup and drop-off dates at least two weeks in advance. Once you have found a boat transporter, it is important to properly prepare your yacht for shipment.
It is important to secure any loose items and take the necessary precautions to prevent damage during travel. For specific inquiries on how to prepare your boat for transport, it is advisable to consult with your preferred marina or boat yard.
Before entrusting your yacht to movers, it is important to have a clear understanding of what to expect from a boat transport service.
By taking the necessary steps to prepare your yacht and maintaining open communication with your yacht transporter, you can have peace of mind knowing that your vessel will safely reach its new destination.
The yacht shipping cost is approximately $1,000 for longer distances and $500 for shorter distances. Shipping large shipments, whether to another country, another state, or just a domestic port, can result in significant costs and time consumption.
The cost of yacht shipping can vary depending on various factors. There are several important factors to consider that can affect the cost of shipping a yacht:
Distance:
The distance between the ports of origin and destination is a significant factor in influencing the price of shipping. Increased fuel consumption and longer transit times typically lead to higher costs for longer distances.
Yacht Size:
The dimensions and size of the yacht have a significant impact on the cost of shipping. Transporting larger yachts necessitates the use of specialized carriers, resulting in higher transportation costs. This is primarily due to the requirement for specialized equipment and handling procedures.
Shipping Method:
The chosen shipping method will have an impact on the cost. There are various options available for shipping yachts, including roll-on/roll-off (RoRo) shipping, where the yacht is driven onto a vessel, and lift-on/lift-off (LoLo) shipping, which involves using a crane to lift the yacht onto the carrier.
The method chosen for shipping a yacht depends on factors such as its size, accessibility, and the services provided by shipping companies.
Yacht Weight:
The weight of the yacht has an impact on the shipping cost due to its influence on fuel consumption and the type of equipment needed for transportation.
Special permits or additional handling procedures may be required for heavier yachts, which can result in higher costs.
Route and Destination:
The shipping route and destination determine a number of factors that can affect the cost of shipping, including fuel prices, tolls, port fees, and customs duties.
Shipping options for remote or less common destinations may be limited, which could lead to higher expenses.
Time of Year:
Seasonal variations in demand can have an impact on yacht shipping costs. Certain regions experience peak seasons when shipping rates may be higher due to a surge in demand.
Strategically scheduling shipments during off-peak periods has the potential to reduce costs.
Additional Services Offered:
The overall shipping cost can increase due to additional services such as cradling, shrink-wrapping, insurance, customs clearance, and storage. The range of services offered may differ depending on the shipping company and the specific needs of the yacht.
Insurance Coverage:
Yacht transport requires insurance for it to be considered complete and secure. The cost of insurance coverage for a yacht can vary based on factors such as the yacht's value, the coverage options chosen, and the insurance provider.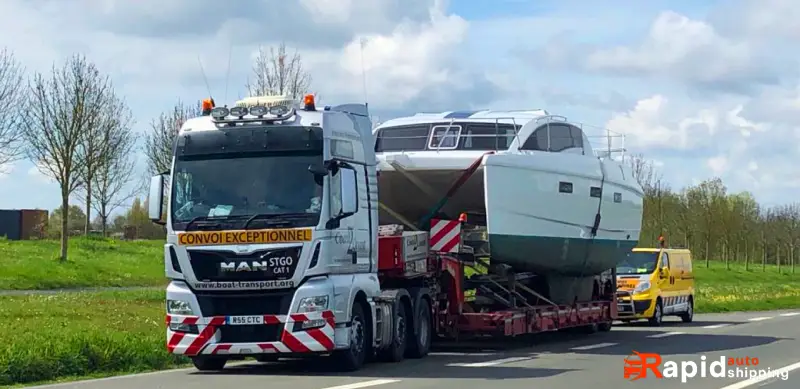 Yacht shipping, which involves transporting yachts using cargo vessels, provides numerous advantages for yacht owners and enthusiasts. There are several potential advantages associated with yacht shipping:
Global Mobility:
Yacht shipping offers yacht owners the opportunity to explore different destinations worldwide without having to sail long distances or navigate difficult waters.
This service offers a highly efficient and dependable means of transporting yachts to various destinations, allowing owners to explore new cruising areas and enjoy unique experiences.
Time and Convenience:
Shipping a yacht can be a much more time-efficient option than sailing it to faraway destinations. Long-distance voyages can be quite time-consuming, particularly due to factors such as weather conditions, refueling, provisioning, and the need for effective crew coordination. Yacht shipping provides a more convenient alternative by eliminating these factors.
Reduced Wear and Tear:
Yachts can face challenging conditions, such as rough weather, high winds, and potentially dangerous situations, during long voyages, especially when crossing open seas.
Transporting a yacht through a cargo vessel is a beneficial method as it helps to minimize the wear and tear that typically occurs during long journeys.
This ultimately helps to preserve the yacht's overall condition and significantly reduces the costs associated with maintenance and repairs.
Extended Seasonal Use:
For yacht owners who prefer to use their vessels seasonally, shipping offers the flexibility to relocate the yacht to different regions based on the desired boating season. Owners can enjoy optimal weather conditions and explore diverse cruising areas throughout the year.
Strategies for Navigating Challenges:
Certain areas pose challenging navigational conditions, including narrow channels, shallow waters, and treacherous reefs.
Owners can avoid potential hazards and safely transport their yacht to a desired location by opting to ship it. This is particularly beneficial when dealing with challenging routes or remote destinations.
Cost Savings:
Although there are transportation fees associated with yacht shipping, it can often be a more cost-effective option when compared to sailing a yacht long distances.
The costs of fuel, crew, provisions, maintenance, and potential damages during extended voyages can sometimes be higher than the costs of shipping, especially for larger yachts.
Flexibility and Adaptability:
Yacht shipping provides owners with the flexibility to adjust to unforeseen circumstances or unexpected events. Shipping offers a flexible solution that can efficiently accommodate various needs, such as when an owner's plans change or when a yacht needs to be quickly moved due to weather conditions or other considerations.