Overview About Maryland Car Transport service
If the journey is less than 200 miles, auto transport to and from Maryland might take up to two days. If the distance is more than 2,000 miles, the car shipping might take up to 9 days.

Don't worry about the details; our car shipping professionals will do all possible to guarantee that your vehicle is sent competently, expertly, and on time.

Other factors, however, might have an impact on these benchmark numbers. Traffic, diversions, road construction, seasonality, weather conditions, driver hours, and distance affect the overall schedule.

If you need your automobile relocated sooner than the standard time frame, guaranteed pick-up or rapid auto transportation are viable options.

Maryland City's summers are hot and humid, its winters are extremely cold, snowy, and windy, and the weather is partially overcast all year.
Rapid Auto Shipping is a Maryland Car Shipping Company that treats all its clients equally. We assist customers in transporting their automobiles on schedule and at a reasonable cost. We ensure their vehicles entirely and convey them safely from door to door.
You can relax knowing that you will be compensated if your car is damaged while being transported. We've got you covered; our insurance company will quickly take care of the claim.
We bonded and licensed a company that all clients may trust. Customers can reserve auto transport without putting down a deposit. Furthermore, we provide our customers with trusted carriers for the best transportation experience possible.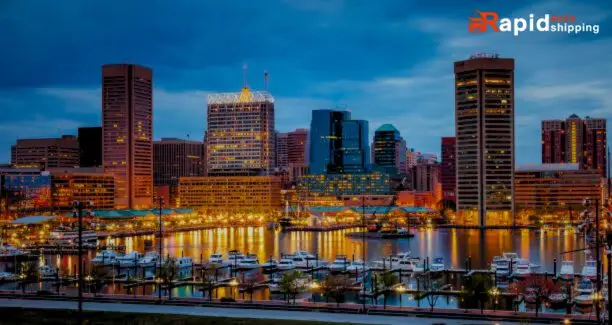 Because of the multiple factors influencing the cost of auto transport, even a short in-state trip of less than 500 miles using the cheapest option might cost more than $700.
The cost-per-mile of car shipping, on the other hand, drops with increasing distance travelled, from roughly $3 per mile to $0.35 per mile if you drive more than 1,500 miles.
Rapid Auto Shipping makes shipping an automobile to Maryland simple. The following stages are involved in shipping a car to Maryland.
Request a price quote and place your order here: Fill out the estimate form, send an email to [email protected], or phone us at +1 (833) 233-4447.
Once you place your order, our team will transport your vehicle to Maryland. We will notify you of the pickup time, tracking number, and truck driver's contact information.
Vehicle Pickup: The truck driver will call you once delivery arrangements have been finalized. At Rapid Auto Shipping, we take the utmost care with each automobile. Throughout the auto transport process, we provide tracking updates.
Receive the Vehicle: With our door to door car transport service, your vehicle will be delivered directly to your door. We provide a money-back promise in addition to full coverage insurance. You must sign the bill of lading and the final inspection report to obtain your vehicle.
What you see is what you get with Rapid Auto Shipping. Your car shipping price includes everything, so don't worry about hidden fees or charges.
So, when you book our MD car transport services, select a convenient pickup date and your car shipping method. We'll manage the rest, making Maryland auto transport simple.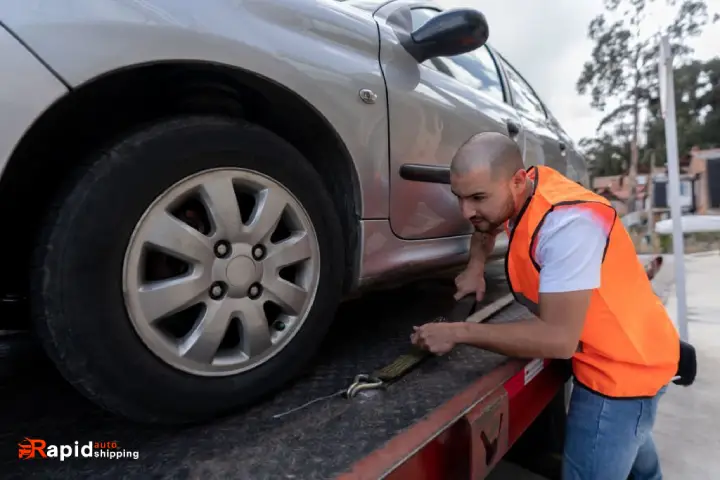 Open Vehicle Transportation:
Open auto transport is the most affordable and speedy method for exporting your car, truck, or SUV overseas. Your car will be delivered door to door via open transportation. Therefore, even minor cosmetic degradation is rare.
Enclosed Vehicle Transportation:
Auto transport companies in Maryland provide door to door, enclosed, covered automobile delivery across the United States. Enclosed car shipping companies in Maryland an excellent choice for luxury, antique, or brand-new vehicles. They provide complete protection and cover during auto transport.
Expedited Vehicle Transportation:
Expedited car transport service will bring your vehicle door to door as soon as feasible, with collection available as soon as the same day. Because they are the most widely known, open carriers are frequently utilized.
Terminal to Terminal Car Transport Service:
Although terminal to terminal car transport service is less popular than door to door transport, it is still an essential part of the industry today. Because fewer carriers provide terminal to terminal shipping, some companies will refuse. However, it is still available in most major cities throughout the United States.
Heavy Equipment Transport:
Large, bulky, heavy equipment and commercial or industrial trucks need particular considerations and equipment. These are outside a car or in small, enclosed trailers.
Instead, these trailers are almost always open-air lowboys. The low riding height allows for simpler clearance of low bridges and loading of large equipment. It also maintains the center of gravity low to the ground, which helps with stability.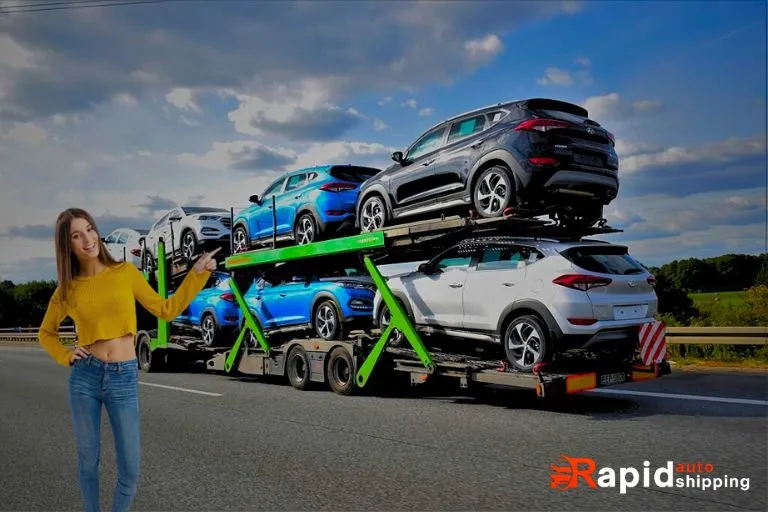 Preparing to transport your automobile to or from Maryland is a simple process that will leave you satisfied and your car in good condition. Here are some suggestions:
Vacuum the Vehicle: Clean the interior and outside of your vehicle before shipment. Cleaning your automobile makes it easier to see whether there is any existing damage. You may also snap photos of the car before and after shipping to create an accurate comparison.
Clear out the vehicle: Items lost in transportation are not the responsibility of car transport service providers. As a result, you should remove all personal goods from the vehicle.
Furthermore, remember to remove all toll passes from the vehicle to avoid having your pass charged while the carrier drives through toll roads.
Do Not Fill Your Gas tank: Because the amount of gas in your car's tank influences its weight, you want it to be as light as possible. One method is to keep adequate gas for pick-up and drop-off any more gas results in higher long-term shipping costs.
Check the batteries and tires for wear and tear, and look for any leaks in the engine or gearbox.

Any loose components, such as antennae or ornamental trimmings, should be disconnected or repaired. This reduces the possibility of harm to the parts or the surrounding region during shipment.

Turn off all alarms and anti-theft devices. Meanwhile, take out any parking cards, essential documents, and home things (to avoid surprises).
Keep two sets of keys: one for the shipping company and one for yourself.
Take detailed pictures of the vehicle's exterior and interior during handover to ensure the car's condition is documented.
The carrier is the most crucial component in assuring the safety of your vehicle during transit. Modern carriers can convey many automobiles at once and secure each one such that movement is impossible regardless of how awful the route is.
As a customer, you may choose between an enclosed and an open carrier based on your desired security. Enclosed carriers are called white glove service since they safeguard your cargo, giving neither the weather nor prospective criminals access. This ensures that your automobile arrives in the same condition as it left the car carrier.
However, because enclosed trucks provide more protection when shipping a car, they are much more expensive to book. If you're transporting a standard automobile, open carriers can be a better option. They are less costly and provide enough protection at a reasonable cost.
Although this is unlikely, a stone or any debris may get past the surrounding beams and create a mark during the car transport services. As a result, you can anticipate your car to arrive safely and in the same condition you left it.
Snowbirds travel from the north to the south during the winter. Every winter, thousands of people travel from the north to the south to escape the cold, mainly to live in the milder temperature of the south. They returned to their northern residences after the winter season to enjoy the lovely spring weather.
Although some snowbirds prefer to drive themselves, the majority of people, or so they thought, prefer to have their vehicles shipped by car transport service providers.
It did, however, help them. However, it aided them in various ways, including saving time and money and, most importantly, reducing vehicle wear and tear, which is critical.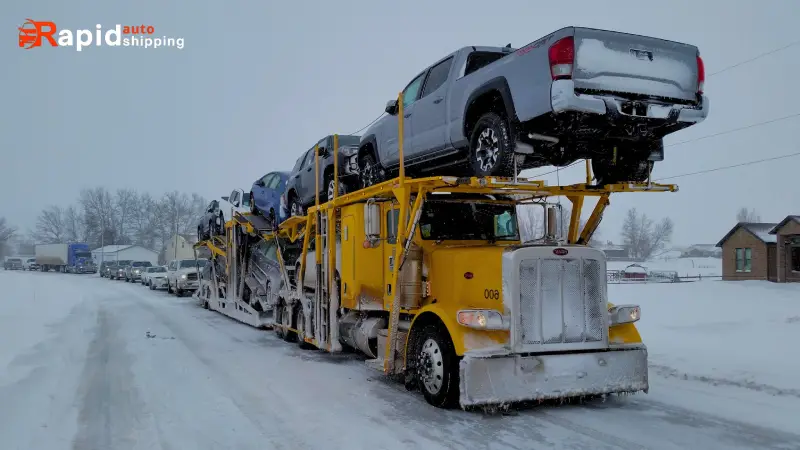 Snowbird routes are all routes that run from north to south. Arizona, Texas, California, Florida, and other locations in US are popular snowbird destinations.
Customers are advised to avoid being swayed by the lowest costs since they will waste their time at the end of the day. Furthermore, drivers always choose the most expensive option because they have so many options during the snowbird season.
An operable vehicle is in good operating order and can move forward and backward without the assistance of humans. A car that is unable to move is classified as inoperable or non-running. The driver will need a winch, which may incur additional fees.
To put it another way, the customer must pay the driver more money to provide this extra car transport service. Only some car transport service providers, however, give this service to non-operational vehicles.
Yes, internet monitoring is accessible 24 hours daily and updated in real-time. When you schedule your shipment, you will be given a unique booking number that will allow you to follow the status of your cargo online.
Your tracking link will also allow you to live chat with a shipping professional who can answer any queries you have about the quality of your package.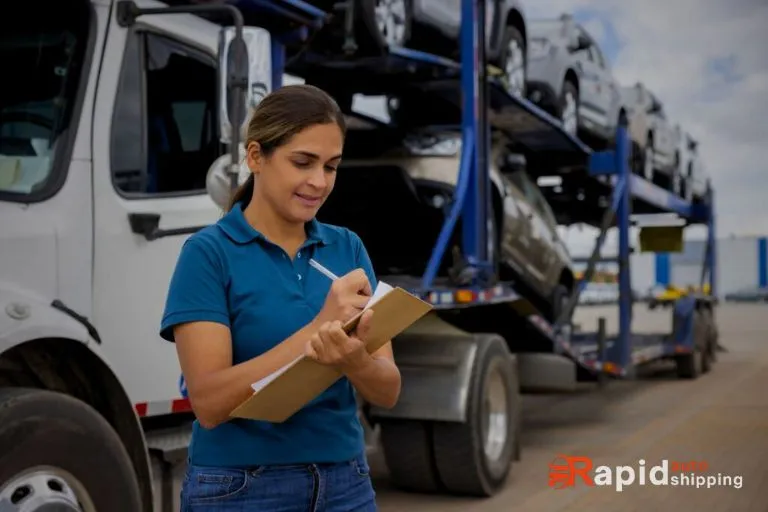 There are several advantages to sending your automobile to another state by a car shipping companies in Maryland. Consider employing a Maryland car transport service for the following reasons:
Convenience: Long automobile trips may be exhausting and time-consuming. You may have your vehicle moved while you travel or use another mode of transportation by working with Auto Transport companies in Maryland . Doing so can save time and effort and help you arrive at your destination feeling rejuvenated.
Cost-effectiveness: Using a car transport service rather than driving the vehicle yourself may be more cost-effective depending on the distance of the journey and the price of petrol.
Safety: Experienced Maryland auto transport companies have the tools and resources to transfer your vehicle securely. They move automobiles using reliable, high-quality carriers or trailers and ensure that every car is securely fastened to avoid shifting or moving during transit.
Insurance protection: During transit, your car is completely covered from bumper to bumper. In the event of any damage or accidents during transit, this might offer peace of mind and financial protection.