At Rapid Auto Shipping, we ensure that your load is shipped internationally with the necessary time and attention. Once you provide us with the delivery location and time for the heavy equipment, we will calculate a fair and complimentary shipping quote based on the dimensions of the cargo.
Our international machinery shipping services are highly efficient, thanks to our exceptional team of logistics experts. We can develop an effective shipping strategy and promptly implement it to ensure that it does not cause any inconvenience for you. Please call now! +1 (833) 233-4447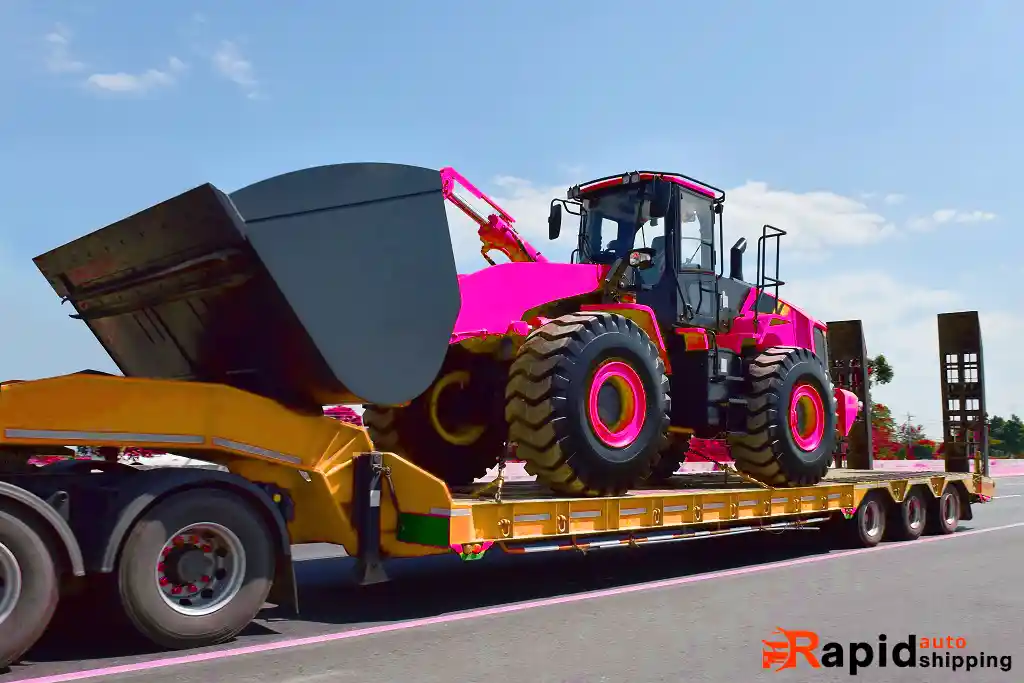 International heavy equipment shipping typically involves the transportation of large and heavy machinery across international borders. This can include various equipment used in industries such as construction, mining, agriculture, and manufacturing. Some common types of methods for shipping heavy equipment overseas include:
Roll-on/Roll-off (RoRo): This method involves loading the heavy equipment onto specialized vessels or trailers that allow them to be driven or rolled onto the ship's deck. RoRo shipping is commonly used for wheeled machinery like bulldozers, excavators, and trucks.
Containerized Shipping: Smaller heavy equipment or parts may be shipped in standard shipping containers, typically 20 feet or 40 feet in size. This option suits equipment within the container's dimensions and weight restrictions.
Flat Rack Shipping: Heavy equipment that cannot fit inside standard containers due to size or shape can be loaded onto flat racks, open containers with collapsible sides. This method is suitable for oversized or irregularly shaped equipment.
Breakbulk Shipping: Breakbulk shipping is used for extremely large or heavy equipment that cannot be containerized or loaded onto flat racks. In this method, the equipment is disassembled and shipped as separate pieces, then reassembled at the destination.
Barge Shipping: In regions with waterway access, heavy equipment can be transported on barges along rivers, canals, or coastal routes to reach their destination.
Air Freight: In urgent situations or for equipment that requires fast delivery, air freight may be used. However, this method is generally more expensive than sea or land transportation.
Project Cargo Shipping: For complex and large-scale heavy equipment shipments, specialized project cargo shipping services are available. These services handle the logistics of transporting heavy equipment and overseeing the entire process from start to finish.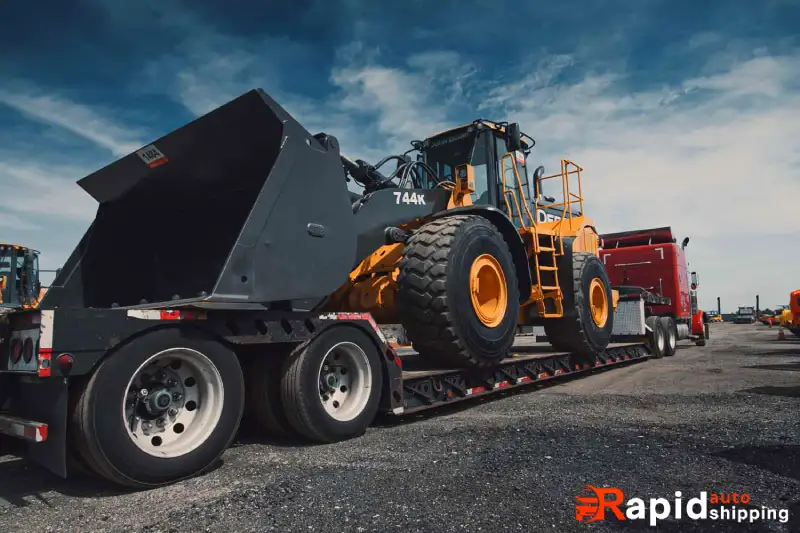 Cranes
Construction Materials and Equipment
Industrial equipment and materials
Sports and camping gear
Farm and Agricultural Equipment
Heavy-duty trucks
Oversize loads
Small helicopters and planes
Preparing for international heavy haul truck use involves several essential steps to ensure compliance with international regulations, safety standards, and efficient transportation. Here's a comprehensive guide to help you get started:
Research International Regulations:
Familiarize yourself with the import/export regulations and requirements of the country where the heavy equipment will be sent. Governments may have specific rules for importing heavy machinery, including customs duties, permits, and safety standards.
Documentation and Licensing:
Gather all necessary documentation, including the equipment's title, registration, and required permits or licenses. Ensure that the paperwork is up to date and valid for international transport.
Safety Inspections:
Conduct a thorough inspection of the heavy equipment to ensure it is in proper working condition and complies with international safety standards. Check for any mechanical issues, leaks, or potential hazards that must be addressed before shipment.
Cleaning and Maintenance:
Clean the equipment thoroughly to remove any dirt, debris, or contaminants that the destination country's quarantine regulations may restrict. Perform necessary maintenance to ensure the equipment is in optimal condition for the long journey.
Disassembly (if necessary):
Depending on the type of heavy equipment and shipping method, it may be beneficial to partially disassemble specific components to reduce size and weight, making transportation more cost-effective.
Proper Packaging:
Properly package and secure the equipment to prevent damage during transportation. Use appropriate padding, strapping, and protection to safeguard the machine.
Choose the Right Shipping Method:
Select a suitable shipping method based on the type of heavy equipment, the destination, and your budget. Options may include ocean freight, air freight, or a combination of both.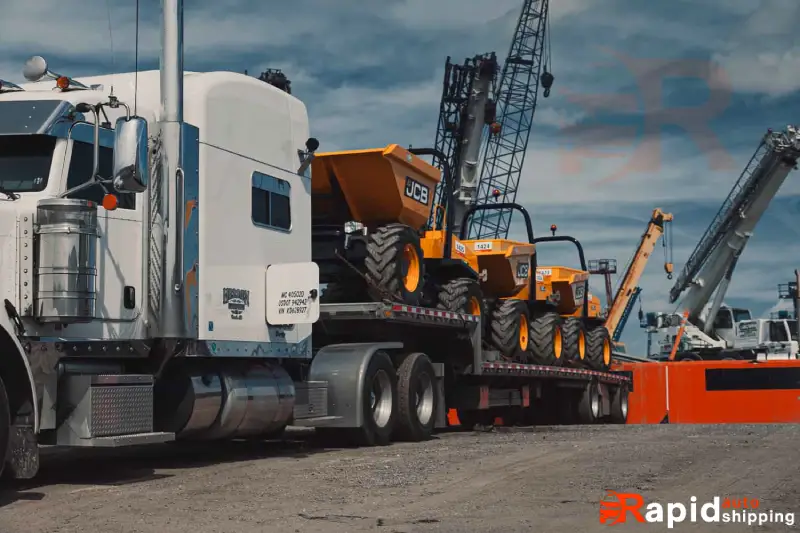 The cost of shipping heavy equipment overseas can vary significantly depending on several factors, including the size and weight of the equipment, the destination, the shipping method, and any additional services required. Here are some of the critical aspects that influence shipping costs:
Equipment Size and Weight:
The size and weight of the heavy equipment are critical determinants of shipping costs. Larger and heavier equipment will require more space on the shipping vessel or aircraft, which can lead to higher transportation expenses.
Distance and Destination:
The shipping distance and the destination country play a significant role in calculating the overall cost. Longer distances and more remote locations may incur higher shipping fees due to increased fuel and logistical expenses.
Shipping Method:
There are various shipping methods available for heavy equipment, including container shipping, roll-on/roll-off (RoRo), and breakbulk shipping. Each method has different cost implications, with container shipping generally being more expensive but offering greater security for the cargo.
Freight Rates and Fuel Prices:
International freight rates fluctuate based on market conditions, demand, and fuel prices. These factors can influence the overall cost of shipping heavy equipment overseas.
Customs Duties and Taxes:
Import duties, taxes, and customs fees vary from country to country and can significantly impact the cost of shipping heavy equipment overseas. Import regulations and compliance requirements must also be considered.
Insurance:
Shipping heavy equipment involves inherent risks, and insurance is essential to protect against any potential damage or loss during transit. The insurance premium will add to the overall shipping cost.
Special Handling and Permits:
Some heavy equipment may require special handling or permits due to their size or nature. Obtaining the necessary permits and complying with regulations can lead to additional expenses.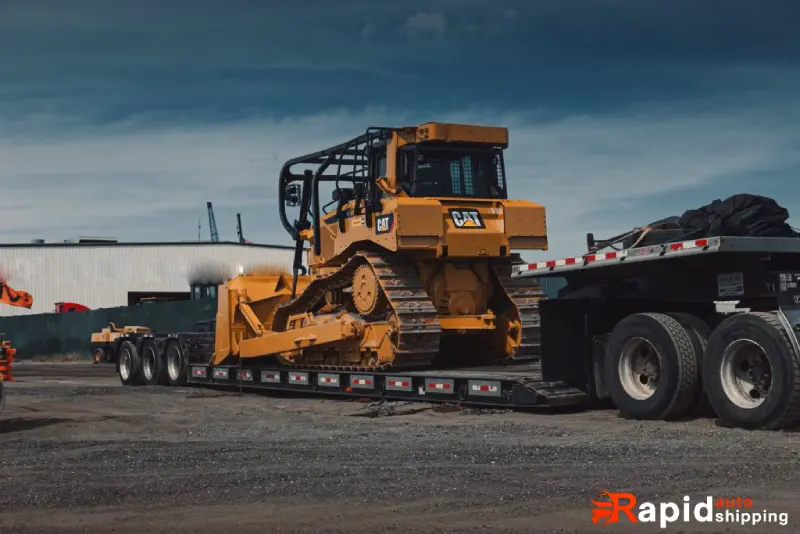 Crating and Packaging:
Properly crating and packaging the equipment is crucial to ensure safe transportation. These materials and services will be factored into the shipping expenses.
Time Sensitivity:
If the shipment is time-sensitive, expedited shipping options may be necessary, which can be more costly.
The required documents may vary depending on the destination and the specific equipment, but standard documents include the Bill of Lading, Commercial Invoice, Packing List, and relevant customs paperwork. You may also need permits and certificates for certain types of equipment.