Overview About Car transport Service In New Mexico
New Mexico is a state in the United States of America's Southwest. It is a mountain state that shares the Four Corners region with Arizona, Utah, and Colorado. New Mexico is the 36th most populous state, with around two million people.

Even with the state's vast open landscapes, this makes New Mexico automobile shipping far more doable than most people believe.

Whether you're carrying a grader or material handler on a lowboy from one project in Albuquerque to another, or you reside in Santa Fe and drive your luxury cars from Las Cruces or even out of state.

You require an open-air carrier to transfer your vehicle to Rio Rancho, Roswell, Clovis, and other locations. You want it to be safe from the elements by transporting it in an enclosed carriage or outside Alamogordo.

Rapid Auto Shipping has the experience, equipment, and personnel to complete the job perfectly the first time.
Rapid Auto Shipping is a Car Shipping New Mexico Company that appreciates all its clients equally and offers the best New Mexico Car Transport Services.
We help customers transfer their vehicles on time and at a fair rate. We insure their automobiles entirely and deliver them from door to door safely. Customers can reserve transport without putting down a deposit.
You may rest easy knowing you will be paid if your car is destroyed during transportation. We've enclosed you; our insurance provider will handle the claim efficiently and quickly. We bonded and licensed a company that all clients may trust.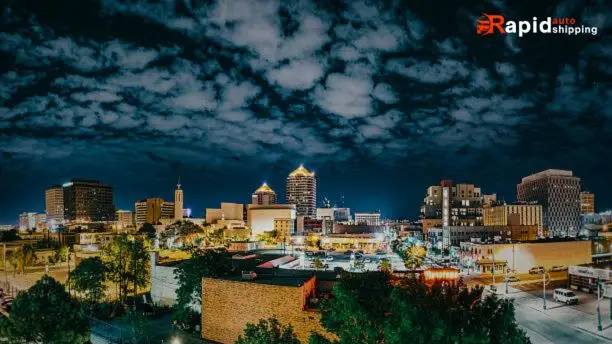 Various factors, including distance, time of year, carrier type, location, vehicle size, and specified time frame, determine the cost of auto shipping.
A car typically costs at least $500 to transport a short distance, while cross-country shipping will likely cost more than $1,700.
The best method to answer the question "How do I ship a car to New Mexico?" is to show how our car shipping New Mexico company works.
We understand that automobile owners are cautious about entrusting their vehicle's interstate transportation to any car shipping business; they want a firm with a strong reputation and years of experience.
First, once we have received your payment, we will begin transporting a car to New Mexico. This often takes a week. We'll keep you updated on significant events, such as the time and date of collection, the tracking number, and the truck driver's phone number.
All Rapid Auto Shipping drivers strive to treat each vehicle they transport as their own. Their priority is to keep your car safe throughout delivery. You will sign and acquire a Bill of Lading before the driver departs. After that, the truck driver will call you to finalize delivery arrangements.
Finally, once in New Mexico, you and the driver will assess the car for damage. It's that easy! You will also sign the final inspection report at this stage.
Our licensed and insured drivers handle your order with care. With our tracking notifications, you're constantly up to date.
Every month, we carry hundreds of automobiles to New Mexico. Request a New Mexico vehicle shipment price or call us at +1 (833) 233-4447. We will personalize and simplify your vehicle shipping experience.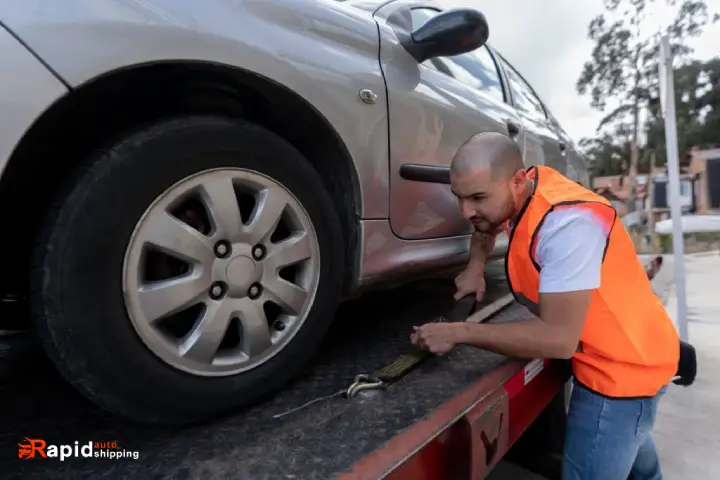 Open Car Transport Service:
Open transit is quicker and less expensive than enclosed transport. Because more open-air carriers operate, this shipping technique provides more accessible and convenient shipment and arrival dates.
Because there are so many open-air carriers on the road and lower fuel expenses owing to the smaller trailer, it is the cheaper alternative.
However, open-air transportation has several disadvantages. Cars are not protected from road debris and weather risks since there is no covering during shipment.
This is important to consider, especially when transporting autos under challenging climates. Even though the end location may have warm weather, trucks must occasionally travel through sleet, ice, hail, and snow.
Enclosed Car Transport Service:
The safest option to move your vehicle is in an enclosed rigid or soft-sided container. The specialized platform provides a smoother slope when loading or unloading, allowing your car to pack safely.
Furthermore, an enclosed carrier protects your vehicle, preventing it from rolling about. Wind, rain, sleet, ice, and wind-blown debris are all protected from your car by these carriers.
Door To Door Car Transport Service:
One of the most convenient car shipping methods is door-to-door auto transport. It is a car shipping option in which the auto transporter picks up your vehicle and delivers it to your door!
If the door to door car shipping truck cannot physically fit due to its size, you and the driver will arrange for pickup and delivery at a nearby location.
In this scenario, you must enter a precise address for your car or another vehicle to be picked up and dropped off.
The company's most common auto transport carriers are door-to-door, and door-to-door shipping is the most cost-effective method of moving a vehicle today.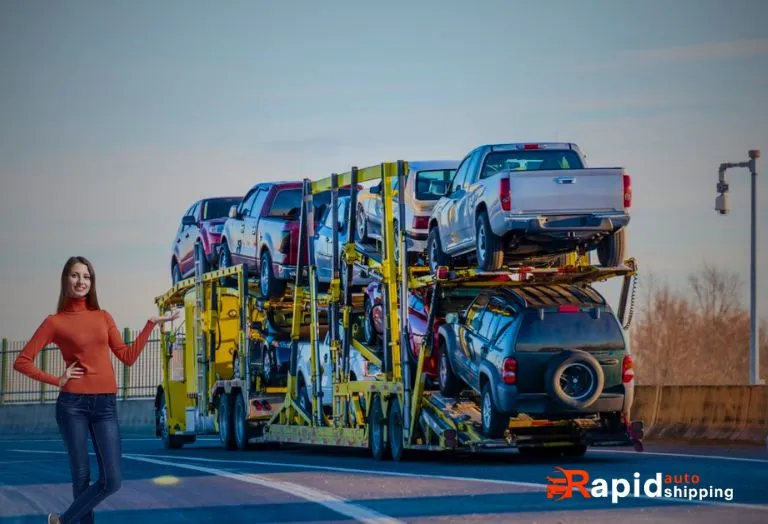 You may prepare your vehicle for transfer by doing the following:
Remove any personal things from the vehicle, including aftermarket electronics or extras.
Make sure the automobile is clean both inside and out. This will make it easy for the shipping firm to assess the car for any pre-existing damage.
Check the fluid levels in the vehicle and inflate the tires to the correct pressure.
Check for fluid leaks and ensure the automobile is functioning excellently.
Disable the car's alarm system, if applicable.
Leave around a quarter tank of petrol in the car.
Please take photographs of the automobile from all angles to document its condition before transfer.
Ensure you have all the essential documentation, including the car's title and registration.
If the automobile breaks down, notify the transport operator ahead of time so that they can make the appropriate preparations.
Safety is assumed in all auto transport businesses, mainly when the cargo is as valuable as an automobile. Carriers can carry up to 12 cars at once, so it will be a costly tragedy if something goes wrong.
Clients have the right to sue the car shipping firm for damages. Therefore everyone takes extra steps to ensure nothing goes wrong while transporting a car to New Mexico.
Fortunately, current auto transport companies are secure. Vehicles are made motionless once on the trailer, ensuring they do not collide. The encircling beams keep stones away from the cargo and safeguard it in the event of an accident.
Rapid Auto Shipping exclusively recruits drivers with extensive expertise to eliminate the possibility of human mistakes. Our auto shipment New Mexico routes are also meticulously planned, so potholes and other issues are minimal.
Thousands of people migrate from the North to the South every winter to escape the cold, mainly to live in the warmer climate of the South.
They returned to their homes in the North following the end of the winter season to enjoy the beautiful spring weather. People who migrate from the North to the South during the winter are known as snowbirds.
Although some snowbirds prefer to drive themselves to their destination, the majority of individuals, or so they thought, prefer to have their automobiles sent by auto shipping companies.
They also have a habit of flying quietly to their destination. It did, however, help them out. It did, however, help them in various ways, including saving time and money and, most crucially, decreasing vehicle wear and tear, which is critical.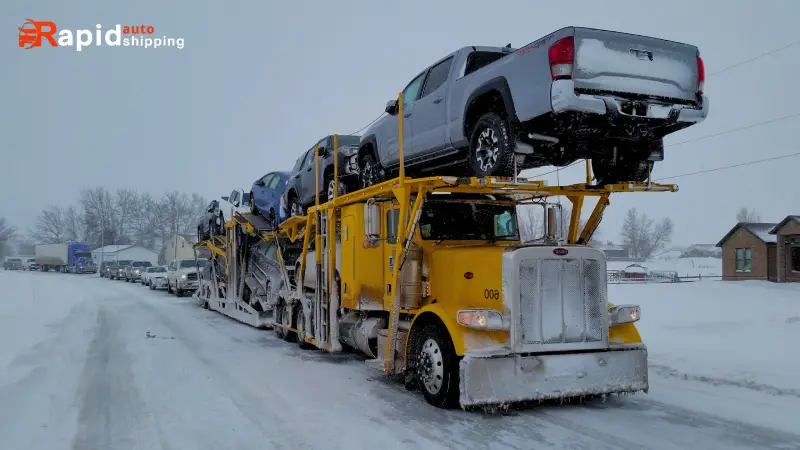 Snowbird routes are any routes that travel from north to south. Arizona, Texas, California, Florida, and other locations are popular snowbird destinations. Customers are advised to avoid being swayed by the lowest costs since they will waste their time.
Furthermore, prices tend to skyrocket during the snowbird season since drivers have so many alternatives that they always select the most costly one.
A vehicle in good working order and can travel forward and backward is said to be operational. Immobile cars are considered to be inoperable or non-running.
In this situation, the driver will need a winch, which can cost more money. Or, to put it another way, the customer must pay the driver more for this extra service. However, not all auto transport firms offer this service using non-operational trucks.
You may get a price for transporting your vehicle by using our rapid online car shipping quote calculator above or by calling +1 (833) 233-4447 and speaking with one of our auto transport pricing consultants.
To calculate your quotation, we need to know where you are shipping from and to, what sort of car you want to send, and when your vehicle will be available.
When you request automobile monitoring, we will call your driver and give you a personalized update through phone or email. You only need to inquire if you need an update on the delivery date or how the car transport service is proceeding.
The auto transport firm you choose greatly impacts whether or not your car shipping companies in New Mexico experience is enjoyable. As a result, you must carefully research and evaluate your desired car transport service provider. Here are some things to keep an eye out for:
Experience And Dependability: Do a screening to verify the trustworthiness of the car transport service provider you pick to send your automobile to or from New Mexico.
It is easy to conclude that they cannot be trusted if they have consistently negative evaluations or no negative reviews.
The documentation should be brief and easy to read. Some firms use ambiguity to trick unsuspecting customers. To prevent being a victim of this, provide as many clarifications as you need.
References: It is important to pick a shipping business based on personal recommendations. If you don't have any, you may look for testimonials from others who have exported their automobiles. This might help you choose which car shipping companies in New Mexico businesses to avoid and which to trust.
Safety: Professional auto transport companies have the skills and equipment to transfer your vehicle securely. They move automobiles using solid, high-quality carriers or trailers and guarantee that all vehicles are adequately secured to prevent them from moving or shifting during transit.
Insurance: Your car shipping business must offer insurance. While all car shipping firms are legally required to provide insurance, certain companies go above and beyond. It would help if you knew that their insurance covers loading, unloading, and transportation.
This is because your automobile's safety is in the hands of the auto transport firm, and they are liable for any damage to your car while it is in transit. Mechanical damages, on the other hand, are not covered.