Military car shipping services transport military vehicles. Humvees and jeeps may also be sent. Every broker and carrier offers military vehicle transport for current and retired military personnel.
Active and retired military personnel seldom get different services. We've found vehicle transporters don't care about military status.
Military automobile shipments may be on open, enclosed, or flatbed trucks. Open transportation is usually the most affordable.
For pricey, seldom-driven cars, enclosed is recommended. However, more than enclosed transport is needed to locate. Flatbed shipment for heavy automobiles is an on-demand service.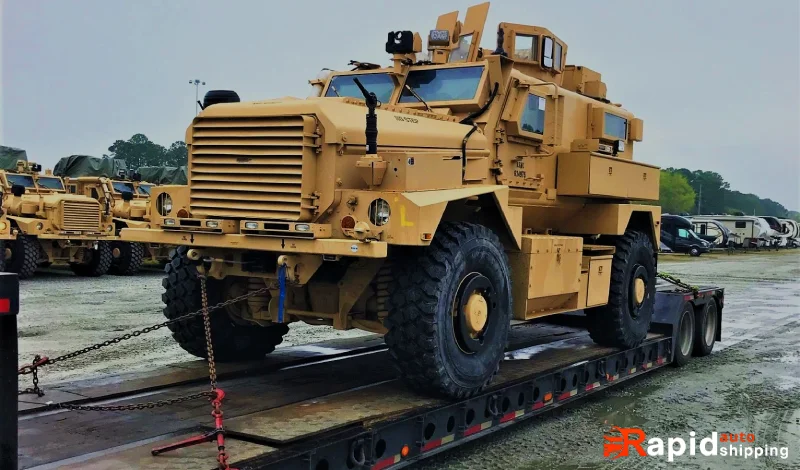 The process of military vehicle shipping is similar to other auto transport services, except that it often operates on a more stringent timeline and consequently incurs higher costs.
Due to the possibility of receiving permanent change of station military pcs vehicle shipping orders with short notice, individuals may need more time to transport their personally owned vehicle (POV) to a new destination.
The process becomes more complex if you receive Permanent Change of Station military pcs vehicle shipping orders outside of the contiguous United States (OCONUS). Fewer vehicle shipping companies serve Alaska, Hawaii, Guam, and overseas destinations than the continental United States (CONUS).
If you have received orders and require long-distance car transport, you will probably be reimbursed for one POV (Personally Owned Vehicle) shipment.
The following section will delve into each auto transport option in greater detail. I am interested in learning about the options available for car shipping services military during transit.
Open military car shipping:
Most autos are transported this way. Rapid Auto Shipping provides this approach. Thus, some suppliers may quote cheaply. Beware—they only offer open travel.

This approach loads vehicles directly onto a trailer. They're carried as-is. Vehicles are unprotected from the weather and road debris.

Since it's low-risk, this is the most common mode of transit. Car damage is 5%. That's good. This may save you money if you have an average-priced car.

Damage is rare, and repairs are cheap. However, a Lexus or Ferrari increases that 5% danger. Luxury cars are expensive to fix.

Scratches might devalue a collector's automobile. Regardless, moving expensive autos without protection is risky.
Enclosed military car shipping:
To ensure the vehicles are well-protected, it is necessary to utilize a trailer that provides ample security measures. There are two available types; we will discuss this in more detail shortly.
One of the main benefits of using enclosed carriers is the enhanced protection they offer for the vehicles they transport. Cars are more effectively shielded from the elements and potential debris that may be propelled upwards from the road.
If you seek the utmost protection for your vehicle, this is the ideal choice. It is important to anticipate a slightly higher cost when opting for enclosed transport due to its additional protection.
Expedited military car shipping:
There may have been some issues with the initial company you contracted to transport your vehicle. A situation has arisen which requires the transportation to be expedited. If you need your car to reach its destination promptly, it may be preferable to accelerate its arrival.
The specific duration is irrelevant; the main idea is that waiting for the usual time is not feasible. Please do not hesitate to contact us for any reason.
Our company has established a vast network of dependable carriers. We will assist in expediting the transportation process for you.
While expedited transport may incur a slightly higher cost, we will still strive to negotiate the most favorable rate on your behalf. We are the ideal choice if you require prompt vehicle transportation across the country. Contact us to avail the most competitive rates for car shipping services military.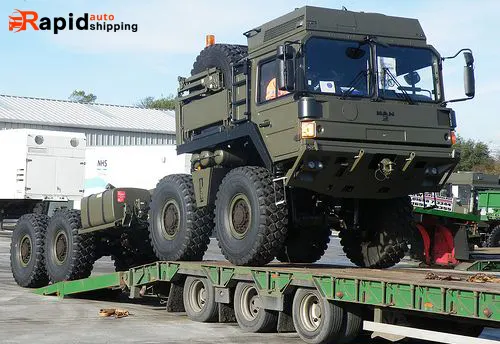 Like ours, most military car shipping firms can transport almost any vehicle. We can transport vehicles, including cars, trucks, SUVs, minivans, 4x4, ATVs, motorcycles, jet skis, and other watercraft.
Most shipping companies that serve military personnel may pick up and deliver at an army base. However, it must be acceptable to the base commander.
Before you have a pickup or delivery at the bottom, get permission. You'll have to meet your shipper nearby if your vehicle can't be delivered to a military base.
However, you'll be able to get it delivered close to the base's gates or entrance. You can even transport your vehicle to and from your home if necessary. Many carrier businesses are also willing to meet you outside of the base.
If the transport vehicle cannot enter the ground, but the commanding officer is comfortable with it happening outside, this is a beautiful alternative.
Finally, military car shipping services are pretty easy to come by and, thanks to discounts, more reasonable than ever.
Military vehicle transport knowledge:
Please search for a company with a solid online presence, demonstrating their expertise in catering to the specific requirements of the military. Additionally, ensure that they have a proven history of successfully assisting military personnel with their automobile shipments.
Low costs:
Maximize the value of your paycheck from Uncle Sam by locating an affordable and cost-effective military vehicle shipping service. The average cost of shipping from the point of origin to a destination, also known as POV shipping, is approximately $1,219.
A military discount:
A reputable military car shipping company typically offers special deals and discounts tailored for active duty service members. I want assistance locating an army discount with a minimum value of $35.
Customer evaluations:
I recommend visiting several review sites to find a military car shipping company with an overall rating equal to or higher than the industry average, which stands at 4.6 out of 5 stars.
Depending on your requirements, Various companies offer military car shipping services. You have the option of shipping your vehicle via open transport or enclosed transport. An open carrier is your most excellent car transport alternative if you're seeking a low-cost mode of transportation.
However, let's be honest: troops adore their toys. Those toys can include high-end exotic or high-performance autos in some situations. Many prefer motorcycles, utility vehicles, ATVs, dirt bikes, and the occasional golf cart! In that case, you should carry your items using an enclosed carrier.
If you carry your experience car in an enclosed trailer, it will not be damaged by the wind or moving particles on the road. It's also easier to move smaller vehicles, thanks to the option to palletize and tie down smaller cars, as opposed to the open carrier's one-size-fits-all loading method.
Still, an open carrier offers the ideal combination of care and cost-effectiveness for the everyday driver. Another typical shipping method is open carrier shipping. Most car owners choose to transport their vehicles using an open carrier. It's a safe bet, no matter which new Port or Fort you're heading for.
The cost of transporting the car is determined by the distance between the pickup location and the drop-off destination. Prices may vary due to various factors, including location, vehicle type, shipping method, and other relevant considerations.
We can affect the carrier's overall cost to transport the car. You can choose either an open-air career or a covered career. We have both types of transport trucks capable of transporting your vehicle safely. However, there are differences in their ability to protect against inclement weather conditions.
Various factors determine the cost of military vehicle shipping. The following items are included:
Please provide the make and model of the automobile you would like to transport.

How much distance has one covered in their travels

Please provide the date range for fulfillment.

Please specify the type of vehicle conveyance that has been selected.

I am inquiring about the current condition of the automobile and its location.

The season of the year.
Transporting a vehicle may seem complex, but it ultimately boils down to three key factors:
We will arrange transportation services with pre-determined pickup and delivery times.
The vehicle's presence is required during the pickup and delivery processes.
You ensure that your shipper has a reliable reputation, and sufficient insurance coverage is essential.
When considering a shipment, it is crucial to consider two key factors: insurance coverage and the reliability of the shipper. Verifying that the vehicle transport company has a positive reputation is essential.
To effectively determine the best methods, consider reading consumer reviews of various companies, seeking feedback from individuals you know who have previously moved a vehicle, and consulting reputable sources such as the Better Company Bureau and similar websites for ratings and information.
While most auto transport companies have a good reputation, it is essential to note that not all provide complete transparency regarding the fees and costs involved in your move. Hence, it is beneficial to verify.