Certain transportation companies may be unable to Komatsu heavy equipment such as tractors due to their trucks needing more capacity to support their weight.
It is essential to determine this beforehand to avoid any issues when moving your tractor. However, it means you must find someone capable of handling it.
Our trucks are specifically designed to transport heavy loads, including your Komatsu truck. Shipping a Komatsu dump truck becomes effortless when we can quickly locate a suitable vehicle capable of transporting it.
You don't need to worry about finding someone with the necessary machinery to assist you because we can move almost anything effortlessly.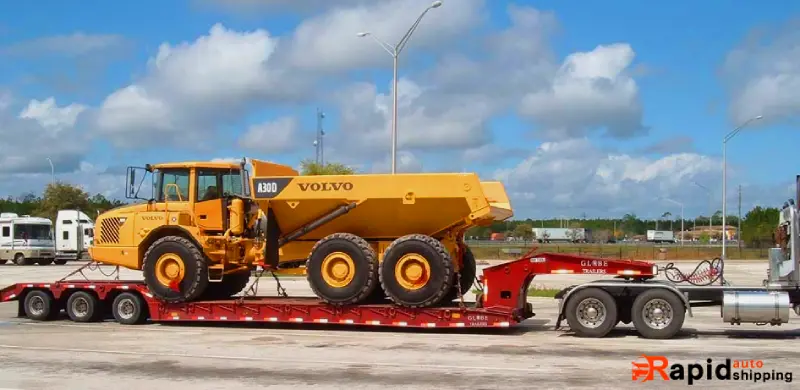 When shipping Komatsu equipment, the type of trailer used will depend on the size and weight of the equipment, as well as the specific transportation requirements. Here are some common types of trailers used for shipping Komatsu equipment:
Flatbed Trailer: Flatbed trailers are the most basic and versatile type for shipping heavy equipment like Komatsu machinery. They have an open platform without sides or a roof, making loading and unloading large and bulky equipment easier.
Lowboy Trailer (Lowbed Trailer): Lowboy trailers are designed for transporting heavy and oversized loads. They have a lower deck height than standard trailers, allowing taller equipment to be transported without exceeding height limits. This makes them ideal for transporting larger Komatsu equipment such as bulldozers and excavators.
Step Deck Trailer (Drop Deck Trailer): Step deck trailers, also known as drop deck trailers, have a lower deck in the front and a higher deck in the rear. This design allows taller equipment to be carried while maintaining a lower overall height. Step deck trailers, such as motor graders, are often used for transporting taller Komatsu equipment.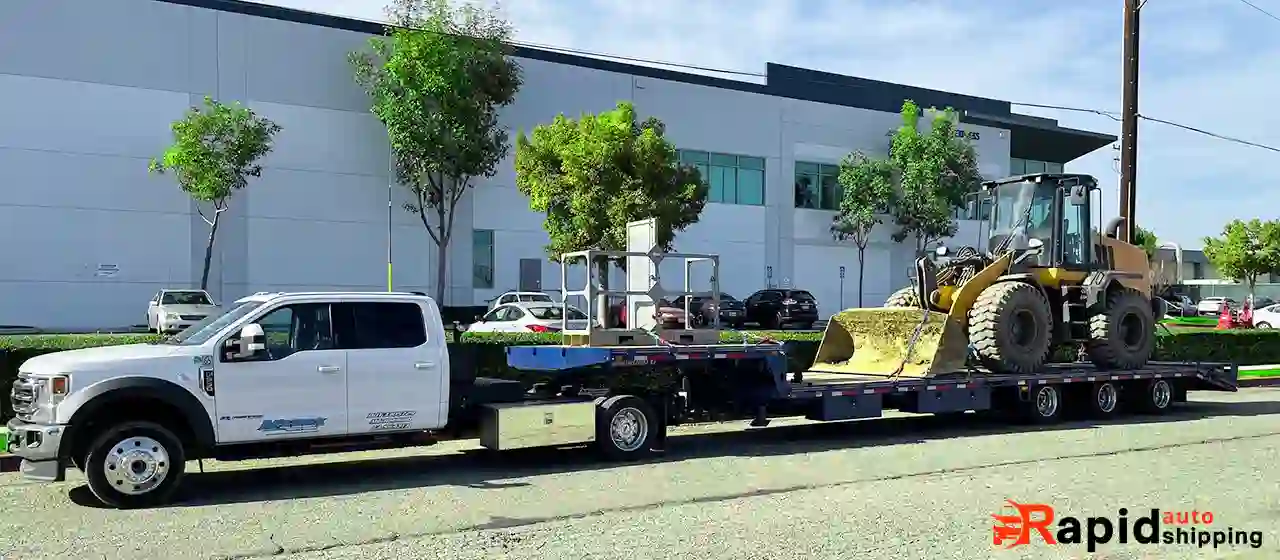 RGN Trailer (Removable Gooseneck Trailer): RGN trailers are specialized lowboy trailers with detachable front (gooseneck) sections.
This allows for more effortless loading and unloading of heavy equipment like Komatsu bulldozers and wheel loaders. RGN trailers are handy for transporting equipment with high ground clearance.
Extendable Trailer: An extendable trailer can be adjusted in length, making it suitable for transporting various sizes of Komatsu equipment. These trailers can be extended to accommodate longer machinery and retracted when carrying smaller equipment.
Multi-Axle Trailer: Multi-axle trailers are designed to distribute the weight of heavy equipment more evenly, reducing the strain on any single axle. They commonly transport cumbersome Komatsu equipment, such as mining trucks and large excavators.
Choosing the transportation company requires finding a provider that offers services to your desired destination. While other companies may appear impressive on paper, their potential benefits are only meaningful if aligned with your goals and objectives.
We have no limitations regarding transportation within the United States, as we can transport to almost any location using the road network. If you require your machinery to be transported to any site, please get in touch with us and request a quote.
We will be able to assist you. This is great because you can quickly organize your shipping without searching for a company heading in the right direction.
Have you been searching for quotes on shipping Komatsu forklift parts? Certain companies may request significant upfront payments, citing the need to charge higher prices for their machinery. Before placing an order with any other company, it is essential to consider our pricing.
Firstly, we will provide you with a free quote so that you can obtain a price and compare our shipping services with those of other companies you have been considering.
You will quickly discover that our prices are significantly lower than our competitors while still providing a comprehensive range of services. Please take a moment to review our customer testimonials, which will demonstrate the excellent value of our prices.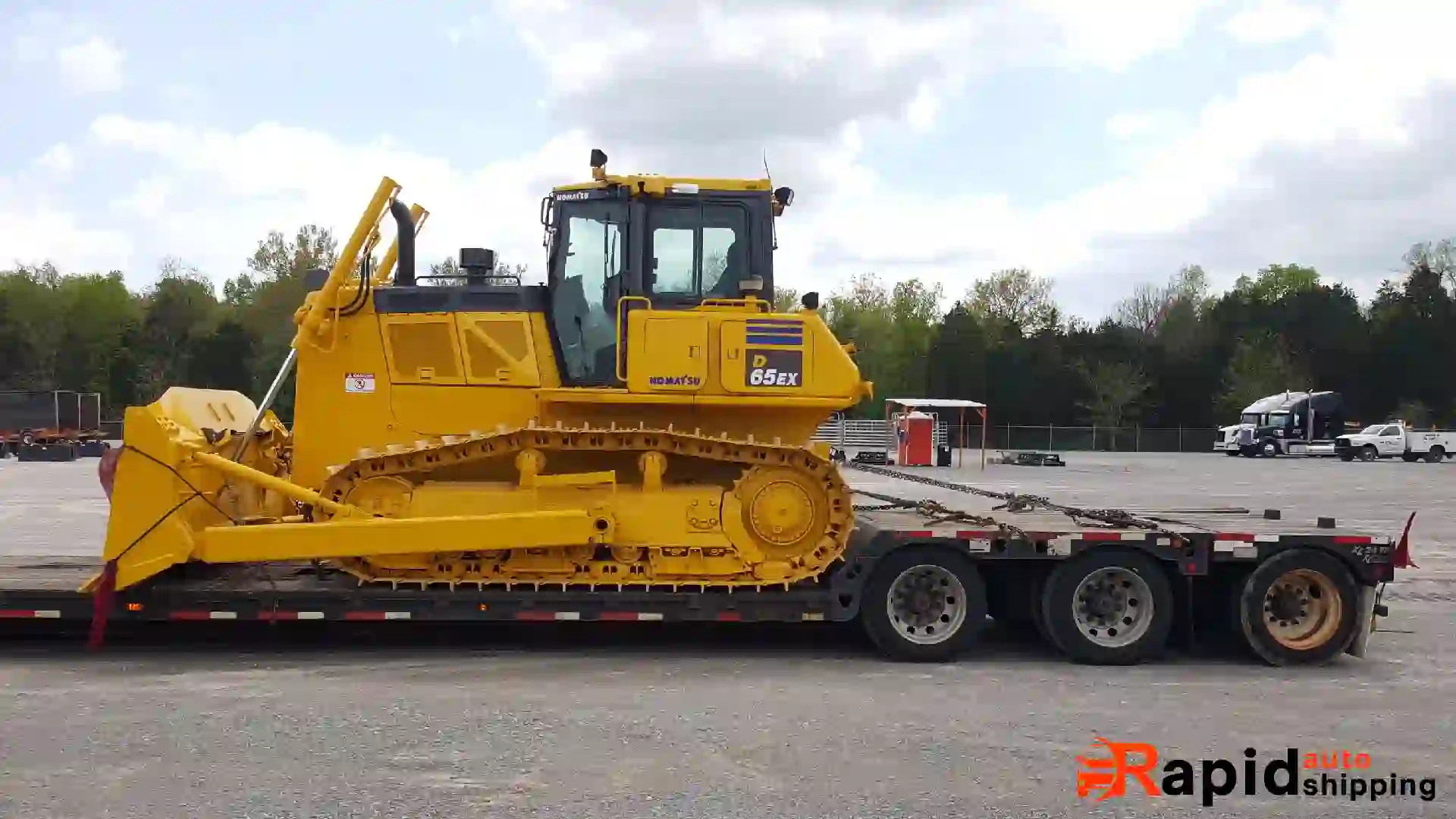 Distance: The farther the equipment needs to be transported, the higher the shipping cost will likely be.
Weight and Size: Larger and heavier Komatsu equipment will generally incur higher shipping costs due to the need for specialized transportation and handling.
Mode of Transport: The choice between road, rail, sea, or air freight will have a significant impact on shipping costs. Air freight is generally the most expensive, while sea freight is usually more cost-effective for heavy equipment.
Freight Class: Komatsu equipment will likely fall into a specific freight class based on size, weight, and dimensions, which can influence shipping rates.
Shipping Route: The specific route can affect the cost, especially if it involves complex or remote areas requiring additional logistics or permits.
Shipping Services: Additional services such as insurance, tracking, and expedited shipping will add to the overall cost.
Fuel Prices: Fluctuations in fuel prices can influence shipping rates, especially for long-distance transportation.
Customs and Duties: For international shipments, customs fees, import duties, and taxes will be additional cost factors to consider.
Seasonality: Shipping costs may vary based on the time of year, as demand for transportation services can impact pricing.
Packaging and Crating: Properly packaging and crating the equipment to ensure safe transport may add to the overall cost.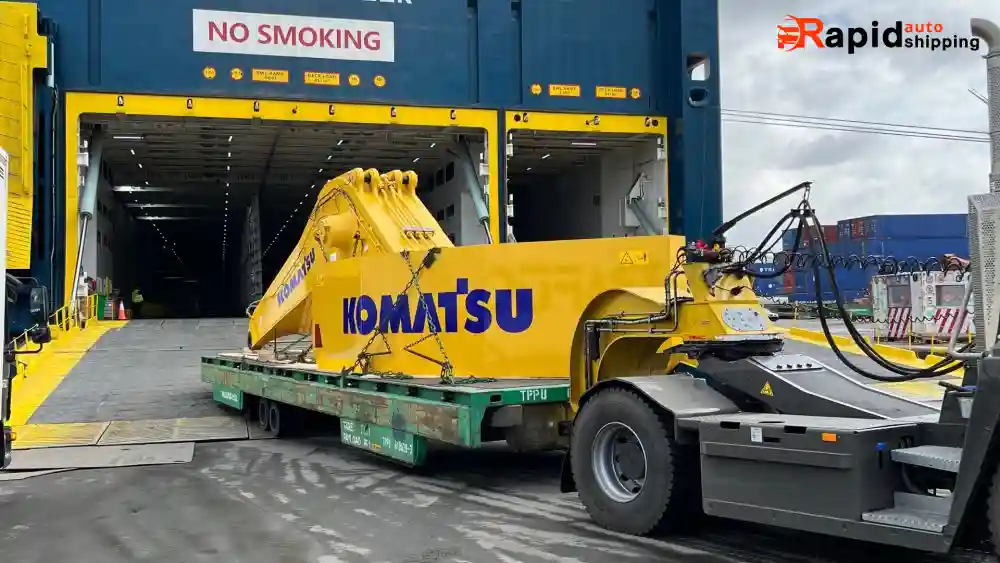 The shipping time can vary based on the origin and destination, shipping method, and potential delays, such as customs clearance. Generally, international shipments may take several weeks or months, while domestic shipments can take a few days or weeks.
Once the harvester or forklift is no longer within your line of sight, you will start to feel concerned about its whereabouts. Large and complex machines, they are also expensive to replace. You want to ensure the safety of your belongings during the moving process.
At Rapid Auto Shipping, we prioritize your peace of mind. We offer comprehensive insurance coverage to protect you in any unforeseen circumstances.
Rest assured that we will handle any machinery you entrust to us for transportation with the utmost care, ensuring you have peace of mind throughout the process.
We will provide you with all the necessary documentation before payment for a vehicle. This way, you can know that everything is in order before your items are shipped.