Overview About Car Transport Service In Massachusetts
It's always been challenging to ship a car to or from Massachusetts. Rapid Auto Shipping car transport service to or from Massachusetts every week and cover the whole state of Massachusetts, giving some of the cheapest vehicle shipping costs in the market when shipping to or from Massachusetts.

Rapid Auto Shipping fleet of carriers can transport your vehicle anywhere in the United States, including Fall River, and we also offer worldwide car transport services. There will be a lot of paperwork and planning required, especially when relocating abroad; to deal with customs and get passed borders for Massachusetts car shipping.

Our auto transport business is experienced in dealing with such a difficulty, and we can either do it for you or lead you through the MA auto transport procedure when your presence is required.
Rapid Auto Shipping is a car shipping company in Massachusetts that appreciates all its clients equally. We assist customers in transporting their automobiles on schedule and at a reasonable cost.
We ensure their cars entirely and deliver them from door to door safely. You can relax knowing that you will be compensated if your vehicle is destroyed during transit. We've got your back; our insurance company will handle the claim quickly.
We bonded and licensed a company that all clients may trust. Customers can reserve transportation without putting down a payment.
Furthermore, we provide our customers with reputable carriers so that they may have the most significant transportation experience possible. Rapid Auto Shipping provides the best transportation experience possible.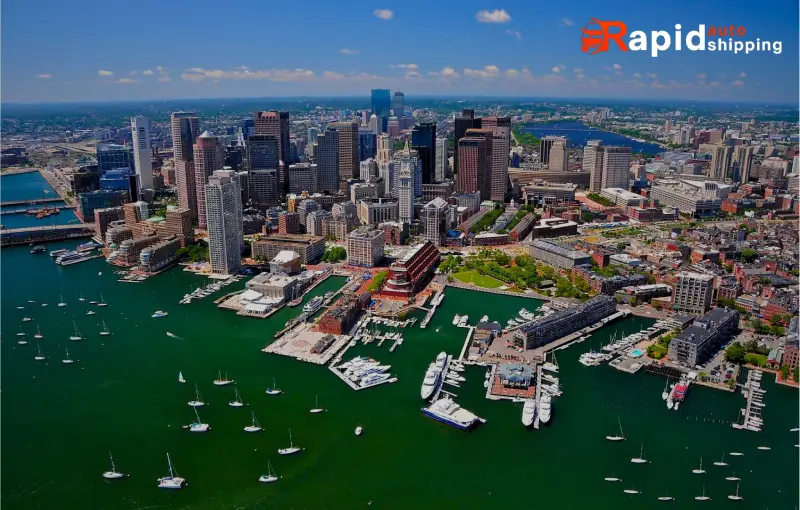 Due to the numerous elements that influence the cost of auto transport, even an in-state journey of fewer than 500 miles utilizing the cheapest option can cost more than $700. However, the cost-per-mile of auto transport decreases as the distance travelled increases.
Whether it's your driveway or a public meeting location, one of our qualified and trustworthy drivers will come to pick up your car on the day and time you choose. Our transport driver will do an all-point examination before loading the vehicle, which will include the following checks:
Dents, dings, or damages
Brakes
Headlights
Windshield wipers
Wheels and tires
Interior malfunction and service lights
and more
The check ensures that your automobile will be in the same condition when you arrive at your destination. The driver will then load and freight the vehicle to or from Massachusetts. The information will be documented on a Bill of Lading official inspection report.
We are aware of your hectic schedule, but one concern we don't want you to have is the condition of your car. Because of this, our representatives and the driver will keep in touch with you while the vehicle shipping procedure progresses.
Additionally, our team will call you in a day to let you know when to anticipate delivery. We will arrange a pickup window based on the driver's schedule to ensure you or your pickup contact can accept the car.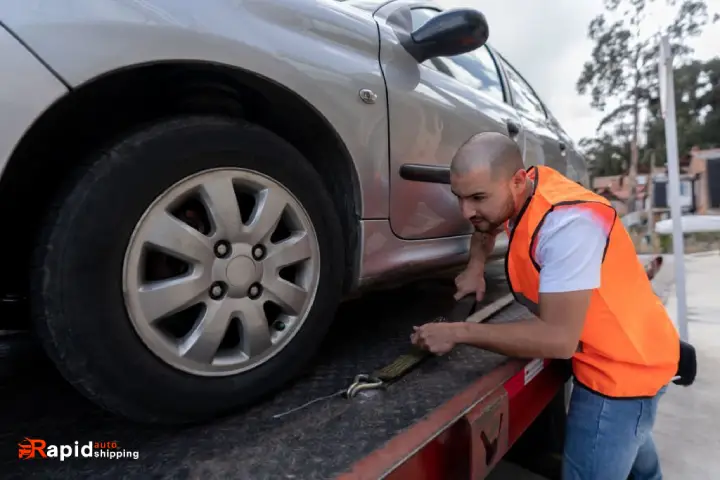 Open Car Transport Services:
The cheapest alternative is open car transport service, often known as open carrier shipping. This is the same kind of transportation used by car dealerships to move new vehicles, so if you've ever seen a trailer filled with many vehicles on the highway, you've seen how open car shipments function.
The fundamental advantage of open car transport service is its low cost. Because your vehicle will share space with other cars, the carrier may charge you a lesser fee, making it a suitable alternative for long-distance auto transportation.
The disadvantage of open car transport is that it exposes your vehicle to the elements. If you prefer to avoid having your car collect dirt or be exposed to debris, there may be better solutions than this.
Enclosed Car Transport Services:
Enclosed car shipping implies that your vehicle will be shipped in an enclosed trailer, sheltered from the weather and any road debris. Although you will still share space with other cars, an enclosed trailer typically only accommodates seven vehicles.
This option is significantly more expensive, adding up to $400 to your transportation fees, but it gives more peace of mind during the automobile shipping procedure. Exotic, expensive, or collectible automobiles are typically transported in enclosed vehicles.
Door to Door Car Transport Services:
With this option, you will not need to drop off or pick up your vehicle at a terminal. You may experience a stress-free and flawless shipping process with our door to door car transport service since we manage everything from start to end.
Terminal to Terminal Car Transport:
A transport known as "terminal to terminal" trucking is the most cost-effective means of automobile export. A terminal is a depot where cars are dropped off and picked up, usually run by the transport firms themselves or, in certain situations, by a third party.
While terminal locations vary per firm and locality, they are most commonly located in medium to large cities and significant metro regions around the United States.
The other primary way of transporting a car, door to door transport, is more expensive but removes the need for multiple journeys to drop off and pick up the vehicle at a shipping facility.
While terminal vehicle transport does lose some convenience, it is a fantastic option to save money if you are ready to conduct the short-distance pick-up and delivery yourself.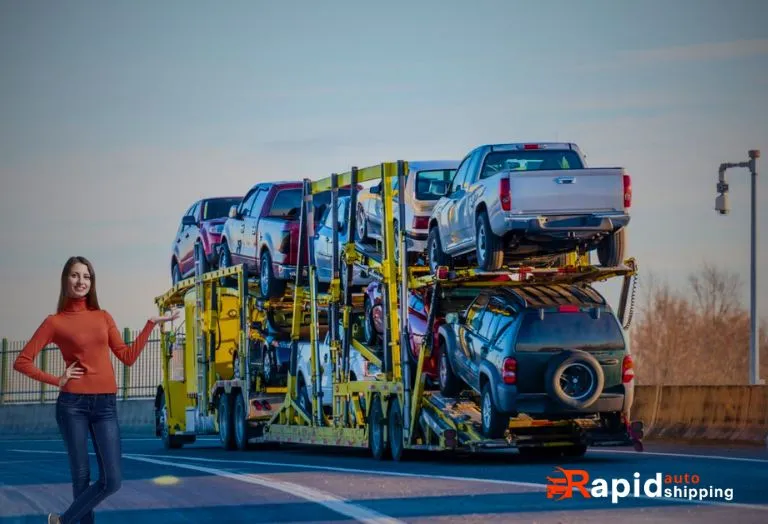 Preparing a car for shipping is a vital aspect of the auto transport Massachusetts procedure since it protects not only your things but also the driver who picks up and delivers your automobile and the others on the road in between.
When preparing an automobile for transport, use this handy checklist:
Wash Your automobile: Washing your automobile before shipping protects everyone involved. It allows you to account for any dings, scratches, and dents before the journey and tells if any new ones were produced during the voyage.
When your car is picked up, write down everything you observe on a tablet and follow the driver around the car to show him where each recorded item is.
Remove Custom items: Any custom items that can be removed from your vehicle should be removed and kept in a secure area before your vehicle is put onto the truck.
Clean the Inside of Your Car: Removing any personal possessions, hanging things, or devices, as well as any supporting wires or chargers, will guarantee that nothing that may move around during the drive gets lost, flies out, or causes any harm to your car, other cars, or others on the road.
Disable the Alarm: Before transporting your automobile, make sure to turn off the alarm for the driver. If you don't, you could give him a headache.
Don't Fill Up Right Before the Trip: Try filling up a few days before the pickup driver arrives. You want the automobile to be as light as feasible during the journey.
Examine Your Car for Leaks: Always examine the underbelly of your vehicle for any visible leaks. The Massachusetts car shipping companies business may only carry your vehicle if there are obvious leaks.
Check tire pressure: Underinflated tires are more likely to cause tire damage. Tire damage is more likely to occur during vehicle loading and unloading; however, checking your tire pressure early maintains things smooth and familiar for the driver.
Lock Up and Engage the Parking Brake: Always lock the doors, fasten the trunk and hood, and engage the parking brake before transporting your automobile.
While enclosed carriers provide the best protection against the outside elements; open carriers can be just as good and considerably less expensive for the auto transport sector.
The surrounding vehicles and beams minimize the area exposed to the elements, and our MA car transport services drivers avoid rough roads to avoid accidents.
Most significantly, because you are not driving the automobile to its destination, no more miles, wear, or tear is incurred, regardless of the sort of carrier you pick for Massachusetts car shipping companies . Consider it like putting your car in a surveyed mobile parking lot for a few days. It's equally secure.
If you need to send an automobile to or from Massachusetts and the trip is less than 200 miles, it should take between 1 and 2 days. Car transport service from Massachusetts takes around nine days for distances of 2,000 or more.
However, these are only estimates because the actual time is determined by road construction, diversions, traffic, weather conditions, seasonality, distance, and driver's hours.
If you're on a tight deadline, you may speed up the procedure by selecting expedited auto transport or guaranteed pick-up.
Obtaining a price to export your vehicle to or from Massachusetts is simple. To schedule a pickup, no money is necessary for advancement. To get an estimate, fill out our quote form once you've received your worth, book online, or phone us at +1 (833) 233-4447 to discuss your car shipping requirements.
During the winter, snowbirds go from the north to the south. Every winter, tens of thousands of people relocate from the north to the south to avoid the cold, mainly to settle in the South's warmer climate. After the winter season, they went back to their homes in the north to take advantage of the glorious spring weather.
Even though some snowbirds prefer to drive independently, most individuals, or so they believed, prefer to have their cars sent by car shipping company in Massachusetts.
They frequently fly stealthily to their target as well. But it did come in handy for them. However, it benefited them in several ways, including time and money savings and, most importantly, a reduction in the need for expensive vehicle repairs.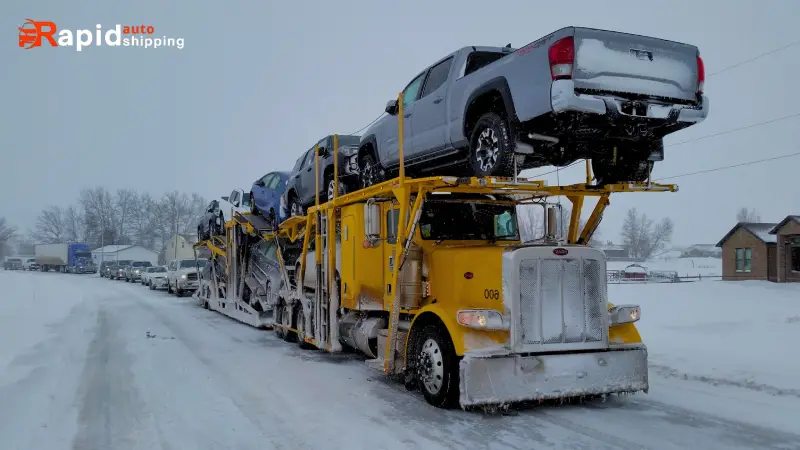 The states of Arizona, Texas, California, Florida, and others in the United States are among the most popular snowbird destinations. All routes that move from north to south are snowbird routes.
Furthermore, rates tend to soar during the snowbird season because drivers have so many options that they always choose the most expensive option.
Customers are urged to avoid being attracted by the lowest prices because they will be wasting their time at the end of the day. Wary of con artists, comparing costs is a common and effective strategy to save money.
Immobile vehicles are considered to be inoperable or non-running. A car in good working order and can travel forward and backward is said to be operational.
In this situation, the driver will need a winch, which can cost more money. Or, to put it another way, the customer must pay the driver more for this extra service. However, not all transportation firms offer this service using non-operational trucks.
Yes, you may monitor your vehicle while it is being sent to Massachusetts. Rapid Auto Shipping offers a real-time online monitoring system that is available 24 hours a day, seven days a week, to keep you updated on the position of your vehicle and the projected arrival time.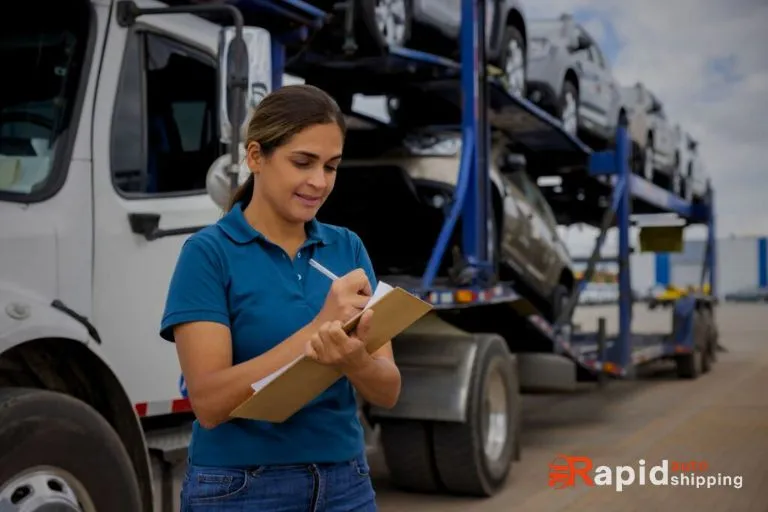 If you're thinking of exporting your car to Massachusetts, you should know a few things before you do.
The procedure's first and most significant stage is to look for competent and dependable car shipping firms in Massachusetts. The choice of an auto transport firm will ultimately determine the success of your service.
Hundreds of auto transport firms will transfer your vehicle to or from Massachusetts. We have hundreds of satisfied clients in Massachusetts who regularly transport their automobiles with us.
Aside from providing outstanding and dependable customer service, we assure the safety of your vehicle throughout the voyage. We are a reputable organization with years of expertise in the auto transport Massachusetts vehicle shipping industries.