Providing a precise cost for transportation services can be challenging due to the various factors influencing quotes. However, as a general estimate, short-distance transport typically ranges from $150 to $300, while longer haul journeys can cost anywhere between $600 and $1,000.
The company that ships boats may help you prepare your boat or do it for you.
Take everything off of the boat.
Drain the fuel until it's at 25% or as the boat shipping company says.
Safe engines
Get rid of the radar, antennas, and satellite sets.
Lock all the windows and doors.
Take batteries out
Drain tanks
Disconnect all lines.
Get all keys.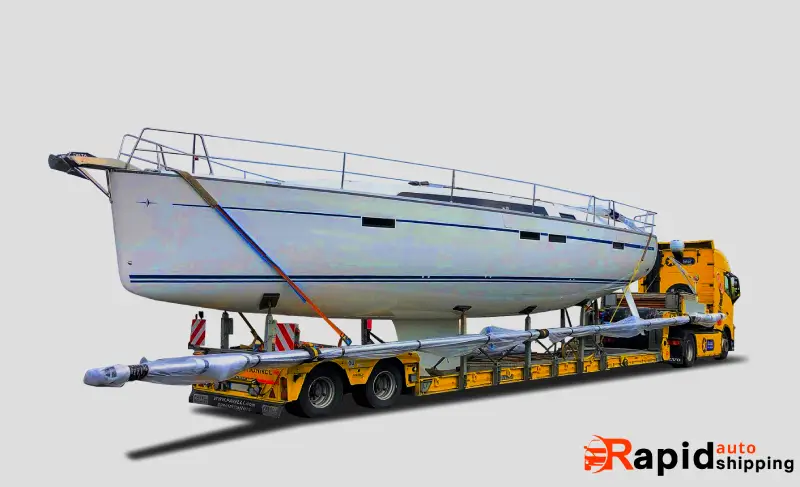 Typically, the following elements influence the boat shipping costs:
Size and Weight:
The size and weight of your boat will significantly impact the cost of transportation. Transporting larger boats tends to incur higher prices due to the need for larger trailers, specialized equipment, and skilled personnel.
Shipping Distance:
The boat's cost will also vary based on the distance it needs to be transported. When traveling longer distances, the cost per mile decreases.
However, it is essential to note that the overall cost increases due to the additional expenses incurred for fuel, labor, and time required for the extended journey.
The Route and Accessibility:
The cost of shipping is influenced by factors such as the route taken by the boat and the accessibility of the pick-up and drop-off locations.
If the chosen way includes narrow roads, bridges, or areas with low clearances, it is important to note that additional permits and guards may be required. It is essential to consider that these other requirements can contribute to the project's overall cost.
Time of Year:
The cost of shipping a boat can vary depending on the timing. During peak periods, such as the summer, there is a higher demand for boat shipping services, which may increase prices.
Type of Transportation:
There are various methods for transporting boats, including using open or closed trailers, flatbed trucks, or water-based transportation. Every technique of boat shipping has advantages and disadvantages that can impact the overall cost.
Additional Services:
Boat relocation costs more with crating, storage, insurance, and customs clearance. You can include these services as part of the shipping deal or purchase them separately.
Transportation expenses are influenced by two main factors: the distance between the origin and the destination and the chosen mode of transportation. The size of a affects the boat shipping cost, as larger boats necessitate a greater allocation of moving resources.
Shipping by water is the most cost-effective choice for large vessels, while smaller boats are usually transported by road. Rail transportation is a viable option for transporting ships that exceed the size limits for road transportation.
Shipping a boat per mile can vary significantly, ranging from $1.25 to $15. This variation is determined by factors such as the size of the boat and the distance it needs to be transported.
Obtaining estimates from various carriers is crucial to compare prices and services effectively. Companies may also provide discounts for shipping multiple boats simultaneously or during periods of low customer demand.
Choosing a carrier that offers open transport or flatbed truck services is advisable to ship a boat cost-effectively. These options are often more affordable compared to enclosed or specialty trailers.
While opting for this choice may result in some cost savings, it is essential to remember that your boat will be susceptible to the elements.
To secure the most favorable deal and guarantee reliable and safe transportation, comparing quotes from multiple carriers and carefully reading customer reviews is crucial.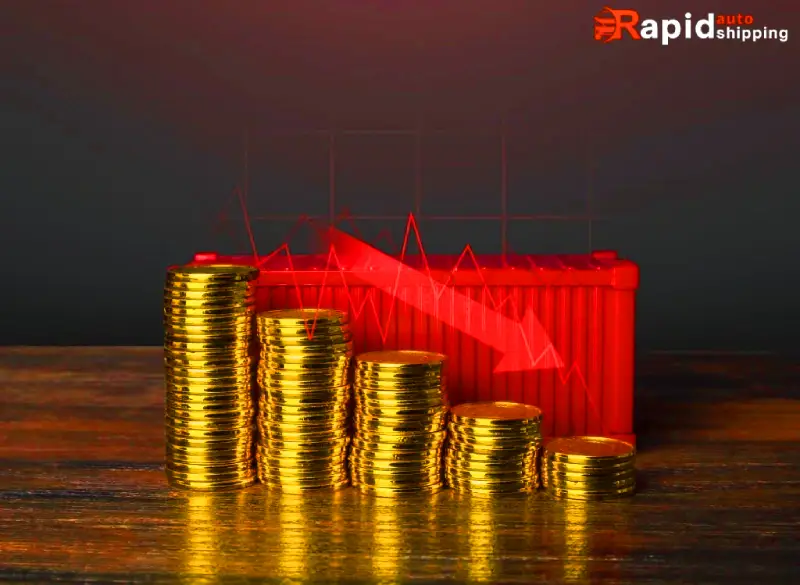 When evaluating service providers, it is crucial to have a complete quote that includes all relevant information. When requesting a quote for boat shipping costs or reviewing a carrier's profile, it is essential to consider the following items that should be mentioned:
Authorizations from the DOT and the FMCSA:
The Department of Transportation (DOT) and the Federal Motor Carrier Safety Administration (FMCSA) regulate the transportation of commodities and vehicles, including boats.
A reliable boat transport company should prominently display or readily provide all the necessary DOT and FMCSA authorizations and permits for review upon request.
Insurance:
To ensure the safety of your vessel during boat transfer, hiring a transporter with sufficient insurance coverage is essential. This will help protect your boat from potential risks and hazards during the journey.
Before committing to any agreement, thoroughly comprehending the payment terms, including any requirements for deposits or payment plans, is essential.
Tracking:
A reliable boat transportation company should offer timely status updates, enabling you to easily track the progress of your valuable package as it travels to its intended destination.
Communication:
Clear communication is essential throughout the transportation process. Ensure that you have a designated point of contact who will promptly address any inquiries or concerns.
When considering the transportation of your boat, it is essential to consider the shipping cost, as it will significantly influence your ultimate decision. Many opportunities are available to reduce shipping costs and ultimately save money effectively.
In the following passage, a boat shipping company provides a comprehensive guide on minimizing boat shipping expenses. The methods discussed include:
Strategically timing your shipment.
Opting for terminal to terminal transporters.
Maintaining flexibility with dates.
Choosing open transport trailers.
Shipping multiple boats together.
Obtaining various estimates.
To decrease boat transportation expenses, follow these guidelines:
Boat Transportation Off-Peak:
One way to reduce the cost of shipping your boat is by scheduling the shipment during the off-peak season. To save money, planning your boat travel during the fall or winter seasons is advisable. This is because the summer tends to be the busiest period for boat transport.
Utilize a Terminal to Terminal Transporter:
This method presents an alternative approach to reducing the cost of boat transportation. Compared to door to door service, this alternative entails delivering and retrieving your boat at a designated terminal, which can lead to potential cost savings.
This approach can be challenging as it requires you to transport your vehicle to a nearby airport for shipping personally. However, if you are willing to invest the additional effort, it can result in substantial cost savings.
Regarding boat shipping dates, be flexible:
Being flexible with your boat shipping dates can result in cost savings, as the shipping costs may vary depending on the chosen dates. To minimize crowds, avoiding peak seasons and opting for less popular days is advisable.
The question "What does US boat shipping cost?" It is challenging to answer your question as it lacks specific details. The pricing for your boat is determined by factors such as its size, distance, season, and timetable.
By following the tips above, you will be able to effectively identify a reliable and reasonably priced boat hauler who can safely transport your beloved boat.