We offer transportation services for various types of case trucks and case heavy machinery, including:
Backhoe loaders

Compact track loaders

Compaction equipment

Crawler dozers

Excavators and mini excavators

Forklifts

Motor graders

Skid steer loaders

Wheel loaders

Tractor loaders

Compact wheel loaders
Dealing with large cargo can be challenging, if not impossible, for specific vehicle shipping companies. Rapid Auto Shipping has the resources, equipment, and expertise to efficiently transport heavy equipment and case trucks to your desired destination.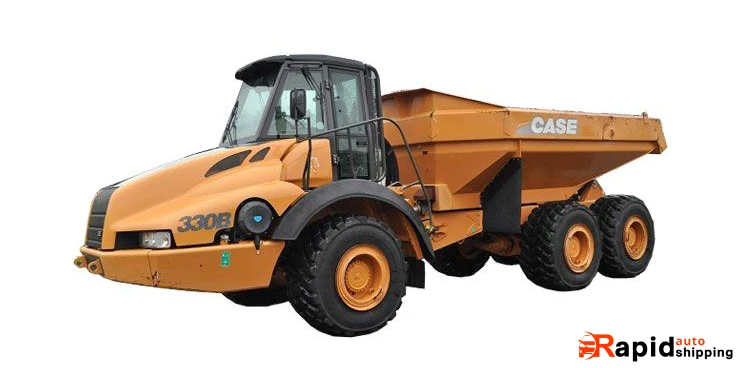 Several trailers are commonly used for transporting case trucks and equipment shipping case. Here are some of the most common types:
Flatbed Trailer: Flatbed trailers are the most common type for hauling case trucks and heavy equipment case. They have an open, flat surface with no sides or roof, allowing for easy loading and unloading from the sides or rear of the trailer. Flatbeds can carry a wide range of equipment, from smaller trucks to large construction machinery.
Lowboy Trailer: Lowboy trailers are designed for hauling extremely tall or oversized equipment. They have a low deck height and a drop in the front and rear, allowing for more effortless loading of tall equipment like cranes, bulldozers, or industrial machinery.
Step Deck Trailer: Step deck trailers, also known as drop deck trailers, have a lower deck at the front and a higher deck at the rear. This design allows them to accommodate taller equipment without requiring a full lowboy trailer. Step decks are commonly used for hauling medium-sized trucks, heavy machinery, and other tall loads.
Extendable Flatbed Trailer: These trailers can be extended to accommodate longer equipment that wouldn't fit on a standard flatbed. They are beneficial for transporting long vehicles, such as limousines or buses.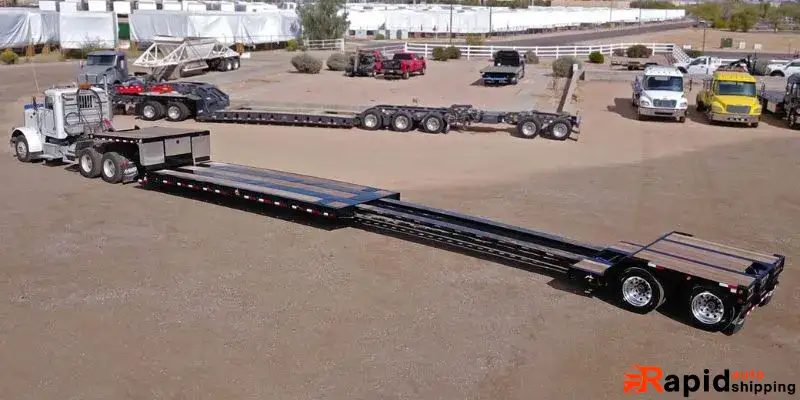 Removable Gooseneck (RGN) Trailer: RGN trailers have a detachable front end (gooseneck) that allows them to lower to the ground for more effortless loading of heavy equipment case. RGNs are commonly used for transporting large construction machinery and other weighty loads.
Rolloff Trailer: Rolloff trailers are designed to transport roll-off containers commonly used for construction debris, waste, or other materials. These trailers have a mechanism that allows them to roll the container on and off the trailer.
Enclosed Trailer: Enclosed trailers have walls and a roof, protecting the cargo from the weather and road debris. While less common for heavy equipment, they can be used for smaller trucks, specialized vehicles, or sensitive equipment that needs extra protection.
When it comes to transporting case trucks and equipment shipping case, Rapid Auto Shipping requires detailed information about your vehicles. As the consumer in this situation, your responsibility is to provide us with all the necessary details honestly and faithfully.
If there is any additional information regarding transporting case trucks & case heavy equipment that we may have overlooked, please do not hesitate to inform us.
Rapid Auto Shipping requires comprehensive information before deciding on the price quote or hiring staff for your transporting case trucks & equipment shipping case request. Rapid Auto Shipping would like to gather the following information regarding your transportation case:
Where would you like to select your case and equipment from, and where would you prefer it to be delivered?

What is your car's make and model?

It is also essential for us to have information about the dimensions. Please provide your vehicle's weight, height, width, and length so we can assist you with transporting case trucks and equipment.

What is the deadline for your delivery?

What is the time frame that Rapid Auto Shipping can accommodate?

When would you prefer to have your equipment delivered? Additionally, what is the latest time that Rapid Auto Shipping can drop off the equipment?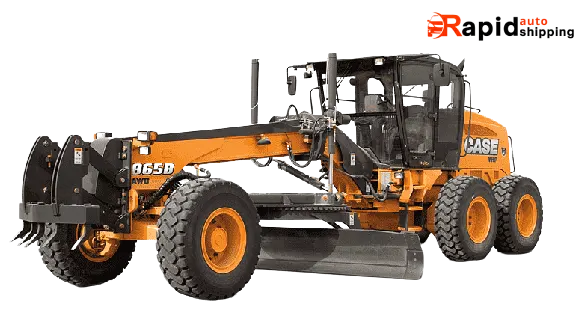 Once Rapid Auto Shipping has obtained all the necessary details from you, transporting case trucks and equipment shipping case can begin. This information will assist Rapid Auto Shipping and our highly qualified team in determining the appropriate charges, selecting the optimal route, and identify the most suitable insurance plan for your needs. Rapid Auto Shipping places high importance on transporting case trucks and equipment shipping cases.