There are different types of carriers commonly used for farm equipment transport services:
Flatbed Trailers: Flatbed trailers are the most familiar carrier for farm equipment transport. They feature a flat, open platform without any sides or roof, providing flexibility in loading and unloading various farm equipment.
Lowboy Trailers: Lowboy trailers, also known as low-bed or low-loader trailers, have a lower deck height, allowing the transportation of taller and heavier farm equipment, such as tractors or combine harvesters. They have ramps for easy loading and unloading.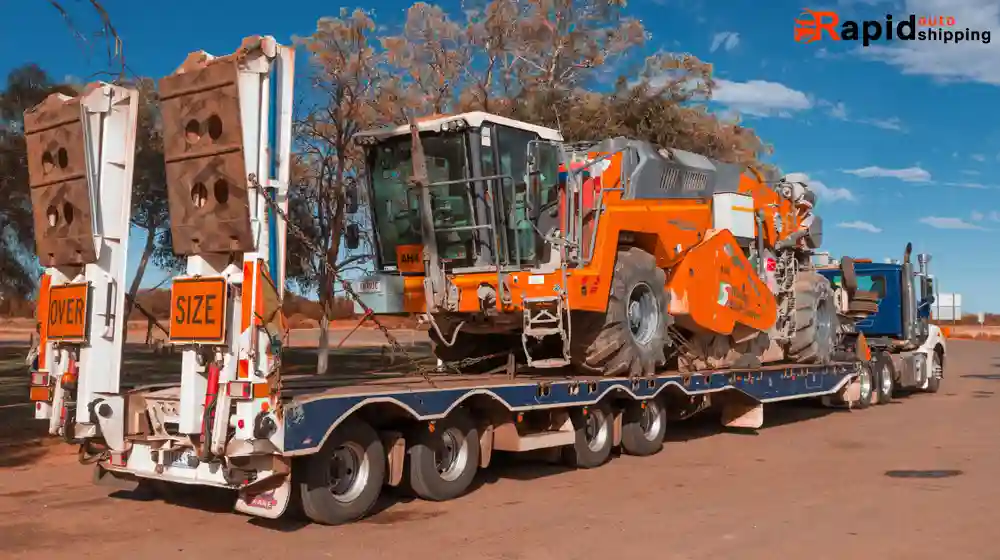 Step Deck Trailers: Step deck trailers, also called drop deck or low-profile trailers, have a lower deck height in the front section, transporting taller farm equipment while providing a higher deck in the rear compartment for smaller equipment. They are suitable for carrying a mix of different-sized agricultural machinery.
Gooseneck Trailers: Gooseneck trailers feature a raised front section that extends over the towing vehicle, providing extra stability and weight distribution. They are commonly used for transporting large and heavy farm equipment, like bulldozers or large tractors.
Semi-Trucks with Specialized Attachments: Some farm equipment, such as self-propelled combines or sprayers, may have built-in transportation systems. In such cases, a semi-truck with a specialized attachment connects with and transports the equipment.
Rapid Auto Shipping is capable of transporting all types of farm machinery hauling. With our expertise and knowledge, we can safely and efficiently deliver your machinery to any location in the country, whether it's the largest row-crop machinery or minor utility machinery.
We offer a variety of farm machinery transport options, including:
Tractor shipping: Tractors are essential farm vehicles used for various agricultural tasks and come in different sizes and configurations. Shipping tractors require flatbed trucks or specialized carriers capable of handling their weight and dimensions.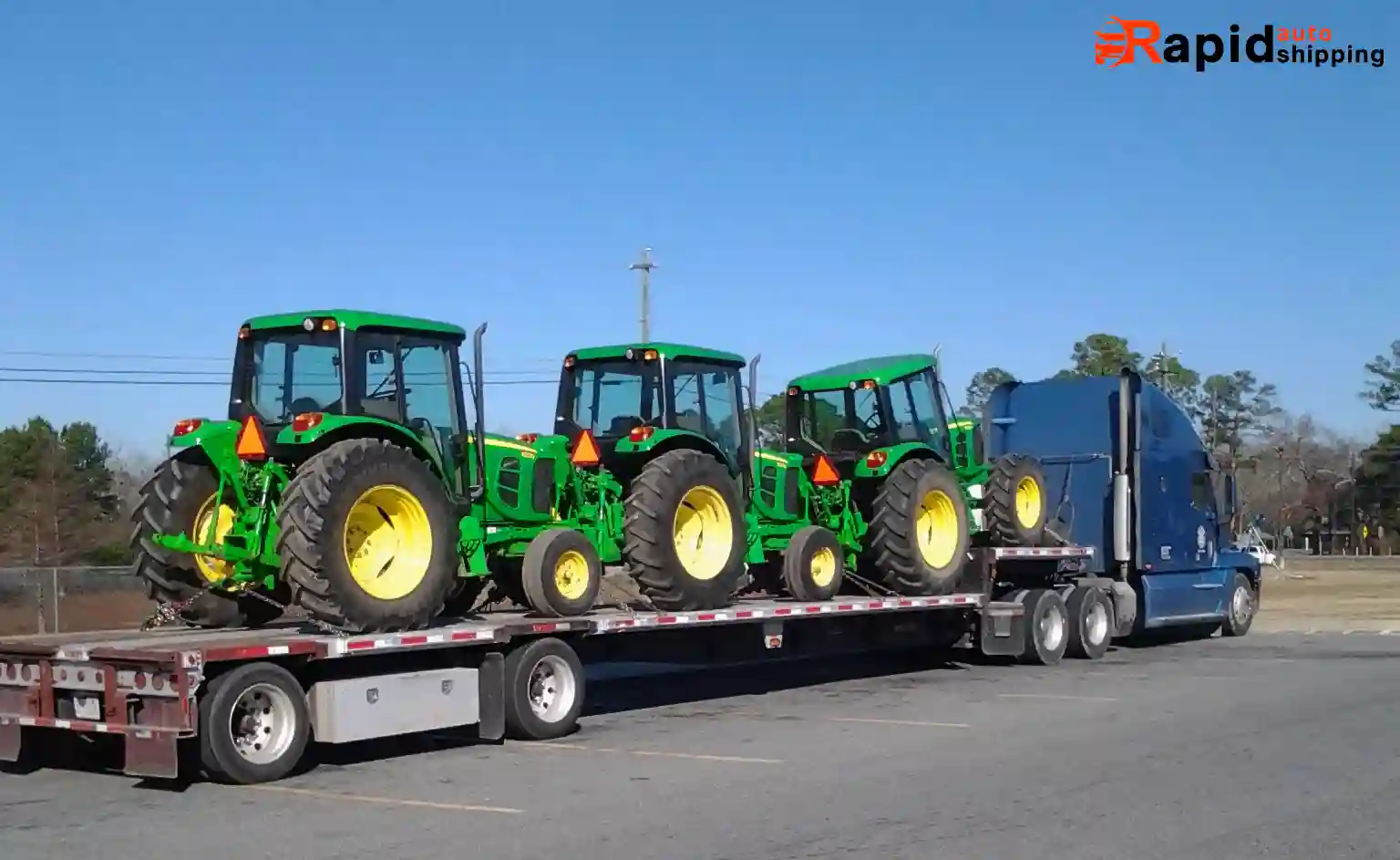 Combine shipping: Combines are large machines used to harvest crops such as grains. Due to their size and weight, transporting combines usually involves using flatbed trailers or lowboy trailers.
Harvester and baler shipping: Harvesters and balers gather and process crops. Like combines, they are bulky and heavy, necessitating specialized trailers for transportation.
Planter and seeder shipping: Planters and seeders are used for planting seeds in the fields. They are usually transported on flatbed trailers or, in some cases, shipped disassembled to save space.
Sprayer shipping: Sprayers are used for applying pesticides and fertilizers to crops. Shipping sprayers may require specialized trailers or flatbeds.
Plow and tillage equipment shipping: Plows and other tillage equipment are essential for preparing the soil for planting. They may be transported using flatbed trailers.
Irrigation equipment shipping: Irrigation systems, such as pipes, pumps, and sprinklers, may require specialized shipping due to their size and delicate components.
Livestock handling equipment shipping: Farm equipment used for controlling and managing livestock, such as cattle chutes, may require specialized carriers or disassembly for transportation.
Grain storage and handling equipment shipping: Equipment used for storing and handling grains, such as silos and grain elevators, may need careful transportation due to their size and weight.
Farm implements shipping: Various smaller implements, such as plows, cultivators, seeders, and rotary cutters, may be transported using flatbed trailers or shipping containers.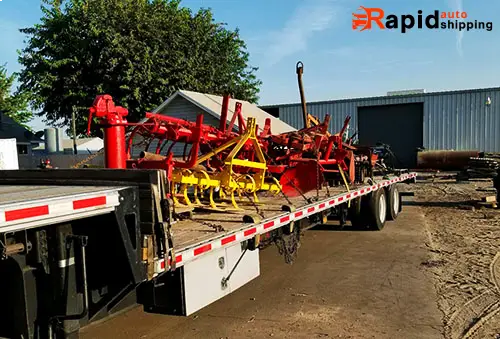 Typically, farm equipment haulers are done by train or by sea. However, railways and ships cannot provide direct shipping to specific locations within the USA.
Our drivers can promptly ship your vehicles to any address you provide us. We operate in all states, so it doesn't matter where you are located. We can assist you effortlessly in finding farm machinery hauling in your vicinity.
The cost of farm equipment transport services can vary significantly based on the specific equipment type. The average price of farm equipment trucking over a 500-mile distance is $1.75 per mile, whereas shorter trips cost $5.00 per mile.
Various factors, including dimensions, weight, type of equipment, time of year, and popular routes, determine the cost of farm machinery transport. You can quickly determine the cost of using our farm equipment haulers by requesting a free quote from Rapid Auto Shipping.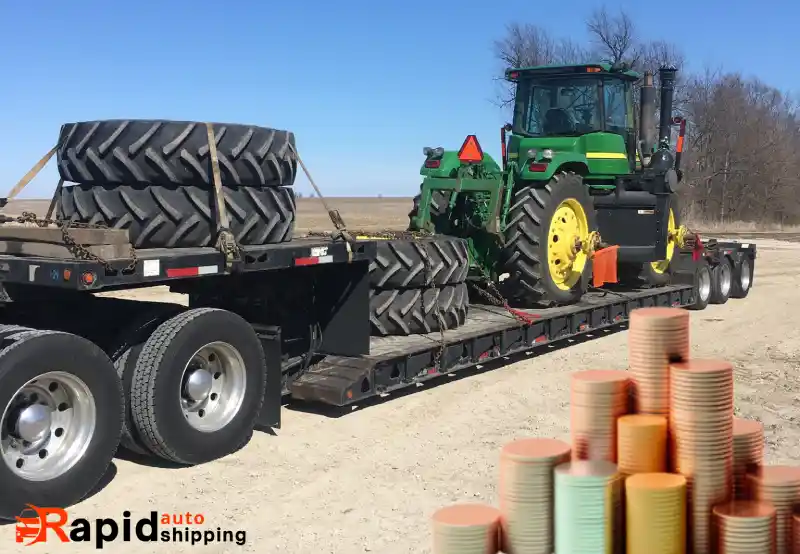 The following factors determine the rates for farm equipment shipping:
Type of equipment: Certain types of equipment, such as tractors and movers, are easier to transport than larger machinery like combine harvesters. The latter often require partial disassembly before they can be transported.
Dimensions and size: In addition to the type of equipment, the size, and dimensions also significantly impact the price. This particularly applies when it comes to extensive machinery.
Weight: The weight of your farming equipment is a crucial factor in determining the shipping cost, just like with any freight hauling.
If you have multiple items of equipment to ship, we can assist you in planning and optimizing your costs by maximizing the weight of each shipment.
Container vs. open-air: Open-air shipping is a more cost-effective option than container shipping, although it does come with the drawback of leaving your equipment vulnerable to the elements.
If you have a smaller piece of farm equipment that can fit inside a standard 40-foot-long container, opting for container shipping at a slightly higher cost will offer enhanced protection for your equipment.
Delivery deadline: If you require fast shipping for your equipment, you must pay an additional fee for expedited delivery. Opting for a slower shipping method can significantly reduce costs.
Therefore, it is advisable to carefully plan your logistics to avoid the necessity of rush delivery for your farm equipment.
Total distance shipped: When hauling farm tractors over longer distances, the cost per mile will be lower than shorter distances. However, it is essential to note that the overall cost will still be higher.
For instance, hauling farm tractors across the country will cost less per mile than moving them within the state. However, the overall cost of farm machinery transport across the country will be higher.
The duration of vehicle transportation will vary depending on the distance. Usually, the estimated delivery time is three to five days.
However, if you are shipping from one coast to another, the transit time may increase to seven to ten days. To obtain more information, it is necessary to communicate with your agent and discuss the specifics of the trip.
At Rapid Auto Shipping, we are committed to ensuring your agriculture equipment's safe and timely delivery to its destination. Our drivers are conscientious and take every precaution from departing until arriving at their destination.
Additionally, every support staff member is dedicated to achieving total customer satisfaction and shares our commitment to providing excellent service.
Our success as one of the leading farm tractor transport operations in the Tri-State region can be attributed to our special equipment and highly skilled team.