Roll-on/Roll-off (RoRo):
The most commonly used method for international boat transport is RORO service, also known as roll-on/roll-off shipping. The boat is loaded onto the transport ship using its cradle or trailer. If you do not have a cradle or trailer, we can arrange for you to use one or even design a customized trailer specifically for your transportation needs.
Lift on/Lift off:
The lift-on/lift-off method involves using a crane to carefully and securely transfer your boat onto a transport vessel. This can be done directly from the water or through a shipping terminal.
The boat is carefully positioned on a cradle aboard the ship, ensuring it is securely fastened to the deck or cargo area in preparation for transportation.
Containerized:
Containerized transport is a cost-effective method for boat shipping overseas. However, it is essential to note that the container's specifications impose size limitations. In general, boats that exceed eight feet in width or height are too large to fit inside a container. Container shipping is only available for smaller boats due to size limitations.
Flat Rack:
A flat rack for larger boats is paired with a custom cradle. The cradle is securely fastened to the flat rack before transportation. The flat rack, essentially an open container designed for boats, is loaded onto the transport vessel and delivered.
Submersion:
Submersion boat transport, more accurately referred to as semi-submersion transport, involves guiding a boat to a transport ship safely submerged underwater at a certain distance.
After positioning the boat correctly, the sunken transport ship is elevated by draining water. This allows the boat to be loaded onto the transport ship.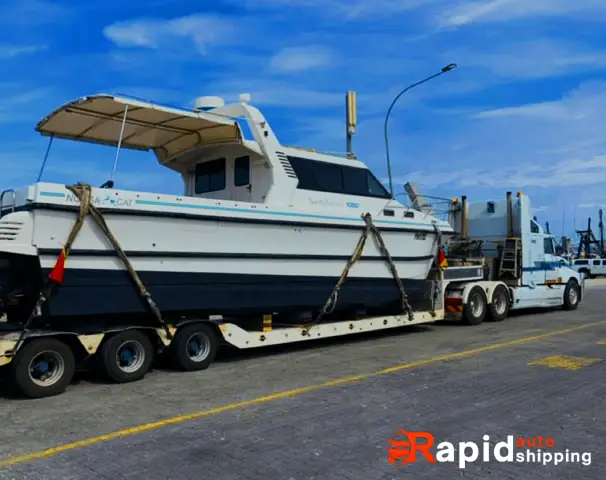 Rapid Auto Shipping offers professional boat transportation services. We understand that your boat is a valuable piece of heavy equipment and you are concerned about its safe transportation. At Rapid Auto Shipping, we take care of all aspects of boat transport.
A skilled logistics team member will initiate the process by collecting all the necessary information. By providing us with the details required, such as the origin and destination of your boat transport, we can determine the most cost-effective boat shipping cost for you.
Our logistics agent will carefully select a highly skilled truck driver who has extensive experience in shipping boats. This ensures that your boat will be transported to its destination with utmost care and efficiency. We will guide you through all the necessary steps to prepare your boat for transportation.
At Rapid Auto Shipping, we handle every aspect of your boat transport, from the initial phone call to the completion of delivery. Contact us now to receive a complimentary shipping estimate! +1 (833) 233-4447
It is highly recommended to winterize your boat before shipping it. Failure to do so can lead to engine damage and damage to the interior. Shrink wrapping is a highly valued option for keeping your boat clean and safe. It also provides an additional level of safety during transportation.
Shipping your valuable electronic components separately is advisable to prevent them from getting lost during shipping.
It is always essential to ensure that you feel comfortable with your shipper. Feel free to ask any questions regarding your boat's transportation or seek advice on the most suitable method for shipping your boat internationally.
Most carriers possess extensive experience and can guide the most cost-effective and secure way to ship your boat internationally.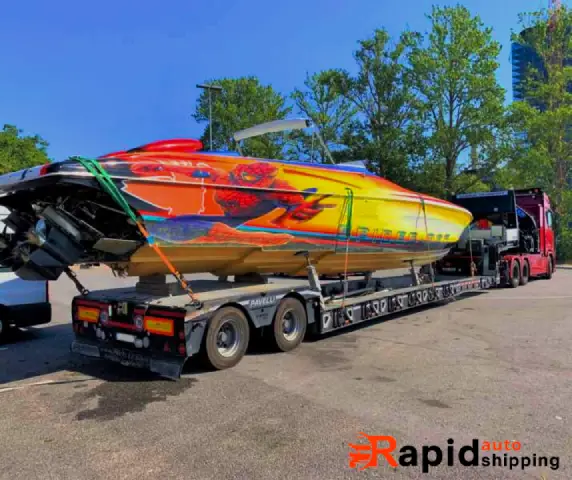 The international boat transport cost can vary widely depending on various factors. Some of the critical factors that influence the boat transport cost include:
Size and weight of the boat:
Larger and heavier boats will generally cost more to ship due to the increased logistics and handling involved.
Distance and destination:
The distance between the origin and destination countries and the specific destination port will affect the overall cost. In general, shipping costs tend to increase as the transportation distance extends.
Type of shipping:
There are different boat shipping methods, such as container shipping, roll-on/roll-off (RoRo) shipping, and lift-on/lift-off (LoLo) shipping. Each technique comes with its pricing structure.
Season and demand:
Shipping costs can vary based on seasonal demand and the availability of shipping routes and vessels.
Additional services:
If you require other services such as crating, insurance, or custom clearance assistance, these will add to the overall cost.
Current fuel prices and currency exchange rates:
These factors can also affect boat transportation costs. To get an accurate cost estimate for international boat shipping, it's best to contact reputable international boat transport companies or freight forwarders and provide them with specific details about your boat, the origin and destination, and any additional services required.
They will be able to provide you with a customized quote based on your needs. Remember that boat shipping costs can change, so obtaining quotes closer to the shipping time is a good idea.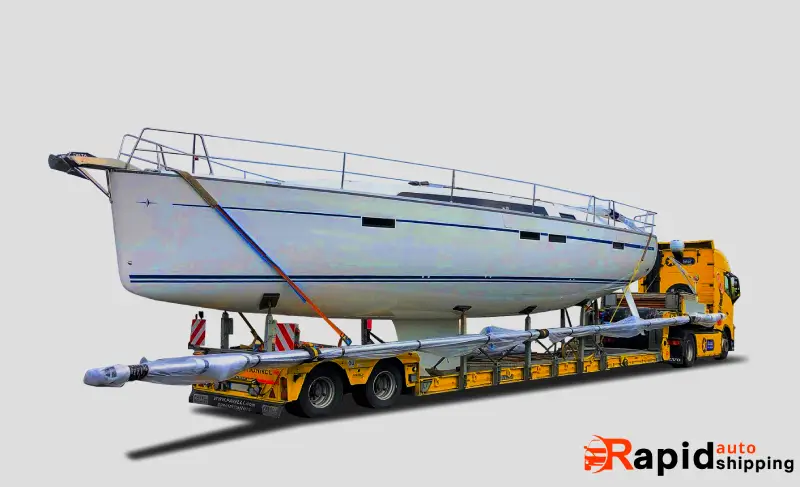 Shipping times can vary significantly depending on the origin and destination and the chosen shipping method. Generally, international boat shipments can take several weeks to a few months.
Before you hand over your boat, you must review the insurance coverage of the transporter you have chosen. We also recommend obtaining your coverage to provide added protection for your boat. To learn more about how shipping protection works and how it can protect you, please visit the Rapid Auto Shipping Protection page.