Customers choose Rapid Auto Shipping for shipping a New Holland tractor and other agricultural equipment for several reasons.
Professional Drivers
All our drivers possess the commercial driving licenses required for operating the vehicles used in tractor transportation. They have extensive experience transporting oversized equipment and have the expertise to safely load and transport your New Holland tractor.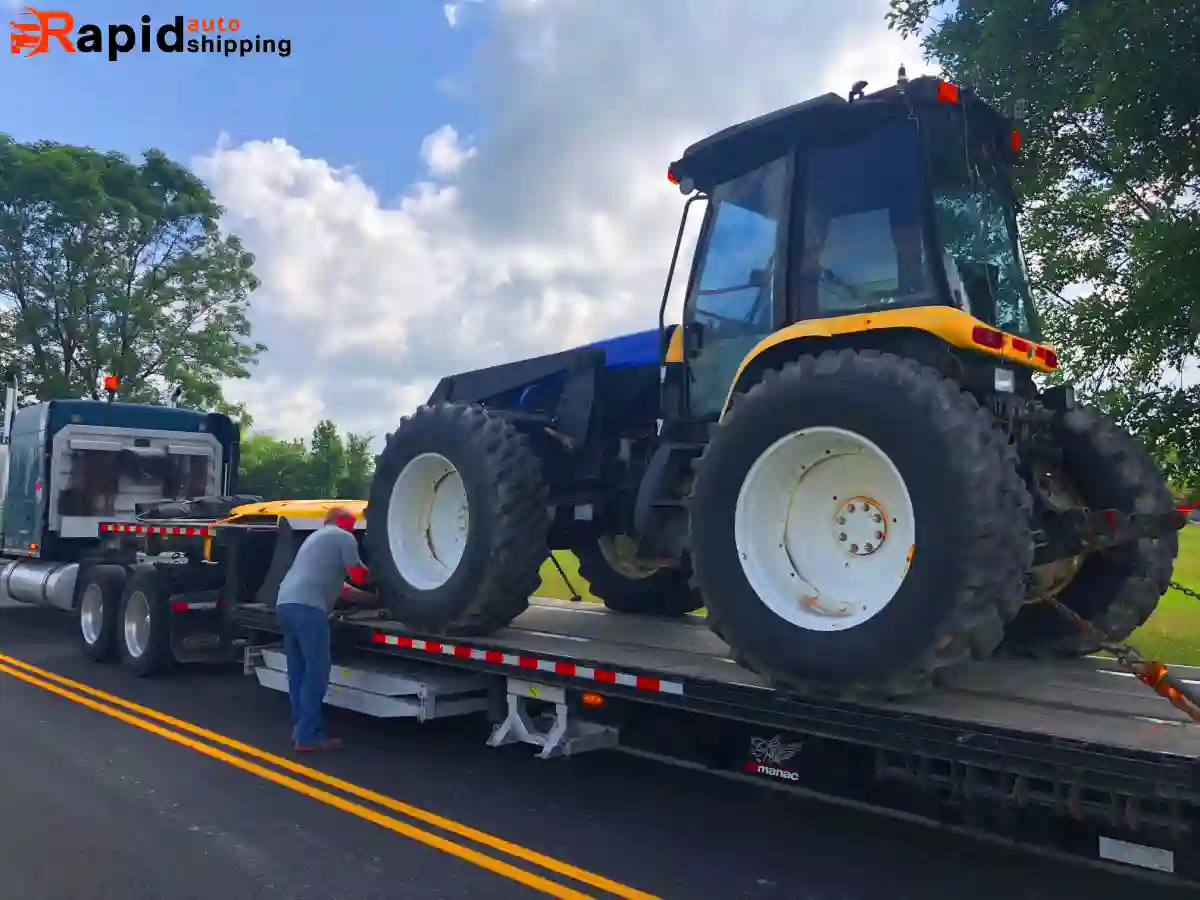 Personalized service
We understand that each job is unique, so we strive to offer customized service. Our team of experts is committed to your perfect service.
They will assist you in determining the optimal shipping route, suggest the appropriate hauling equipment for your tractor, and offer a door to door service that is efficient, straightforward, and convenient.
An extensive track record
Rapid Auto Shipping has completed over two million deliveries spanning over 190 countries. Our commitment to quality and safety has led to an impressive 97% of our customers recommending our services to others.
Top-notch equipment
The New Holland tractor you own is a precious piece of machinery. This implies that your shipping company must utilize appropriate equipment to ensure the shipment is securely fastened during transportation.
Rapid Auto Shipping uses step-deck and RGN trailers to provide ample space and secure your tractor effectively. Regardless of the specific model of your New Holland tractor, we have the necessary equipment to handle it.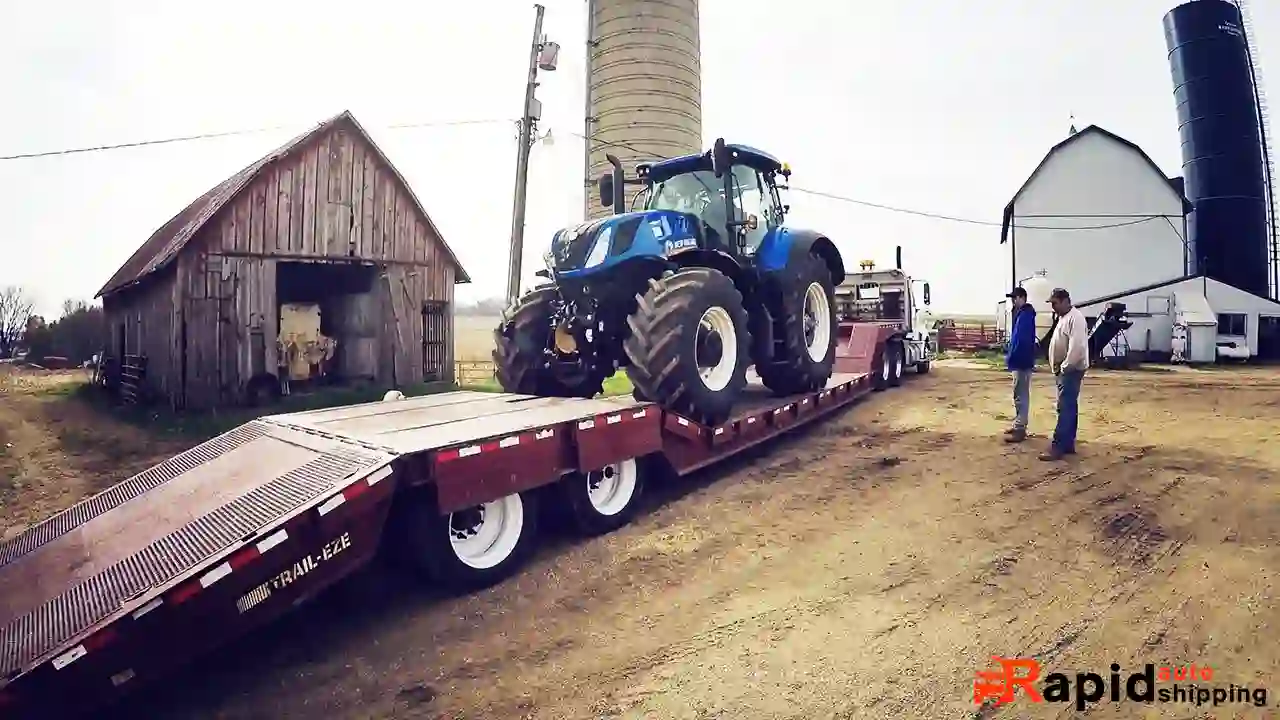 There are generally two standard shipping methods for a tractor:
Roll-on/Roll-off (RoRo) shipping: The tractor is driven onto a specialized vessel or platform, secured, and transported to its destination.
Container shipping: The tractor is securely loaded into a shipping container for transportation.
A few trailers are commonly used to transport agricultural machinery when shipping a New Holland tractor. The specific trailer used depends on the size and weight of the tractor, as well as the distance and terrain involved in the transportation. Some common types of trailers used for shipping New Holland tractors include:
Flatbed Trailer: A flatbed trailer is an essential and commonly used option for transporting tractors and other equipment. It consists of a flat, open platform without sides or a roof, allowing easy loading and unloading of the tractor.
Lowboy Trailer: A lowboy trailer is a specialized type of flatbed trailer with a low deck height, allowing it to transport taller and heavier equipment like larger New Holland tractors. It offers increased stability and easy access to load and unload the tractor.
Step Deck Trailer: Also known as a drop deck trailer, this type of trailer has two different deck levels - one lower and one higher than the standard flatbed. It allows for transporting taller equipment while maintaining a lower overall trailer height.
Enclosed Trailer: Enclosed trailers protect from the elements during transportation. Their walls and roof make them suitable for shipping smaller New Holland tractors or transporting equipment in regions with adverse weather conditions.
RGN (Removable Gooseneck) Trailer: RGN trailers are specialized lowboy trailers with detachable front sections (gooseneck) to facilitate loading and unloading. They are used for hauling larger and heavier New Holland tractors that may require special permits for transportation due to their size and weight.
Step Deck RGN Trailer: This combines the features of a step deck and an RGN trailer. It allows for transporting tall and heavy equipment like larger New Holland tractors while providing the benefits of a lower deck height.
The cost of moving a New Holland compact tractor can vary between states due to differences in current prices, even though moving companies are subject to similar regulations across many states.
Distance is crucial for transportation companies, as they typically charge based on the miles traveled. This implies that the cost of long-distance travel will be higher due to the increased fuel consumption of the car.
Delays can often be attributed to factors such as traffic and unpredictable weather conditions, which can also indirectly affect costs. The truck requires more fuel and incurs higher costs with heavy traffic.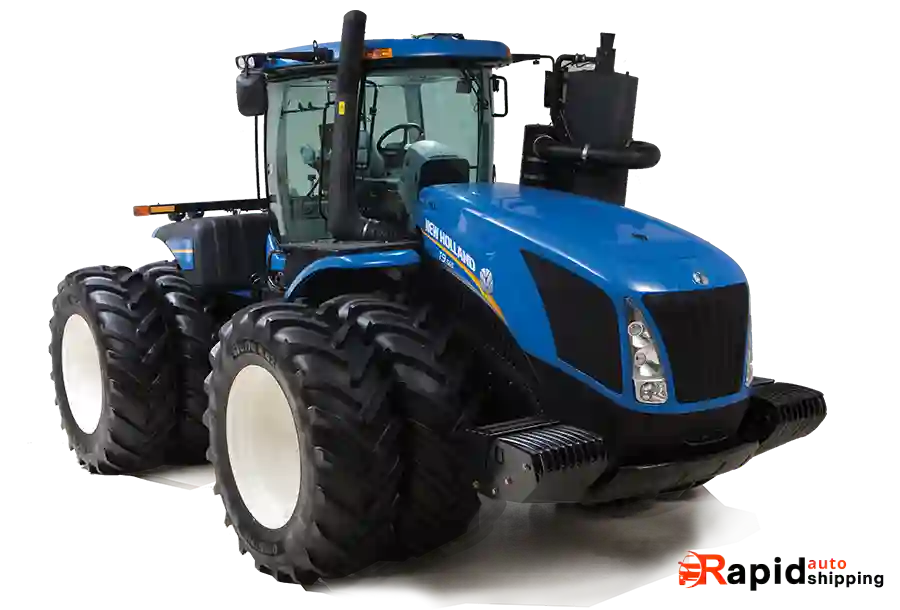 Shipping costs for a New Holland tractor can vary significantly depending on various factors, such as:
Distance: The longer the distance the tractor needs to be shipped, the higher the shipping cost will likely be.
Mode of transportation: The shipping cost will differ based on whether the tractor is transported via road, rail, sea, or air.
Weight and dimensions: Larger and heavier tractors may incur higher shipping costs due to the need for specialized transportation equipment and handling.
Insurance: Shippers may include insurance coverage for the tractor during transit, which could add to the overall cost.
Delivery timeframe: Expedited shipping may come with a premium price compared to standard delivery.
Destination and logistics: The location and accessibility of the delivery destination can impact shipping costs.
Current fuel prices and other economic factors: Fluctuations in fuel prices and other economic variables can influence shipping costs.
Delivery timeframe: Expedited shipping may come with a premium price compared to standard delivery.
Destination and logistics: The location and accessibility of the delivery destination can impact shipping costs.
Current fuel prices and other economic factors: Fluctuations in fuel prices and other economic variables can influence shipping costs.
It is impossible to provide accurate pricing, even for the entire USA or a Single State. The cost per mile varies depending on your pick-up and drop-off locations.
If there is a significant distance between the two locations, the driver will require additional time to reach you. They may arrive more quickly if the roads are clear.
It is crucial to consider unforeseen events, such as inclement weather, as they can cause delays even for short-distance travel. However, experienced drivers are adept at navigating this.
The time may vary depending on the weather and traffic conditions. It is advisable to contact a shipping company well in advance as both situations can potentially lead to delays in delivery.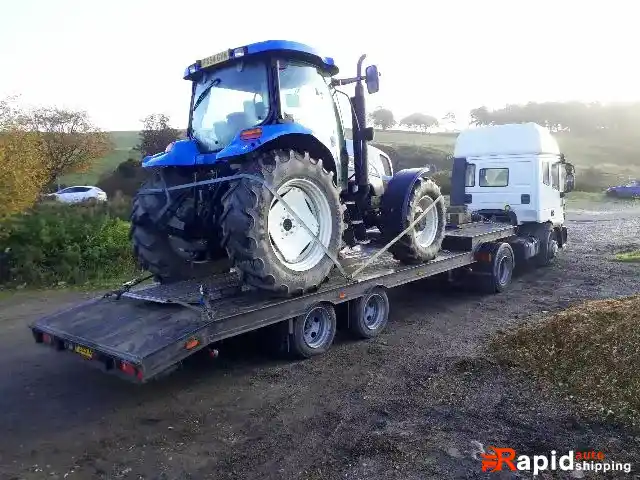 It is not recommended to attempt moving a New Holland tractor on your own, even if you are an experienced industry professional, as you may need to be more familiar with the specific nuances of the procedure. Using a vehicle is more complex than driving it, as the two have distinct differences.
Professional and reputable transport companies have a distinct advantage over regular individuals because they possess knowledge and experience in handling the complexities of transporting large machinery, whether agricultural or otherwise.
When the tractor is brand new, it is loaded with great care to ensure no damage occurs during transportation. The business you have hired will provide an experienced driver to ensure a smooth delivery, considering the intricacies of operating a large trailer.
They possess sufficient knowledge to select the optimal route and ensure smooth and trouble-free transportation of your tractor or moving truck to its intended destination.