When hiring RV shipping services, there are typically a set of steps that they follow:
Request a Quote
The owner of the RV reaches out to the RV passing company in order to inquire about the cost of their services. The cost of operating an RV is influenced by various factors, including the distance traveled, the dimensions and weight of the RV, and any extra services that may be required.
Preparing the RV:
Prior to the relocation, it is imperative for the owner of the recreational vehicle (RV) to make the necessary preparations.
These preparations include ensuring that the vehicle is in optimal working condition, securing any loose items within the RV, and emptying all tanks, such as those containing water and sewage.
Pick-up:
The RV shipping arrives at the designated location as scheduled to pick up the owner's RV. Specialized equipment, such as tow trucks, flatbed trailers, or fifth wheel trailers, may be utilized to load and securely transport the RV.
Transportation:
The RV shipping company is responsible for transporting the RV to its designated destination. The company takes measures to ensure the safety of the RV during transit and works to minimize the risk of any potential damage.
Delivery:
After the RV has arrived at its destination, the RV mover proceeds to unload the vehicle and then transfers it to either the owner or a designated recipient.
It is advisable for the owner to thoroughly inspect the RV for any potential damage that may have occurred during transportation.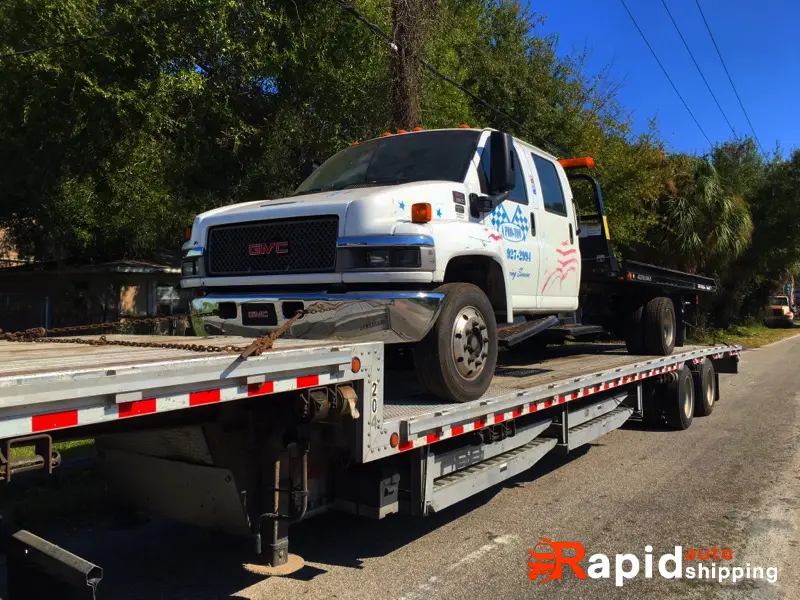 Trailers are commonly used for shipping purposes. Recreational Vehicles (RVs) are typically designed and built to accommodate their specific size and weight requirements. Various types of trailers are commonly used for RV transport.
Flatbed Trailer:
The use of a flatbed trailer is crucial and widely popular for RV transport. The platform is flat and open, lacking sides or a roof, which allows for plenty of space to load and secure the RV. Flatbed trailers are capable of accommodating RVs of different sizes and types.
Lowboy Trailer:
A lowboy trailer is a type of flatbed trailer that features a lower deck height. This feature makes it ideal for taller RVs, such as fifth-wheel trailers or large motorhomes, as it offers increased vertical clearance during transportation.
Enclosed Trailer:
Enclosed trailers are designed to be fully enclosed, providing optimal protection from the elements during transportation.
Enclosed trailers are equipped with walls and a roof, making them an excellent choice for transporting smaller RVs like camper trailers and travel trailers.
These trailers protect against various weather conditions, ensuring the safety of the vehicles being transported.
Fifth-Wheel Transporter:
A fifth wheel transporter is specifically designed to haul fifth-wheel trailers. The vehicle is equipped with a hitch that securely attaches to the kingpin of the fifth-wheel trailer, ensuring safe transportation.
Multi-Carrier Trailer:
Multi-carrier trailers are trailers designed specifically to transport multiple recreational vehicles (RVs) at the same time. The facility features multiple levels or decks, which enable the convenient transportation of multiple smaller RVs.
We possess the necessary expertise and experience to provide you with reliable support for transporting your RV. Rapid Auto Shipping specializes in RV transportation services, ensuring damage-free delivery of your vehicle.
If you want to find RV movers nearby" look no further. At all times, we prioritize ensuring your protection and security.
Rapid Auto Shipping is a transportation company with extensive experience delivering RVs across the country or within a specific state.
With our extensive experience and comprehensive resources, we are fully capable of meeting all of your RV transportation requirements
.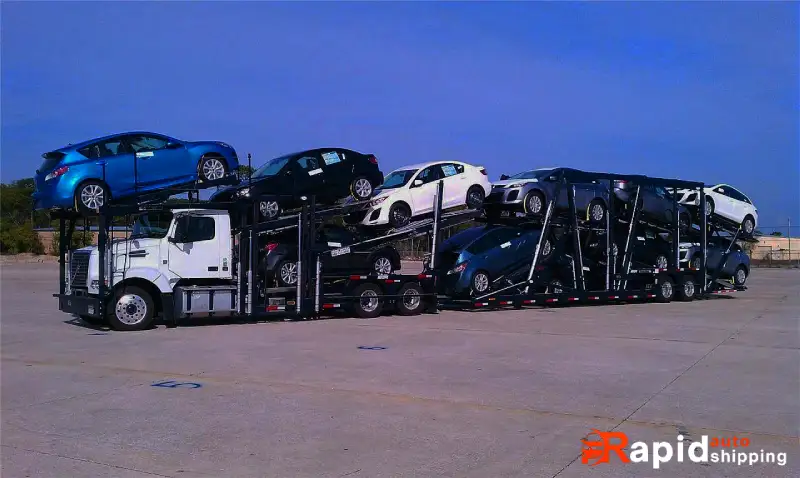 Estimating the cost of RV shipping services accurately can be time-consuming because so many factors can affect the price.
However, as a general guideline, the average cost for less than 100 miles is approximately $3.32 per mile. The average cost for long trips less than 1,000 miles is about $1.05 per mile.
Several factors can impact the cost of RV transport services. Several key elements can have an impact on the overall expense:
Distance:
One of the most important factors in determining the cost of moving an RV is the distance that needs to be covered. Moving over longer distances generally leads to increased costs because of higher fuel expenses and longer travel times for the moving company.
Size and Weight of the RV:
Considering the size and weight of the RV is crucial. Transporting larger and heavier RVs may necessitate the use of specialized equipment or the acquisition of additional permits, both of which can result in increased costs.
Additional Services Offered:
If you need additional services such as loading and unloading, storage, or specific delivery timeframes, these services will likely increase the total cost.
Seasonal Demand:
Just like with any other moving service, the cost of "RV movers near me" can vary depending on the time of year and the demand for their services. Higher prices may occur during peak seasons and busy times.
Insurance Coverage:
The type and extent of insurance coverage that the moving company offers can affect the cost of the moving services. Having comprehensive coverage could result in higher charges.
Accessibility:
The accessibility of the pickup and drop-off locations can affect the cost. To access challenging or isolated locations, additional effort and resources may be necessary, resulting in increased costs.
Special Requirements:
If your RV has specific transportation requirements, such as delicate handling for luxury interiors or special handling for custom modifications, the moving company may charge an additional fee.
Additional Equipment:
Moving the RV may require special equipment, such as a trailer or tow dolly. The inclusion of this equipment may contribute to the overall cost.
Moving Company:
The choice of an RV shipping company can also affect the price. Various companies may have different pricing structures, levels of experience, and service quality.
Fuel costs:
Variations in fuel prices can affect the price of RV shipping services. The moving company may adjust its prices accordingly if there is an increase in fuel costs.
To receive an immediate shipping quote for sending an RV or any other vehicle, please fill out the vehicle transport price form above or call (833) 233-4447.
If you are searching for "rv movers near me," it is advisable to obtain RV shipping quotes before making a decision. We are proud to provide prompt and precise RV shipping estimates for our RV shipping service, ensuring customer satisfaction. We are here to assist you with driving your vehicle wherever you need to go.