Specialty shipping services are required for construction equipment due to its large size, often classified as an oversize or wide load haul. Our logistics team will assist you in navigating the process of shipping construction equipment overseas.
In some cases, more extensive construction equipment may necessitate cranes for loading and unloading or may need to be disassembled. Certain types of machinery may only require a ramp to be driven up onto a higher surface.
Rapid Auto Shipping team members can advise you on the most suitable shipping method depending on your construction equipment's type, size, and weight.
We can assist you with handling escorts and pilot cars necessary for shipping construction machinery. Rapid Auto Shipping offers a high-quality transportation service for construction equipment shipping. Please make a phone call now+1 (833) 233-4447.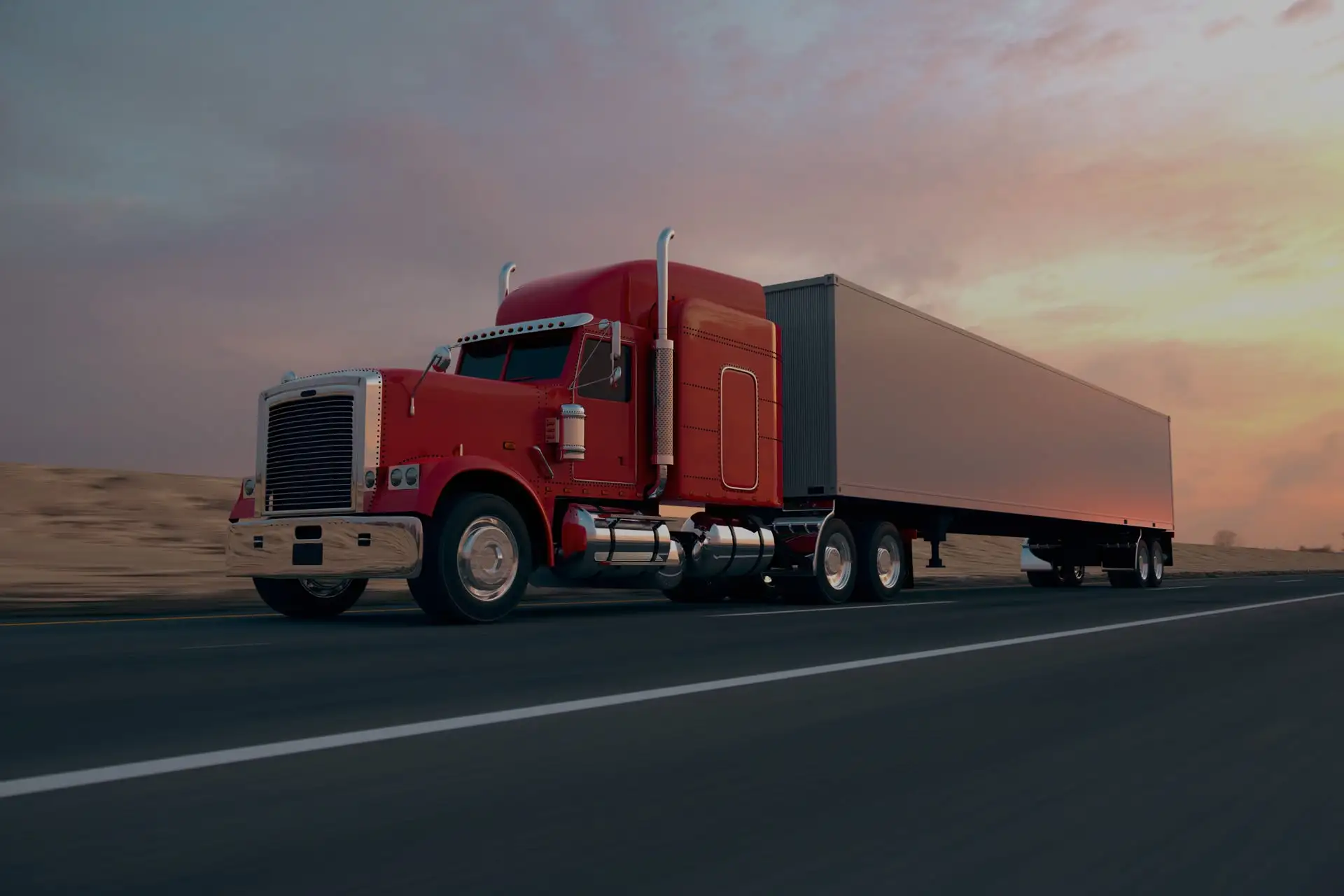 We ship all types of heavy equipment that are commonly used in construction projects:
Excavators
Backhoe
Dragline Excavator
Bulldozers
Graders
Wheel Tractor Scraper
Trenchers
Loaders
Tower Cranes
Pavers
Compactors
Telehandlers
Feller Bunchers
Dump Trucks
Pile Boring Machine
Pile Driving Machine
Flatbed equipment transport
In most cases, a basic flatbed should be adequate for heavy equipment transport. Flatbeds come in various sizes and capacities, making loading and unloading cargo easy.
They can haul up to 48,000 pounds. When selecting a flatbed hauler, ensure that the truck can carry the weight of your equipment and that you possess the required tools to load and unload it.
Special trailers for heavy machinery transport
You might need a specialized trailer if you have oversized or cumbersome equipment. Step decks and double drop trailers enable the transportation of taller or heavier equipment by providing ample space for loading.
You may need special permits if your equipment requires a specialty trailer. It is advisable to consult with your transport provider to ensure that all necessary licenses and special considerations are taken care of.
Towing Heavy Equipment Shipping
Towing can be a viable option for moving your equipment over short distances. It is essential to know the necessary steps to tow your machinery safely.
This includes appropriately preparing the gearbox and tires for towing conditions. Companies specializing in towing services can handle various equipment, regardless of type or size.
Shipping Construction Equipment Overseas
Regarding shipping construction equipment overseas, several options are available to you. The Roll-on/Roll-off (RO-RO) method is the most commonly used approach for construction equipment delivery.
The equipment is loaded and unloaded onto the transport vessel using ramps. A flat rack container is another viable option.
A flat rack resembles a flatbed truck. The heavy equipment is first positioned on the flat rack and loaded onto the transport vessel. The weight capacity of these racks is 88,000 pounds, which means they can hold equipment of that weight or less.
In some instances of international shipments, it might be required to dismantle your equipment before shipping and then put it back together once it reaches its destination.
For heavy equipment shipping, you must arrange transportation to the warehouse or port from where your equipment will depart.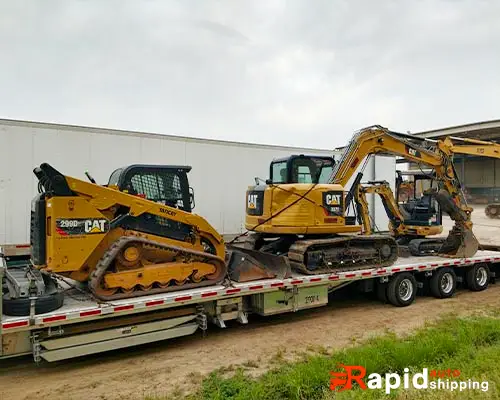 To ensure that you are prepared for pickup, it is recommended that you communicate with your transporter ahead of time and confirm that they possess all the required permits for transportation. Additionally, inquire about how you can assist in preparing your equipment for transport.
Based on their experience and your shipment details, they will provide you with helpful tips. Your transporter may give specific instructions, such as using bubble wrap to protect fragile levers inside the cab of a tractor or securing the doors of a crane with zip ties. It would help if you communicated with your provider to sort out any required permits.
Prepare for heavy equipment shipping; there are a few steps that you can take.
Check the Manual: Consulting the manufacturer's manual is the initial step to preparing your machinery. You can obtain the manual by having a physical copy or accessing it on the manufacturer's website. The manual may suggest specific measures for you to take, such as disconnecting batteries, draining engine fluids, or securing any loose parts.
Obtain the necessary permits: The Federal Motor Carrier Safety Administration (FMCSA) has established precise regulations for safe and secure heavy equipment transportation. Transporting oversized and overweight loads on the road will necessitate obtaining special permits. It is crucial to remember that when hauling heavy equipment, the trailer may be too tall to pass beneath power lines, cross bridges, or go along some highways. Collaborating with the transporter before the pickup date is advisable to obtain the necessary permits. This will help prevent any possible blockage or legal issues.
Cover Vulnerable Parts: Please remember that your equipment will most likely be transported in the open air, exposing it to the elements. Protect any exposed areas from rain and wind. During winter, taking precautions to prevent damage to tanks and lines caused by cold and freezing temperatures is essential. It may be necessary to safeguard equipment from high temperatures. Consulting the owner's manual should offer instructions on how to protect the item.
Be Prepared for Pickup and Drop-off: There must be room to load and unload your equipment at the pickup and drop-off locations. Additional equipment, such as loading docks, ramps, or cranes, may be required for loading and unloading.
Transporters who are licensed must possess a specific amount of liability and cargo insurance. This implies that they should be able to compensate for any damages that may happen while the shipment is in transit. The coverage terms and amount can differ from one company to another. Therefore, it is advisable to inquire about the coverage of each transporter individually.
While the minimum required insurance can provide some level of protection, it may only partially cover the actual value of your equipment. Please ascertain the precise coverage and claim procedures of the insurance provided.
To ensure sufficient protection, it is advisable to inquire about the type of damage covered and the insurance limits. Can you provide more information on the coverage of injuries? What are the limits of the insurance?
If you feel that additional protection is required, you can inquire with the transporter if they provide the option to buy more security. If you cannot do so, you can typically seek the assistance of a third party to safeguard your equipment.
You can use the Rapid Auto Shipping Protection Plan if your heavy equipment transports loads through Rapid Auto Shipping. When accepting a bid, you will be provided with the choice to buy extra protection directly during the checkout process.
Heavy equipment shipping costs vary significantly based on the type of equipment being transported. Heavy equipment shipping over distances over 500 miles has an average fee of $1.75 per mile, whereas the average price for shorter distances is $5.00 per mile.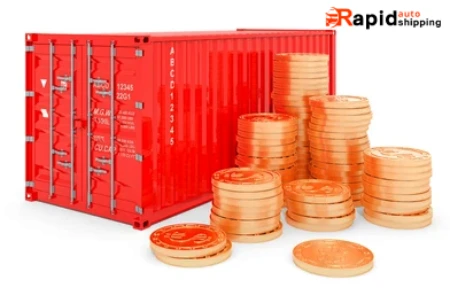 The cost of heavy equipment shipping is dependent on various factors. The overhead costs include insurance, broker fees, packaging materials, travel, and tracking. However, these are the most important things:
Dimensions of Your Heavy Equipment
If your equipment is more significant or has an unusual shape, it is more probable that you will need specialized trailers, permits, or routing requirements, which will result in higher shipping costs.
Shipping Time
The shipping cost will probably increase if you require a specific delivery time for your equipment.
Location of Delivery and Pickup
The cost increases as the distance that your apparatus needs to travel increases. Furthermore, a higher traffic volume near your pickup or delivery location, such as in urban areas, can result in elevated shipping expenses.
Annual Season
Adverse weather conditions, such as those experienced during the snowy and frigid winter months or hurricane season, may result in the closure of specific routes.
As a result, your pricing may be affected. Furthermore, there exists a season for flatbeds that span from spansOctober, resulting in a surge in demand and, subsequently, higher rates.
Current Fuel Rates
Higher fuel prices result in increased shipping costs.
Permits and licenses are required
Shipping heavy equipment may require oversize or overweight permits. The costs of obtaining permits may differ depending on the state or province.
Additionally, some states may have unique infrastructure and regulations that could cause delays in the permit issuance process.
Escorts Required
Incurring expenses for hiring escorts may lead to an increase in your shipping costs. To ensure safety, assessing the freight route and determining whether escort vehicles are required if the width or height exceeds 12 feet is essential.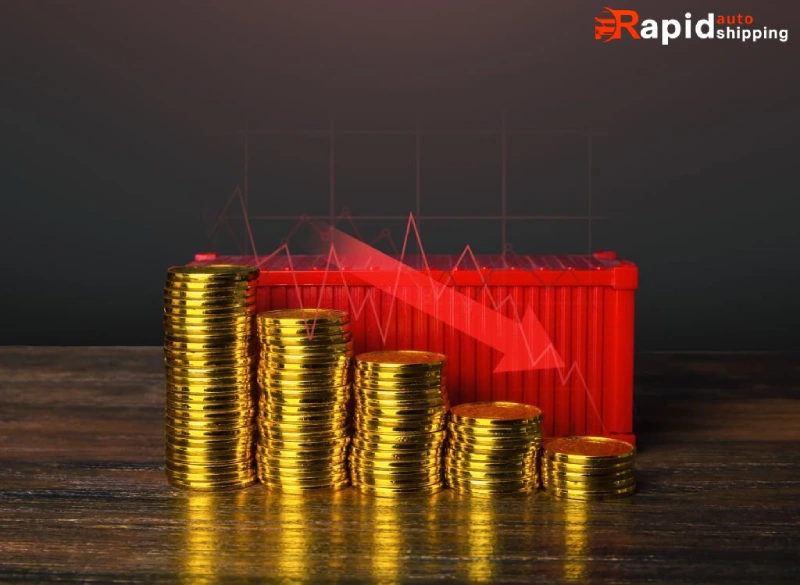 The travel distance is crucial in determining the time required for heavy equipment to reach its destination port. Other factors can impact the duration of the journey, such as:
The mode of transport:
Transporting an LTL shipment from the quay to the truck and then to the dock takes longer. Furthermore, transportation by rail takes more time compared to transportation by vehicle.
Oversized loads:
Auto transport companies are required to comply with local regulations. Specific oversize cargoes require special permits. In certain states, it may be necessary for auto transport companies to have an escort car accompany the truck to aid in its journey. There might be a slight delay.
Special regulations:
Several states restrict the transportation of wide or oversized cargo during weekends or overnight hours.
Electronic logging devices (ELD):
According to the law, drivers must record their service hours using an Electronic Logging Device (ELD). This is to ensure that the transportation of goods is done safely. Drivers must take a break for a designated time once they have reached a specific driving limit before they can resume driving.
Rapid Auto Shipping offers reliable shipping solutions for your construction equipment. We ensure timely delivery of construction machinery when transporting it to a new place. Time is a valuable resource, and it's essential to return to work promptly.
We design shipping solutions for construction equipment tailored to your specific requirements. You can expect quality service from a logistics specialist who can assist you. We are fully equipped to cater to all your equipment transportation requirements, from dispatch to delivery.
We don't pair your construction equipment shipping with just anyone. At Rapid Auto Shipping, we ensure that we select the most suitable driver and rig for your needs. Construction equipment plays a vital role in the success of your business.
We aim to provide you with a high-quality Auto shipping experience that allows you to resume your work effortlessly. Construction transport equipment includes a variety of vehicles, ranging from standard flatbeds to heavy-duty trailers with up to twenty axles.
Our team of specialists in construction equipment delivery is ready to assist you in finding the perfect match. Please make a phone call now. +1 (833) 233-4447